This is an interesting video I made showing that Google actually is not as smart as it thinks or wants you to think it is.
In this case, it's algorithms for detecting spam are quite simply, pathetic. Watch the video below.
This effected a page on my site. The sneaker heights page.
Google delisted my page from its search engine - one that has existed for many years with thousands of comments submitted over that time - and replaced it in the search engine with a page that copied mine entirely (using simple cloaking).
Not only that, the spam page redirects anybody who clicks on it to a site selling nike sneakers.
Google have done nothing about it. To me, their lack of action looks like they are actively promoting spammers.
Google talk about wanting to eradicate web spam, yet have gaping holes in their algorithms that let all sorts of spam populate their search index. This kind of spam is an infestation in Google's search engine, with thousands of similar sneaker spam pages being indexed. Google's algorithms seem impervious or oblivious to it.
Follow Up: Since Google were informed via several methods about this obvious spam, and have done absolutely nothing about it, I did something to see if they would take action...and it confirmed to me they seem to be aware of the spammer, yet seemingly would rather support them. It took them less than a day to react to my bait...
Google indexed the fake malarplast page, but they also indexed the images from my site that are part of my real sneakers page, not the fake/cloaked version.
They used my photo of my Nike Air Force One's to promote the spam page, which was seen when you type in 'sneaker height'. This air force photo of mine also appeared in their google image search.
I changed the image (the filename remained the same) to show 'yes google is stupid' and within a day, you guessed it, Google saw it.
Instead of admitting they are in the wrong by promoting a page that copied mine and scams searchers by sending them to an affiliate site, Google in their infinite 'wisdom', removed my thumbnail from their box, removed the air force image from the image search and left the description and spammers link there...
Google seem aware of this spammers page, yet from my view, look to be actively promoting it and doing nothing about removing it and reinstating my sneaker page in the index.
Funnily, the spam page still redirects users to the nike affiliate site. Google should hang their heads in shame. The phrase "Google is Evil" comes to mind here...
On further investigation, their search index contains an awful lot of obvious spam. On the malarplast domain alone (which will have been hacked), there are at least 11,000 pages all using a cloaking and spam redirection to send visitors to the nike affiliate site. I wonder why Google can't see this and let's it populate it's search index...
Since Google did nothing and happily indexed all the spam, I took action and informed the hosting provider about the obvious spam. They took quick action and temporarily closed the site until the owner could take action and clean it up.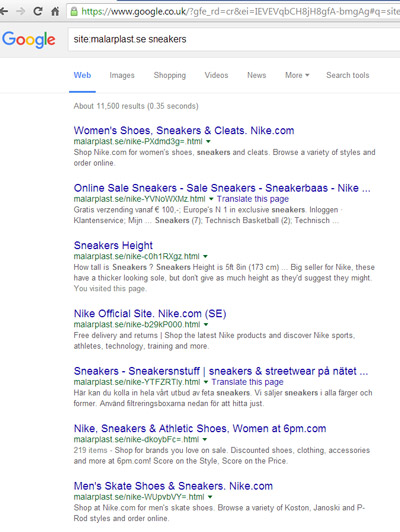 *Nov 20th: Although Google seemed disappointed that the webmaster had cleaned those pages, it has now managed to find another spammed site to promote using the same cloaking/redirection to replace the first one. You couldn't make it up. At least they indexed one of my bait images (I switched my logo for one image Google were using before in their spam promotion box). Now they at least are showing my logo...
This isn't the first time I've seen Google being a bit idiotic with how they deal with obvious spammers. On another occasion, a video promoting 'grow taller 4 idiots' used a photo from this site of me in elevators beside Jenny as part of the video to help sell the ebook. Google said 'that's ok' when informed, basically supporting misrepresentation of image and purpose. I have absolutely no problem with fair use, such as critical analysis or parodies etc, but this photo (of me in elevators) was being used to help sell a grow tall manual by this
Chump
, who is using it to pretend 'grow taller 4 idiots' made me taller. Here is my video talking about it:
On another occasion I scratched my head at Google and their inability to understand an obvious scam and an even more obvious Scammer. Some people might remember I had a series of videos showing irrefutable evidence that 'The Grow Taller Guru' was scamming and promoting a fake height pill. Google were informed about his promotion and a couple of videos that were being used to promote and funnel visitors to his site to buy the fake height pills. Google did nothing. All videos promoting the scam site ayurvedicureapills.com still exist, with Google turning a blind eye to them. I mean, a guy selling $500 bottles of vitamin pills pretending they make people grow taller is really 'legit', right?. Sure thing Google!