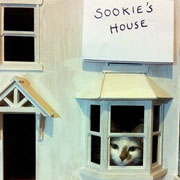 Welcome to Sookie's Den, a little corner of Celebheights where you can talk about anything unrelated to height. Please remember to keep things civil :)

Add a Comment
851 comments
Miss Sandy Cowell
said on 6/Dec/19
@ Nik - Mop was a term used to describe the hairstyle worn by the Beatles. I remember when I was still little enough to run around in the garden in the nuddy, and giving the Beatles pictures from my Rice Krispies packets to the teenagers in the adjacent road, who watched me playing in the garden from the alley way! It was around '63-'64.
Miss Sandy Cowell
said on 6/Dec/19
@ Vitto - Of course, positions of power went to the intellectual in the SS as well. My Mum is no longer around for me to ask whether there was a minimum height requirement to join. It's not impossible that my Dad might know. I can always ask him!
Nik Ashton
said on 6/Dec/19
@ Vitto - Don Trump has a mop too, I wonder if his mop is homegrown! The answer is probably! They both have interesting mops and I love the word mop!
Miss Sandy Cowell
said on 6/Dec/19
@ Vitto - Love the picture of Amanda! I, too, appreciate female beauty, and collect beautiful (mainly) female dolls. This year, they introduced a David Bowie one. I haven't got her yet, but I do have the Andy Warhol doll. I also have dolls like Liv, Viggo Mortensen, Cate Blanchet, Kate Winslet, Deborah Harry, Christina Ricci and doubtless many more which I can't think of at the moment!
😁 XXX
Miss Sandy Cowell
said on 6/Dec/19
@ Vitto - I'm interested in history of all types. In fact, I have a great passion for it. It's everywhere! I will check out your recommendation - thanks for that!
My Dad is English, yes, and went to Germany because he couldn't get over the death of his eldest brother. It's there he met my Mum. My Grandmother loved him. He had, and still does, have impeccable manners.
My German Grandmother was brilliant at the cards, telling my Mum her entire future before she left Germany. She used to hold seances and my Mum witnessed the creepy goings-on when she was about 8 and hid behind a chair! My Mum also did the cards. I can if I want to but I choose to leave it alone.
Cheers Vitto! 😉👍 XXX
Nik
said on 5/Dec/19
😬😬😬😬😬😬!
Vitto
said on 5/Dec/19
@Sandy I've read on Tom Hanks page that you were interested in the Italian Renaissance and if you still are, I advise you to watch 'Medici' especially season 2 titled 'Medici - The Magnificent'. The show is about the Medici family and the Renaissance in Florence. I am looking forward to watching season 3 coming out on Netflix in 2020. Rob just added to the site Synnove Karlsen who starred in it with Daniel Sharman.
This show is great, I think you might like it. I recommend it to everyone.
xx
Vitto
said on 5/Dec/19
@Sandy Interesting story about your family's eye colour. Can I ask if your Dad is British?
I knew that a great part of the SS had to be tall but for example did you know that General Rommel was 5'6 (according to Google)? I guess he wasn't in the SS, though. He would be classified as short by today's standards.
Did you know which was the minimum height to join the SS?
My hair also would go blond with just one bleaching. It came out an ashy colour after I dyed it with a professional blonde hair dye.
Fairer than Boris's hair or less yellow. Like Amanda Seyfried in this picture
Click Here
Doesn't she look like Gemma Ward? Maybe you can see the resemblance in other pictures.
Have a lovely weekend too, Sandy!
xx
Cedric 172 cm
said on 5/Dec/19
Not be offended but if I was under 5'5" my life should be unhappy, with 5'5.75" i can be happy.
Miss Sandy Cowell
said on 5/Dec/19
Oh Vitto - everyone who held a senior position in the SS was tall. My Mum told me. It was a case of preferential treatment. She was forced to work there.
Miss Sandy Cowell
said on 5/Dec/19
@ Vitto - It's a falicy that Germans are blue-eyed and fair of hair. My Mum was a brunette. She said it was a load of rubbish and showed me a picture of the girls in her class. There were as many brown-haired girls as there were blondes but none were very dark. They had the sort of colour that would go blonde with just one bleaching, including my Mum, who had fair eyebrows at the time. They went dark as she got older as did her hair. My Mum had brown eyes and so does my Dad.
Hitler used to receive so many compliments about his blue eyes that I think it went to his head and he thought blue was best. I like anything vivid, be it very blue, very seaweed green, golden-brown or almost black. The pale eyes with darker rings round the irises I find most attractive.
My own hair is light blonde. I get it done at the hairdresser's. I wouldn't do it myself again because I made a hash of it when I did and had to have it cut short, which I hated.
Finally, I thought you'd like to hear the following: my Mum grew up in a family who had the following eye colours. She had brown ones, after her Dad, who died when she was 4, her sister had forget-me-not pale blue eyes, her brother dark blue and her Mum had green cat-like eyes!
Have a lovely up-and-coming weekend, Vitto!
Sandy X☀️X 👱‍♀️👩
Nik Ashton
said on 5/Dec/19
💨
🛀!
Vitto
said on 5/Dec/19
@Sandy @Nik I've once asked someone 'Does Boris wear a wig?' and they replied 'Nope. I do believe that mop of his is homegrown'
Vitto
said on 5/Dec/19
@Sandy I am as blond as Boris. But I must admit it's dyed. I am actually natural dark blond. I dye it at home with someone's help. I am very expert about hair colours. I don't think natural blond people as light as Boris are easy to find or at least you will find them only in Scandinavia or in nordic countries. I rarely see them in the UK.
Can you tell me if Germans (especially in the past or during WWII) were tall, blond and with blue eyes or is it a misconception and this is how the Nazis wanted them to be? Can I ask if your Mum was light blonde? What about you?
Have a great day, Sandy!
xx
Nik Ashton
said on 5/Dec/19
@ Vitto - What you have said is so correct, I didn't hear about the terrible events in The Hague in Holland on the same day as the terror attack in London. Everybody should stick together and offer solidarity and help to each other in every possible way, also everyone in the world should try to be united in the face of what is happening in the modern world.
It is so terrible that both these attacks occurred and it is equally terrible that all the previous terror attacks have occurred.
I know that your message on this page from the 29/Nov/19 will help everyone stick together and move forward in the best possible way, I hope as many people as possible read it and that it offers the inspiration for people to stick together and move forward in the best possible way. Your message deserves this.
Cheers Vitto!
Miss Sandy Cowell
said on 5/Dec/19
⭐ Make that Scott SPEEDMAN!
Miss Sandy Cowell
said on 5/Dec/19
@ Vitto - I was telling you about what my Mum said about her fellow Germans, though I did see an example of the 💩 they laughed at as a 10-year-old!
Miss Sandy Cowell
said on 5/Dec/19
@ Vitto - I see what you mean with the picture of Gemma Ward! Ironically, she played 'Dollface' in the Liv Tyler/Scott Soeedman film 'The Strangers'. I saw it at the pictures and was really scared when I walked home that night...🌌
I can't say I have a favourite female model, but I do like Lily Cole. She's university educated and has an interest in conservation. She's also a nifty little actress! Have a great day, Vitto! 😁👍 XX
Miss Sandy Cowell
said on 5/Dec/19
@ Vitto - Yes, it certainly is natural. (Boris Johnson's hair colour). Check out his eyebrows!
Vitto
said on 4/Dec/19
@Nik I remember the conversation you are talking about. I will watch them. I saw you published them on Jonh's page, too.
Just want to let you know that I think that your intentions are noble.
Vitto
said on 4/Dec/19
I just wanted to say that while I was trying to campaign against Boris and his mop of blond hair on social media, I've misread
Boris is legally bound as
Boris is legally BLOND
LOL
Nik Ashton
said on 4/Dec/19
@ Vitto - You are very welcome! I give my thanks to Sandy for sending them through to me by text. After seeing a conversation between you and Sandy on Height Request I decided to send them to celebheights so you could watch them!
In terms of Brexit I will say this, I just want the right thing to be done so I want the decision made to be the decision which benefits the most number of people in the most important ways.
The thing I want more than anything else in the future is a world where as many people as possible have enough food, water, shelter, and satisfactory health care. 👌
Vitto
said on 4/Dec/19
@Sandy I agree with you. I think we should have a second referendum.
I also agree with the fact that the British have a much better sense of humour compared to other European or non-European people. I guess you were talking specifically about the Germans, though?
Have a great day, too!
xx
Vitto
said on 4/Dec/19
I think it's clear that the only thing I like about Boris is his hair colour.
@Sandy @Nik Do you guys know if his hair is natural?
Vitto
said on 4/Dec/19
@Nik Thanks again for liking my message about what happened in London the other night. I would also urge everyone to read it and I'd want to say that it could have happened somewhere else and it did (have you heard the news about what happened to The Hague in Holland the same day of the terror attack in London?). I think we (Europeans) should stick together against terrorism in Europe.
Cheers Nik!
Miss Sandy Cowell
said on 4/Dec/19
@ Vitto - I'm not at all keen on the idea of being separated from Europe, and if my Mum was still alive, neither would she be. I believe in solidarity and both my brother and I think we should have the opportunity to re-vote, now that we have a fuller picture of what's actually at stake.
My Mum, to be quite honest, preferred the British. She said they have a much better sense of humour. When I think back to what my grown up German cousins (5 brothers) laughed at on the TV when I was only 10, it makes me cringe. It did even back then!
Have a great day, Vitto!
Sandy XXX 😁👍
Miss Sandy Cowell
said on 4/Dec/19
@ Nik - Well, I'm afraid I'm not that merciful, for it is indeed a fate I'd wish on a few, and I think they'd be getting away lightly!
😄...🧦😩
Christian 6'5 3/8"
said on 3/Dec/19
@Bobby
You have that a lot in the US too. They're nicknamed 5 Dollar Indians. The term originated in the late 1800's when people with Native American ancestry (especially Cherokee, Chickasaw, Choctow, Creek, and Seminole) were eligible for 5 dollars worth of land from the government, so many people without any Native ancestry took advantage by pretending to be Native just to receive the benefits. It's harder to get away with it nowadays though, because of DNA tests. I see a lot of people even today claiming part Native (with Cherokee being the most popular), yet they look like a typical white or black person, lol.
Vitto
said on 3/Dec/19
@Sandy Talking about something else aside from Brexit. I was wondering which is your favourite female model?
A favourite of mine is model Gemma Ward she has a doll-face and I think she is so beautiful. I like almost all the 'Doll-Face' models from the '00, like Gemma, Jessica Stam, Coco Rocha, Vlada Roslaykova, Sasha Pivovarova, Caroline Trentini and Lily Cole.
Here is a picture of Gemma
Click Here
Cheers Sandy!
xx
Vitto
said on 3/Dec/19
@Bobby Actually, I am as white as a Scandinavian person (or the walls of my bedroom or the milk as you'd prefer to say) not brown or olive-toned. I am British and I am of European heritage (I mean from other countries in Europe not only from the UK) but I am not Greek like you. Moreover, I took a DNA test and it turns out to be 100% European. Believe it or not, I don't have to prove anything to anyone. No, I don't get special favours from the government but I work my *** off if I want something. I can't speak for other people, though.
That said, I could give you a million reasons why the UK is better off in the EU. I campaigned against Brexit in 2016 and I still have a leaflet, so these are facts.
First, the UK is stronger in the EU because the trade with the EU creates 3 million jobs in the UK.
Second, the UK is safer in the EU because we can tackle crime and terrorism by sharing intelligence. (Don't forget the terror attack happened some days ago).
Third, the UK is better off in the EU because the benefits of the EU are equivalent to £3,000 a year per household.
(Talking from an economic point of view, I'd like to add that we all would be less rich leaving the EU but that was evident).
Moreover, I'd like to add that London has received £1.9 billion in European funding and if we leave we must pay the EU a £39 billion divorce bill even though the Prime Minister would like us to believe otherwise in case of a no-deal Brexit which would be a disaster for the country (just like his dodgy deal).
You said you are Greek, do you know at least what you are talking about? Have you ever lived in London or in the UK? I have, for a lifetime.
And this is not the most commonly politically correct opinion as you said. But you have to respect other people's opinions. I gave you facts so this is not simply my opinion. I know that people are easily offended nowadays that's why I initially said I didn't want to talk about it.
I was replying to Christian, I should have replied simply no but you got me involved in the argument.
Vitto
said on 3/Dec/19
@Nik Thanks. I will watch these interviews when I have time.
Out of curiosity, Nik, you are British too, do you support Brexit?
Nik Ashton
said on 3/Dec/19
@ Vitto - You are very welcome, your message was a very thoughtful one and it couldn't have been put better. People would benefit so much from reading your message on the 29/Nov/19, I would urge everyone to do so.
Cheers Vitto!
Nik Ashton
said on 3/Dec/19
@ Sandy Cowell - What about shouting at yourself or shouting to your self?
The shouter was shouting at his hat, he may be taking it out on his poor hat because he has had a bad day! Alternatively he may have lost it! The shouter is as mad as a hatter!
Vitto
said on 3/Dec/19
@Sandy I am glad you replied like that if I didn't misunderstand. I've just read your reply, I haven't seen it before. That's a sign of mental maturity like someone who understands how bad is Brexit for the country. Moreover, if you have European heritage on your Mum's side as you told me, your reply is more than reasonable.
European citizens are not the problem here like someone would like us to believe. They want to end freedom of movement for UK citizens to Europe and EU citizens to the UK. We should be able to move freely within the European Union and to enter in any EU Member State using a passport or an ID card and to reside in it, too, without a visa. It's not like we are travelling to the U.S. or to other countries in the world.
This is only one of the problems caused by Brexit.
Yashgupta
said on 3/Dec/19
Rob at worst I am 180.8 and out of bed I am 182.3 what possibly my height could be btw I am from india, father is around 177-178cm and mother is 160cm can I grow few more cm currently I am going to be 19 and I was taller than my father when I was just 12 . I have even done swimming consecutively for 2years I want to be at least 188cm

Editor Rob
Any further growth I'd say would be a bonus at your age! It would be possible 183-4, but optimistic to say 188 is possible.
Nik Ashton
said on 3/Dec/19
@ Sandy Cowell - I don't know many people who shout at their socks either, it would be so amusing to see someone do this! I do know that throughout time plenty of people will have been tempted to stuff a sock in someone's mouth (gob, trap, cake 'ole, etc!), quite often the temptation must be there for people to do this to individuals who are shouting!
I feel for that poor dog, I can imagine that smelly socks would smell more sickly to us humans than to dogs but if they smell badly enough then they would be enough to make any living being sick. The man should have got off his **** and got those repulsive socks himself! Hey, the dog could have barked at those evil socks, barked 'em out of town!
Now a smelly sock (I like the term "smelly sock(s)") being stuffed in a (a shouter or otherwise) mouth is a fate I wouldn't wish on anyone, but there are exceptions! Thankfully I don't know any of the exceptions!
Nik Ashton
said on 2/Dec/19
⚽️
😇!
Christian 6'5 3/8"
said on 2/Dec/19
@Vitto
Very rarely do I discuss anything poiltical here too, but I was just wondering because Brexit was brought up in the discussion. I'm from the US btw, or more specifically, California.
@Bobby
Interesting point, I guess you and Vitto have opposing views. Personally, I really don't know or care about it, since I'm not from or living in UK. (no offense)
Vitto
said on 2/Dec/19
I didn't want to go into details but I will.
I stated only the humanitarian point of view aside from my last sentence but I will explain it from a political point of view.
I said that the Tories (the Conservative party) lied to people about Brexit, especially about our NHS (our healthcare). They said they would give our NHS the money that they used to give to the EU. That's a lie they used in 2016 to make people vote for Brexit.
No money will be used to fund our NHS.
Moreover, the Tories want to sell off NHS in U.S trade talks with the President of the U.S. It simply means that in the UK there will be sky-high prices for healthcare just like in the U.S.
I have more reasons why Brexit is bad for the UK, but I don't want to argue with anyone and I have to go now.
Maybe I'll write more in the next days.
Bobby 5ft 10in (178cm)
said on 2/Dec/19
@Vitto
The U.K is becoming pretty resemblant to the U.S though. Most people who may claim English ancestry have the skin colour to match a Middle Eastern, are they then considered of European heritage? No, they're not, but people will claim any ancestral origin if it means they get special favours from the government. There was the case of one woman who had maybe 1% Cherokee ancestry, who claimed that she had that background just to get said special favours from the government. Now, given that most of the world is diversified today, it is quite challenging to proclaim you are of pure, so and so, background without performing some sort of DNA test. I myself have no problem discussing politics or anything of that nature because my opinions exist outside of most commonly politically correct opinions, but I'm the one who has to keep silent because people are easily offended nowadays. I am for Brexit, and I explained my reasons why under my response to Christian, I believe that countries should be able to stand on their own and economically sustain themselves, but that doesn't mean I don't believe in trade relations or political relationships. I just don't think that countries should be sharing their wealth so intimately because there are ways of that backfiring, as in the case of Greece's economic crisis, which is continuing to this day. Yes, of course, as a Greek male, I too identify with European heritage, but I don't necessarily believe in a united Europe to the effect that economics become intermingled. I think that spells disaster. I think an alliance should remain at the political level, not at the economic level.
Nik Ashton
said on 2/Dec/19
🧢
🤪!
Nik Ashton
said on 1/Dec/19
🎩
🤪!
Nik Ashton
said on 1/Dec/19
@ Cedric 172 cm - Probably 170.8 cm!
Bobby 5ft 10in (178cm)
said on 1/Dec/19
@Christian
I just looked it up myself, and Brexit is essentially the withdrawal of the UK from the EU. Personally, I think that's a good idea... I think countries need to be able to stand on their own. The problem with a sociopolitical alliance like the EU is that when one country suffers an economic catastrophe, it is felt throughout all of its members. The huge economic crisis afflicting Greece is one example of this, but it's more so a condition of laziness than an inherent flaw of the alliance, but still, insofar as economic currencies go, I think each country should be able to sustain itself without the interference of other countries. Now certainly things like trade and political relations are necessary, but if a country can't generate its own income, then it's in trouble.
Miss Sandy Cowell
said on 1/Dec/19
@ Nik - They say talking to yourself is the first sign of madness. I'd say that shouting at hats is the second!
(Re: 🗣️🎩).
Nik Ashton
said on 1/Dec/19
👑
🤪!
Vitto
said on 1/Dec/19
@Christian I'd prefer not to discuss British politics and politics in general because people have different opinions and get upset. I thought it was clear from the message I wrote earlier, but you are free to ask. Since you asked, I'm against Brexit because I have European heritage (I am white) and I believe in a united Europe and solidarity among Europeans. I consider British people to be Europeans too, even though some of them don't consider themselves as such. I hope this answers your question, just don't want to go too much into details. One last thing, I think that the Tories lied to people about Brexit, especially about the NHS.
Can I ask where are you from?
Vitto
said on 1/Dec/19
@Sandy and Nik - Thank you. That's very kind of you to say so and reply to my message about what happened in London the other night.
I hope as well that as many people as possible can read my message.
All the best to you guys
xx
Miss Sandy Cowell
said on 1/Dec/19
@ Christian - In a word, NO!
Nik Ashton
said on 1/Dec/19
👑
⚽️!
Christian 6'5 3/8"
said on 30/Nov/19
@Vitto and Sandy
I'm wondering, do you guys support Brexit? I'm not British or all that familiar when it comes to British politics, so I can't answer it myself.
Nik Ashton
said on 30/Nov/19
@ Vitto - Everything you have said has been put very well, this reflects that you are a nice person but we know that anyway. I hope as many people as possible read your message.
All the best,
Nik
Cedric 172 cm
said on 30/Nov/19
@Nick
So, after 6 hours out of bed you are 170.5? 170.8?
Miss Sandy Cowell
said on 30/Nov/19
@ Vitto - I only heard about the terror attack on London Bridge last night via a text from my boyfriend. It had a direct effect on his work with the homeless.
As I said before, you are a very thoughtful person.
All the best to you honey,
Sandy XX
Vitto
said on 29/Nov/19
I am so sorry to hear the news about a terror attack on London Bridge in London. A thought goes to all the victims and their families. We all should appreciate the heroism of the passersby and the immediate intervention of police officers. Hoping that things like that won't happen anymore and hoping that Europe and Europeans will be more united than ever, despite Brexit.
Wherever I will go, London, my city, will always be in my heart.
xx
Christian 6'5 3/8"
said on 29/Nov/19
@Cedric
I think it's a problem mostly when the woman is taller than you. But I don't believe that there are a lot of disadvantages of being 5'8" over 6'2", if you're with a much shorter woman like 5'0", unless if she's into tall men.
Miss Sandy Cowell
said on 29/Nov/19
@ Cedric 172cm - Hi! Yes, I am indeed a woman, and I think it's easier on a woman if she's short than it is on a man. Ironically, the guys I've known who WERE under 5ft7 or so, have had an excellent sense of humour, you know - the sort that produces a laugh a minute and is clearly original, unrepetitive and unrehearsed. Any woman would prefer to keep the company of a short, funny guy to that of a boring tall one.
Enjoy your weekend, Cedric! 😉👍 XX
Nik Ashton
said on 29/Nov/19
🗣✌️!
Vitto
said on 29/Nov/19
@Nik Have a good week too!
You are right about Primrose Hill the view up there is amazing! It should be on everyone's 'to-do list'! I advise you to visit it when you're in London.
Cheers Nik!
Nik Ashton
said on 28/Nov/19
@ Cedric 172 cm - roughly 171 cm!
Have a good week!
Nik Ashton
said on 28/Nov/19
@ Vitto - Hope you have a good week!
Nik Ashton
said on 28/Nov/19
🚽-T-🔛 ⚽️ 🏦 ⚽️⚽️!
Cedric 172 cm
said on 28/Nov/19
@Miss Sandy Cowell You're a woman. 5'1 flat is the classic short woman, short women are decent, like 5'8 guys like me.
A short guy if he is boring and under 5'7.5... that is a problem.
Cedric 172 cm
said on 28/Nov/19
Guys, i can create a group of Facebook
Miss Sandy Cowell
said on 28/Nov/19
@ Cedric - Funny you should be so precise about the 6 hours, because exactly 6 and a quarter hours after getting out of bed, I measure 5ft1! I wouldn't be able to give you any other readings, but I'd love to know my fresh out of bed height and my last thing at night height. Cheers Cedric! XX 😁👍
Nik Ashton
said on 28/Nov/19
🇨🇦🏴󠁧󠁢󠁳󠁣󠁴󠁿!
Cedric 172 cm
said on 27/Nov/19
@Sandy @Nick
How tall are you 6 hours out of bed?
Miss Sandy Cowell
said on 26/Nov/19
@ Bobby - I have never felt human organs, but before being treated, I imagine that they would be rather slimy. I'll have to ask my Dad, but I phoned him on Saturday and he wasn't very well and had taken to his bed. I, too, have been suffering from a temperature, but mine is more down to a virus than the 'flu. I'd have thought he'd have had a 'flu injection. He's probably got a bad cold. I don't know what I have. My boyfriend wants me to go to the doctor's but that's a major effort in itself, mentally and physically. At times, I haven't been able to read straight, so I'd be buggered if I couldn't touch type!
Have you seen the David Cronenberg film 'A Dangerous Method', about Sigmund Freud and starring Michael Fassbender, Viggo Mortensen and Keira Knightley? It was a change in direction for Cronenberg (2012) and is well worth a watch, but I doubt it'll teach you anything about Freud that you don't already know.
I've learnt a lot in the way I think anyway, from the Colin Dexter-created character Inspector Morse. I have the entire series on DVD, and as well as teaching you a great deal about human nature, it is very comical too in a 'read between the lines' sort of way. Morse has forever got his head in books, and his wealth of knowledge and education helps him solve murder after murder. He is also an atheist. It's from his mouth that I first heard the words that everyone is capable of killing. That is from an episode in which the killer turns out to be his first and only true love. His ever-faithful Sergeant Lewis hides the truth from him at the end when his love commits suicide.
They have a follow-up series called Lewis, in which you see how much spending time with such an intelligent man has rubbed off on the then-young Lewis.
I do believe that most human beings are good though. I am watching the Celebrity Jungle at the moment, which contains an assortment of celebrities who are gathered together in an Australian jungle on minimum rations. You get to see the good in all of them. I don't think they even have a flushing toilet, and last night, half the camp had a roast dinner. Their stomachs weren't used to it, and this morning, their 'dungy' is rotten!
I will reply to you more fully when I feel 100% again.
All the very best to you, and I wish you derive a great deal of pleasure from your studies. When I finally said goodbye to the school gates, at 18-and-a-half, I thought "That's IT! NO MORE STUDYING!" (I because quite ill at one stage and my hair was falling out, due to the pressure of exams).
Now I learn because I enjoy it and can do everything at my own pace, which isn't exactly a slow one...
Have a great week, Bobby!
Sandy XXX 😁👍
Vitto
said on 26/Nov/19
@Cedric As I've already told you, I don't have it either.
Miss Sandy Cowell
said on 24/Nov/19
@ Cedric - Neither do I, but I can investigate! I do have a SMART phone, after all..... 😜
Cheers mate!
Cedric 172 cm
said on 23/Nov/19
Cedric 172 cm said on 21/Nov/19
@Vitto The Whatsapp's idea is really good. Im from Peru but i looks more like argentinian.
Yes, all depends of guys like Nik, Sandy, Bobby, etc
________________________________________
This is my e-mail for create the group
enzod4280@gmail.com
Bobby 5'10 (1.78m)
said on 22/Nov/19
@Cedric
I don't have WhatsApp.
Cedric 172 cm
said on 21/Nov/19
@Vitto The Whatsapp's idea is really good. Im from Peru but i looks more like argentinian.
Yes, all depends of guys like Nik, Sandy, Bobby, etc
Nik Ashton
said on 21/Nov/19
@ Vitto - This YouTube song is amazing, many thanks!
Seeing London lit up and all the fireworks at the turn of the new Millennium would have been so special! Rob and my good self were 23 back then and we're still pretty young! The sights will be special when the new decade is let in in the capital in just over a month! I am determined to visit Primrose Hill one day, this should be on everyones "to do list"!
Cheers Vitto!
Miss Sandy Cowell
said on 21/Nov/19
@ Vitto - I have an Andy Warhol (female) doll, complete with a Campbell's tomato soup T-Shirt. She has a very pale complexion and light blonde hair, just like Andy. The box is decorated with pictures of the man himself.
Miss Sandy Cowell
said on 20/Nov/19
@ Vitto - On, I LOVE that Kate Bush video, and I'm sure you'll love the 'Cloudbusting' one, with Donald Sutherland. Isn't it amazing that Kate gets really big film stars wanting to partake in her videos? Stephen Fry was on her track '50 Words for Snow'. He found it an honour to be asked!
Cheers Vitto! 😁👌 XX
You'd never guess what I just found while looking for David Bowie pictures on Amazon? I came across a David Bowie throw, with a collage of his pictures on it! What a lovely way of keeping warm this Winter; I'm definitely going to treat myself to one! 🤩
Miss Sandy Cowell
said on 20/Nov/19
@ Nik - I don't know of many people who shout at their socks, but I know a dog who was sick when he carried his owner's socks into the bedroom for him! I bet he'd have LOVED to shout at the offensive articles!
🐕🧦....Him:-🛌 Us, the onlookers:-😟😬😲😷😡..."That poor animal!"
Cheers Nik and Alverna! XX 😁👍 XX 💐
Nik Ashton
said on 20/Nov/19
🗣
🦒!
NikAshton
said on 20/Nov/19
🗣🛌🔜🗣🧦🛏🔜🗣🧦🛌💤!
Vitto
said on 19/Nov/19
@Sandy I am glad you liked that video by Kate Bush. That one is the official one for Running Up that Hill and if I remember right it is from the 1985.
I will check 'Cloudbusting' out, I am not sure if I've seen the video yet.
Cheers Sandy!
xx
Vitto
said on 19/Nov/19
@Nik you should watch this if you like the song. This is ''City of Blinding Lights'' live by U2. This performance is awesome!
Click Here
Yes, Primrose Hill view is fantastic! I've been once there at night on New Year's Eve and it was all lit up and I've seen the fireworks from a distance, it was totally amazing! When and if you can, you should visit it!
Cheers Nik!
Nik Ashton
said on 19/Nov/19
@ Vitto - That is very interesting, I will listen to U2's "City of Blinding Lights" to see what I think of it!
I bet that when you go up Primrose Hill you will get an amazing view over the city and beyond, it will be fantastic to see London at night when it is lit up! When you go further and further up Primrose Hill more and more London landmarks will come into view, you won't get this on the way down but at least the journey will be easier and less stressful! Primrose Hill is only a few miles from the city, I imagined that it was much further away!
Cheers Vitto!
Nik
Christian 6'5 3/8"
said on 18/Nov/19
@Bobby
I don't know if the reason why many 40+ actors lacked higher education was because they wanted to escape the "academic disciplinary system", but I know that a major reason was because higher education was held at a higher standard than it is today. Back then, colleges and other institutions of higher education were primarily designed for the smarter kids. So maybe that explains why most actors back then skipped higher education and pursued their acting careers, as they probably felt that spending 4 years for a college degree was a waste of time, when they could go straight into the show business. Even today, the actors and other celebrities who attended prestigious schools like Stanford, Harvard, or Yale, only did it after they became rich and famous. Very rarely do you see celebs attend prestigious schools like those, before they enter the limelight.
Nik Ashton
said on 18/Nov/19
♾⭕️🦒!
Miss Sandy Cowell
said on 18/Nov/19
@ Vitto - I just saw the video and I HADN'T EVEN SEEN IT BEFORE! I think I'd have remembered all those clones of the male ballerina walking on at the end, with all different heights and hairstyles, not forgetting all the many Kates! (Any going spare? 😄)
I have a fair old collection of Kate's videos, including the one she made with Donald Sutherland to her track 'Cloudbusting'. If you haven't done so already, check it out! 😉👍
Cheers Vitto - that was most excellent! XXX 😋💐
Vitto
said on 18/Nov/19
@Nik I agree.The argument about average height doesn't get anywhere. Thanks for telling me this about my height. I also want to talk about other things on Sookie's Den. As I told someone, if you want to talk about height, it's that simple, go to General Height.
Cheers!
Vitto
said on 18/Nov/19
@Cedric I thought about it, the group on whatsapp. I am not sure about it because 1 I don't know you and didn't talk to you like with other people. (no offence) 2. I don't have whatsapp ATM .
You should ask other people, though. Maybe they agree.
Miss Sandy Cowell
said on 17/Nov/19
@ Vitto - Actually, my Dad had an Adele CD and I quite enjoyed listening to her, yes. She has a good voice.
Pink Floyd's album The Wall isn't about the Berlin Wall at all. It is about one man's descent into madness and the wall he builds around himself for (supposed) protection. Check out the film of The Wall. It's about a man, named Pink Floyd, who is played by Bob Geldof. I saw it three times in a week at the cinema with my mates when it first came out. I have it on DVD. The song Comfortably Numb reminds me of the day my boyfriend died in 1992, February the First. I played that album frequently to help cope with his demise. My late friend Bert was there for me and we began, or rather continued, a great friendship. I'd already known him for 9 and-a-half years.
Have a great week, Vitto! XXX 😁👍📀
Bobby 5ft 10in (178cm)
said on 17/Nov/19
@Sandy Cowell
Yeah, that was the expectation when war was prevalent in society. Naturally of course, if you were a Jehovah's Witness in WW2, you were either executed or imprisoned for refusing to participate in the battle either directly or indirectly. The whole preface here is that Jesus Christ abstained from conflict, so as good Christians, we should too, right? I disagree. If it's my life, I will fight, no questions asked. I think most people would agree with that. No one lays down and just desires their end, humans are stronger willed than that. So, anyway, it's cool that your dad was in the Navy, although being in a submarine must have felt cramped. If anybody was at least 183cm or taller, they'd have had a difficult time navigating the cramped corridors and low ceilings.
I have felt human organs before, this is when they have been cleaned and sterilized by medical professionals. They feel very rubber-like, almost leathery. I was expecting to be repulsed by the concept of holding someone's innards in my hands, but all I could think was how weird it felt. I thought it would be slimy.
Yeah, it sounds like your dad was married to his work, which I believe is a common anecdote to describe workaholics. Although, I am certain he made time for his family too.
I don't know what I could possibly contribute as a philosopher that everybody else hasn't. But suffice to say, these kinds of professions don't pay the bills unless you're good at what you're doing. I may tinker around with it in the future though. There's a series called Popular Culture and Philosophy. I may consider writing an abstract for one of their manuscripts in the future, I'm sure I'd get a portion of the royalties. I'm not expecting more than 1,000 dollars. Well, even as early as the 1700s, you had to rise through the ranks by duration and valour. Your education was only secondary. Unless you were particularly skilled or noteworthy, you could be stuck in a low rank for the rest of your life.
Grammar differs based on how you're communicating. If you are speaking, chances are, you may be grammatically incorrect. The issue is that most people tend to write in the same manner as they speak, so when you read what they write, you are probably thinking as I do, "That makes no sense." I think it's a combination of laziness and resorting to autocorrect and text prediction to do the bulk of the writing for you. Additionally, very few people read for pleasure, but those that do, tend to be writers, of a kind. My biggest grammatical flaw is run-on sentences and comma splices though.
Your boyfriend sounds like a good guy. Now if only he had superpowers... but that's wishful thinking on my part.
University is progressing quite well, but November has been intense with both workload and deadlines. It's starting to calm down now since I've completed the bulk of my assignments. I am flattered that my musings and thoughts have aroused this level of interest and respect for my knowledge and intelligence. If only I were able to orally communicate my thoughts with as much articulation as I do when I write. Still, I think you're very studious for your age, and that's not something that happens often once a person gets older. I've had more stimulating conversations with you than I've had with people my own age, which is quite frankly, very embarrassing. Let your dad and brother know that I am thankful for their comments. :) Though I am not fond of this Transatlantic climate, either.
Enjoy your Sunday, and the rest of the week, Sandy!
All the very best to you and your family :)
Bobby 5ft 10in (178cm)
said on 17/Nov/19
@Sandy Cowell
I apologize for the delay. November has been an academically intense month for me, I've had deadlines and assignments left and right. I barely had time to do any gaming, which is saying a lot.
Anyway, I think corporal punishment was in many ways, religious justification for instilling discipline. The Bible often references the need for physical discipline where applicable, but never cruelty though. My mom is old enough to remember those times where teachers would punish the kids through cruel ways. Much like Harry Potter being locked in the pantry by the Dursleys, my mom was also locked in a pantry by a teacher for "misbehaving", the reality is that my mom likes to talk, which isn't a bad thing really. Anyway, that was apparently deemed as disruptive to the classroom and overall curriculum, so they tried to beat that behaviour out of kids. Never speak unless spoken to, I venture that's the philosophy involved. I'm sure if I had been born in the 50s instead of the 90s, I'd probably have to deal with similar discipline since numeracy has never come naturally to me, and still doesn't. Your question invokes me to consider why many actors, namely those past the age of 40, tended to have lacked higher education. I guess the need to escape the academic disciplinary system was very strong, for many people.
How you treat other people comes back full circle in how they, in turn, will treat others around them. Unless the will to be different is strong, or they have one positive influence in their life, then they will simply adopt the same customs as their forebearers. It's why the concept of war has been so prevalent throughout human history. Although, sometimes, the desire for conflict is an unfortunate necessity to engender change, such as the need to eliminate tyranny. Violent people only understand violent solutions, after all. I remember doing a paper on Sigmund Freud last year for political science and he discussed in one of his books, though I forget the name at present, in how the WW1 conflict was a shocking and disturbing prospect for many scholars and psychologists. How could human beings be capable of executing others with such violent velocity? Naturally, Freud wanted to understand the inherent instincts that caused one to kill. He theorized that human beings have a death instinct which he related to the Id. It is defined in two parts: desiring the death of others, and carrying out the act. He traced back this behaviour to animal sacrifices of ancient religions. Of course, he neglected the Babylonians who also sacrificed their firstborn children in the name of their god, Baal. Baal worshipers were mentioned extensively in the Old Testament. So, anyway, he concluded that human beings have an inherent badness. (Of course, everything was negative with him.)
I would suggest screen saving the comments so you can refer to them, but this would come in more handy on a computer over a smartphone.
Bye for now, Sandy! :)
Bobby 5ft 10in (178cm)
said on 17/Nov/19
@cmillz
I think 5'11 is at least tallish for a man since it's close to 6'0.
Nik Ashton
said on 17/Nov/19
@ Vitto - Everything you have said is so true! I'm sick of the never ending debate too, it's best to put a lid on it, like you said, but first I want to say what I think! I'm fed up with people saying that 5'7" is short yet they are happy to say that 5'11.5" isn't tall! This shows how much human bias there is but it doesn't wash with me when the UK average for men is 5'9", with a 5'9" average 5'6.5" is no more short than 5'11.5" is tall! Let me tell you that you are tall as a woman and tall as a man and now I will draw a line under it and enjoy talking in Sookie's Den about other things now, this is what we both want. I too agree that the argument on General Height is full of human bias, it is never ending, flawed, and it doesn't get anywhere. ♾⭕️!
Vitto
said on 17/Nov/19
@Sandy @Nik watch this video and looks at Kate and how she dances! This is the Running Up that Hill official video
Click Here
Amazing!
xx
Vitto
said on 17/Nov/19
@cmillz I couldn't care less about you and your existence either. I am sick and tired of rude people on this site I was only explaining why Nik said that but your brain couldn't understand that. So just don't talk to me anymore. I won't reply to rude people on here anymore. That's all.
Vitto
said on 17/Nov/19
@Cedric that would be a good idea IMO. If you guys agree I'd join you later since I have an old IPhone and I am not able to use whatsapp on it. I must buy a new IPhone. To talk to people I know I use messenger on FB not whatsapp. But that's not a bad idea by the way. What do you guys Sandy and Nik think about this? Moreover I am not sure how you create a group on whatsapp.
Where are you from Cedric? Just out of curiosity.
Cheers
xx
Miss Sandy Cowell
said on 17/Nov/19
@ Nik - Indeed so! A trip to the toilet can often be the nearest thing I get to a day's outing, especially when I was eating protein balls - yum yum! 😋
I ordered them from Amazon and they didn't half have a 'binding' effect! They were strawberry flavoured and coated in white chocolate. They did have a warning on the packet, but the one time I ignored it, it took me little short of an hour to evacuate them at the other end. I thought, "Never again!"
Until now! 😹😂😂😂😹
Cheers Nik and love to you and Alverna! 😁👍 XX 💐 XX
Miss Sandy Cowell
said on 17/Nov/19
My cats have just had a catnip delivery from Amazon! Cordercelia could smell it through the cardboard wrapping! They are going quite NUTS!
😺😻😹😸🐱😁👍
I remember one of Pixie's Birthday parties back in the early 2000s. The cats had four packs of catnip that day and a cake made out of haddock and cod, complete with candles. They got absolutely ratted!
🕯️🕯️🕯️🕯️
🐟🐟🐟🐟
Yes, Pixie turned 4, so the year was 2001! 😁👍🐈🐈🐈🐈🐈
Nik Ashton
said on 17/Nov/19
🌎
🍺!
cmillz
said on 17/Nov/19
And no, 5'11 obviously isn't short for either gender, anyone who says otherwise is either trolling or just plain ignorant.
cmillz
said on 17/Nov/19
@Vitto
I couldn't care less what you identify as. I just disagreed with Nik when he referred to 5'11 as being tall for a man, that's all.
Cedric 172 cm
said on 17/Nov/19
Hey guys, what do you think if we create a group of whatsapp?
Vitto
said on 16/Nov/19
@Nik I especially like 'City of Blinding Lights' by U2.
In regard to Primrose Hill, it is located North of London, just North of Camden Town. The nearest underground is Chalk Farm, Zone 2. So it's not far from Central London I'd say. You were right, though. The journey down the hill is more pleasurable than the one up it because it's less tiring. Even though you can see the landscape and the city's skyline better on your way up.
@Sandy I know, right, music makes me feel better too. Do you like Adele? Or it's not your genre? My Dad likes her a lot and I was listening to her yesterday.
I am also writing from my phone now and I am not used to it. I am used to writing from my PC. It's funny what your phone used to do. I also have the autocorrect on my phone, of course!
Cheers guys
xx
Nik Ashton
said on 16/Nov/19
@ Sandy Cowell - Many thanks!
A trip to the toilet sounds so funny, it sounds like a day out! A day out involves one enjoying ones self and this can include humour as well! (like the lav'!) A person may also see some nice scenery on a day out (like the lav'?)! When we go on a trip we can go a fair distance (with nice and exciting thoughts on the way!) but it is so worth it! 😂😂😂!
👨👩😂😷.................................🏞🚽!
Vitto
said on 16/Nov/19
@cmillz Nik was replying to me and he was reassuring me that I am not short. As I've already said several times I was born a woman and I am 5'11 but identify as gender queer/non-binary that means that I identify neither with one gender nor the other. To avoid arguments you could call me they/them even though I know it's not grammatically correct but that it doesn't matter. It matters how I feel inside.
Anyway you can say that 5'11 is still above average for a guy. And 6'0 is tall enough IMO. If you wanna talk about height so much you can go on General Height and continue to talk about 'the never ending story' about the average height for a male and why in their opinion 6'0 isn't tall when it used to be. Since I am on this forum I feel even shorter because of some people. I'm sick and tired of this, to be honest. That's all.
Nik Ashton
said on 16/Nov/19
@ cmillzz - In many situations in many areas it is!
Nik Ashton
said on 16/Nov/19
🎩🇨🇦🧢!
edwards
said on 15/Nov/19
@ miss sandy cowell
how are you sandy,how's your day going
i'm so sad to hear that.my prayers goes to your friend and his/her family.
yes sandy,try to concentrate on good things .
edwards 😄👍xxx
Nik Ashton
said on 15/Nov/19
👹
🏞!
Nik Ashton
said on 15/Nov/19
@ Sandy Cowell & Vitto - I love the 10cc song Donna, can't get it out of my mind! "Little Donna"! 🙃📞😍😂🎶!
Nik Ashton
said on 15/Nov/19
@ Vitto - You are very welcome, thanks! We're kind to you because we like you!
Nik Ashton
said on 15/Nov/19
@ Sandy Cowell - "All The World's On the Pot"! 🚽🌎🎶!
Nik Ashton
said on 15/Nov/19
@ Sandy Cowell - Yes I would, that would be a good idea!
An album would be grand, it would contain many tracks! Here they are:
🎶😂🤣🗣 "All The World's On the Toilet"! 🗣🤣😂🎶!
🎶😂🤣🗣 "All The World Farts"! 🗣🤣😂🎶!
🎶😂🤣🗣 "All The World Lives On the Toilet"! 🗣🤣😂🎶!
🎶😂🤣🗣 "All The Worlds On the Toilet"! 🗣🤣😂🎶!
🎶😂🤣🗣 "All The Toilets On the World"! 🗣🤣😂🎶!
🎶😂🤣🗣 "All The Farts On the World"! 🗣🤣😂🎶!
🎶😂🤣🗣 "All The Farts On the Toilet"! 🗣🤣😂🎶!
🎶😂🤣🗣 "All The Farts On All the Worlds"! 🗣🤣😂🎶!
🎶😂🤣🗣 "All The Farts On All the Toilets"! 🗣🤣😂🎶!
🎶😂🤣🗣 "All The World's Farts@! 🗣🤣😂🎶!
cmillz
said on 15/Nov/19
@Nik
5'11 isn't tall for a guy though. For a woman, it obviously is though.
Vitto
said on 14/Nov/19
@Nik Thanks Nik for your comment! I like and respect you guys, too! You're way too kind to me as I told Sandy on the Height Request page.
@Sandy Sorry Sandy, but I've never listened to them, to be honest, I heard about them but never listened to them. I don't know some bands from the 70s only the most popular ones. I listen to some old music, but I must be honest I also like some recent music from the 00s onward.
LOL the joke about the toilet was funny, though!
Cheers guys
xx
Nik Ashton
said on 14/Nov/19
@ Vitto - You are very welcome, you are not late and many many thanks! I was 24 when Lucy was born, now she is 19 and her elder brother Oliver (my nephew of course!) is 26! They both live with their mother! I was 16 when Oliver was born! Do the math! 😕!
I'm glad that you like the swearing/ Sex Pistols interview on YouTube, it is so funny when Johnny Rotten said "Oh s***"! Also Steve was funny when he insulted the old man who interviewed them! It is a shame that the audio wasn't louder!
I would love to see the view at the top of Primrose Hill, what a nice name for a hill! How far is it from the centre of London?
Listening to the Kate Bush song "Running Up that Hill" whilst you were on Primrose Hill must have been great, what about listening to other songs with "hill" in their title when you are on a good 'ole hill!
🏞👾!
Miss Sandy Cowell
said on 14/Nov/19
@ Vitto - I haven't been feeling too good myself lately, but music always helps me out and sees me through.
My phone is so well acquainted with your name now that if I type a wrong letter, he corrects it for me!
My previous phone had an absolutely filthy mind, and used to alter words to the best of his dirty ability. I made up a story that he went to prison for gross indecency in a public place! 😲
His fellow inmates loved him because he allowed them to order contraband using him as a free 'service'. Needless to say, he served out his entire sentence! 😂😂😂 📳
Cheers Vitto!
Sandy XXX 😁🎈
Miss Sandy Cowell
said on 14/Nov/19
@ Edwards - I'm bearing up after receiving the lousy news about the death of my friend. I'm concentrating on all the good times we had.
Thanks for your good wishes!
Sandy XXX 😁👍
Nik Ashton
said on 14/Nov/19
@ Sandy Cowell - Oh, I know exactly what you mean! Thanks to you too! 😁😂🤣👍👌!
@ Vitto - Thanks for that, same to U2! 😁😂🤣👍👌!
Miss Sandy Cowell
said on 14/Nov/19
@ Vitto - I'm listening to David Bowie right now!
Miss Sandy Cowell
said on 14/Nov/19
@ Nik - Rush used to have an album called 'All The World's A Stage'. Would you like it to be altered to 'All The World's On the Toilet'? 😂😂😂👍
Miss Sandy Cowell
said on 14/Nov/19
@ Vitto - Do you like 10cc?
Vitto
said on 13/Nov/19
One last thing...
@Sandy @Nik and everyone who wants to.. if you like the Stones I advise you to listen to this cover of Paint It Black by Ciara, I think it's stunning!
Click Here
Let me know what you think!
All the best to you guys
xx
Vitto
said on 13/Nov/19
@Sandy I am sorry to hear what you Mum had to go through during the War.
In regard to Bowie, my favourite era was his Thin White Duke era but he was too thin since he was at the peak of his addiction (I suppose you know that). Anyway, I used to listen to 'Station to Station' while riding the underground in London, and it is one of my favourite albums, it's difficult to pick a song but my favourite is 'Wild is the Wind', but I really like 'Stay' and 'Golden Years', too.
I also really like his previous albums 'Young Americans' and 'Diamond Dogs'. My favourite from 'Young Americans' is 'Fame' and from 'Diamond Dogs' is 'Rebel Rebel'. I really like 'Young Americans' and 'Diamond Dogs' songs, too.
From the Berlin Era, the album 'Low' is great, I especially like 'Breaking Glass' and 'Sound and Vision'. 'Subterraneans' is also beautiful.
From 'Heroes' of course the song from the album with the same title 'Heroes' and 'Beauty and the Beast'.
From the album Lodger, I like 'Boys keep Swinging' and 'Fantastic Voyage' as you said, it's great too!
He was and still is my favourite singer of all time, he will be missed. RIP David. He is gone too soon. I wished I could meet him, but he's gone.
I said to my Mum that he looks at me from up there.
In regard to Kate Bush, I really like 'Wuthering Heights' too. I think her voice is great in that song and I think the song is brilliant. I remember when I tried to hit those high notes as she did. I am glad that I had Nik listening to Kate yesterday. I know that David Gilmour discovered her. To be honest, I am not really informed about Pink Floyd songs but I am sure my Dad really likes them! I was just listening to 'Another Brick in the Wall' a few days ago, the 9th Nov. to remember the day the Berlin Wall fell. That song is fantastic, though. Is 'The Wall' by Pink Floyd about the Berlin Wall?
I also like The Rolling Stones my absolute favourite is Paint it Black and I also like Satisfaction!
All the very best to you, too!
xx
Nik Ashton
said on 13/Nov/19
@ Sandy Cowell - That's very interesting, it's great that Bluey did wee wees in the lav, your Dad will have been chuffed about this! He must have been like a driving instructor who falls asleep when driven by the person he/she is teaching!
It would be great if an animal had a poo (autocorrect tried to change it to poodle!) in the loo 2! You could also say that it would be great if an animal had a no.2 in the loo, poo!
It's a shame there is no wee wees emoji! Hey, the futures market!
🚽 🐩 💩!
🐈
🚽!
🐩
💩
🚽!
Nik Ashton
said on 13/Nov/19
@ Vitto - Don't listen to some of the things people say on General Height, 6'0" is tall and 5'11" is too. I can tell you that in the area of England where I live the average man is way under 5'11" and this is true of many areas. Please don't feel short because you are tall for a man and you are tall for a woman. You know what people are like, always looking to move on and consign certain things to the past, people spout rubbish like 5'11" isn't tall any more. Yeah, yeah, yeah! 5'11" is and always has been tall for both genders!
Kim Basinger's daughter Ireland is only slightly taller than you, I bet a lot of people wouldn't be able to tell the difference very much!
It's always great to talk to you in Sookie's Den, Sandy and I like and respect you a lot. You add so much to celebheights!
Cheers,
Nik
Miss Sandy Cowell
said on 13/Nov/19
@ Nik - I'll send her a little something when I get paid!
edwards
said on 13/Nov/19
@ miss sandy cowell
how are you dear sandy,hope all is going well
Miss Sandy Cowell
said on 13/Nov/19
All one had to do was flush! 🚽😆👍
Miss Sandy Cowell
said on 12/Nov/19
@ Nik - Thanx 4 reminding me! I need a trip to the toilet! 🚽😃👍
Miss Sandy Cowell
said on 12/Nov/19
@ Nik 👍 XXX
Vitto
said on 12/Nov/19
@Sandy Sorry I am late to reply about David Bowie but I will. I will reply about Kate Bush too. I got a headache and need some rest.
Have a good day you and Nik and a great week!
xx
Miss Sandy Cowell
said on 12/Nov/19
Thanks Nik! I knew I could rely on you! 😁👍
(You know what I'm talking about! We have our own personal language!)
Vitto
said on 12/Nov/19
@Nik I just wanted to wish your niece Lucy a happy birthday sorry if I am late for this. She is younger than me if she is 19!
Anyway, I just saw the video with the Sex Pistols and the swearing, and watched Johnny saying Oh S*** that was funny! Or Steve when he insults the old man interviewing them. What a pity that the audio is a bit low!
The view from Primrose Hill is exceptional I must say! You can even see the London Eye in the distance. You have to go there if you can! I love it!
Nik Ashton
said on 12/Nov/19
🌎
🚽!
Miss Sandy Cowell
said on 12/Nov/19
🐱+💩🍋=Manelia! One of my Dad's cats, Bluey, went to the toilet in the toilet! He didn't know how lucky he was!
Nik Ashton
said on 11/Nov/19
👑
🌎!
Nik Ashton
said on 11/Nov/19
◀️ Peterboro' 43
🚜🚗🚎🚗🚗🚎🚓🏍🚗🚙🏍🚲🚗🚙🚐🚗🚔🚗🚗😬!
Nik Ashton
said on 11/Nov/19
@ Sandy Cowell - Many many thanks for your Birthday message to my niece Lucy! This is so appreciated, I will let her know about your wonderful message soon!
Nik
said on 11/Nov/19
@ Vitto & Sandy Cowell - Kate Bush is brilliant but I can't really comment on John Lydon as I know nothing about him! Some of Kate Bush's songs are amazing and I do like "Running Up that Hill", it was very appropriate that you listened to it while running up Primrose Hill in London! I've never been to Primrose Hill myself, is there a good view at the top? I don't know any London hills but I did used to cycle with my brother Steve up a hill near Ackworth in West Yorkshire, I can tell you that the journey down the hill was much more pleasurable than the one up it!
😅😅💦💦🚰🚰⛰!
Miss Sandy Cowell
said on 11/Nov/19
@ Edwards - Hiya mate! Firstly, I'd like to tell you that I don't find that any male height to be the 'ideal'! What I look for in a man is great sense of humour! That's what keeps a relationship alive! The funniest blokes I've known have been 5ft7.5 and 5ft4. Every time they'd open their mouths, they had something funny to say, and I'd be in stitches!
My Mum, on the other hand, only liked tall men. You could say, she carried a torch exclusively for them. One has to draw on one's own life's experiences though, and I have met some cold, ruthless tall and medium ones, but all the shorter guys were fantastic! My Mum would probably have said that around 6ft is ideal. My Dad fell short by half an inch, but he had, and still has, the charm and manners to make up for it! 😉
I had some dreadful news yesterday in that a good friend of mine died recently. He was 67/68. That's no age nowadays. We had so many laughs together. He was 6ft/6ft1. When I measured him, I didn't know anything about variations in height on a day-to-day basis! I was standing on a chair. I had to re-measure him because I couldn't believe it!
So you go to haunted locations, do you Edwards? I have never been (knowingly) to any, but I have had otherworldly experiences. One was when I stayed in my healer friends' healing room to sleep, and I was stroked most comfortingly by an unseen hand. It didn't frighten me, and when I told the lady of the couple, Gillian, she took it quite for granted that that sort of thing was quite normal in the healing room; her husband had been held down in there by an angry spirit.
I spoke to a Vicar about it and he told me that spiritual healing is against Christian beliefs. It disturbs the spirits' peace. He was a lovely Vicar, with long, dark hair and very tall! Whenever I saw him, I gave him a hug. You could tell him absolutely anything and he'd forgive you.
I don't know to this day if he was Protestant or Catholic, but he did do confessions. Personally, I believe that Catholicism is a more thorough faith. My German Mum remembered her history lessons only too well, and in her land, they do not respect Henry VIII at all. That's from whence Protestantism started. Although he was a deeply religious man, it was him who made himself the head of the Church of England. I don't think he could hold a torch to St Peter, who started the Catholic movement and was crucified upside down because he didn't think he was worthy to be crucified in the same position as Jesus.
To go from one subject to a completely different one, there have been many films made about the Kray twins, but the one with Martin and Gary Kemp is my favourite. It has humour in it too, which I find to be quite a necessity when tackling a serious subject. Watch out for their Army interview - it's hilarious! The ending, on the other hand, is anything but. I'm 99% certain that the actual Krays had a say in the making of this film. It also stars the fabulous actress Billie Whitelaw, who starred alongside the legendary Gregory Peck in 'The Omen'. Only one kid in my class got into see that film! She was our heroine - and not very tall either!
My musical facilities are failing miserably at the moment! I think I overplayed them yesterday....
Mind you, Edwards, I always find something to do!
My very best to you and your family and friends!
Sandy XXX 😁👍📺
Vitto
said on 11/Nov/19
@Nik I am not proud of my height, though. Yesterday, I've finally seen that movie with that Ava girl on Netflix, Tall Girl and I felt like s*** because I understood that you can never be enough even though the show says otherwise. Things like you must accept yourself for what you are, etc.. She was 6'1 and maybe a half in the movie, but I talked to Greg and he also agrees that she is no more than 6'0 IRL. But she looks HUGE in the movie. You also saw my comment on her page and the average guess is around 6'0 (183 cm).
The thing is I wish I was a little bit taller like 6'1 (not sure if that would be too tall for my modelling career, though).
Kim Basinger's daughter has been luckier than me since she reached 6'0, her name is Ireland. There is a page for her on this site, too.
Well, you must think ''why he/she (me) complains about being 5'11, he/she must be happy since he/she is tall.'' Because if I was born a woman, I'd be tall. But what if I was born a guy, would I be average? Anyway, the fact is that I compare myself all the time to the guys I see walking down the streets, that's the reason why I am not completely happy with my height because I see all the time at least half of the guys taller than me, at least in the UK. Even though they say the average is 5'9/5'9.5. I just wanted to explain how I feel, maybe it's all in my mind.
I've been on CH for a long time without writing anything but I never went to the General Height page, until a month ago, where they say 6'0 is not tall. That made me feel short. I think some things written there are absurd and 5'11 used to be tall, especially for a woman.
@Sandy I have to go now, I am going to reply to you in the afternoon/evening about David Bowie, you're right life is too short to dwell on some things.
Have you guys a great week
xx
Miss Sandy Cowell
said on 11/Nov/19
@ Vitto - The hills I'm most used to running up are the long road I live on and the roads adjacent to it. I haven't been running up many hills of late though because I had a hip replacement last year! 😣
I love Kate Bush myself and have followed her career since it began, in early 1978. I didn't buy 'Wuthering Heights'; I bought the whole album - February 78, I believe, 'The Kick Inside'.
She hails from Lewisham, which isn't far from where I live. A friend of mine saw her buying undies in Marks and Spencer's, but she didn't enthuse about it like I would have done. Blimey, I would have hugged her!
I have heard that John Lydon has the hots for her, yes! 😋
I am listening to Pink Floyd right now, Dave Gilmour from the Floyd having discovered her. I'm into progressive rock big time, but I think you might have guessed that by now! I saw Pink Floyd in 1980 performing 'The Wall'. It was BRILLIANT!
Have a great week, Vitto!
Sandy 😁 XXX
Nik Ashton
said on 11/Nov/19
🎩
👧🇨🇦!
Nik Ashton
said on 10/Nov/19
@ Vitto - Many thanks for telling me this! As you know I am a height enthusiast and I love to find out fascinating facts about the heights of peoples family members. It is so interesting to find out about people who are taller than both their parents and people who are shorter than both their parents too! It's so cool that you are taller than your Mum and your Dad!
I'm so glad you feel lucky like (autocorrect tried to change it to Luke!) Kim Basinger's daughter! I am glad you are so proud of this and you should be.
Have a great week,
Nik
Nik Ashton
said on 10/Nov/19
🎩🇨🇦🧢!
Vitto
said on 10/Nov/19
@Sandy @Nik Also, John Lydon said he loves Kate Bush! Do you guys love her too? (But hate him maybe LOL? Not sure) Anyway, in regard to Kate Bush, I used to listen to Running Up that Hill while running up Primrose Hill in London, love that place! I guess you've been there on Primrose Hill like I did several times?? I'd say I've been there a lot of times. Also, must try listening to it while running up Parliament Hill in the Hampstead Heath. Are any more hills worth running up?
All the best to you guys
xx
Vitto
said on 10/Nov/19
@Sandy @Nik Do you guys know John Lydon? I was talking about him on Height Requests because I'd be very curious to know how tall he is. Anyway, he gave an interview to the BBC in 1978 speaking out against Jimmy Sa-vile (I've seen you were talking about him some days ago). Anyway, Lydon was banned from the BBC for that. I found this on Google -
John Lydon has claimed he was banned from the BBC after speaking out against Jimmy Savile. The former Sex Pistol was referring to an interview he'd given in 1978, during which he had said that Savile was "into all sorts of seediness. We all know about it but we're not allowed to talk about it. -
He also said at the time that he'd like to kill him, well he is dead now but he didn't pay for what he has done to those children.
Continue in the next message about another argument...
Vitto
said on 10/Nov/19
@Sandy Thank you if you say so.
Miss Sandy Cowell
said on 10/Nov/19
@ Vitto - Ha ha about the lack of height thing! Life's too short to dwell on 'what might have beens'! 😉
I am having a David Bowie Day! '...but our lives are valuable too'. 😿 Track one from 'Lodger', 'Fantastic Voyage'.
Miss Sandy Cowell
said on 10/Nov/19
💐🎁🎂🎉 Happy Birthday Lucy! 🎉🎂🎁💐
Nik's niece Lucy turns 19 today. Many Happy Returns to Lucy! XXX
💐🎁🎂🎉💐🎁🎂🎉💐🎁🎂🎉💐🎁🎂🎉
Miss Sandy Cowell
said on 10/Nov/19
@ Nik - Monkeys swing from lampshades and do everything we joke about to describe people at their drunkest! Yet they're like this all the time! I saw this appealing little monkey in 1984 (ha ha, Vitto - a Bowie song!), so imagine how much he'd cost now?
When I was extremely young, I used to watch a programme about a lovely couple who lived in the jungle and kept animals! They had a cross-eyed lion who wouldn't have been able to look after himself in the wild, and a chimpanzee called Judy. It was a lovely warm programme and I shall find out what it was called. I know it began with a 'D' and sounded not unlike 'Dactari'. Judy wasn't naughty though! She had the whole jungle as a funfair but she preferred to hold the hands of those who looked after her! Ah! So sweet! 😉🍭
Miss Sandy Cowell
said on 10/Nov/19
@ Vitto - As you probably know, my Mum had to partake in what they ordered her to do in the War. At one time, she was sent into what is known as 'The Work Service'. The Baker's boy fancied them and they all grew fat on cakes! 😂😂😂
When food is at a premium, that was the lap of luxury! My Mum would be in stitches when she told me about it, especially when she told me about how her Mum walked passed her at the station and said, "How do you look? I'm ashamed of you!"
After that, my Mum starved off 16lbs.
She was a dead ringer for French actress Claudette Colbert, and she could never remember her name. Then my brother and I, as kids, saw Colbert on TV and laughed our little @rses off! Once, when my Mum was waiting for a plane, she was presented with a huge bouquet of flowers, such was the likeness!
Ideally, I'd like to be listening to some David Bowie when I talk about him. I won't have to look far either. I was 22 when I got into him Big Time and at least I was old enough to appreciate his genius. Before then, I still rated him, and bought a few of his singles. The girls in my class fancied him of course! Who couldn't, but there was so much more to him than mere looks. Right then, Vitto, I've just walked across the room to retrieve my copy of 'Low', which has to be one of my favourites! When I bought it - on vinyl, of course - and played side 2, my follacles were standing on end hearing 'Warszawa', 'Art Decade' and 'Weeping Wall'. They are really trippy instrumentals and they take you places....
As I probably told you, my boyfriend Jim went to the same senior school as David, and acquired a textbook with David Jones written in the front cover. He didn't correlate the two, but I would have, being just over three years his senior. Do you know the 60s song 'The Laughing Gnome'? Check it out! You'll love it!
David's first group was called 'David Jones and the Lower Third'. They DID make records but the earliest of his that I remember was 'The Laughing Gnome'. I had a couple of 'Lower Third' tracks on some very old records given to me by someone who made the papers for marrying an 18/19 year old. He was President of the Hell's Angels' Dad, thus rather well known in his own right! I knew the President very well. He looked after me when I was 21. I didn't have the faintest idea who he was either, but when I found out, I read his autobiography in one night flat. It was very funny and thoroughly entertaining. His name was Peter (Buttons) Welsh, and I Googled him recently to find he had died. He was working as a cab driver at the time. Walking into one of his rooms in his flat was like walking into a record store! His Dad also gave me some 1950's Jimi Hendrix discs when Jimi was collaborating with other singers. The American Angels, who met Buttons and gave him permission to set up the Angels movement in England, used to roadie for big rock names, including The Rolling Stones. David Bowie would doubtless have been a tiddly bit too young to have had them roadie for him. I think they only did big groups though....
I'm getting to the instrumentals now! I think after this, I might play 'Diamond Dogs'. The only CD of David's that I don't yet own is his last one. I know it has a great many subliminal messages in it, because he knew he was dying and hearing it would have greatly upset me, but I am ready for it now, and will buy it this week.
I love his album 'Lodger'! Try singing along to 'African Night Flight' - I almost can, but I need to polish up my act!
Yes, he did so much fantastic stuff and is one rock singer I will love until the day I die. I wrote on the envelop of a disc request given to his fans when he died, "Always Loved - Never Forgotten".
It's been great chatting with you, Vitto!
Have a great week! I will send away for 'La Dolce Vita' this week too.
All the very best,
Sandy 😁👍 🎧🎶 XXX
edwards
said on 10/Nov/19
@ miss sandy cowell
how's your day going sandy and i wish everything is going well and fine.
interestingly london's accent is called cockney.i dont know about a single british accent that how much accents falls under it but i love the whole british accent and its interesting.imo london is quite diverse city and also has a wide diverse accent.i always wanted to visit the english pubs.i have visited some of the english pubs in new orleans in louisiana in america.there are so many english people too.i can that there are so many pubs in england and through out the uk.
yeah sandy,i too love gangster movie specially the american and the british.i am also intrested in ancient battle films.after your recommendation,i'm going to watch the movie 'The Krays', with the star the Kemp brothers, Martin and Gary.you reminded me something that i love and its the 90s.i love the 90s way too much.from the music to films to sports.90s was a golden time period.
interestingly you have a taste in the american horror movies.i do not watch horror movies often but ofcource i love it. i do not watch tv often but i watch films and other stuff after you sandy and other friends recommends something.other time i dont watch much tv.talking about horror.i love visiting haunted location as i have already mentioned it before.i always have a passion on haunted location's since i was a child and even to this day.i'm interested.
yeah sandy,i've heard that Henry VIII was a young, fit specimen when he came to the throne.he is still and arguably one of the most famous king in history.he is one with the intresting history too.as my love of british culture,i often watch the channel in youtube named 'English heritage'.it shows some intrested history about the british.treatment in those days were hilariously expensive and most wouldnt afford at that time.
as for me,i am staying in the house the whole and plan to watch the film you've recommended.i am also planning for a road trip after some.i wanna ask you question if you dont mind and its about height.what do you think is the most ideal and attractive height for a man,i wanna know from someone who lives in the uk.i wanna say that what is the most ideal height for a man in uk and i need your opinion.
thanks sandy.i always love interracting with you.
I wish you and your family,friends and everyone closest to you a great weekend,
Edwards xxx
all the best😄👍
Nik Ashton
said on 9/Nov/19
@ Sandy Cowell - What you have said is absolutely amazing, it would have cost someone a monkey and two tons to buy this monkey! Monkeys will make incredible pets and hopefully one day they will be a very popular choice of pet, wouldn't it be great to own a pet monkey?
Yes, he would have inflicted a lot of damage on ones property and as a result the bills would be high but ain't he worth it! Awwwwww, bless! Monkeys are very cute, he's sooooo worth those 140 "Deep Sea Divers"!
I can imagine that a pet monkey will climb about a lot and I can also imagine that they would climb on peoples backs a lot, I bet they wrap their arms around their owners quite a bit too!
🐒👌!
Miss Sandy Cowell
said on 9/Nov/19
@ Vitto - Re: The victims of the Berlin Wall.
You are a very thoughtful person.
Vitto
said on 9/Nov/19
@Nik They are average for their age, mum 5'4 - dad 5'9. I must admit that I did some stretching and sport and I reached my maximum height at 5'11. I am taller than both. I've been lucky like Kim Basinger's daughter I am taller than both my parents! Why did you ask?
@Sandy I am sorry you didn't grow taller to your full potential.
I am looking forward to talk to you about David! I am listening to 'Heroes' remembering the fall of the Berlin Wall! Today it's 30 years since that day. I feel very close to the Germans for what they had to go through. David spent the late 70s in Berlin when the wall was still standing. The wall fell in 1989. I wasn't even born! I must admit I got emotional both for David's death, more than 3 years ago, and both for the fall of the Berlin wall! I've seen a lot of documentaries about the latest on TV.
In regard to Nico's movies, I would advise 'La dolce vita' (Italian for The sweet life). Moreover, that's an Italian movie and she was an extra I guess? I didn't watch it to be honest. I can't help you about other movies, unfortunately.
Wish you both a great weekend
xx
Miss Sandy Cowell
said on 9/Nov/19
@ Nik - I once saw a monkey for sale in a pet shop. He was £700 in the mid-80s! Imagine how much the bills would have amounted to for the damage he'd have inflicted on your residence?
But he WAS cute, with a lovely, tempting face! 😁🐵
Nik Ashton
said on 9/Nov/19
⛽️ 🗳!
Nik Ashton
said on 9/Nov/19
@ Sandy Cowell -
🚶‍♂️🐒 🔜 🐒🗣 "He's been driving me nuts all day, I'll be glad to see the back of him!"! 😂😂😂
😂🔜🗣 "He's a big lad, your monkey (minky (minkey), Mmkay, etc) is enough to drive anyone bananas!"! 🚶‍♂️🐒
Yes, I am referring to you you naughty primate! Being naughty, that's you that is! You are very cheeky, in fact you are a cheeky sausage!
🐒🍌🥜👌!
Vitto
said on 9/Nov/19
I wanna spare a thought for all the victims of the Berlin Wall after 30 years since its fall.
Miss Sandy Cowell
said on 8/Nov/19
Vitto/Nik - Nik/Vitto:
I came across 'doing the emogi thing' purely by mistake, which was Christmas 2016, a little after seeing the Biblical epic 'Noah'. I remember writing to Rob: "Look! Emojis!"
He gave me his Christmas 🎄🎅⛄congratulations. That was the Christmas, my first here, that I found out much to my surprise, that Rob is so devoted to his Website that he works on Christmas Day, of all days. That's dedication for you!
He does all this and looks after his parents as well. I caught around half of a programme the other night all about the extortionate interest charges on equity release. Some of the elderly folks, all of them lovely people, had borrowed money for the reasons of helping out their children or to pay for the care for their other halves. I thought of Rob, and his brainwave in setting up such an original Website, which offers so much entertainment for so many, and still gives him the time to look after his parents. What a thoughtful son. He also says, "As long as I have enough to pay the bills..."
Thank you, Vitto, for being so thoughtful to have noticed that I have a fair few replies to get through, but I enjoy them, each and every one. I look forward to discussing David Bowie with you in our next chat. I, too, cried buckets when he died. It came as such an unexpected shock.
Cheers to you both and have a great weekend!
Sandy 😁 XX XX 😁
Nik Ashton
said on 8/Nov/19
@ Sandy Cowell - 🚶‍♂️🐒 "I'm a 0-E-monk-E!"! 🐩!
Nik Ashton
said on 7/Nov/19
🍺
🤪
🍺
😂
🍺! 🥩🥪!
Nik Ashton
said on 7/Nov/19
@ Vitto - How tall are your parents please?
Miss Sandy Cowell
said on 7/Nov/19
@ Edwards - Ah, bless you for all the nice things you say! The London accent
is just the one, and it's called a 'Cockney' accent. Even when you move to just outside London, the accent changes a touch, but Cockneys have a very funny way of talking in that they speak Cockney Rhyming Slang. I can't say my favourite term because it's very rude! I didn't know what they were talking about until I went to the Gay Bar, 'The London Apprentice', where the fellas in there were only too happy to explain it to me! You can get hold of plenty of London gangster movies, and I am a fan of gangster movies from America and England, and had it not been for spending three years of my life in the East End, I doubt I'd know everything they're talking about to this day! I recommend the ones which star Danny Dyer, who's very funny, and I also rate the film 'The Krays', which star the Kemp brothers, Martin and Gary. It was made in 1991, and it was the first really decent film made about the Kray twins. This counts as 'present day history', but I much prefer the older variety.
Even films have a certain history to them, as is approached as thoroughly as I have yet to see in 'American Horror Story'. Littlelee recommended it to me, and for a while it's all I was watching on TV. In Season Eight, you see how well they have linked many of the storylines. I am looking forward to Season Nine, which will be available to buy next year.
Yes, Henry VIII was a young, fit specimen when he came to the throne, and he started piling on weight after he fell off his horse. He was a serial philanderer and it is reputed that he had syphilis, but his bad moods were more accurately linked to the accident he had (in 1536), whereby his wounds became ulcerated and he piled on weight because he could no longer exercise and continued eating heartily, which included roast beef for breakfast. There WAS a treatment for syphilis those days, which involved the very expensive chemical substance mercury, but if anyone could afford it....
I haven't made any plans as to what to watch this evening, but I will probably continue watching the film I started last night/early morning, starring the gigantic actor Vince Vaughn in a film called 'Brawl in Cell Block 99'. He stands 6ft4.5/5 and is very well-built!
I wish you and your family and friends a great weekend,
All the Best!
Sandy XXX 😁👍📺
Miss Sandy Cowell
said on 7/Nov/19
@ Vitto - I'm glad that I have been of some use to you, advice wise! If only I could advise myself and it actually work for me! I know calories off by heart and grammes of protein in food and have done so for years, but the best way for me to lose weight is to do nothing about it. If I count calories, I tend to consume more because I know what's healthy and what isn't. I HAVE been in hospital with anorexia and it's vile. When I've been thinner, however, I've made sure I've been in as healthy and active a state as possible. I stand only 5ft1 now, and the most I've been was 5ft2.5. I admit I used to raise myself when I was measured, and I stuck 5ft3 in my passport - and believed it because I'd measured that on a computer weigher, on slight tiptoes, but as I measured and weighed myself in a gym, I was aware that the people around me were health conscious, so I didn't want them to notice. Part of the reason I craved as much height as was feasibly possible was to have a lower BMI. I got down to 15.9, but because I fiddled my height, I was probably 16.1. I genuinely believe I had body dismorphic syndrome because I thought a person of my height was smaller.
I remember the days when we had to work out our own BMIs but now all the dirty work is done for us! I usually go to the NHS Online calculator, but any one of them does the trick!
I grew up watching my Mum being concerned about her weight, but even before that, at just three, I got off on starving myself. Yes, I do think it had a bad effect on my growth, as does my brother. My Mum's optimum height was 5ft4.5 and my Dad's was 5ft11.5. By this website's strict standards, my late-night height was probably 5ft2 or just over. I don't have the chance to measure myself late at night now, or I would - because I want to know my true height. I was 5ft1 at 6.45am but I had been awake since 12.30am, watching films and drinking tea, so I reckon that was the equivalent to someone's early afternoon height.
Oh yes, Kim Basinger was 5ft7 when she was a model. I have heard that they prefer to take on a girl of 5ft10 or 11 to a shorter, 5ft8 girl unless she has that extra bit of 'je ne sais quois', in which case they will take on an even shorter girl.
My white cat is snoring loudly! She is my largest female cat and I am very close to her. I need a cup of tea now, so I will send this just in case I lose it, but before I do, perhaps you could help me out with some Nico films you recommend. I would love to see her act.
Back later Vitto!
Thanks for writing to me!
All the very best!
Sandy 😁👍💐 XXX
Miss Sandy Cowell
said on 7/Nov/19
@ Nik - Yes, that sounds about right - flipping socks for Christmas again! 🧦 You can't have enough fresh pairs of socks - just ask Hugh Laurie's Prince Regent in 'Blackadder the Third'!
On the subject of all things fresh and new, hark to this: the description on some catfood I bought on the internet
recently was that it was brand new. I gulp at the thought of the alternative!
Vitto
said on 7/Nov/19
@Nik I use Google Chrome, could you really explain to me how the emojis work? That would be great. Otherwise, if it's too difficult to explain I will try to do it by myself.
It's great to speak to you too!
WIsh you the best!
Miss Sandy Cowell
said on 7/Nov/19
@ Bobby (cont).
I think it's quite terrible that every able-bodied man was expected to fight in wars. My Dad was called Bobby as a boy, then Bob, but for years now, he's been Robert. He joined the Navy and helped out in the operations, so that he pursued a pharmaceutical company career was a natural progression. I remember when I was 5 and 6, I used to ask him what it looked like inside somebody's body, and he said that it looked 'nice'! I still think he was joking but if everyone found the insides of bodies as revolting as I do, there would be no medical profession.
My Mum was even more squeamish than I am. She excelled at languages and my Dad got where he did through hard work. He came third in the Business Men of the Year award for something he invented, plus his impeccable record. He was addicted to working and didn't retire until he was 77. I was there on the day he retired and he found a can of my strong beer in the bathroom and nicked it, which was very funny! He said, "I'm celebrating!"
Nowadays, people can pursue careers at their choice of expertise. I really think that you will be cut out to become a writer/philosopher. Even last century, it was compulsory for able-bodied men to fight in the wars. They only got to certain high positions if they were particularly well-educated and spoke in a certain way. I was watching a war film with my Dad in the year he retired and when I remarked on the accents, he said, "Everybody who was anybody spoke like that!"
He still remembers in the 30s when a person with a regional accent spoke on the radio and there were complaints. I think he was 10 or 11. Now, it is almost expected of people to use bad grammar on TV and these Reality TV shows do everything to encourage it. We were clamped down on for using bad grammar, and some of the exams we took at school are probably no longer in existence. I can't see many people sailing through them the way we did, but you would!
When I tried to join your blog, I received a request for more information. It goes to show that I am extremely ill- equipped as far as the internet goes. All I can do is type and find my way round the internet shopping places. Then, of course, I'm forever asking questions as and when they come into my head. I love Sudokus and crosswords come to you with time and experience. I like the 12-box Sudokus especially. My Mum was always doing crosswords, and she preferred the cryptic variety. I learnt to do those with the crosswords which offer two types of clues.
My boyfriend, who is currently very busy, is going to fix a stand to my TV. He is very practical, big and able-bodied and was a Sergeant in the Army at just 21. He joined because he didn't like injustice in the World.
I hope your university studies are going well, and I'm sure you'll be enjoying them. You have, at your young age, passed on so much knowledge and so many ideas to me. I have told my Dad about you and refer to you as 'the clever Canadian University Student'. I have also shown your writings to my brother, who agrees that you are a very interesting guy. He is too, with an enormous book collection and he's good at history (👍) and fascinated by the weather (👎), which I find relatively boring!
Have a great weekend, Bobby!
All the very best to you!
Sandy 😁👍 XXX
Miss Sandy Cowell
said on 6/Nov/19
@ Bobby - Corporal punishment was little short of a stupid way of controlling kids. When my brother started the Senior school, what Americans call High School, the kids would take to discussing the severity of the physical punishment doled out by their teachers. He told me and it sounded disgraceful. If that had gone on in a school where the parents paid for their kids' education, there would have been an uproar. My brother would bump into classmates from his former, 'Primary' or 'Junior' school, and couldn't believe what he heard. I'm sure many children stayed away from school to avoid this abuse, and I happen to know that the teachers had their 'favourites' for beating and caning. Often, they would be the ones who found it difficult to read or cope with basic numeracy and literacy. Dyslexia hadn't been recognized as a condition then. Is it surprising that a great many of today's actors and actresses suffered from it, and went into the acting business to prove themselves?
In our Junior/Primary school, the ones who were slow were thrown into a remedial class and often taught in, say, the library, or the school hall. They didn't have the security of their own classrooms, where their good work would be displayed on the walls so that they could feel a sense of achievement. What about the kids who were suffering at the hands of their parents or step-parents? Things like that weren't open for discussion like they are today. Nowadays, thankfully, help for kids abused at home or at school is just a phone call away. We had a TV presenter in the 1970s called Esther Rantzen and she set up the charity Childline in the year 1986. Things have progressed from there and now it's illegal to violate kids, or anyone for that matter. Violence breeds violence and victims of bad upbringings don't know how to display love and so go on to make inadequate parents.
I have, of course, sorted out my phone problems and will continue with this when I've re-read your interesting comment to me. That means a fair bit of scrolling down. I don't want to risk losing this; I nearly did just now...
Cheers for now, Bobby!
Sandy 😁👍 XXX
Nik Ashton
said on 5/Nov/19
@ Vitto - You are very welcome! It can be difficult to get the hang of the emoji thing and it was difficult for me for so long. Which browser do you use? Knowing this may enable me to help you with the emojis.
It is great to speak to you any time in Sookie's Den,
all the very best,
Nik
Vitto
said on 5/Nov/19
@Sandy Yes, I am almost 5'11 (5'10 7/8 or 180 cm) in the afternoon. On which site did you calculate my BMI? I found you can calculate your BMI on the NHS site. I suffered in the past from an eating disorder (anorexia) but it wasn't serious, I mean I didn't end up in a hospital and didn't do the crazy things models do. I am now almost healthy even though I am still underweight. Thank heaven I still managed to grow up in height. I have to be honest I grew up a bit more also thanks to stretching and sport. It wasn't all thanks to genetics because my parents are of average height for their age. So, I've been lucky.
I think the minimum height for women in the fashion industry is at the moment 5'8. Is Kim Basinger that tall? If I can remember correctly her daughter, Ireland Baldwin is taller than me at 6'0. I am not sure if she's a model, though.
I often wear male clothes especially shoes since I've got quite big feet (9 UK for women, almost 8 UK for men which is a 41.5 almost 42 EU size) and I sometimes wear suits, bow-ties and waistcoats but recently I prefer hoodies and Adidas training pants.
Anyway, I've seen you have to reply to a lot of people so I will stop writing here anyway for menswear and womenswear I meant that I wish to walk for both like some models sometimes do. Thanks, your advice was great! I don't think nature has been kind to me but I can't complain.
Cheers and the very best to you, too!
Vitto (I'm going to tell you a secret, that's Victoria or Victor but it's not my real name LOL just a name I like)
xx
Vitto
said on 4/Nov/19
@Sandy I didn't reply to your entire message in Height Requests otherwise it would have been too long. Anyway, in regard to Nico's height, I guess she was tall because she was a model. Google gives her height at 5'10 I guess that's pretty accurate if considering that Andy Warhol was 5'11. Let me know which movie you're going to watch, just out of curiosity.
In regard to David Bowie's death, I felt terribly numb too. I remember watching on television the streets of Brixton (where there is a wall with the graffiti on) that were full of people but I didn't go there (too many people). I used to collect Bowie's pictures on my PC and I remember that one with Angie and their son who she called Zowie (his real name is Duncan Jones). I felt so sorry that he died to a terrible illness like cancer.
I know some words in German but I wish I could speak it fluently and I know some bad words too but it's better if I'll keep you guessing since I can't say them here.
In regard to Andy Warhol, I didn't remember how he died and I wasn't born yet. I saw an albino girl once when I was going to school but I've never seen one again. Two eyes of different colour is called heterochromia, I've never seen a person IRL having it. Must be pretty cool.
There is an actress with two different coloured eyes but I don't remember her name at the moment.
I prefer dogs to cats but both are beautiful like I think it's yours. I think I am going to buy a small dog soon.
I replied to the rest in the message before,
Wish you the very best
xx
Nik Ashton
said on 3/Nov/19
🏴󠁧󠁢󠁳󠁣󠁴󠁿🏴󠁧󠁢󠁥󠁮󠁧󠁿!
Nik Ashton
said on 3/Nov/19
🛏 💤😴
Miss Sandy Cowell
said on 3/Nov/19
🐒 "You're not referring to me at all, are you Nik? Well, if you are, you're right you know! I'm about as naughty as they come!" 🍌🐒
Nik J Ashton
said on 3/Nov/19
🗣 "You cheeky sausage!"! 😂
Miss Sandy Cowell
said on 3/Nov/19
@ Vitto - I worked your BMI out to be 18.2 and that's assuming you are 5ft11. You can go up to 18.3 considering you are a weeny bit less. This is underweight, but I wouldn't consider you unhealthily so. At one time, they were supposed to set a minimum BMI for models to be no less than 18.5. They didn't end up doing this. There were arguments for and against, and one which was against this rule was that some girls are indeed naturally thin. I have read some truly dreadful stories about how they have put pressure on girls to lose weight and the vulnerable girls have ended up with eating disorders and in extreme cases, have starved themselves to death.
There was a girl in my class at school who, after we sat our exams, she went on to the Lucie Clayton school of modelling and deportment. They learnt typing and secretarial skills there too. Sally, who was 5ft5 and at a steady 8st2, was told to 'lose weight from her bum!' How stupid is that? If you lose weight, it comes off everywhere! You can firm your bum up, but only liposuction can reduce specific areas, and that wasn't exactly an option those days!
Another model who was told to lose weight, this time a whole stone, was Kim Basinger. I think she weighed 8 stone (112lbs) and her agent wanted her to lose a stone. She refused - and so began the acting career of one of the most beautiful actresses ever. She didn't get kicked out of the modelling industry either.
Of course, Vitto, you can write to me on this page, which is for general chit-chat anyway. I can understand your liking for male clothing myself. Sometimes, I used to add a bow-tie to my attire, and a waistcoat! I liked combining male and female clothing ideas - and I certainly can't say it didn't work. Before long, I had others following suit! I wore sequins on my face long before Julian Clary hit the scene as well, and some schoolgirls copied me, wearing them AT SCHOOL! Ha ha - poor little things were punished - how strict times were back then. The sequin idea came to me when I was getting ready one evening and a red sequinned necklace broke, leaving me with an inexhaustible supply! I stuck one solitary sequin on my cheek and went out....
One thing my friend Sally told me that she learnt at deportment school was to get the hair and figure right and then you work on the confidence and style. I think that was good, sound advice because they are the two things we can do something about. We can be hacked off about our height and, say, the length of our limbs or lack thereof, but it simply doesn't help. From a personal point of view, nature has been very kind to you. Celebrate it and make the most of yourself!
Cheers and all the very best,
Sandy 😁👍 XXX
Nik Ashton
said on 3/Nov/19
🌎
🍺!
Miss Sandy Cowell
said on 3/Nov/19
@ Vitto - Your height of 5ft11 sounds ideal for a career as a model in the fashion industry, and at just 9st4, you are very, very slim! So what if you're a fraction below 5ft11! Your height and weight are fantastic for such a job. I'll just work out your BMI. Back in a mo....
Bobby 5ft 10in (178cm)
said on 3/Nov/19
@Sandy Cowell
I am quite certain that you need an account on WordPress to subscribe to a blog or some website. To date, I have posted three entries relevant to my topic and am currently brainstorming for a fourth entry focus. I suppose I could discuss in detail the merits of using smart A.I or compose a projected entry on what the future would look like. I am sorry to hear about your telephone troubles, but I'm sure you'll get that straightened away in no time. If a kitten could over such a newly made purchase, perhaps you could acquire a larger television to prevent future incidents like that? I am certain you can ask for help from an able-bodied young man, or woman if you're so inclined. I would offer my services but I live all the way across the Atlantic Ocean and making a Transatlantic journey would be tedious and costly.
That little event reminds me of the Harry Potter books where young Harry would be imprisoned in the pantry by his abusive foster parents, the Dursleys if I recall. I myself am no stranger to physical discipline, but I find it is a cowardly and poor way of instilling such a thing. Hitting someone doesn't teach them anything else but to resent and fear you, it doesn't teach them respect and love. I suppose your grandmother had to compensate for the lack of a male presence in your mother's life and resorted to physical discipline. Having trouble assimilating to certain lifestyles can often be a case of coerced expectations. Not everyone is born to excel at the same thing, and so success comes to them in different ways. Some people are more physical and direct and will pursue the trades or in many cases, as it was back in the 1800s and prior, the military. A more studious cohort will pursue academia or find some way to channel their academia into a career as in the case of writers and historians.
I think you're right, we have it so much better than someone did even a century ago. But just imagine the sort of hardship one would have endured well before the Middle Ages. Owning a horse was the equivalent to a car today. Also, educationally, before the 1860s at most, grammar and spelling had no methodology and standards. People used to spell words based on how they sounded. So, take simple words such as light and night. People would have spelled them like this: lite and nite.
Well, I play on consoles, but I also emulate the retro games that were available during my parent's generation. I enjoy Sudoku but I don't think I am learned enough to be adequate at Crosswords. I'll be sure to check out all the shows and films you have recommended to me when I get around to it.
I'll be having breakfast shortly myself. I tend to eat the same thing for breakfast every day and make my coffee strong enough to incapacitate someone, surely. I am astonished I am still functional.
That's interesting that your dad was referred to as Bobby in his youth. Does he still go by that name or do people formally call him Robert?
Have a nice Sunday and enjoy the rest of your week Sandy :)
edwards
said on 3/Nov/19
@ miss sandy cowell
yes sandy,no worries.its all right.how are you and hope everything is going well.
i never knew that Henry VIII was himself an excellent composer and i also never knew that he came to the throne at 18.That might seem young by today's standards, but there had been far, far younger Kings, but king henry was one of the most famous king.i am intrested that when you were 12, found a partially fossilized skull as I was doing during gardening. as for me,i dont know any composer.yeah i've heard the film "exorcist".yeah you're right when you live in england , so much more history is known because of the records kept regarding the Royal Family.i've also heard about king john signing the magna carta which was one of the beginning of the modern democracy.yeah you're so damn right that money has never bought happiness and it never will.a fine line.yeah its really awfull that Chales I was beheaded 'for Treason against the People'.
yeah sandy,my sister in law often visits cornwall.she cooks delicious bangers and mash and other delicious english dishes.me too,
I have a personal fascination for accents,as an american ,british is my favorite accent.i really love how the british speaks with their charming accent.in America,there are various accents and no such thing as a single american accent.accents in california are differ than accents found in new york and other east coast states.accents in america is varied from place to place and state to state.i'm intrested and surprised st the same time that your mother speaks english with german accents.so you're native from london.as for me,i am a texan and have lived sometime in omaha and again ,now i'm in sacramento,california.london is probably one of my best cities putside the united states of america.i've heard that london has many languages due to its diversity.
i knew it before that The Crown Jewels are kept in The Tower of London. the towers are guarded by yeoman warders.i have also heard about the guy "guy fawkes"
as for me now,i am still resting at home as i was in road for 2 days after meeting my friend who was sick
same to you sandy,A lovely weekend is wished by me to you,your family and everyone closest to you.
Edwards xxx 😄👍
Nik Ashton
said on 3/Nov/19
🥶🥶🥶🥶🥶🥶!
Sakz
said on 2/Nov/19
@Sandy Hey I hope you're holding up well. Staying up late to watch a film can be tiring, though if you're heavily engaged in it then you can keep yourself awake. You feel the effects after though as you did haha. I don't remember the last time I just nodded off like that. I used to stay up late to watch tv on Friday nights but that was when I was at school, so I'd just find myself falling asleep. That's a lot of cats you have. I don't own any pets at the moment but would definitely like to in the future. I wouldn't mind a small dog or even just a cat as it can be quite entertaining interacting with them. It was sad to hear about what the woman you mentioned went through. It's even worse when they're exploited and taken advantage off on top of it all.
I admire celebrities who take it upon themselves to help those in need. It really tells you a lot about their character when they're willing to actually put all that money to good use in order to help out the less fortunate.
The world in general has a lot of greed with people just focused on making the most money and enhancing their reputation. If everyone was like those celebrities the world would be a better place as would humanity. Ellen DeGeneres is a really good example. It shows she wants to make a difference and she's just an all round good person as you can tell. What you did was admirable and you should be proud. The little things in life can make the difference and should be appreciated the most so it's important not to lose sight of them. The clocks went back last week so you know winter is coming and the countdown to Christmas is on.
Anyway I hope you enjoy the rest of the weekend! It's good that you're looking after yourself and in turn your cats. It's a great attitude you have. Take care till the next time.
Vitto
said on 2/Nov/19
@Nik who are you referring to?
Nik could you tell Sandy that my reply to her got moved to Sookie's Den? I actually replied in Height Request but was probably in the wrong category even though was about height. I don't know.
Thanks.
xx
Nik
said on 2/Nov/19
🗣 "You naughty monkey!"! 😂
Nik
said on 1/Nov/19
⚽️
🍺!
Vitto
said on 1/Nov/19
@Sandy Do you want me to reply to you here or in Sookie's Den? It seems rude to me not replying at all.
Anyway, just want to say that you are right we want what we don't have but now I'm at my ease with myself, I am ok being blond (dyed mine are dark blond) and don't like afro hair to be honest. In regard to height, I'm happy to be tall but I always think I am not tall enough and would have liked being 6'0 to 6'2 range. I wish to work in the fashion industry both in menswear and womenswear. I am almost 5'11 (5'10 7/8 in the afternoon) and wish to be thinner, last time I weighed myself I was 130 lbs (58-59 kg) not sure if that's thin enough for them.
Anyway, don't want to bother Rob and write a novel on here maybe in the wrong category, sorry if I couldn't reply to it all.
@Nik Thanks for your explanation, but I am a bit clumsy about that and it's challenging for me to do the emoji thing. I know I am a mess.
Let me know when you guys want to talk in Sookie's Den in future.
Wish you guys the very best
xx
Nik Ashton
said on 1/Nov/19
😷
🍺!
Nik Ashton
said on 1/Nov/19
🤣
🍺!
Miss Sandy Cowell
said on 1/Nov/19
Right, Edwards, so let's continue:
When you live in England, so much more history is known because of the records kept regarding the Royal Family. I have never envied them their job. They have such a tremendous responsibility to keep the whole Kingdom together. I have known people who have begrudged them their money, but money has never bought happiness and it never will. Not long ago, I saw a film about the English Civil War, (1642-1651), and how awful it must have been for Charles I to have been beheaded 'for Treason against the People'. He was beheaded on 30th January, 1649. Oliver Cromwell, who led Parliament, was one of the few people in history who was beheaded after his death. I felt so sorry for Charles I in the film when he said goodbye to his children. He had 10, I believe.
It must be nice for you to have an English sister-in-law! I have a personal fascination for accents, and American is my favourite. I couldn't tell that my own mother spoke English with a German accent, but other people could. It wasn't until I left home that I picked up on that fact! Of course, Americans have many different types of accent, and I was quite late picking up on that as well. Languages develop over the years, but I don't think much of the common use of the dropping of consonants etc. I think it's lazy! When I lived in London's East End, it took me quite a while to fully understand everybody. Certain things I thought were rather sweet, like their pronunciation of things like the word 'mouse'. To me, it sounded like marse, and I used to get my East End boyfriend to reel off a succession of mouse words, ie: 'house mouse' which would sound like 'arse marse', 'brown mouse', which sounded like 'brarn marse' and so it would go on!
The Crown Jewels are actually kept in The Tower of London. When I found that out as a kid, I thought, "But how can she wear them?"
I suppose they are considered part of British heritage. Now it's time for tea and a cigarette. Next year, I want to give up!
A lovely weekend is wished by me to you and your family,
Cheers Edwards!
Sandy XXXX 😁👍
Miss Sandy Cowell
said on 1/Nov/19
Hi Edwards!
I was just writing to you and my phone switched itself off! 👅 I lost my comment so I will do my best to retrace my steps... 😁👍
I had been writing about the times of the Tudors and beyond, when it was considered part of a full education to be able to compose music and sing. Henry VIII was himself an excellent composer when he came to the throne at 18. That might seem young by today's standards, but there had been far, far younger Kings, as you will know full well, being a fellow lover of history.
Yes, history is all around us. When I was around 12, I found a partially fossilized skull as I was doing some gardening. Heaven only knows how old it was!
My favourite composer in this day and age has to be Mike Oldfield, the fellow who wrote 'To France' about Mary Queen of Scots. While still in his teens, he wrote 'Tubular Bells' which was used in the film 'The Exorcist' - but he wasn't happy about it.
Just in case I lose this again, I'm sending it off and will continue in a moment. 😉
Nik Ashton
said on 1/Nov/19
🐩🐩🐩🐩🐩🐩🐩🐩🐩🐩🐩!
Nik Ashton
said on 1/Nov/19
🏴󠁧󠁢󠁥󠁮󠁧󠁿🇺🇸!
Nik Ashton
said on 1/Nov/19
🥶🥶🥶🥶🥶🥶!
Nik Ashton
said on 31/Oct/19
🐩🏠 👻🎩!
Nik Ashton
said on 31/Oct/19
🎁🐩👻!
Nik Ashton
said on 30/Oct/19
🙃
🍺!
Miss Sandy Cowell
said on 30/Oct/19
@ Sakz - I woke up this morning in one of the funniest positions ever! I was so knackered earlier, having watched a Hammer House of Horror film starring Diana Dors, that I fell asleep on top of my bed and I was lying on a jar of Vick, a deodorant, a packet of sweeteners some dental floss and some face serum! I could only but laugh when I woke up! What a calamity; it just goes to show how tired I was! I nodded off surrounded by four cats: two black ones, a little ginger one and a big white one. Now my little tiny tabby and white one, Manelia, has crept in. She was a rescue cat and will never grow very big. She was saved by the lady whose daughter died - so sad. It's always the animal lovers that get picked on and exploited in my experience. She had to provide a man - if indeed that's what he is - with £20 or he'd have killed a mother and baby cat. Apparently, this piece of $hit wanted the money to smoke something stupid. Well, all very well, but involving an elderly carer, who lives on carers allowance - despicable. I have yet to meet the lady but I have spoken to her many times over the phone. I'd sooner buy a kitten from someone like her than from someone wealthy. I had no idea how ill her daughter was.
One celebrity I really love and admire is Ellen DeGeneres. She has the money associated with someone who is wealthy but she's as generous as they come. Dear old Bob Geldof used his wealth and talent to raise money back in the mid-80's and went on to raise funds for the World's starving. That's what a celebrity has the power to do, and those who actually get off their butts to do something have my respect for ever and always. The Who held a concert entitled 'The Who and Friends', raising money for youngsters with cancer. At the end of the concert, the kids, who were all undergoing chemotherapy, came onto the stage. It was so heartwarming.
That is what Celebrities have the power to do. How about the climbing of Mount Everest a few years back for Comic Relief? I went straight down to the Post Office and sent off a donation. Cheryl Cole took part in the climb, and that's when I heard her mention her height! Then, of course, you can see on the Challenge Channel a great many celebrities taking part in competitions and quizzes, and whatever they win goes towards their chosen charity. I enjoy helping animal charities, because you are, in fact, helping the owners who cannot afford vet bills. I went collecting for the PDSA when I was 12 - in a baked bean can, which I decorated with animal pictures. I raised £4.05 and sent it off to the Busy Bees children's club. I made the 'Role Of Honour' in the 'Busy Bees News' and nothing could have made me happier. Oh yes, I tidied the garden when I was 12 and 'earnt' a book of trading stamps from my Mum, which the charity could receive money for. I earnt a badge of service for that - such fun! The point of these clubs is to educate youngsters with the proper caring skills of pet ownership, and enable them to raise funds for needy animals and their owners.
I have round two of catfeeding to get cracking with now. Then I will comb the cats, which they really enjoy. They purr their little hearts out every single time. I haven't checked whether we have any new Celebrities up today; that's always something to look forward to, each and every day!
Doesn't it get dark early now? When the clocks go back, then I know that Christmas is well and truly on its way! 🎄🎅
Enjoy the rest of your week, Sakz! I will be eating plenty of fruit and vegetables and looking after myself so that I can look after my cats.
Cheers Sakz!
All the very best!
Sandy XXX 😁👍
Miss Sandy Cowell
said on 30/Oct/19
Hi Bobby!
You wrote to me on the 24th of this month and I apologize most sincerely for the delay in responding. I did read your reply and I have tried to subscribe to your very interesting blog, but I'm not very good at doing that sort of thing yet, but I won't give up. If I derive a fraction as much interest as I did from your triggering my interest in the Da Vinci Code, I'll consider it time well spent. My telephone has been 'misbehaving' lately, and I haven't been able to get the sort of information that I usually can from my phone. My kitten-sized cat, Manelia, knocked my TV over twice in two days, so I'm better off watching DVDs right now. I assume that there's been a fair amount of damage done to my TV through the topplings - and by such a small cat as well! The TV is a new purchase too. It's only a small one so that I am able to lift the thing! My physical strength has gone right downhill since my hip replacement, and I can't lift the sort of weight that I could do at one time. Bah!
My Mum was the youngest of three kids; she had a brother of just over a year older than she was and her sister was just over two years her senior. She - my Mum - was far and away the most preferred child. In the time she grew up, it was commonplace to use corporal punishment on one's kids, both by the parents and by the schools. My Mum used to escape this type of punishment by locking herself in the toilet and not coming out until her Mum had calmed down. Her brother and sister had to 'go' in buckets! My Mum's Dad died when my Mum was four, leaving her Mum to bring the kids up on her own. My Mum won a scholarship to the best school in Hamburg. Her sister felt unloved and was tempted to go along with a stranger when she was a mere teenager. When the child opened up, heartbroken, telling her mother, she got a whipping. I have no idea what she endured, but there was no such thing those days as sex education. Teenagers were naïve, the youngster felt unloved and trusted a complete stranger. Consequently, my Mum's sister married very young and had two sons. My Mum told us that he was a lovely man and looked after Hildegarde, my Mum's sister, very well. I think that was the case with children, especially girls, who felt unloved, back in war-torn parts of the World. Hildegarde didn't excel academically at school, like my Mum did, so that she married early was out of her need for love. I think situations like that, in the case of young girls, was particularly commonplace. The girl was generous to a fault, feeling the need to buy love. My Mum escaped the corporal punishment her brother and sister endured. Many of the children at school, as was experienced in England with my Dad, would be sent to school inadequately clothed. My Dad was one of eight, his mother being a very hard worker and was still working well into her 80s. Her husband died of cancer, but the children were older than my German side of the family.
My Dad was successful through sheer hard work. My Mum's brother worked throughout his life at Cologne University. Hildegarde died of cancer well before her time.
When I think how hard growing up was just a century and, say, 80-90 years ago, I feel we are very lucky to be born in this day and age. Even when I was a kid in the 60s and 70s, food was reasonably plentiful, school uniforms existed, thus showing children that they were all equal, and hospital treatment was free. That was not the case when my parents were growing up. My Dad's little sister, Rita, died of a childhood illness which would today be easily cured, at the age of just four.
I never felt I went without as a child. There was always food on the table and we had good educations, something that couldn't be taken for granted by my parents.
The games you play on your computer are fun and harmless, and if somebody showed me how to play them, I bet I would! I stick to Crosswords, Sudokus and word wheels, which I find very relaxing. I enjoy quizzes on TV and, as you know, I have loads of DVD films. Over the weekend, I watched 'Storm of the Century', which was a Stephen King mini series in three parts. I thoroughly recommend it. Stephen turned 'The Shining' into a mini series, and Jack Nicholson loved it, and had he been that bit younger, he'd have welcomed the part of Jack Torrence.
So it's tea time for me now, and I think that I'll have some satsumas and grapes for breakfast and a caffeine tablet and B Vitamins. It's already Wednesday, so just two more days to go and it'll be Friday and the weekend!
I wish you a fruitful and enjoyable week, Bobby! Your name was my Dad's name when he was a boy, by the way!
All the very best to you,
Sandy 😁👍 XXX
.
Nik Ashton
said on 29/Oct/19
💩
🍺!
Nik Ashton
said on 29/Oct/19
🤪🤪🤪🤪🤪🤪!
Nik Ashton
said on 29/Oct/19
😁😁😁😁😁😁!
Nik
said on 28/Oct/19
😬😬😬😬😬😬!
edwards
said on 27/Oct/19
@ miss sandy cowell
how are you sandy and how's your day going? yeah sandy,i wish i would have known about that program.as i said before,i am a great history enthusiast.People live there now in very pleasant purpose-made flats, and it showed us into the home of a man whose job involves the maintenance of the Tower. He really had a intresting job.i would love to spend time in historical monument/site and museums.
yes sandy,i agree with you that There have been all sorts of rumours written about who haunts the Tower of London. I dont know much about who haunts the tower but mostly i've heard that anne boleyn haunts the tower or atleast the white tower.i heard beneath the tower is traitors gate near river thames.
i heard from olivia that there are lots of precious stone on the bank of thames if you give a time to find it.yeah i know and i'm intrested after you said everything.The Tower of London is nicknamed The Bloody Tower for obvious reasons. yeah it really is as Anne is more accurately reputed to haunt the Tower Green, which was built around 1530 especially for her by Henry VIII, within the Tower of London.
i'm very sorry to hear that those two princes were murdered.the 12-year-old Edward V and his 9-year-old brother, Richard who is Duke of York.
yes sandy i too could warble on all day about history. hostory has something quite special.i also studied history during my high school and universities but it was only a small part.there are still such a picturesque houses in america that are designed and looked like houses that were build during victorian time.most of the people who studied with me didnt have much interest on history.possibly i may have been the only one who was intrested.even during the lunch break,i used to head towards library and study history.
yeah sandy,you are so damn right.i have heard about queen mary.composer yeah i have seen that in book .Mary Queen of Scots, called 'To France'. Mary had a very interesting upbringing. She was brought up in France.i have seen those written in some history books.
as for horror.i am very very very much intrested in visiting haunted location.the last time i visited haunted location was in 2015 in california.it was a bodhie ghost town located in desert in bodhie,california.it was what we here in america called the wild west.it was really intresting.even it was reported that in white house,someone reported that they have seen ghost of abraham lincoln,our great 16th president.i heard that one prime minister winston churchill was also haunted by lincoln ghost.the last time i visited a historic site was in 2017.i visited the statue of liberty,which is the most famous american icon as well as landmarks.the second was liberty bell in philadelphia,pennsylvania.after your recommendation,now i'm watching A Dark Song' and 'The Possession of Michael King'.
as for me,now i'm going to meet my friend who has felt sick since last four days
all the best sandy,its always a pleasure writing to you.all the best to you,your family and everyone closest to you
Edwards xxx 😊👍
Nik Ashton
said on 26/Oct/19
@ Sandy Cowell - I like it that there are Caramel-O-Cats and Toff-O-Cats to go with Choc-O-Cats and Milk-O-Cats! I think Gingerbread cat is not to be sniffed at as a name for Gingerbread coloured cats but you can't beat Toff-O-Cat as a name for a cat!
I so like your new Toff-O-Cat, he is a fine addition to your army of cats! It's apt that he is gingerbread and toffee coloured and I love it that there is a hole ('ole!) in his underwear (undercrackers, kegs, drawers, etc) for his tail to come out of! The thought of there 🐝ing a hole(s) ('ole(s)! 🕳) in a persons (animals) underwear is always a very **dd* funny one! 😂😂😂
It is very interesting that Pixie is a female name amongst us youmans but amongst cats it is a name that is widely given to both males and females! Animals to me generally act in a pretty similar way whatever gender they are, this can be the same for humans too but on average less so! Pixie is a smashing name and it is a lovely thought that your vet had quite a few Pixies on his books, this name can suit so many cats (both genders) down to the ground! I'm glad there's loads of 'em! Also I like the word Ooh!
Wouldn't it be great to have a yellow cat that is exactly the same colour as your hair, I have one or two ideas for the name! What about Banana Cat and Yell-O-Cat? With Yell-O-Cat you get to retain the O part in the cat's name! With Banana Cat you don't have an O but it is an ace name from so many other points of view (🎺!)! You could call a yellow cat both these names then! 🗣 -O-Cat! 🍌🐈!
The internet is an amazing minefield and it is like (autocorrect tried to change it to Luke! 📀!) one big superstore!
I'm so glad your Chococat keyring turned up in your bed, getting a new one would have been OK but there's nothing like the original one! (Autocorrect tried to change original to primal, probably thought I wouldn't notice at 12:07 am, but I did!)
It would be great to see your cats sleeping on those Sudoku puzzles, crosswords, and books, especially with them all being on your bed (Your cats inc!)! Also reading and doing puzzles in bed will be such fun, there's nothing like going to the library or a store to get books and puzzles. Reading and doing puzzles is so good for our souls and our welfare too!
My Mum and I have rooted through books and magazines before deciding whether to buy them, you would hope that you wouldn't get told off as you need to know what you are spending your money on before you make a purchase! Books and magazines are not there to waste your money on and that could be the case if you buy a book or a magazine when you have only looked at the front cover! They are not necessarily there to buy, you don't have to buy them!
I'm really thrilled that your friend and hairdresser Olivia has posted you your "Tatler" magazine, what a wonderful gesture this was! It's always nice and funny to see an excited person and it is intriguing, heartwarming, and funny, to learn of our friends' quirks! It's wonderful that one of your friends, Olivia, is called Liv just like your favourite celebrity Liv Tyler, especially with her being your friend and also because she herself saw how excited you got after seeing Liv Tyler on the front cover of the "Tatler" magazine! Not only that but it is great that Olivia (Liv!) actually posted you this magazine with her namesake Liv Tyler on the cover to you, one of her friends, with you being a big Liv Tyler fan!
It's great that you can make Aura out of Andrew Unwin Richard Ashton, that's a good spot! You can make BRA out of someone called Ashton but I can't think of many others! Every funny word under the sun (🌞!) can be made from the possible initials that people could have, I mean people can have double-barrelled surnames and numerous middle names!
My Mum and I wish you and your loved ones a good weekend!
Nik Ashton
said on 26/Oct/19
📰🐈📰!
Nik Ashton
said on 25/Oct/19
⚽️🦊!
Miss Sandy Cowell
said on 25/Oct/19
⭐ Major Correction Time! ⭐
The Plantagenets reigned from 1154 until 1485, not 1585, when Elizabeth I's reign was in full swing!
Miss Sandy Cowell
said on 25/Oct/19
Hi Edwards!
Believe it or not, the very evening after we were chatting about the Tower of London, there was a programme all about it on Channel 5 called 'Inside the Tower of London'. People live there now in very pleasant purpose-made flats, and it showed us into the home of a man whose job involves the maintenance of the Tower. He lives there with his wife, young daughter and pet dog. His schoolgirl daughter's friends are very enthusiastic about coming round for tea, as would I be had I had a friend like that at school!
There have been all sorts of rumours written about who haunts the Tower of London. I remember a song from my childhood which goes, "With her head tucked underneath her arms she walks the Bloody Tower..."
The Tower of London was nicknamed The Bloody Tower for obvious reasons. Anne is more accurately reputed to haunt the Tower Green, which was built around 1530 especially for her by Henry VIII, within the Tower of London.
The two Princes who were almost certainly murdered in the Tower of London were 12-year-old Edward V and his 9-year-old brother, Richard, Duke of York. Both posed a major threat to Richard III's throne, so he imprisoned them. Richard III was the very last Plantagenet King (1154-1585) and he died in Battle at the Battle of Bosworth Field. He was defeated by Henry Tudor, who started the House of the Tudors (1485-1603). Richard III reigned from 1483-1485).
Yes, I could warble on all day about history. We only did the Tudors and Stuarts for our 'O' Level, and the rest I learnt through my love of history. Of course, we did the earlier years, but our teacher was not very thorough and she had us draw charts as a means of learning, the highest marks going to the kids who drew the prettiest charts! She knew her stuff alright, and was called Miss Bothwell - a direct descendant of James Hepburn, the Earl of Bothwell, the third husband of Mary Queen of Scots and probable murderer of Lord Darnley, Mary Queen of Scots's second husband. Mary was feared by Elizabeth I who reluctantly had her executed because she had claim to the English throne. The composer Mike Oldfield wrote a song about Mary Queen of Scots, called 'To France'. Mary had a very interesting upbringing. She was brought up in France where she, in the company of the French Queen, was observed by famous seer, astronomer and doctor Nostradamus, who said to the French Queen, who was surrounded by children at that time, "You will outlive all these little ones." She did.
If Mary Queen of Scots had gone back to France, she would have been safe. That's what Mike Oldfield's song is all about.
As for the watching of horror films goes, nothing can beat the real horror that has existed throughout history, Edwards! I like a horror film to have a good plot. I have well and truly outgrown the slasher films and think them a bit stupid! One film I thoroughly recommend is 'A Dark Song' and another is 'The Possession of Michael King'. 'The Midnight Meat Train' is a Clive Barker film and he has been dubbed 'The British Stephen King'. I rate Stephen King as well, of course, and am watching his 'Storm of the Century' right now.
I have to shoot now! My brother is trying to phone me...
It's been great writing to you, a fellow lover of history!
Regards to you and your family!
Sandy XXX 😁👍
Nik Ashton
said on 24/Oct/19
🐈
📰!
Sakz
said on 24/Oct/19
@Sandy I'm sorry to hear that. It's a shame you have to endure falls which leave you in a lot of pain. It must be horrible having limited mobility and that when you do, it's not easy. You're right there. Everyone talks about the issues short people face but so do tall people. There's just a bias there since many want to be taller. Short people are also likely to live longer and avoid terrible diseases such as cancer. I hope you're recovering well and I'm glad the pain isn't as bad. Just make sure you take it easy.
As you know I haven't watched The Chase in a while. I knew Bradley Walsh was an actor since he was in Coronation Street in the early 2000's. I read about his association with football, and he's taken part in Soccer Aid for charity. I enjoyed watching him on The Chase because of his sense of humour. Ah I see so some Cockneys found your accent stuck up then. I find the accent can come across as a bit comedic as do some northern accents. It can also seem quite loud and rough for some but it's nice when you get used to it as you did. Hahahaha you and your friend must have felt really awkward. If I was in that situation I'd have probably said the same, because I wouldn't want to be given a hard time over it which some people may. It's nice that you all bonded well together since not all pubs are always welcoming.
As for The Prodigy, it seems like something I would watch till the end aswell. I don't tend to do that either with a lot of films unless they're very intriguing. I agree with being open minded. I think it's good to question the unknown rather than be afraid of it like a lot of people are. If you just force yourself to believe one thing and discount everything else, then you won't know other possibilities that may exist. I guess a lot of people are just confined to their own ideologies, therefore mocking what they don't understand or believe in.
It was nice talking to you again. Take care and I hope you have a great end to the week.
K.A 188 !
said on 24/Oct/19
@ROB I hope in the future you will omit any religious comment especially if it is violent and blasphemous. I thought of leaving celebheights when i noticed you did nothing in stoping that @ khaled tablan of a guy.
Just hope you will be a little bit more strict.
Bobby 5ft 10in (178cm)
said on 24/Oct/19
@Sandy Cowell
Thanks, sometimes I just don't feel like writing or I need a few days to let the information perforate while I think of a good response.
I suppose I feel most alive when I can immerse myself in an abstract environment where anything is possible. I've always preferred a world of fiction over the one I live in. Whether that means I cannot cope with real-life or that I am better suited to being a philosopher, I couldn't say. It hasn't been easy making these decisions and my indecision when I was younger meant that I had to spend a lot of money before I found a pursuit I was comfortable exploring. My mom seems to have let up with her expectations and criticisms since I'm in university and have remained successful so far. To deviate from this, however, I believe that people have a tendency to live through other people's accomplishments which means that they treat the person's successes as their own, subconsciously. It's somewhat annoying. For the longest time, it felt more like my own mom wanted to be in the university more than I did. I had my ambitions of course, but once I hit a roadblock I just didn't bother to find a workaround. I just thought, "Okay, this isn't for me. I'll find something else to do." That decision-making process went on for a number of years. I don't brute force things or try to make them work in my favour. I just look for something else I am interested in even more and see if that works out for me instead. I'm not in my program out of fervour to make a profit in the future, I'm in my program because I like reading and writing and I hope to make a career out of that. I find that success comes in many forms though and everyone is good at something. I wouldn't let someone's successes deter me from my own. Life isn't a competition even though it may feel that way for a lot of people. My aim isn't to be affluent or extremely prosperous. As far as I am concerned, those who have the most can also lose the most. I just want a decent life.
Sometimes people who look down on others aren't necessarily antisocial, but it may speak to a life of great pain and struggle. Your mom may have had to deal with people who constantly looked down on her or made her feel worthless, so you see, this cycle of being judgemental passes around like a plague. It's very difficult to break this pattern since your greatest influence tends to be your parents and beyond that, your own teachers and friends. I have good parents, but since my dad was an immigrant who came to Canada in 1985 with nothing but the clothes on his back and maybe 10 dollars to spend and had to assimilate to a new culture and language, he's come to rue Canada greatly since he's had to put up with a lot of bad people over the years while working in the construction industry. He must have been telling me to stay in school all the time while growing up and he still does because he suffered for his lack of higher education. Of course, my childhood isn't anything special, I am certain other people's parents have similar stories to share. But it's the common theme of someone from another land hoping to strike it better in a new country with new people and a new language.
Your words are very kind as I have been the recipient of the complete and utter opposite. I have been told I am absent-minded and untrustworthy. Mostly by my dad, although I am certain he only says this because he cares about me and not to hurt my feelings. It doesn't mean it's not hurtful of course, but I always get over it. I have a way of bouncing back. I suppose this may in part have to do with my name, which in Greek translates to "bright joy", not that I am in the process of adhering to etymological definitions of names. Ironically, my English name translates to "Bright fame", and I can assure you, I do not feel successful at all. Maybe I'm just too hard on myself, but every job I have ever applied to has been met with zero reception. I have resorted to lying about my experience and skills after many years of honesty. It leaves a bitter aftertaste in my mouth, metaphysically, but clearly, they don't value honesty these days.
I can only hope that I am financially independent ten years from now. I'd like to have my own place by 30, or at least a full-time job doing what I studied at university. I'm not sure when I'll become a parent, as at my age I should have had several if this were 100 years ago. I myself love kids, so it's a major turn off when women don't want them.
If you're looking to see at the kind of stuff I commonly write for one of my university classes then I've got a blog going at WordPress.
Click Here
I am writing about artificial intelligence one day becoming indistinguishable from human beings. I think my second post has a stronger focus than my first. I wrote an introduction as well, but that's just to break the ice and introduce myself and my topic.
I hope you have a great weekend Sandy, it's been nice chatting with you :)
Miss Sandy Cowell
said on 24/Oct/19
Hi Sakz!
I watch a great many films and when I'm not watching them, I'm enjoying quizzes, history DVDs or boxsets. I haven't been out since I fell over just over three weeks ago and yesterday I had occasion to put on some make-up and noticed that my face is still badly bruised, but at least it doesn't hurt like hell anymore! I couldn't speak properly after that fall, and the funny thing is, I only went out to get painkillers in the first place - a prescription from the chemist. I ended up in worse state than ever, but at least I had my painkillers to cope with the after effects of the fall! I imagine that if I was around 6ft+ or any significantly taller height, the outcome would have been worse, so there are advantages to being dinky!
There will be 'The Chase' on at 5, and that can be very funny, especially as Bradley Walsh has such a wicked sense of humour. He's an actor too, and I only found out recently that he started out as a footballer. What a surprise that was! Now he has a Cockney accent; I do not, but having lived in the East End for years, I know all the rhyming slang. I think it's very entertaining, and I got so used to hearing new terms when I was there that it became easy enough to guess what they were talking about.
Just down the road where I used to live, (in some flats), there was situated the biggest gay pub in London, called The London Apprentice. I spent many a happy night down there because everyone was so friendly. The guys didn't mind a jot if the odd female crept in! They thought my friend, who had long hair and was wearing a skirt, was a transvestite! Fortunately, they didn't think that of me; it may even have given me a complex! 😂😂😂 I gave her my make-up bag and said, "For Heaven's sake, go to the Ladies and put on some make-up!"
There were a fair few Laddies in the Ladies as well! Yes, they were accepting of everyone, in whichever form or sexuality you were. If only more people were like that! I never saw a fight break out and the gay guys were just as willing to start a conversation with me, a woman, as with anybody.
Yes, I showed the film, 'The Prodigy' to my brother the other night - and he actually saw it to the end - most unusual for him. He didn't grasp the concept of reincarnation very well. I certainly don't dismiss it at all; it's just not talked about much in the Western World. I am open-minded to, well, most things, and what people consider supernatural is something they find difficult to grasp. One thing scientists have proved, however, is that when a spirit passes from one plane to the next, it uses a lot of energy, thus turning the area noticeably colder.
Aha - 'The Chase' is about to start, so let's see what's sort of fun and frivolity is on offer today!
Have a great up-and-coming weekend!
All the very best to you!
Sandy XXX 😁👍
Sakz
said on 23/Oct/19
@Sandy I read your post about the film you watched. I've heard of it as I think it was my friend who mentioned it to me not long after it came out. I'm not familiar with Taylor Schilling, but Google lists her at 5'8 which is what Rob has aswell. She gives a tall impression which is to be expected for a woman of her height. The plot you've described seems very intriguing and something I could get into. Some young actors and actresses are blessed with such a skill at a young age. Seems a great film though and I bet you're glad you watched it. I'm A Celebrity Get Me Out Of Here is something I enjoy watching aswell. It will be interesting to see which celebrities enter this year. It certainly does portray them in another light, since most just see them as famous people who are above everyone else.
Thanks! I hope you're holding up well. Take care. :)
edwards
said on 23/Oct/19
@ miss sandy cowell
how are you sandy ?how's your day going.hope all is fine.same goes to we american.we love fast food to much infact,american people has often been stereotyped as eating too many fast food and its too damn true.people in us often goes to fastfood chain everytime they get a chance as you can see too many drive thru in the country.i too love tea too much.its one of my favorite drinks.
yeah sandy,as i already said that i'm somewhat obsessed with learning history.there are so many friend of mine who are english and even so what's more shocking is that my elder brother's wife is english.so in every festive season,i get invited and i get chance to taste delicious english meals.her name is olivia.thank you very much sandy for all those words and i couldn't be much happier.i heard from her that there are lots of raven's.there are also her majesty's yeoman warders around.yeah,i have somewhat heard about king henry.isnt king henry the king who was a fat and have six wives.yeah i heard that anne boleyn was beheaded in tower of london in white tower.nearby the tower is chapel some said.i also heard that there was a time when the tower was haunted.it is such a magnificent fortress.in the usa,there isnt or atleast isnt much castles or fortress.its pretty much amazing that they took 20 years to build castles in the past as if was build today would take much less time.princess diana,may her soul rest in peace was often referred as the people's princess.we american people love princess diana so much.he was too popular among the americans too and was probably best princess.as i already said,i'm much into history and british history is probably the second one after america that comes in my mind when talked about history.uk got so much history that it may take quite a long time to know and understand.ofcourse,its much older than the american one as america is relatively a young nation.the only country i'd picked after usa is probably the uk.i'd have so much love for the uk and its people.
yeah sandy,i'm not a sports fan tho.i love to watch the national games of any sports especially the soccer what you'd called football in the uk and many parts of the world.i love soccer,baseball and american football.tho i only watch national games.yeah i know much about soccer lets say compared to most americans.there has been a bit english player who played in us soccer too with the two biggest names being david beckham and wayne after your recommendation,now i'm watching the movie 'The Midnight Meat Train',.you should really be aware of thunders,strowm's and hurricane.in the us,hurricanes every year destroys much wellbeing's.you and i have somewhat same taste in everything like intrested in history and horrors.yes back in the days,punishment was very awful that one cant even imagine.Times were so unjust those days. yeah i agree .They'd torture people into confessing to crimes they hadn't committed and then lead them off to be executed.i heard from olivia,who was english and my elder brother's wife mentioned that at one point,anne boleyn spirit used to haunt in the white tower near the chapel.she also said there was two prunces named edward and richards.i think king henry must be really cruel thinking himself as being kind and beheading anne.history has so much to offer.i'm surprised that your mom is german.i also heard sbout henry's church of england.i too have quite faith in god.
hope everything is going well with your friend who lost her daughter.
All the very best to you and everyone closest to you
edwards xxx 😊👍
Sakz
said on 23/Oct/19
@Sandy Don't mention it. I hope you're feeling better now. Yeah I also used to get confused over the two pronunciations. Due to the heavy influence of American films and video games, a lot of people including the British become accustomed to their English. For example 'movies' is an American term as we say 'films', yet many Brits are heard saying movies. I see so do you have a Cockney accent? I can see why some accents may come across as stuck up to some people. I tend to find the northern accent comes across as very polite, but then again so can the southern. A Cockney accent can come across as rough. It's quite cool you've been mistaken for many different nationalities as have I. I guess it makes you unique which is a good thing, but yes you are what you are.
I'm familiar with the film you mentioned. I enjoy a film which has a mix of everything as it makes it all the more enjoyable and thrilling to watch as I'm sure you'll agree. I don't have the patience or time for too many films, but maybe when I'm older I'll get back into them more to pass the time. With politics I prefer to just sit back and see what happens, because getting involved in long debates doesn't solve anything. If someone has a genuine interest in it though then fair enough. There is no right or wrong in the subject after all. I'll provide a response to your film in the next post.
Miss Sandy Cowell
said on 23/Oct/19
@ NIK - Hey, hi and hello!
When I was a kid, I used to celebrate TWELVE Birthdays a year! Every 25th of the month to be exact, paying particular attention to my half Birthday, quarter Birthday, one third Birthday, two thirds Birthday and three quarters Birthday! For some reason, my Mum didn't play along, but I did have a friend who celebrated my half Birthday and it just happens to be his FULL Birthday today! He's the guy who cheered me up (after my boyfriend died) by introducing me to Derek and Clive Live, which we played on the train, resulting in everybody getting off, probably to change carriages! That was so funny!
My Toff-O-Cat came yesterday and is bigger than my Choc-O-Cat, as you will have seen by the pictures I sent along. I want a yellow one and am thinking of calling her Piss-E-Cat! It depends whether it suits her, but if she's simply too cute, I will have to think of something, eh, nicer! If she has a cheeky little face, then BINGO! That'll be her name!
I have to get ready for the metre reader now - BORING! I have to dress myself - I can't answer the door in my nightie! I overslept this morning, because I left the heater on and got too cozy. Besides, I was up until the wee, small hours watching Stephen King's 'Storm of the Century' and enjoying it perhaps a little too much because my whole day has been thrown out of balance, but what's new? If I'm in pain, I can't sleep, so I watch something! It takes my mind clean off the pain.
Oh no! Erramius has just come in and marched straight onto my lap - with soggy paws! So my nightie needs washing now, as is so often the case with a wet cat darting onto my lap fresh from the garden. Well, as long as it's not fresh from the litter tray, and that happens more often than I'd like!
💩😷🐾
I wish you and Mum a great day!
Cheers!
Sandy 😁👍 XXX 💐 XXX
Miss Sandy Cowell
said on 22/Oct/19
@ Sakz - Hi again! Where were we then? Oh, I know! I wanted to tell you about the film I saw yesterday. It was called, 'The Prodigy' and for the first time, I was able to take in the acting and tall height of one Taylor Schilling, who I'd never seen act before because I didn't think she made the type of movie that would appeal to me, but I was so wrong.
The tale was about a little boy who comes over exceptionally advanced for his years, but that's because he knows everything known by the spirit of the well-lived but thoroughly evil man who's come back for the sole purpose of finishing off his 'work'. The child actor who portrayed him was excellent, and I predict a big future ahead for him if he sticks with his acting.
I tend to favour using films as a means of sizing up the Celebs - and it's a great deal of fun as well. I used to buy magazines a lot, but I don't so much now. I don't find it easy to leave the house, as you know, but I do my utmost to always look on the brighter side of life. I'm looking forward to watching 'I'm A Celebrity....Get Me Out Of Here', which will be on again come November. In two short weeks flat, we get to know the chosen Celebrities and what makes them tick. We also discover how normal human beings these Celebs really are.
I hope your week is going well, Sakz and send you all my very best wishes!
Sandy XXX 😁👍
Miss Sandy Cowell
said on 22/Oct/19
@ Sakz - Hi! I've been in a horrible amount of pain lately so I must say I'm sorry for the delay. I have had something to numb the pain today, and although it never goes away entirely, it's working well enough not to get in the way of my normal, mundane commenting level, so I'll have a go at writing to you and see what materializes.
As regards the pronunciation of garage, the way I was taught to speak, does rhyme with Farage! My Mum, being a German woman, brought us up to speak very precisely, and my accent has been a constant source of entertainment to my friends. Not the case when I was at school, because the kids were often of similar backgrounds, but when I left school, I'd hang around the East End a great deal, and some of them thought that I sounded 'stuck up', but others found it attractive. I've been taken for a woman of all different nationalities: French, German, Scandinavian, when I was dark-haired, Chinese but because of my eyes, which are dark brown and made me look Chinese when I was born, even now, with a heavily highlighted head of hair, I'm still mistaken for oriental sometimes, much to my amusement. I've never been taken for English though, funnily enough, but we are what we are, nationality-wise, height wise, basic body type-wise and so on and so forth. One of my favourite actresses, Patricia Arquette, is about my height, and I was ever so pleased to find this out when I came along to Celebheights! Actually, I thought she was shorter - less than 5ft even. There's a scene in 'True Romance' where all the actors are in a lift and Patricia looked so small next to Michael Rappaport that I thought he was even taller than he is. I bet you've seen that film, Sakz! It's sheer entertainment from the start and contains a star-studded cast, including Dennis Hopper, Christopher Walken, Christian Slater, James Gandolfini - and so it goes on. I consider it one of Quentin Tarantino's finest films, but they're all so different that it's not the easiest task in the World to pick out one's 'Number One Favourite of all Time'! Although all his movies tend to be violent, they also are littered with humour, and I feel that makes them ultra watchable. I so admire that man!
I go out of my way to watch the 'extras' on his DVDs, and you can see what an extrovert he is because he's so demonstrative with his hands. I like the way he has a tendency to be faithful to the actors he uses too, and if he sees and admires the work of an actor, he'll offer him or her a part in one of his up and coming movies. One such actor is John Jarratt, from Australia. He appeared in 'Django Unchained'; my boyfriend spotted him - not me! He is most famous for 'Wolf Creek', which ended up being made into a TV spin-off series. I only saw the first two round my boyfriend's. It was exclusive to a Channel I don't possess!
My Dad reckons Nigel Farage would have made a good PM. I'm not really interested enough in the subject of Politics to feel even remotely qualified to voice an opinion! I don't make a point of watching the news even, let alone 'Question Time' and the likes, although I'm well aware that Politics effect us all.
One of my cats wants to go out and I want a tea-break, so I'll be back in a mo! Rather than risk losing this, I'll send it off and come back to discuss a film I saw yesterday.
Cheers Sakz!
Sandy XXX 😁👍
Nik Ashton
said on 21/Oct/19
It was great to provide the 800th comment on this page!
Nik
said on 21/Oct/19
@ Sandy Cowell - Well, the name "Erramius" sounds like it could be spelt "Erramious"! It's interesting that all the vowels can be found in this incorrect version of her name, well spotted!
It's amazing when someone gets a Christmas card from a cat and I also find it amazing that humans give Christmas cards to cats!
edwards
said on 21/Oct/19
@ miss sandy cowell
its all good sandy.i already understood that you were going to say vitamin.i knew it.i really hate autocorrect but of course it makes a bit easier.
its edwards xxx
😊👍
Nik Ashton
said on 21/Oct/19
😐😐😐
Nik Ashton
said on 21/Oct/19
⚽️💯!
Nik Ashton
said on 20/Oct/19
@ Sandy Cowell - Well, I must have two Birthdays too then, like (autocorrect tried to change it to Luke! 📀!) you and the Queen! Do you wanna know what? You, Rob, and my good self, all have a Birthday in September, your September Birthday is on the 27th and my September Birthday is on the 22nd! We don't have to stop at two Birthdays though because we can also celebrate a Birthday eve and a Boxing Birthday, for both Birthdays! 🥊🎁
I'm so pleased that my text reminded you what an exciting day it was! There's plenty more of where they came from! 😂😂😂😂😂😂! 🎂🎂🎂🎂🎂🎂!
We can all find all the male and female celebs who are our own height, doing this shows us all that height is diverse and that it doesn't have to matter how tall any of us are. There are cool celebs who are our own height (and taller and shorter than us all too).
Miss Sandy Cowell
said on 19/Oct/19
😟 Correction Time! 😟
In my communication with Edwards from the 18th October, I should have written 'vitaminised milkshakes' and NOT victimised ones. It was, of course, my autocorrect. Whosoever else would make such a stupid mistake? Moi? Huh - poppycock! No, my mistake was to spell vitamin wrongly, so the autoplonker changed it to 'victimised'!
So you see, it wasn't my doing at all!
😆😂🤣..."Yes it was, you dumbar$e!" 👣👣👣👣👣😭🤧
edwards
said on 19/Oct/19
@ miss sandy cowell
how are you sandy ?how's everything going,hope all is well.
i'm happy that you're fit and well.i too love a tea,i wanna have them, a llts of them.actually ,i ones had a english friend and he was from cornwall and his name was charlie atkinson.i heard that english people loves tea too much and i heard from him ? sandy,is it true that english people love a lots of tea.i have so much love and interest to the british people.i'm sorry to hear that your friend lost a daughter and my prayers goes to her family.i'm sad to hear that and hope everything sets alright l.
its great to be patriot tbh.i'm too obsessed with learning history since my childhood.as america is young country,people maybe shocked that how much history it packs in.it is relatively a young nation.you're right that most of the americans if not all ate patriotic atleast from my personal opinion.i also at the same time think british people are also patriotic.i've heard about william the conqueror,wasnt he one of the first norman king of england and i'm sure he build the beautiful fortress "tower of london".i'm happy that you are doing well and happy now days.yeah sandy,i agree that The Royal Family are coaxed from a very early age to accept their positions and that they can't exactly go jogging in Hyde Park without causing a stir, but for those who find fame through acting or singing, it is very much down to the individual how he or she copes with the fame.
actually,i'm not any sports fan tho but i have bit generated intrest in soccer and american football sometimes ago.sandy,me too especially during national tournaments,i'll cheer so much that people around me thinks that i'm crazy😂😂.actually,soccer has become popular in the united states now than it was before.yes sandy,i enjoy watching soccer with the kid.
yes' i'm sure i'll visit the uk someday snd i hope it to be next year.in europe,i've only visited germany and france.uk will always remain my favorite country outside the united states.who dosentlove those majestic hills and picturesque countryside.who dosent love the british history and the british people.i wish i could visit all of england and the uk.my brother recently visited bath and how amazed and obsessed he has become.he was too damn intrested about bath.everything has history of its own.i love the windsor castle too.i'm visiting the uk very soon.now i'm visiting physician as i have a bit pain in my chest from last two days and i have stayed at home from last 3 days.
all the best sandy xxx
its edwards 👍😊
Nik Ashton
said on 19/Oct/19
⚽️💯!
Sakz
said on 19/Oct/19
@Sandy It's a funny one because despite being spelt the same way as garage, the British pronunciation would be different for both. Americans would pronounce them both in the same way. I'm sure he was a very nice guy though when it comes to politics, they all seem the same.
I suppose the only thing you can do is filter out the bad even as individuals, since nobody is perfect and it's just the way of life. I'm sorry to hear about your friend losing a daughter. I can't even begin to imagine how I would feel if I was in that situation and neither do I want to. Kids are very precious no matter how old they are, which is why I really can't stand people who have them but then don't want to take responsibility for them. Why bring a child into the world if you aren't going to take an interest? That's really selfish and unfair on the child but that's some people for you. But yeah it's terrible and life can be cruel like that at times. Having to live with such traumatic experiences for the rest of your life would be horrible and I wouldn't wish that on anyone.
As for Brexit, the word is a deal has been reached but that can easily change before the 31st. I'll believe it when I see it because we've been there before. There will be some downsides to it and not everyone will be behind the idea, but at this point I think a deal has to be reached otherwise the last few years have been pointless. I won't tell you what the film is about but it's definitely something I'm sure you'll enjoy when you feel you're in the mood to watch it. I don't mind quiz shows I've watched plenty in the past. They're always showing The Chase on Challenge I watched plenty last year or the year before aswell. Bullseye was also a show they showed quite regularly. Haven't watched The Chase in a while now though. Take care till the next time and I hope you have an enjoyable weekend. :)
Nik Ashton
said on 19/Oct/19
📺📚🐘!
Nik Ashton
said on 19/Oct/19
🎩
😁!
Miss Sandy Cowell
said on 18/Oct/19
@ Nik - The way my brother often spells Erramius DOES contain all the vowels. He spells it Erramious and it's wrong. I should know - I made it up!
We get Birthday and Christmas cards from the cats - of course! 😉 I've known quite a lot of like-minded people.
Miss Sandy Cowell
said on 18/Oct/19
@ Bobby - No apology necessary.
The way you handled being the less preferred child is admirable. Look at what you've already achieved education-wise. This has been your own personal way of coping. Many youngsters who have been felt left out in favour of another sibling would react by ignoring their school work and dismissing even the thought of further education. Instead, everything you've accomplished has been down to decisions made by you yourself. Oh, I know the feeling of being the child whose mother didn't show any enthusiasm over my school reports, but it didn't interfere with my eagerness to learn and excel at my exams. However, the deep feelings of being second best did affect my time after I left school. You could say it was a suppressed anger that my Mum blamed the marriage break-up on being pregnant with me when my Dad went 'off the rails', as it were, but now I have heard my Dad's side of the story.
I didn't like that my Mum had it in her to look down on people, and I vehemently formed the opinion that nobody is any better or any worse than anybody else. I therefore had relationships with blokes my Mum considered below our social standing.
As the years went by, she did end up feeling that these were worthwhile people and by the time I was in my early 30s, when my boyfriend died, we ended up the best of friends. I returned home and we got on very well, so in a way, the tables had turned. My mollycoddled brother never really grew up. He'd had everything done for him, but of course, that doesn't ever last.
You have grown up and made your own decisions - strong and ambitious ones - which will hold you in good stead for the rest of your life. When you become a parent one day, you'll make a better one than somebody who has been soft-soaped during his nurturing, and instinctively, you won't prefer one child over another one because you'll want your offspring to feel equally loved.
You have every reason to feel proud of yourself. Love will come your way one day soon and you will be able to make up for lost time. Enjoy your studies, something I know you do anyway. When you get to my age, the desire to learn will still be with you. You have so much to look forward to.
Have a great weekend break, Bobby!
All the very best to you,
Sandy 😁👍 XXX
Miss Sandy Cowell
said on 18/Oct/19
"It's pretty bloody boring in these woods as well, fishes! Thanks for the tip!"
🐀🥃🦉🍹🦔🍺🦅🍷
Miss Sandy Cowell
said on 18/Oct/19
Hi Nik! I ordered that Caramel-O-Cat this morning. Actually, it's a gingerbread cat, but I always like to go with my own invented names, though I must say, Pixie is a common enough cat's name, but I find it's often given to boy cats as well as girls. Once I asked my vet how many Pixies are on his books and he replied, "Ooh! Quite a few!"
I liked the ring of Caramel-O-Cat. Another possibility is Toff-O-Cat, for a Chococat or toffee-coloured one. I want a blonde one to match my own hair, but I'll have to work on the name. Until I had access to the internet, I only ever saw white ones in the shops.
It's great that our Chococat keyrings arrived on the same day. I couldn't find mine last night and I was wondering if I should order another one, but he turned up in my bed, right under the covers! You should see the regalia that accumulates on my bed: crosswords, sudokus, real cats, toy cats, books and so it goes on! One would think that a phone would suffice when it comes to reading material, but old habits are hard to break. I did most of my learning through books, and if there was something I was bursting to find out, it would involve a trip to the library, or even book shops themselves, where I'd poke around in the brand new ones! 😝 Funnily enough, I was never told off, but when it came to magazines, that was different. They'd say, "They're there to BUY!", and I'd retort, "How can I buy something unless I know it contains items or people of interest?"
I never had trouble in Smith's though so they saw quite a lot of me!
This morning, I received through the post a Tatler magazine - with ⭐ Liv Tyler ⭐ on the front, a copy of which I'd been handed by my hairdresser, who, being an Olivia, also gets to be called Liv! She thought it was funny to witness how excited I got when I saw who was on the front cover. Having been my hairdresser now for 7 years, she knows my little quirks by now....
There are quite a few initial formations that you could make ending in 'A'. You could have Andrew Unwin Richard Ashton for AURA and some unmentionable ones if you married someone and joined your names together, a name beginning with 'L' offering plenty of fun ones!
Okay then, I'm going to look for something to watch now. I wish you and your Mum a lovely weekend!
My best to you both,
Sandy 😁👍 XXX 💐 XXX
Miss Sandy Cowell
said on 18/Oct/19
@ Edwards - Hi there! I have just recently got up and I'm having my first cup of tea. I drink so much tea during the day that on the odd occasion, I have forgotten to eat, so now I use victimised milkshakes in my tea instead of milk - well, most of the time - so that my body doesn't miss out. One such day happened this week, when I found out that a friend of mine has lost her 39-year-old daughter. She admits she's been living in a shell since it happened, unable to take it in properly. I have some cards arriving today, so I can write to her personally other than purely by text message. The poor woman has only recently lost her younger sister to cancer, and she hasn't come to terms with that yet. It's just too much for one woman. Her sister was my age.
I was brought up not exactly to be a patriot, but my ever increasing interest in history has turned me into one. I know that a great many Americans are patriots, and I think that's great. One night, a few years before I had internet facilities to hand, I traced back the Royal British Lineage all the way back to William the Conqueror. It wasn't that difficult a task but nowadays, all I'd have to do is consult my phone! I popped it in my bag and showed it to my physiotherapist, who was a blonde-haired South African girl, a bit like Charlize Theron, only much shorter, at 5ft3. We were always chatting and laughing but she had to refer me on because my condition was worsening rather than getting better. That was hardly surprising, because it culminated in my needing a full hip replacement, which I had in February last year. I guess that I found Celebheights as a result of hunting around for some explanation as to why I had lost height so quickly. That, coupled with my love for Celebrities! I admire them because they have to cope with being in the public eye all the time. I wouldn't be too fond of that, I can tell you! The Royal Family are coaxed from a very early age to accept their positions and that they can't exactly go jogging in Hyde Park without causing a stir, but for those who find fame through acting or singing, it is very much down to the individual how he or she copes with the fame.
So you have a son! That's great news, and one who shares your passion for football! My boyfriend loves football too. He's the first football-mad boyfriend I've had. I was keener on the game than my last bloke, who hated it, and when I wanted to see an England game, I'd go round to my Mum's. She thought it was hilarious how noisy I got when England scored, but my brother would storm out, holding his ears, causing my Mum to laugh even more! I bet you enjoy watching the game with your son!
No doubt you will one day in the near future come over to England and take in the unspoilt land for yourself. There are lots of built-up areas too, but if, you take a trip to London or Oxford, for example, the buildings you find there have a history all their own, which I find very exciting. You can also visit old palaces and museums, which are bursting with history.
So it's cup of tea number two coming up in a moment for me - and for all of us, we have another weekend to look forward to. I wish you and your son a great one!
All the Best!
Sandy 😁👍 XXX
Miss Sandy Cowell
said on 17/Oct/19
@ Nik - 🍺🐟...🍷🐠...🥃🐡..."Nothing to do with us what gets poured into the sea!" 😝😂🤭😵 "Besides, it's boring here!"
Nik Ashton
said on 17/Oct/19
🐧🐧🐧🐧🐧🐧!
Nik Ashton
said on 17/Oct/19
👋🐱🐸!
Miss Sandy Cowell
said on 17/Oct/19
@ Sakz - Indeed I do get your drift with the meeting of Nigel Farage in a garage! My boyfriend was the first to play about with that one; he looked on in amusement as I approached him and I said to him later when we got back to the car, "Well, you didn't expect me NOT to introduce myself to him, did you?" to which he replied, "No - I knew you would. I know you!"
I wouldn't go up to any celebrity, but I had things in common with him. Actually, my Dad was listening to his radio programme when he picked me up at the station recently when I visited him, so Dad does like him, as politicians go! He asked me - my Dad that is - "Why didn't you ask him....?" after which he reeled off quite a list! I said, "Perhaps I was the wrong Cowell for him to have met!"
I felt completely at ease in Nigel's presence though because his brother attended the same school as I did. We sat exams every term, which wasn't altogether a bad thing. By the time the major exams came along, we were so used to sitting them that it definitely helped and I was even quite upset when they were over.
The other morning, my brother was having his daily gripe and I said, "There's always someone worse off than you."
Later that day, I found out that a friend of mine just recently lost her daughter of just 39. Pain-wise, there is nothing worse, not that I have the right to put myself in her shoes, but I know people who have lost a child, my Mum and Dad being among them, long before I was born.
Yes, I do try to filter out the bad in the World, and my own bad experiences. There is always something to be grateful for and much to look forward to.
I've already noticed early signs of Brexit, one being that it seems to be having an effect on the rapidity of my online shopping deliveries, but I can live with that!
Only the other day, I found that the movie 'The Quiet Ones' figured in some line-up of scary films, and this has pushed it up a few notches in my 'Must Watch Soon' list. I don't remember what it's even about, if the truth be told, having only seen it the once.
I'm soon going to watch 'The Chase'; I love watching quizzes, and enjoy them all the more when there's comedy incorporated in them. Last Christmas and Easter, the Challenge channel had 'The Chase' on all the time and I watched little else, having such a huge variety of films and documentaries anyway that I thought I'd put them on hold for a while!
We have yet another weekend to look forward to already. I wish you a thoroughly enjoyable one, Sakz!
Cheers and all the Best!
Sandy XXX 😁👍
Nik Ashton
said on 17/Oct/19
😁😁😁😁😁😁!
edwards
said on 17/Oct/19
@ miss sandy cowell
how's your day going sandy?hope all is going great.
thanks for those great words sandy,its always a pleasure interacting with you.tbh,i'm not actually a gym rat though😂😂.i just wanna stay in shape and thats all.
i'm quite intrested in the the cat earring you bought.how cute name you've given to her 'bogerly'
it may sound crazy but i'm always intrested in leaving in desert or countryside rather than cities.i have watched uk travel guide video's and i'm somewhat obsessed with british culture and the uk.i love those countryside,quaint villages,cathedral and castle.all most every thing has a history.i really love british people and their culture so much.i have planned to visit uk someday.i agree with you sandy that For a country so comparatively small, it's amazing to think how much influence the UK has had over the Centuries. i'm an american and i am from the USA ( texas state) but now i just returned from vacation from india,i was excited that one indian dude gave me a indian name starting from letter N but i couldn't remember the name right now.now i'm learning bangers and mash recipes.i've heard that uk is expensive now than ever.i really love the queen,may her majesty live long.my son watches soccer and he is great fan of soccer club named manchester united and he too dreamed of visiting uk some day.if everything sets right,i am planning to visit next year.actually i'mnot a sports fan tho,my son watches football(american one) and the soccer.the country he supports in soccer is usa and england.uk has so many history that it will take my whole life to know it.its funny that.tbh i 'm a great patriotic guy and even has a us flag tattoo in my left wrist.british history is so interesting and enjoyable.hope the british countryside never gets urbanized.
do you love watching soccer or any sports.i've heard soccer is quite popular in england.
as for height,i wish i was 6'1-6'2 but its too late.i'm only 6 feet and anyway happy with that.i posted this again because i think you didn't get my comments
its edwards xxx😊👍
Nik
said on 16/Oct/19
🐟- 🐈📺!
Nik Ashton
said on 16/Oct/19
🐟 🐠🐡!
Nik Ashton
said on 16/Oct/19
Caramel-O-Cat!
Nik Ashton
said on 16/Oct/19
@ Sandy Cowell - All the vowels can be found in the name Erramius Cowell! 😂🤣😹