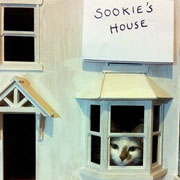 Welcome to Sookie's Den, a little corner of Celebheights where you can talk about anything unrelated to height. Please remember to keep things civil :)

Add a Comment
1120 comments
Miss Sandy Cowell
said on 21/Apr/19
@ Nik - Re: 🖕👌
I knew a bloke, admittedly it's going back a bit, who stepped into the road and gave the driver who stopped the finger! Then loads of us crossed over. I thought he was bang out of order to do that, but it was still very funny as well!
He was the sort of person who broke wind in public and then said, "Pardon me!" about ten times in succession, very quickly! My boyfriend retorted, "There's a toilet out there for that sort of thing!" 🚽
Nik Ashton
said on 21/Apr/19
😂😂😂🤣🤣🤣!
Nik Ashton
said on 21/Apr/19
🤣👈!
Nik Ashton
said on 20/Apr/19
🦜🖕!
Nik Ashton
said on 20/Apr/19
🦜🤬⛔️! 🤪🤣😂!
'Annonymous'
said on 20/Apr/19
Happy Easter Rob and all users of this amazing website🥚🐣! I hope you and Jenny will have a nice time together🤗😉.
Nik Ashton
said on 20/Apr/19
😬😬😬
Nik Ashton
said on 20/Apr/19
👏👌!
Nik Ashton
said on 20/Apr/19
🤪👌!
Nik Ashton
said on 20/Apr/19
💎👌!
Nik Ashton
said on 20/Apr/19
🛏👌!
Nik
said on 19/Apr/19
🍂🌿☘🍁🍃!
Miss Sandy Cowell
said on 19/Apr/19
@ Nik - Neither did I know what a third brown eye was until someone showed his to my boyfriend and my rather shocked self one evening! I was 22 and had never heard the expression and neither had my 26-year-old boyfriend.
We were then treated to a demonstration as the high-pitched voiced innocent-looking Leslie umm... parted his cheeks for us!
We were both utterly speechless! After we'd said our goodbyes, and thankfully, he was on his way out anyway, we said to one another that we thought Leslie's display was disgusting! When you've seen one first hand, you won't need to ponder as to what a chocolate star fish is! 😥
Miss Sandy Cowell
said on 19/Apr/19
@ Hey, MJKoP! How great it is to hear from you! Thanks for the lovely things you say and for sending in the pictures. I like guys with long hair; that goes right back to my mid-teens, when my taste in music was being moulded. Remember (well you hardly will!) but in the early/mid 70's, all the members of Queen had long hair. I think, subconsciously, even my Mum had a penchant for guys with big manes! She watched Freddie Mercury performing 'Bohemian Rhapsody' and would say, "Hasn't he got a fantastic figure?"
I thought it quite funny that she called a man's physique his 'figure', but there you go - she did, right up until she passed away...
When Freddie re-emerged with his hair short, she wasn't so keen on watching him, and she never complained when I brought long-haired guys back to the house. She got used to it, even saying about one that she preferred him with long hair when he had his locks chopped off!
Come to think of it, the historian/archeologist that I am watching at the moment has similar hair to you - long (for a fellow) and black. I am watching his series on the Vikings and have just finished the first of three chapters. His name is Neil Oliver and he is a Scotsman. He claims to be 5ft11, but I can see around 5ft10; I thought I'd throw that in! He goes right back to Bronze Age Vikings and how they used to live and what they used to eat, and how they fought amongst each other. When the Romans invaded them, bringing with them the art of reading and Christianity, they slaughtered them. They worshipped Thor, the hammer-wielding god of thunder, lightning, fertility and strength, amongst many others. I think everyone knows how fearless they were, making them all the more dangerous. I have two chapters yet to see, and then I will return to the highly entertaining 'Crime and Punishment' series, with 'Blackadder' actor Tony Robinson.
With my Dad in hospital, I'm having difficulty concentrating on new films, but I did watch 'My Friend Dahmer', which is very good and shows the lengths to which the young Dahmer would go to at high school to gain popularity. It is even quite funny in parts. Then another film I was able to take in was one called 'Beast', a British film about a sick serial killer. He is befriended by a girl with a troubled past, and she protects his identity but then her sense of right over wrong prevails. To gain my attention while my Dad is in hospital speaks highly for these films.
Aha! Dad just texted me to say he feels better this morning. He had a fall while I was visiting him, in the early hours of the morning, when I couldn't supervise his walking. He suffers from vertigo and has recently had a pacemaker fitted. He's also just become a Granddad, which is ace!
I have the most wonderful sister-in-law, Tabitha, and she really looks after him. She sees him nearly every day, despite having a new baby, Ferdinand. (I live miles away). My brother Alex has just flown in from America to be with him on his Birthday, which is tomorrow. His quick actions in January saved my Dad's life; my Dad goes to America every Christmas.
So on this Good Friday, I'm going to check out what's watchable on TV, but I'll probably end up sticking with history again - and writing on Celebheights!
As always, great to chat with you Adam!
All the Very Best,
Sandy xxx
MJKoP
said on 18/Apr/19
@Sandy Cowell - It's been far too long since we've chatted. I'm reading through your comments. You never fail to inspire and entertain! It means so much that you mentioned me below. Love talking with you...
I know you're a Queen fan. My girlfriend(and fiance-to-be...we're gonna be living together soon!) who does still photography(I'm much more of a video guy) took a bunch of amateurish shots of me the other day, at a beautiful chapel down in scenic(and historical!) Valley Forge PA.
One of the many poses I improvised ended up looking slightly familiar:
Click Here
I don't really look anything like Freddie(though I could probably pull off a decent cosplay with short hair and a mustache!):
Click Here
Nik
said on 17/Apr/19
@ Sandy Cowell - Chocolate star fish sound very interesting indeed, I now know what they represent! B**t 'o**! It's incredible to think about a whole dictionary full of words and terms like this, many a happy hour will be spent by anyone swallowing "Roger's Profanisaurus"! 😂😂😂!
Reading about characters like "Roger Melly, the Man on the Telly" will have been great fun, extra interest will have been added when "Roger Melly, the Man on the Telly" was voiced by Peter Cook in his video with the help of Harry Enfield as his aide! 😂😂😂!
Imagine what fun will have been had over someone with the surname Melly if their first name ended in an "s"! ******s Melly!
"Johnny Fartpants" sounds so amusing, too true you don't need to tell me what he got up to! He has an amazing name, it would be incredible if he always wore the same pants! I wouldn't have done his laundry for him! I simply love his catchphrase, the word "commotion" really does hit the spot in helping to describe what was going on!🎯! 😂😂😂!
My mind is in a whirl wondering about the names of some of the other characters from the Viz comic, it's fascinating that you used to climb up to the top shelf in order to reach it yourself! 😂😂😂!
Christmas annuals really are amazing, they usually contain a lot of pages and have all sorts of additional features! Your favourite annual makes for a wonderful present that you will look forward to very much and it adds a lot of extra fun to the festive period, if you build up a stockpile of your favourite Christmas annuals then you will have collectors items that you can look back on for years to come! It's great to build up a stockpile of annuals for as many years as possible, I used to get a football annual called Shoot for Christmas on many occasions when I was a kid! 😂😂😂!
All the very best,
Nik and his Mum!
Miss Sandy Cowell
said on 17/Apr/19
@ Nik - Some days, all I see is a load of 💩, so on such days, I am seeing out of my @! By the same token, my ears must be made of the same.... 🤠
I think the second incident is more commonplace than the first. I have more control over what I look at!
👁️👁️📺📀😊👍
Nik
said on 16/Apr/19
@ Sandy Cowell - 👍
Nik
said on 16/Apr/19
@ Sandy Cowell - It did cross my mind that the third brown eye was someone's sweet backside! I must have three brown eyes then!
It has been known for many of us to talk out of our @rse on one or two occasions,(nowt wrong with that!) but seeing out of ones @rse?
😂😂😂😂😂😂!
Miss Sandy Cowell
said on 16/Apr/19
@ Nik - Another funny term from Viz's 'Roger's Profanisaurus' is chocolate star fish! 🍫⭐️🐟
Viz was a comic I used to read in the late 80's and 90's. My favourite characters were 'Roger Melly, the Man on the Telly', who was voiced by Peter Cook in his video, with the help of Harry Enfield as his aide, and 'Johnny Fartpants', and I don't think I need to explain what he got up to, but his catchphrase was 'There's always a commotion going on in his underpants.'
There were many other colourful characters whose names are a little too rude for a Website aimed at all ages. This magazine was strictly for over-18's and was sold on the top shelves in newsagents. Sometimes, I had to climb up in order to reach it myself! They also sold a must-have Christmas annual! I had LOADS!
Cheers Nik and your Mum too!
😁👍 xxx
Blake
said on 16/Apr/19
Rob, why do you think people from the site have contacted Glenn, just to piss him off? I know he was a bit of a tyrant on this site at times, but I feel bad for him now.

Editor Rob
I think it's unwise to message him and would advise against it, unless there's a genuine reason.
Miss Sandy Cowell
said on 16/Apr/19
Well, Nik, the third brown eye is actually something everyone has in common, and is a naughty term for one's @ hole! 🙊
Nik Ashton
said on 15/Apr/19
😂😂😂🤣🤣🤣!
Nik
said on 15/Apr/19
@ Sandy Cowell - What the boys from "South Park" have said has tickled me very much, however could you please explain to me the reason why what they have said is so funny?
I hope you and your loved ones had as good a weekend as possible, a weekend spent watching soap omnibus repeats and films, and commenting on celebheights, sounds an interesting one.
Finally I must say that there is nowt wrong with giggling ones @rse (sweet backside!) off! In fact I recommend it!
All the best,
Nik and his Mum!
👁👁👁! 😂😂😂! 📺📺📺!
Nik
said on 14/Apr/19
👁👁👁😂😂😂!
Nik
said on 14/Apr/19
@ Sandy Cowell - That's it then, forget the pig and forget the tigers, it's those wolves! It's enough to make the hair stand up on the back of yer neck!
🐺🍂😂🐺🍂😂🐺🍂😂🐺🍂😂🍂🐺😂🍂🐺😂🍂🐺😂🍂🐺!
Miss Sandy Cowell
said on 13/Apr/19
@ Nik - The leaf-chomping suspects are definitely the local wolf community!
🐺🐺🐺🍂🍂🐺🐺🐺🍂🍂🐺🐺🐺🍂🍂😂
Nik
said on 13/Apr/19
Look at these: 🐾🐾🐾🐾🐾🐾🐾🐾🐾🐾🐾🐾🐾🐾!
Miss Sandy Cowell
said on 13/Apr/19
@ Nik - I have two of these, (👁️👁️), but the boys on 'South Park' are under the impression that they have three, that is if their eyes are brown! 😂😂😂
Young Kenny's description by Cartman was: hair - blond, eyes - brown (three of them!). Then he giggled his @rse off!
Cheers Nik and enjoy your weekend and your Mum too! For me it's a round of Soap omnibus repeats, films and commenting! Not that far removed from usual really! 🤣☁️ (No! It's a cloud!)
Sandy xxx
Nik
said on 12/Apr/19
@ Sandy Cowell - I bet it's not, who are the suspects?
🐽? 🐿? 🦁? 🐺?
Nik
said on 12/Apr/19
@ Sandy Cowell -🐅?
Miss Sandy Cowell
said on 12/Apr/19
@ Rob - Thank you VERY much for your trouble! 😊👍
Redwing
said on 11/Apr/19
Hey rob how far off are these measuring tapes?
Click Here
Click Here

Editor Rob
New, it would have been accurate, but the older a tape gets, the more abuse it gets, the greater the chance kinks or the end section gets damaged, giving slightly wrong measurements.
Nik
said on 11/Apr/19
@ Nik
Re: 🎾🐩!
That's a jolly big tennis ball! It's as big as the poodle!
Nik Ashton
said on 11/Apr/19
👣👌!
Nik Ashton
said on 11/Apr/19
🐾👈!
Nik Ashton
said on 11/Apr/19
🐡👌!
Nik Ashton
said on 11/Apr/19
🐊 👌!
Miss Sandy Cowell
said on 11/Apr/19
Hey Rob!
I've been wondering lately how many comments I have sent in now. I believe the last time I asked was when I came out of hospital in February of last year, 2018. Thank you very much!
😊👍

Editor Rob
I just checked and 7500, but remember at times sometimes I have cleaned up some comment pages and limit how far back ones like rob paul page goes, so I'd say it's probably more in 8000 range. That's a fair amount!
Miss Sandy Cowell
said on 11/Apr/19
@ Nik - Well, it isn't any of my lot! 😉
🐈🐈🐈🐈🐈🐈🐈🐈🐈🐈🐈🐈🐈🐈
They eat too well!
Nik
said on 9/Apr/19
@ Sandy Cowell - Here's a clue as to the culprit: 🐾!
Nik
said on 9/Apr/19
@ Sandy Cowell - I dunno who it was, it wasn't me! 🍂🍃🍁🌿!
Nik
said on 8/Apr/19
The six faces: 😁! 😷! 😀! 😂! 🙃! 😅!
Miss Sandy Cowell
said on 8/Apr/19
@ Nik - Re: 🍂🍂🍂 - These chaps: someone's been taking a bite out of the Autumn leaves!
Nik
said on 7/Apr/19
!👈👉🍂👈👉🍂👈👉!
Nik
said on 5/Apr/19
!🍂👈👉🍂!
Nik Ashton
said on 1/Apr/19
✈️👌!
Nik Ashton
said on 31/Mar/19
🦜👌!
Nik Ashton
said on 31/Mar/19
💎👌!
Blake
said on 31/Mar/19
Rob, what would you say is your strongest type of intelligence and also your weakest?

Editor Rob
I would say more in the Mathematical area, rather than the linguistic.
Miss Sandy Cowell
said on 31/Mar/19
😝 Correction Time!😛
In my comment from the 30th, that should have read 'the showing of a plane' instead of off, which wouldn't make any sense at all, would it children?
Miss Sandy Cowell
said on 30/Mar/19
@ Nik - I wasn't in the actual audience! I was watching in the comfort of my own lounge!
Having said that, my Dad appeared on the TV show 'Blue Peter' taking part with some others in the showing off a plane, flying being his life-long hobby. Fortunately, it wasn't the one with the uninhibited elephant with the loose-bowels! But then, which elephant, or any other animal for that matter, gives a toss about 'that sort of thing'?
😂😂😹
Nik Ashton
said on 29/Mar/19
🦏👈!
Nik Ashton
said on 29/Mar/19
👃
🖕!
Nik Ashton
said on 28/Mar/19
🦏👌!
Nik
said on 28/Mar/19
@ Sandy Cowell -
😂😂😂😂😂😂😂😂😂😂😂😂
😷😷😷😷😷😷😷😷😷😷😷😷
😷😷😷😷😷😷😷😷😷😷😷😷
😁😁😁😁😁😁😁😁😁😁😁😁
😭😭😭😭😭😭😭😭😭😭😭😭
🐘💩! 😷
You were so lucky, were you in the audience? None of the kids would ever forget this, neither would the intellephant smellyphant!
😷
'Annonymous'
said on 28/Mar/19
@Rob: I understand that you have a lot of work and many important things on my mind but I have one request. Please add to rock singers category people like Kid Rock, Bob Geldof and Billy Joel, and change the Gwen Stefani category from pop singers to rock singers because she is more rock singer than pop singer. I don't want to be annoying to you, but I hope it is not a problem for you.
Bobby 178cm
said on 27/Mar/19
@Sandy Cowell
That's how I feel about the Matrix trilogy. There's a lot of interesting things about the films that only someone with an appreciation for religion and philosophy could hope to enjoy. Yes, the Italian Renaissance is unique in that Italy was really the only part of Europe at the time that experienced this rival. It was thanks in large part by the rediscovery of philosophies penned by some of the greatest minds of the philosophical era of Classical Greece: Aristotle, Sokrates, and Plato. So, this rediscovery by Italian scholars ushered in a Golden Age for Italy, at the time. It's why many people worldwide - specifically concentrated in Europe, made trips to Italy to establish themselves financially and intellectually. Many Greek scholars ventured into Venice, even merchants. As a result, Italy today, namely Southern Italy, is home to almost 77,000 Greeks, known as the Griko community. They are of mainly Greek descent and actually have assimilated there since the 10th century and speak a unique dialect of Italian-Greek and have adopted Italian customs.
As to the artists having to censor themselves, Leonarda da Vinci is one artist, that I know of, who had to hide his research and his sodomy from the Catholic Church. I can admit to the latter being heresy, at the time, but scientific research should be encouraged, not discouraged.
Oh, I don't have much love for politicians. It is my experience as someone who irregularly follows politics, that they are all liars and only say the things they do, to secure popularity. They are the ones with the most authority to affect change, but they do little to improve the welfare of those they have sworn to serve. There have been some outliers of politicians who have followed through on their promises of course, but they are far and few between. I don't think I'd have the guts to speak to an actor or actress either, but I would have loved to chill and just watch Halloween (2018) with Jamie Lee Curtis.
Ah, so Nick Farage was 5'8.5 then? If he was, nice, that's the important thing. I suppose he's retired from the profession now.
I don't think I'll get the chance to go away even though I'd love to make a return trip to Greece to soak in that Mediterranean sun and spend time with my family there.
Let me know you how enjoy, "The Real Da Vinci Code"
I'll talk to you soon Sandy :)
Miss Sandy Cowell
said on 27/Mar/19
@ Nik - 🐘💩! That's more like it! Once an elephant evacuated his bowels on a live showing of the kids' programme 'Blue Peter'! I was one of the privileged kids who saw it happen!
🙀😱😷😥
Nik Ashton
said on 27/Mar/19
🦓🦍🐘🦛🦏!
Nik Ashton
said on 27/Mar/19
👃
🖕!
Nik Ashton
said on 27/Mar/19
🦓👌!
Miss Sandy Cowell
said on 26/Mar/19
@ Bobby - Hey, I can honestly say that the trilogy I've just seen is the most enjoyable, exciting and fascinating trio of films I have ever seen in my life. They are the sort of film that you can see over and over again and still pick up interesting facts. They have triggered a new interest for me too, and that's the Italian Renaissance and how the people who painted so easily met with the disapproval of the Church for expressing themselves on canvas. Yes, all three films are based on books written by the author Dan Brown and it's not impossible that he writes yet another one to follow on from 'Inferno', the third one.
Nigel Farage isn't an actor - he's a politician, and I spoke to him because I went to the same school as his younger brother. He immediately said the name of the school and asked me my name. He was really friendly and nice. I don't know whether I'd have the guts to go up to an actor, but he was easy to talk to because we had the school in common.
I was wearing high-heeled boots, but he was still quite a bit taller than me. He wasn't quite as tall as my 5ft9 boyfriend, who found the whole thing thoroughly amusing, but he was close.
I have a DVD by 'Blackadder' actor/historian Tony Robinson called 'The Real Da Vinci Code'. He has a wonderful way of imparting his knowledge on in a way that anyone can understand.
I look forward to seeing that.
I bet you're looking forward to the Summer break! Are you planning on going away? I couldn't do so for more than a few days because I'd miss my cats too much. I will be travelling over to my Dad's either tomorrow or the next day and I'll be able to see my little nephew again.
Have a great week and enjoy your studies,
All the very best to you,
Sandy xxx 😊👍📺📀📀📀
Bobby 5'10 (178cm)
said on 26/Mar/19
@Sandy Cowell
I'm doing quite well, Sandy. I'm looking forward to the summer break. Oh neat, so you saw the movie? I think there's a book for it which the movie was based off of.
What kind of actor is Nigel Farage? B-list or A-list? I've never heard of him. I've never met anyone famous before and there are several I'd like to meet, and before Stan Lee tragically died I wanted to meet him, but most of the famous I wanna meet are female celebrities, but if I could take a time machine back in time, I think I'd have some interesting conversations with Sokrates.
Haha, well, all I did was offer the fuel, but it was you ignited it.
Cheers Sandy 😊
Nik Ashton
said on 26/Mar/19
🦍🦓🦒🦏🦛🐂🦘🐪!
Nik Ashton
said on 26/Mar/19
🦍👈👉🐺!
Nik Ashton
said on 25/Mar/19
🦍👈👉🦓!
Nik
said on 24/Mar/19
👉🔔👈!
Miss Sandy Cowell
said on 24/Mar/19
Hey, Bobby! How are you? I just wanted to let you know that I have just finished 'Angels and Demons', and for signs and interesting artists from the Italian Renaissance, this is THE FILM TO SEE. I had a rather long break between the seeing of the first and second halves and I am eager to see it again. First I shall be watching 'Inferno' though, part 3. Then I have my Tony Robinson DVD to watch, entitled 'The Real Da Vinci Code'.
I hope you've had a great weekend. I have, even meeting Nigel Farage popping into a garage to pay for his petrol. I went up to him to say hello!
Enjoy your week ahead Bobby. I'll write in depth about what I've learnt from these films when I've finished 'Inferno'. Remember - it's you who got me interested and now I'm hooked!
Cheers Bobby!
Sandy xxx 😊👍
Nik
said on 24/Mar/19
😜😋😝😛!
Nik
said on 24/Mar/19
👉🗣👈!
Nik Ashton
said on 24/Mar/19
👉🔛👈! 🤪!
Nik Ashton
said on 24/Mar/19
👉🔜!
Nik Ashton
said on 24/Mar/19
💡👌!
'Annonymous'
said on 24/Mar/19
Rob, there is something that worries me, I'm sure you have heard about ACTA 2. I'm against this because it can very much reduce the internet (if the European Union introduces it). Rob, is there a risk that introducing ACTA 2 could somehow hinder the use of your website? What do you think about ACTA 2?

Editor Rob
The EU and it's copyright directives are a big concern for webmasters, even youtubers too (those from EU) should be concerned.

I'm not sure how the effect will be within the UK when (if) we leave the EU (and how hard/soft we leave it).

Nik Ashton
said on 24/Mar/19
🐒 !
Nik Ashton
said on 23/Mar/19
🐼 👌!
Nik Ashton
said on 23/Mar/19
👉👃👈!
Nik Ashton
said on 22/Mar/19
🦉👌!
Nik
said on 21/Mar/19
👉🐫👈!
Nik
said on 20/Mar/19
⭐️👌!
Bobby 178cm
said on 19/Mar/19
@Sandy Cowell
That's a shame, maybe it's time for an upgrade, but I usually pen my responses to you on my laptop as I am less likely to make grammatical errors as opposed to using my tablet. Still, mistakes tend to happen and Grammarly isn't perfect either.
That's interesting, that's a 12-inch variation between King John and King Richard the Lionheart. I've never known siblings to vary that much in stature. You would think maybe four inches was the standard variation, and commonly even two inches.
I might have to try reading the Da Vinci Code one of these days, but currently, I am making my way through the bestseller of 1974, Peter Benchley's Jaws. It was surprising to me when I read the physical description of Brody, who Benchley describes as being 6'1 and 200lbs. It's a far cry from the movie version character of the same name since Roy Scheider is listed 5'9 here on CelebHeights and couldn't have been more than 160lbs at the time of his role. Still, I'll be eager to see what more you had to say before your phone rudely interrupted your progress.
Talk soon, Sandy.
Miss Sandy Cowell
said on 19/Mar/19
* Bobby - I had just been writing to you in the early hours of the morning when my battery ran out - and I lost it! I was anything but happy, especially as I was nearing the end and my phone needs either a service today or a complete replacement.
I was about to end on the note that one of Richard the Lionheart's brothers, King John, who I facetiously call 'Popular King John', was only 5ft5!
I'll find out about the fate of my phone later today. I wrote about 'The Da Vinci Code' on Sir Ian McKellen's page and I am getting back-up information narrated by 'Blackadder' star Tony Robinson. I will have to fill you in on the rest of what I wrote when my phone is working properly.
Cheers Bobby!
Sandy xxx 😊👍
Nik
said on 19/Mar/19
@ Sandy Cowell - My Mum, Steve, Karen, and I, really appreciate your cards and letters, you are helping us a lot and we won't forget how kind and supportive you have been to us all at such a terrible time.
You are so right, Greyhound racing is such a cruel sport and something should be done to ban it. Talking about it is no good, it's action that counts and the sooner the better. Greyhounds can suffer in the future as a result of taking part in racing and it is also so awful that many Greyhounds have ended up on the scrap heap once their racing careers are over.
Many many thanks, Nik
Nik Ashton
said on 18/Mar/19
🐫👌!
Miss Sandy Cowell
said on 17/Mar/19
@ Nik - There are lots of words in the English language that can be pronounced two different ways, like zebra and 'zeebra', neither and 'nyther', either and '👁️-ther' Each pronunciation is correct as well! I suppose it can be a little confusing for kids, but as long as their teachers make it clear that both ways are correct and don't penalise a kid for pronouncing a word in a way that disagrees with their own personal preference, it shouldn't be too confusing for kids.
What CAN be a little trickier is that there are different meanings for the same word, along with spellings and meanings. Too, to and two has to be explained properly, and tee and tea and so it goes on.
A friendly, approachable teacher who is eager to help is therefore essential, and one who recognises that kids learn at different rates. In my day, the identification of 'word blindness' was in its infancy, and there were far too many labellings. Insulting words, eg 'thickos' and 'idiots' were commonplace. In my primary, or Junior school as it was called then, there would be a remedial class for those who couldn't keep up with the others, and thinking back now, these youngsters wouldn't even be allotted a proper, decent classroom, so their drawings couldn't be displayed on the classroom walls, or similar such things that kids should be able to take for granted. Where was the encouragement in that? They were taught in the library! It would have made more sense to have had the more advanced students situated in the school library because they would at least have been able to read the books.
We've come a long way since then - and just as well, too!
Cheers Nik!
Sandy xxx 😁👍
Nik Ashton
said on 17/Mar/19
👉🦓👈!
Nik Ashton
said on 17/Mar/19
🦓👌!
Nik Ashton
said on 16/Mar/19
🦓🦓🦓🦓🦓🦓🦓🦓🦓🦓🦓! Look at all these zeebras!
Nik
said on 16/Mar/19
@ Rob - I appreciate what you said.
Miss Sandy Cowell
said on 16/Mar/19
@ Nik - My condolences go out to you and your family. Cards are on the way. Ginger was such a sweet little dog and it breaks my heart that greyhound racing goes on at all because it must weaken their bones. Then they are thrown on the scrapheap at 3-5 years old.
Jim has assured me that there are already plenty of people up in arms about this cruel sport - and taking action.
All the best to your family. Losing an animal is something that only a fellow pet-owner can relate to. 😿
Sandy xxx
Bobby 178cm
said on 16/Mar/19
@Sandy Cowell
There was actually at least three different pandemics in and around Europe, but the most devastating one that ravaged Europe came from China and was introduced into the European continent through Venice by Chinese merchants. The plague was carried by rats mainly through the fleas that they carried. Naturally, those fleas were transferred onto pets, that would be my best guess. Much of Europe had already domesticated cats so keep households free of mice and maybe the rats as well. So, fleas transfer to cats and then the humans who handled them would contract the virus. Although, an article recently posted by the, er, well, The Washington Post, actually suggests the virus could have been airborne. I actually find that contestable for a lot of reasons, but the highest reason being that without strong medicine and vaccines, it would have annihilated well over the 2/3rds that it did. Then again, one of the scientists suggested that as a third likely scenario, coughing humans could have spread the plague further out, lending credence to the Bubonic plague is contagious, and at least then the spread would have been far less effective because cities didn't start getting overly crowded until the Industrial Revolution.
Yeah, a lot of historical figures were certainly above average for their time periods. I read one source indicating that Blackbeard aka Edward Thatch or Teach, may have well been 6'5, which meant he stood an entire foot taller than his contemporaries at the time. I've also heard some whispers saying that even Jesus of Nazareth could have been an even 6'0 tall. It was definitely unheard of for some people to even far exceed the average height of their time periods but it did happen in some accounts. Even George Washington was 6'0 tall, and Abraham Lincoln has generally been viewed as standing 6'4 for the longest time. Of course, exceeding a stature of 6'0 in the 1800s is not as contestable as it would have been in the 11th century at around the time of the Third Crusades. Google has also kindly told me that King Richard the Lionheart could have been 196cm or 6'5 tall.
Well, it's possible that people could have become contaminated by food which was handled by those already carrying the virus, but none of the sources I have read have ever indicated that diet played a role in the spread of the pandemic. I have read that the virus was contagious, so it's feasible. Maybe someone who coughed while preparing food could have infected an entire dining room worth of nobles for example. The food would have consumed before symptoms even began taking effect, but I guess any leftovers would have been burned to avoid the spread of the contagion. In fact, as a slight divergence, the movie, Contagion (2011) has a similar premise to the real-life Bubonic plague which sort of starts out as a bat having been disturbed by a bowdozer company which then randomly decides to fly up into a banana tree, takes the fruit, and ends up dropping pieces of it into a pig pen where it's devoured by a piglet. Then a chef buys the piglet, slaughters it and everything, decides not to WASH his HANDS when he's greeted to meet a customer played by Gwenyth Paltrow, shakes hands with her and the film goes from there as she becomes Patient Zero.
I myself generally prefer reading to visual material such as videos. I can go at my pace and since I am a fast reader, I can just scan for relevant information.
Yeah, it's definitely quite a humbling thought thinking about people who lived before us. It makes you appreciate how much harder they had it to survive and even just imagining that creatures as a colossal as dinosaurs once roamed the earth and have left their giant footprints for us to discover is quite the fascinating venture to explore. What I have found, Sandy is that a great many people have become arrogant in the modern age, although this arrogance has persisted for centuries prior, leading them all to merely accept they are the superior race of beings and are utterly alone in the universe. Now, I am not outright saying that aliens exist, but something else certainly does that could be greater than we are. Dinosaurs wouldn't have cared about how smart we were, we would be ants to them. It's been a difficult process to even humble myself over the years, but once you do, you begin to realize how small you are in the expanse of the universe. I am no more special than anyone else who lived before me, I am simply trying to get through life and make something of myself.
Yes, I agree with that. Far too many people abuse their health, and I cannot tell you how many times I've witnessed folks use the facilities only to merely wash their hands under the water with no soap, thinking that was good enough. We only live once and I for one intend to maximize my life by staying healthy and having the right kind of fun that doesn't harm others.
Thanks, Sandy, it has been a tremendous pleasure chatting with you as well. :)
And thank you, I'll need it. Just yesterday I finally finished a 14-page paper for Philosophy. Thankfully, my break is coming up soon next month.
Nik Ashton
said on 16/Mar/19
🦓!!
cmillzz
said on 15/Mar/19
Hi Rob, just a quick question.
Would these Nikes give close to 1.3 inches? I'm not good at determining how much height a pair of shoes give just by looking at them.
Click Here

Editor Rob
That 94 model I can't remember seeing, but the overall style isn't too dissimilar to the air ltd model
I measured again
this year....so may well be not far off 1.3 new
Nik
said on 15/Mar/19
@ Sandy Cowell - Absolutely (autocorrect tried to change it to a absolutely!), squirrel is an amazing word! I haven't noticed how some people struggle to say the word "squirrel" but different possible pronunciations of this word are coming to mind! I will have to find out how Christoph Waltz said "squirrel" in the film "Inglorious Basterds"!
Thanks for telling me how the word "squirrel" originated, this is very interesting to know! 🐿!
Isn't it fascinating that the word "zebra" can be pronounced in two different ways? Very fascinating indeed!
I wish you and your loved ones a great week,
Nik
Nik
said on 14/Mar/19
@ Rob & all users - My brother Steve's greyhound Ginger sadly passed away yesterday evening at the age of 15. She lead a long and happy life and she was looked after very well by Steve and his wife Karen.

Editor Rob
That's sad to hear. 15 is a good age, but it's never easy when you lose a pet 😿
Miss Sandy Cowell
said on 14/Mar/19
@ Bobby - Hi Bobby! You've taught me something else, and that's that I thought the Great Plague started in Europe around 1347/8, although I did know it 'ended' in 1351. I say ended lightly, because it reached its epidemic in Europe then, but there was still enough of it about. I have met, say, two or three people that stick in my head this instance, who thought of it as a 17th Century epidemic, which I couldn't believe! Sometimes I have wondered how many more lives would have been wiped out had it not been for the Great Fire of London, because it didn't hit Britain until 1665 and we all know that the fire that started in Pudding Lane took place in 1666 - easy to remember because the Battle of Hastings was in 1066, and then we were invaded by the Normans, what with the illegitimate William the Conqueror changing British history forever. I reckon that to have defeated the British Army, the Norman King, also known as William I, must have been pretty tall, so I checked out with Google, who politely told me that he was 178cm tall. Now let's face it, that's incredibly tall for those days, and that deserves to be in capitals so here I go again - INCREDIBLY tall! To be 5ft10+ in the 11th Century is little short of staggering! When I heard that Leonardo da Vinci was 175cm, I thought that was rather tall for someone from the 15th-16th Century, but for the 11th Century - WOW!
Disease and illness was rife in the Dark Ages and the Middle Ages, but none had quite so dreadful an impact on the population as The Great Plague or Black Death. That it was to cause the average male height to dwindle by all of 2-and-a-half inches has given me enormous food for thought. The food supply of the poor, struggling people of those times must have been badly at a premium. Would you happen to know, Bobby, if people got infected by food as well as contaminated people? That's something that I've never before asked myself. Did they have to burn the contaminated food as well as the victims who perished due to the plague? When I have finished this I'm going to hunt around for an informative DVD on the subject of the Great Plague. I find I enjoy learning more from DVD's and TV programmes than books now, especially the ones that include dramatisations of the subject matter. I did so much reading for my qualifications that I prefer DVD's as a form of learning to books now. I find it relaxing and exciting, and it doesn't feel like 'working' at all. Obviously, I make notes, which I keep so that I can refer back to them if I need to.
Ha ha - to think that before I had my own internet facilities, I used to do sudokus and crosswords to keep my mind from stagnating, but having the internet is much more absorbing. I still enjoy doing these puzzles, but my mind is kept perfectly active by using the internet and writing on Celebheights, not to mention the watching of a wide variety of movies. While on that subject, I ordered a copy of 'The Da Vinci Code' tonight, and I might even receive it tomorrow, or should I say, later today. That should be extremely enlightening and I'll feel far more qualified to write about this great man once I've seen the film than I do at present. When watching an interesting movie on DVD, you can always pause it to find out from the internet anything you want enriched or explained. I found myself even doing that with the comedy 'Blackadder' the other night, because I felt that the three poets dining in 'Mrs Miggins's Pie Shop' were either too old or too young to have been around at the time that 'Blackadder III' covers. I think they were merely babies at that time!
I have really enjoyed writing this; it wasn't a chore at all! As I've said before, I rarely plan what I'm going to chat about, but anything even remotely historically-based is going to appeal to me. My interest in history was alive and well to such a degree when I was at school that I read my entire text book in one night flat, and it consequently gave me nightmares! Getting older has made me realise how quickly time passes, and when it occurred to me in 2009 that Henry VIII came to the throne just 10 of my lifetimes ago (almost!), it was then that I thought, "Doesn't time just fly by?"
Then two years on, I thought, "Jesus was alive just 40 of my lifetimes ago....!"
Yes, it's truly amazing to think how the years fly by, and that while we are here, we really must make the most of the time we're given. Time spent worrying about things we cannot do much to alter isn't time well spent, but making the most of what we've been given and eating well and keeping fit is time very well invested indeed.
Always a pleasure chatting to you Bobby!
Take care and enjoy your studies,
Sandy xxx 😊👍📺
Nik
said on 12/Mar/19
👉😁👈!
Bobby 178cm
said on 11/Mar/19
@Sandy Cowell
Yeah, Leonardo da Vinci was marginally above average for his time period. The average in Europe from the start of the Middle Ages up until the Black Death in the 14th century from 1343 to 1351 in Europe. Naturally, this epidemic severely affected the average height in Europe which caused it to shrink from a height of 5'8.25 to 5'5.75 overall. Just an interesting tidbit for you to consider.
Okay, so you wouldn't have been fluent in German then. Do you at least remember the odd bit of German that your mom taught you? Did your dad ever try to teach you Dutch? It seems interesting to me that your parents each spoke different languages as part of their curriculum for work.
Haha yeah, and now you know where the idea of selfies come along but unfortunately for us youngsters out there who do take selfies, we didn't invent it. Self-portraits have been around for as long as an artist has been using a canvas and paint brush. Leonarda was truly a polymath and ahead of his time. He was a talented artist but also a talented inventor and scientific/mathematical genius and it's my opinion that the world nurture individuals as talented as he was, not try to shun them away from expressing their brilliance in ways that can only benefit the world. Leonardo was a sodomist, so he practiced homosexuality as a homosexual, and on top of this, many of his findings were considered sacrilege to the Roman Catholic Church at the time, so he had to study in secret and frequently wrote backward to prevent others from discovering his research, namely, the Church. You're welcome! It's always nice when someone appreciates learning something new rather than remain closed minded because they think they know everything there is to know. The world is a gigantic place and history is ripe for the taking, so there's always something new to learn.
Yes, certainly. Experience only happens with age and so naturally one would expect that someone much older will have a higher grasp of certain things compared to someone who is much younger. Though this is not necessarily a foregone conclusion, some who get to be quite a lot older may be just as ignorant as they may have been in their younger years. I would say that this boils down to an individual mentality and if you have a love of knowledge, you will always be teaching yourself new things or be learning new things from others.
I think that's the amazing thing about Leonardo da Vinci, his ability to expressively capture the vividness of the world around him was unparalleled at the time. So much so, in fact, that he was commissioned by the King of France to paint some portraits for him in his later years. France is also where he met his final days.
It sounds like you must be artistically inclined then. I myself am not. Although when I was younger, I once drew a convincing picture of The Incredible Hulk by copying it from one of those metal lunch boxes for kids. I somehow managed to capture it exactly and gifted it to my friend for his birthday back in elementary school. Sadly, I don't think he much appreciated it even though it took me over an hour of drawing and erasing just to perfect everything. I think children are naturally attuned to the arts and if this potential is nurtured early on, it can create some very talented individuals. I sadly am incapable of replicating this ability now, but I am a decent enough writer and a good poet.
You're welcome once again for telling you about Leonardo da Vinci, Sandy. :) I think he's a criminally underrated legend. The Da Vinci Code should be especially of interest to you. I have heard whispers back when the hype was big that it was an immensely complex book and later movie. I would like to test my intellectual abilities to that effect.
You have a pleasurable week too, Sandy, and I look forward to hearing more from you.
Take care.
Nik
said on 11/Mar/19
🐿🐺🐇🐖🐄🐫🐘🐎🐪🐈🐩👌!
Sandy Cowell
said on 11/Mar/19
@ Nik - Re: Your squirrel-based emoji comments dated 11th March, 9th March and 6th March.
Have you noticed how some people struggle to say the word 'squirrel'? My favourite example was Christoph Waltz's pronunciation in the Quentin Tarantino film 'Inglorious Basterds'! My Mum sounded fairly similar, her being of the same nationalities. Christoph is German/Austrian and my Mum was German with an Austrian father - so both cut from the same cloth, only in different percentages.
Someone close to me said that his Mum couldn't get much past squirrrrrel, and, of course, he took great delight in taking the ¶ee!
It's a smashing word isn't it, and hails from early 14th Century Anglo-French 'esquirel'. The Greek meaning is 'shadow-tailed'. So there you go! 🐿️
Cheers Nik and have a great week - and your Mum too! xxx
Sandy Cowell
said on 11/Mar/19
😝 Correction Time! 😝
Re: Comment to Connor, dated 10th March
That should be human, and NOT humam!
Sandy Cowell
said on 11/Mar/19
@ Nik - Re: 🐖💨😷
Now that's what I call a PIG!
Nik
said on 11/Mar/19
🐇👌🐿👌!
Nik
said on 10/Mar/19
@ Sandy Cowell - 🐖💨😷!
Sandy Cowell
said on 10/Mar/19
@ Bobby - Hi again! I just asked Google how tall Leonardo da Vinci was and the answer she came up with was 175cm tall.
Sandy Cowell
said on 10/Mar/19
@ Connor - Hi Connor!
I take beta blockers for my anxiety and they really do help. In extreme situations, I use low-strength diazepam. I find it pointless to take higher-strength ones because they just knock me out, and can even be addictive. As an anti-depressant, I use flouroxetine, which are great because they do not knock you out at all and are non-addictive. They help me cope with stressful times, and we all get them! It's part of being humam! Some people cope with stress better than others. It also helps immensely to be able to talk your problems through with a professional!
Look after yourself!
All the Best!
Sandy xxx 😁👍
Bobby 178cm
said on 10/Mar/19
@Christian 6'5 3/8"
I do not agree. I think having a category for the height of fictional characters would be a fun enterprise for the discussion of the height of characters in fictional worlds. Be a little more fun-loving dude, it won't kill you.
Sandy Cowell
said on 10/Mar/19
@ Bobby - Hi my fine young friend! Only my Mum was a teacher and, of course, her German rubbed off on me! I used to listen to her conversations to her brother and her Mum on the phone from an early age, and I always got the jist of what she was talking about. Of course, I wish I had learnt far more. My Mum was an excellent teacher and she taught my Dad, who had to learn Dutch as well for his career. I did French at school and enjoyed it very much.
I talked to my Dad about Leonardo da Vinci and he was suffering from bad vertigo at the time so he presented me with a history encyclopaedia, which was enormously interesting! I now want my own copy - of course!
I did some checkings-out of Leonardo earlier today and what I found of particular interest was a self-portrait he drew of himself called 'Portrait of a Man in Red Chalk', which is supposed to have mystical properties if you look into his eyes. It is of Leonardo at around the age of 60 and people have experienced weird happenings by looking into his eyes. One thing that struck me was how long he would spend on each of his paintings, and they look accordingly beautiful. If you study 'The Last Supper' and 'The Mona Lisa', you do get very much drawn into the incredible detail of their beauty. Just for the benefit of interested visitors, Leonardo lived from 1452-1519. He was, for my money, the epitome of Renaissance Art, and so much more besides. His interests knew no bounds, and I know I am going to have great fun finding out about this great man.
Thank you for enlightening me!
My Dad agrees that you gain wisdom with age. To say that we have the ability to learn something new every day is an understatement. We watch quizzes together, and have great fun shouting out the answers in unison!
As regards the paintings of Da Vinci, he worked on many for years - and the amazing detail shows in such a way that they look utterly real. The longest I ever spent on a painting was 2 days, and it took pride of place on the art wall at my school! It was of a landscape, and I painted it at 14. Now I enjoy drawing in black and white, and I really think I should start it up again. I used to draw pictures for my boyfriend, as long as it was to do with nature. In a funny kind of way, it was a part of our courting process! I drew him an owl in black and white which took two days. The kids next door wanted to see what I'd been working on, and when I showed them, they retorted, 'You got that off the Internet!"
I replied, "I don't have internet facilities", and then in four minutes flat, I drew them a cat in black and white. After that, they believed me!
I suppose to have an inborn interest in art is going to find the people from the Renaissance of great interest, thus making people like Da Vinci particularly mesmerising, especially as there was so much more to this great man. I shall order myself a copy of 'The Da Vinci Code' and that should complement nicely whatever else I find out about him. One thing I know for sure is that he is well worth studying - so thanks for pointing me in the right direction. I know I won't regret it!
I wish you an enjoyable week Bobby and, as always, it's been a pleasure talking with you.
Take care now! 😁👍
Sandy xxx
Nik
said on 9/Mar/19
@ Sandy Cowell - 💥🐉!
Sandy Cowell
said on 9/Mar/19
To: Rob, Jenny, Nik, MJKoP, Bobby, MaryAnne, Arch Stanton, Connor, Ben, and all the lovely friends from Celebheights! ❤️
Hi I'm back home and I have missed my cats and everybody here very much indeed! 💓
We have been watching a great many quizzes and listening to a lot of music, especially that of Queen. When I stayed with my Dad in 2005, I got into their later tunes. Previously, I was only into their early stuff, but I then realised that everything they ever turned out was worthy of a great deal of appreciation. I keep waking up to their song, 'Good Old Fashioned Lover Boy', and then I have to play it and sing along! I guess to an old fart,
that would qualify as rather an older song, but to me, it seems like a new one!
I am now listening to Roger Water's 'Amused to Death', which hails from the 1990's. It is sadness itself, and you can identify with the pain Roger went through losing his Daddy in the War. I have bought many copies of this album for family and friends and nobody has ever been disappointed.
Now all my cats need masses of hugs and cuddles and I am going to check out the new celebrities which have been appearing in my absence. Not that I haven't been able to get through like last time, but the journey to my Dad's is a bit of a stinker, as and one that I can't make as often as I'd like, a which is such a shame.
Life is so precious, and I feel very fortunate to still have my Dad alive and with me. Meeting my sister-in-law, Tabbi, and her tiny son of two months, Ferdinand, was a pleasure in itself, and I can't wait to see them again. My brother Dominic has been working away, and just returned from working in the States. I recall seeing him first as a three-year-old pickle! He was a very clever little rascal, and now I have loads of furry little rascals of my own, of miaowy variety, but they'll never beat him in the brains department!
I am so excited to see who's been put up during my absence and might have overlooked and have plenty of new ideas of my own.
Have a lovely weekend all of you lovely people!
Sandy xxx

Editor Rob
Good weekend to you too! 👍
Christian 6'5 3/8"
said on 9/Mar/19
@Bobby
That's meaningless and wouldn't be a very good idea. Fictional characters aren't even real, and they only appear in animation or video games, so you'd have no reference to compare height. In my opinion, I don't think that Rob should even list historical people's heights who lived hundreds of years ago, but at least they were real.
Bobby 5'10 (178cm)
said on 8/Mar/19
Rob, did you ever think about making a category for the height of fictional characters?

Editor Rob
I have a hard enough time trying to keep up with real celebrities ☺️
Nik Ashton
said on 7/Mar/19
@ Sandy Cowell - 👉🐉👈
Bobby 178cm
said on 7/Mar/19
@Sandy Cowell
Oh, did your mother ever impart her German linguistics knowledge over to you? I was trying to learn German back in the Fall but then I just forgot about it. I was using Duolingo to learn it, and I learned some basic words and sentence structures which I am beginning to forget, which is no small feat for me as I generally have a great memory.
Your mother must have nevertheless been a great teacher if some of the students were disheartened when she left.
Until next time, Sandy. :)
'Annonymous'
said on 7/Mar/19
Hi Rob! Can you answer me, what caused my problems related to using your website?

Editor Rob
You have to watch submitting multiple posts on the same page. It can become a bit like spamming.
Nik Ashton
said on 6/Mar/19
👉🦉👈!
Nik Ashton
said on 5/Mar/19
👉🦉👈!
Nik Ashton
said on 5/Mar/19
Ere's another convocation of 'em:
🦅🦅🦅🦅🦅🦅🦅🦅🦅🦅🦅🦅🦅🦅🦅🦅🦅🦅🦅🦅🦅🦅🦅🦅🦅🦅🦅🦅🦅🦅🦅🦅🦅🦅🦅🦅🦅🦅🦅🦅🦅!
Nik Ashton
said on 5/Mar/19
🦅🦅🦅🦅🦅🦅🦅🦅🦅🦅🦅🦅🦅🦅🦅🦅🦅🦅🦅🦅🦅🦅🦅🦅🦅🦅🦅🦅🦅🦅🦅! Here's an invasion of eagles (seagulls!)
Sandy Cowell
said on 5/Mar/19
Hi Bobby!
My Dad is interested in the same way as I am! My Mother was a teacher for a while when I was seven. She taught German in a private girls school. She was popular with the girls who knuckled down to their work and taught them well. Some of the girls cried when she left!
😢😩
Have a great week Bobby!
Sandy xxx
Nik Ashton
said on 5/Mar/19
👉👌👈!
Nik Ashton
said on 5/Mar/19
@ Sandy Cowell - 👉 🗣"Good one!"! 👈
👉👌👈!
👉🚽👈!
👉💨👈!
👉😂👈!
👉🐎👈!
👉🐩👈!
👉🕷👈!
👉😁👈!
Bobby 178cm
said on 4/Mar/19
@Sandy Cowell
Your dad sounds like he knows a thing or two about history. Is that a pastime of his or was he a teacher of History?
Take your time. The best replies are those that have permutated for a while rather than those that are sent mindlessly and without effort.
Have a great weekend, Sandy!
Sandy Cowell
said on 4/Mar/19
@ Nik - 👽💩😻👅👀🦁💨
There you go! Compete with zat!!
😋😉
Sandy Cowell
said on 4/Mar/19
@ Connor - Thinking of you my dear!
Sandy xxx
Nik Ashton
said on 3/Mar/19
@ Sandy Cowell - 👉🦍👈!
Nik
said on 2/Mar/19
@ Sandy Cowell - 👉🐺👈!
Sandy Cowell
said on 2/Mar/19
@ Nik - 👉🍗👈
Sandy Cowell
said on 2/Mar/19
@ Bobby - As you may know, I am staying at my Dad's. I will have to 'study' before I reply, but that's always something worthwhile to do!
Have a great weekend Bobby!
I'll be back on Tuesday. Last time I was here, for some reason or other, I couldn't write, but I can this time! I missed it like mad...
Sandy Cowell
said on 1/Mar/19
@ Bobby - I'm working on it! My Dad is bound to help me out. He knows about most things - I guess that's something that can be said about growing older!
😊👍
Nik
said on 26/Feb/19
@ Csimpson6ft - 👍👍
Nik Ashton
said on 26/Feb/19
💨👌!
Bobby 178cm
said on 26/Feb/19
@Sandy Cowell
I'll be eager to see that reply on the topic of Leonardo da Vinci.
Hmm, Tales in the Night, that sounds like Tales from the Crypt. Tales from the Crypt is more on the fictional side of things though, like Goosebumps. I used to read spin-off series in high school called Fear Street, it was an interesting series. So, Tales in the Night was based on fact, right? I think A Haunting is as well, or at least, it lends itself to that line of thinking since you see scenes of the real people who went through those ordeals. Much of it might be exaggerated for consumer entertainment though.
Okay, that sounds gross and disturbing. Her leg suddenly started bleeding and insects came out? That reminds me of a movie that I saw a while back about a swarm of man-eating cockroaches that would lay eggs inside people and the larvae would essentially eat all the vital organs. One person that was autopsied had cockroaches in his stomach area. I think the movie was called The Nest, it was a B-list horror film. So, anyway, it carries the same general idea about bugs bursting forth from people. It's nasty stuff.
Anyway, yeah, that sounds a lot like A Haunting, even some of the case studies are identical. Did they discontinue that show? They must have since it's quite old now.
Oh yeah, in the novelization of Halloween (1978), Michael Myers was actually possessed by a Celtic ghost who basically influenced him to kill his sister. So, the reason for his insanity isn't from his own state of mind but due to demonic possession. Unrelated, there was a judicial trial in the U.S called the Demon Trial or something like that. The accused was found guilty of killing his landlord and in true Amityville fashion, claimed that a demon made him do it. So, naturally, he pleaded insanity. You can read about the trial here, and also this case study sets a precedent as it is the first one of its kind.
Click Here
Article can be found here. It actually appeared on A Haunting in some fashion, so it lends further credence as to the show being based on facts.
Oh yeah, I actually met this girl like a decade ago who also likes Scooby-Doo and we bonded over that. We're still good friends today. I think you can't go wrong with Scooby-Doo in your life, and I'd be tempted to get a Scooby-Doo collar if I ever had a dog.
As always, it's a pleasure chatting with you Sandy :) I look forward to hearing more from you.
Csimpson6ft
said on 26/Feb/19
@Sandy Cowell yeah I also suffer from anxiety, I'm really bad with it when I get stressed in some situations or when I worry about things, my physciatrist called me yesterday and she told me that she will be getting me some therapy for how I'm feeling and she's putting me on some new medication, hopefully it will be better than the last tablets I was taking because the side effects from my other tablets made me feel tired and sluggish.
I hope you're having a good week so far Sandy and ill talk to you again soon. 😊 👍
Nik
said on 25/Feb/19
@ Sandy Cowell - That is so very true, the lunch I described is indeed one that can be described as a fruit break and once someone eats a lunch like this they could need a toilet break! That's why it can be sensible for someone to be on the toilet, or in or near the smallest room in the house, if they are eating fruit in mass quantity! One should stick round the little boy's room or the little girl's room if one is eating lots of fruit!
Sandy Cowell
said on 25/Feb/19
@ Connor - I'm really pleased to hear you are getting the help you need and deserve. It's nothing unusual to go through periods of depression. I have myself, though I'm reasonably good at coping now. It's just the anxiety that's still bothersome!
Look after yourself,
Sandy xxx
Sandy Cowell
said on 25/Feb/19
@ Bobby - There will be a proper reply on Leonardo de Vinci on the way, but in the meantime, I'd like to tell you about a terrifying programme I watched in 1989. It was called 'Tales in the Night' and was based on fact, and accompanied by dramas of what the people had been going through. I can't remember for certain, but I think that the people who had lived through these true stories were telling them, but it might have been the voice of a member of the same sex.
They were the most frightening true-life stories I had ever heard, and many a time involved a one-off, which many a psychologist would probably have put down to madness. One was about a girl who got into a tube train and her leg suddenly started bleeding followed by loads of insects coming out. For her it was a just the one occasion, thankfully, but others were more in line with what I've read, including a babysitter who simply hated going upstairs because it was always freezing cold, lights would go on and off and the main activity seemed to be coming from one room. She ended up calling a priest, who sensed sadness there.
It turned out to be the spirit of a 17-year-old boy, who was a Roundhead back in the English Civil War. He had been killed by the Cavaliers, the supporters of the King (Charles I, who was executed in 1649 for treason against the people).
The boy didn't know he'd been killed over three centuries ago, and was living in fear, not knowing he was dead. The priest performed a ceremony and saw, as did the babysitter, the boy walk into the arms of his relieved parents.
I found that to be a sad story with a good ending. The babysitter, who had obviously told the family who lived there, found that they had experienced the same thing upstairs, but she was the one who sorted it out. I found that very moving.
I also used to watch Scooby Doo when I was 9 upwards and I always wanted a model of him. My Mum bought me a soap-on-a-rope one Christmas and I didn't use him until he was literally cracking up! As always, it's been great to chat to you Bobby.
Take care,
Sandy xxx
Sandy Cowell
said on 25/Feb/19
@ Nik - Well, I hope they were received in the spirit with which they were made!
I didn't have a mobile phone back then, or I'd have taken pictures! Mind you, I'd have made sure that they will have been BEFORE they were attached to their chosen 'victim videos' and not blatantly and openly in the shop!
I knew all the workers there and they were all blessed with a good sense of humour!
Cheers Nik xxx
Csimpson6ft
said on 25/Feb/19
@Rob 👍
Csimpson6ft
said on 25/Feb/19
@Bobby I forgot to mention that it's also a form of clinical depression aswell, I should be getting my medication for it soon.
Csimpson6ft
said on 25/Feb/19
@Bobby 178cm yeah that's what it is but I have been depressed ever since I was was a small child, I could have chronic depression aswell I might go to the NHS center again to see if I am diagnosed with that aswell.
Nik
said on 24/Feb/19
@ Sandy Cowell - I think that I too would need a reasonably sized bucket to empty the contents of my bladder! As for using a bucket to empty the contents of my bowels, don't go there!
It must have been fun for any employees or shoppers at this particular branch of "Blockbuster Videos" if they ever saw any rude and amusing shapes made out of plasticine on the front covers of DVD's and videos! - Do go there!
It's great that you were innovative enough to do this and it's great to do things like this for a laugh, I would have done this too! Your comment has provided me with a laugh of gargantuan proportions! I would have loved to have seen zee videos!
😂😂😂😂😂😂! - Look at this row of silly **gg***, they like to have a good 'ole laugh 2!
Csimpson6ft
said on 23/Feb/19
Thanks Rob my mum is trying to get my physiatrist to get me my medication next week so hopefully I will have it soon, I appreciate your support.

Editor Rob
That's good to hear!
Bobby 178cm
said on 23/Feb/19
@Csimposon6ft
Reactive depression? That sounds like you fall into depressed moods based on how you react to certain situations. Isn't that pretty much everybody?
Csimpson6ft
said on 23/Feb/19
Hi Rob I had an appointment at the physicatrists last week on Wednesday and I have been diagnosed with reactive depression, I just thought I'd let you and everyone else know.

Editor Rob
Hopefully you ge some help now.
Bobby 178cm
said on 23/Feb/19
@Sandy Cowell
I'm nursing a headache, or I was. So I'm feeling a little out of it at the moment and don't have the mental energy for any profound topics at the moment, so I'll try to keep things on track and to the point.
First, I just want to say that I never bought into the mystical stuff or I haven't really believed in such things in the last few years. When I was a teenager, I certainly thought about such things and often wondered if things like ghosts/spirits and the afterlife were real. So, guess what led me to make those conclusions? Do you know about a program that used to play on the Discovery Channel called, A Haunting? Some of the episodes used to scare the living daylights out of me when I was a kid but I was freaking hooked on the show. The scariest thing about that show was the narrator in my honest opinion. I suppose I can blame my fascination with ghouls and monsters based on my childhood viewings of Scooby-Doo, and also, during the winter break of 2012, I set out to watch two shows: Monk and Supernatural, and I did. I scarcely ever exited my room and must have gone through maybe 20 cans of diet soda in the month that I was off. I only came out to eat and shower but otherwise stayed glued to my computer screen. Of course, I suppose that was expected of a 17-year old boy. I watched every last episode of Monk and loved it, and then I set my sights to Supernatural and caught up with the show. I stopped watching the show around its 10th season I believe and the story behind that was I came into contact with some Jehovah's Witnesses and suffered an existential crisis after reading The Bible, I thought to myself, "Am I a good person? Have I been unknowingly inviting demons into my life?" so on and so forth. So, I ceased everything that was related to spiritism and the occult and even stopped using coarse language. I could go on with this story, but there isn't nearly enough room in this comment box for all the words.
Yes, Leonardo da Vinci took an active interest in astronomy, he wasn't just a painter which is what most people know him for. He also studied anatomy and drew up plans for things like a flying machine and a tank, which ultimately failed of course. I think he also came up with plans for a hand-held gun. He was ahead of his time by centuries.
As to the lives of criminals, my belief is that I don't think killing should ever be justified unless there's no other alternative. This also means I don't think abortion is ethical either, but yes, there have been some very sick and evil people in history. Such people are caricatures of the Devil, I think.
Another incident of sorts where someone got off without much punishment was the accomplice to Paul Bernardo, Karla Holmalka. Paul Bernardo was a serial rapist and was also responsible for the deaths of at least three women. Karla Holmalka even helped Bernardo in raping her own younger sister. I don't know how a woman like that sleeps at night knowing she was responsible for not only degrading but killing their own sibling and being an accomplice to a sick mind like Bernardo's. She was released from prison maybe 10 years ago, and public scrutiny on her has died down for the most part.
I think what has happened nowadays is that people have been largely desensitized to tragedy and crimes. It's something that happens almost every day and has been happening for the last thousand years. This is our normal. Of course, I think that current crusaders of justice are focusing on the wrong things. Do you know that some people think animals have more worth than humans? Never get into an argument with such a person. Their disregard for human life borders on psychotic. Then there are the people focusing on a sexual expression which perverts all the goodness of a proper married life. Don't get into arguments with people like that either. I've been blocked on Twitter for voicing my "old-fashioned 2000-year-old beliefs". I won't apologize for those views though. They want other people to be accepting of them but they couldn't even accept what they were in the first place. I think you'll find that people have more controversial opinions than they let on but they are frightened of ostracism. So much for free speech for the people.
Sandy Cowell
said on 22/Feb/19
It looks more like a fruit break to me; the sort of lunch, when eaten in mass quantity, is very wise indeed to be eaten in, or near, the smallest room in the house! 😬🍇🍉🍓🚽
Sandy Cowell
said on 21/Feb/19
@ Bobby - I was just watching a documentary about evil Fred and Rose West, who murdered children, including some of their own, and young women. It was too disgusting to stick with, and I turned it over. It became public knowledge in 1994 I think. The cowardly male committed suicide and Rose is doing life, eating three square meals a day, not having to worry about bills and I bet she's even got a TV in her cell.
She never admitted to these crimes or helped the Police in any way whatsoever, yet she has a comfortable life and costs the tax payer thousands upon thousands every year. She should have been executed. I read that the Yorkshire Ripper, Peter Sutcliffe, while he was living in a psychiatric facility, was digging into the public purse to the tune of half a million a year. He was found to be faking insanity and now lives in a normal prison, which he hates.
When people are clearly guilty of such atrocities, they shouldn't be allowed to live, and if so, they should live on bread and water as was the case in the old days, and sleep on the floor without a pillow and only straw to keep themselves warm.
The victims of these evil sickos have NEVER seen justice, and I am talking about the families of the victims too. They should suffer when punished, but instead they live comfortable, regular lives.
These are what I consider worthless, evil people. The boyfriend I tried to help was unhappy because he couldn't see his kids, but he self-destructed, and when his Mum died, leaving him a monthly sum of money, you can imagine where that went. That just hastened the process, because he was mixing alcohol with tablets which are a lethal combination. Yes, I was patient with him, but I did get fed up with him meeting me on payday in order to waste my money.
I would be happy to see your work if you can find a way of sending it through. I wouldn't know how to, and am still busy working out how my phone works! I've only recently learnt how to forward pictures.
Justice? What's that? Rant over! The weekend is nearly here again but firstly tomorrow, I have a hair appointment, so I'll have to go out, like it or not!
Cheers Bobby,
Sandy xxx 😁👍
Nik
said on 21/Feb/19
@ Sandy Cowell -
🚾🚽 ....... 🍇🍊🍔. ...... 🏃🏻💨 "I'm having my lunch break 2!"!
Sandy Cowell
said on 21/Feb/19
@ Nik -
🚾🚽.......🍟🌭🏃"I'm having my lunch break!" 😋
.
Sandy Cowell
said on 20/Feb/19
@ Bobby - I couldn't finish properly because after a certain amount of words, my phone starts joining things up and generally going slightly crazy! So I'd like to bid you a proper good bye until the next time!
Cheers Bobby!🍻
Sandy xxx 😁👍
Nik Ashton
said on 20/Feb/19
🦍👌!
Sandy Cowell
said on 20/Feb/19
@ Bobby - I do live in a comparatively safe environment, but when my neighbour started to try to extort money from my brother and myself, hassling us at every opportunity for over £1,000, so that he could have one of his cars resprayed, claiming it was a cat scratch, I feared going out. He is a thoroughly dodgy person, and speaks like a retard; this used to be a good and safe area to live in. I investigated his past when I noticed he had completely blackened over his surname in the bill he presented me - by bleaching the ink! His family has a thoroughly dodgy past and his brother was involved in the recent burning of the effigy of the tower block that burnt down not long ago, killing children and adults alike. I recall an incident of a parent throwing his baby out of the burning building and fortunately someone caught the infant. Yet his brother found it funny enough to burn an effigy of the tower block. He is now in hiding for his safety. The papers said he is a nightmare to live near, partying noisily whilst others are trying to sleep and having filthy slogans in his porch.
My neighbour, the brother of this 'joker', on the other hand, picks on the vulnerable - my brother has Asperger's and will talk to anyone, so said neighbour thought, "easy money!"
Before all this kicked off, with him ordering me to get rid of my cats, (involving the RSPCA, the Environmental Health services and our local MP, who were all lovely and took my side, telling me "Don't you pay him a penny!"), I found him loitering drunk in my garden giving me the come-on! I said "You're DRUNK!" He denied it, but I know that one only too well, not to mention he stank like a brewery! If I'm honest, I found his height hatefully overbearing. I was always told by my Mum that tall men look after little women.
Generalisations, generalisations - all people are different and he is one bad egg. Yes, I feel perfectly safe going to the letter box at 2 in the morning because I know he'll be in bed. His family history is hardly printable, but I know he inherited money and despite being a multi-millionaire, he doesn't think twice about extorting a bit of 'pocket money' from my vulnerable brother and someone who he knows has severe PTSD, which is me, after I was attacked on a train in broad daylight and it completely wiped my memory, to the extent that I didn't know which year it was or remember phone numbers I'd known, some for all my life and others for years. It took about a fortnight of having to ask this, that and the other, before these things finally sank in again.
I feel quite safe in the dark, and, I must say, my road is very well lit. It's not a long walk to the letterbox and I can look out for other people's cats and foxes, but I didn't see any the other night. Just to think that the last time I strolled out, there were Christmas trees everywhere, which I don't half miss!
You mentioned Mr Nightmare; guess who subscribes to him too? There are some really spooky stories, including ones about people who've accepted lifts only to find that it was from a ghost! I have experienced supernatural phenomena, but it was only of the beautiful variety. A couple of friends did spiritual healing and I was stroked by a small (woman's) hand for about 40-60 seconds and when I turned round there was nobody there. All I could see was the brightest light imaginable. I wasn't even frightened, but felt reassured.
The following morning, when I told the couple, they had not so much as a single doubt that it had happened. The man had been held down in that room, and I didn't 100% believe him at all. I spoke to a vicar about it and he said, "It's not right to disturb the rest of those who've passed on."
I also had another unbelievably comforting experience on the day my boyfriend's Mum died as I was walking up a road I'd used every day since childhood. I'd had to break the news to my boyfriend, and was crying my eyes out, but she sent me an esoteric sign. If you want to know, I'll tell you some other time.
No, I didn't know that Leonardo de Vinci took an active interest in astronomy at all. That is something well worth investigating. Buy I did know about Galilao (1564-1642) and Copernicus (1473-1543) and at that time those in charge of the Church were paranoid rigid of anything that went against what they taught. Astronomy was considered supernatural because they didn't understand it. How the blazes did they explain the star that stood over the stable when Christ was born?
Have you seen the film 'Stigmata', because that story is very much in line with Church cover-ups and the written word of the living Christ. He was telling his disciples that you will find him anywhere and everywhere, therefore you don't HAVE to go to Church in order to worship. The young girl, played by Patricia Arquette, ends up receiving a present, which just happens to be the crucifix of a very devout priest, who dies and continues his work 'using' the girl, who suffers the Stigmata even before she ends up a believer. Gabriel Byrne is also in it, as is Jonathan Pryce, who plays a corrupt man of the Church who tries to kill the innocent girl. I can't recommend it highly enough. If you get a DVD or Blu-ray, there are two different endings. That, coupled with the film 'True Romance', turned me into a massive fan of Patricia's.
I'll be sure to check out Leonardo de Vinci and we can continue chatting about the pitfalls of speaking your own mind...
Bobby 178cm
said on 19/Feb/19
@Sandy Cowell
Isn't taking late night strolls generally a bad idea, especially for a woman of your stature? Unless you live in a generally safe neighborhood. I've taken to watching these videos on YouTube on certain occasions by a user named, Mr. Nightmare, who narrates stories submitted by other users that are allegedly true. Many of them do sound believable, but of course, you might want to question if perhaps some of them are merely made up by others such as those CreepyPasty stories that get around on Reddit. My point is that when you listen to these stories you begin to grasp the horrors of what goes on at night and the kind of unspeakable evils that people are capable of performing against others. So, you think of the expression, "The freaks come out at night.", and it rings very true, so just be mindful of that when you do for walks. It's better to go during the day so there are daylight and other people around, or just go in well-lit areas that are well populated. You never if there's a lunatic fixing to do a bad thing to you.
Back to Copernicus and Galileo, another contemporary who also dabbled into Astronomy was Leonardo da Vinci, and I read one of his old research journals into the subject where he implies Heliocentrism before Copernicus even discussed it, but he says it in such a way that you have to be educated on the subject to understand it. And yeah, people fear or outright despise what they don't understand, often times other people around them, but it can also be ideas or other religions. Of course, if the idea is preaching hatred or something like that, then it deserves to be despised. You should read into what Islamic countries are like and what they do to their women. It's awful stuff.
Well, I reckon that because you saw some essence of good in him that you stuck around, but I am not someone who prefers to stick around if I see that someone is self-destructing all the time. You either leave or you get them help, and if they don't want help, it puts you in a tough spot because if you leave, they'll just spiral out of control. So, you must have had the patience of a saint to be able to stick around for so long because I'm not sure that I would have done the same.
Those people stole your money too? Wow, crooks! Did you at least report the incident to the police and manage to get your stolen money back?
I'm not sure if I can manage to maintain any sense of optimism due to my experiences recent or otherwise. Even hearing about the experiences of other people just convinces me even more about how bad people are these days and how the world, in general, is a rotten place to call home. There's a perversion of justice everywhere, and it boils my blood every time. How can people treat one another this way? Don't they realize how childish and immature it is?
I suppose you're correct in saying that things get easier as you navigate through life, but I think a huge load of relief on my shoulders will be to see real justice being carried out.
Believing in myself isn't necessarily the challenge, it's learning to trust that others will do the right thing and not challenge my own abilities, that's the problem. I know what I can and can't do, and I like to think that any rational human being knows that they can't expect the impossible from you. Alas, that's the problem with these days, they ask for too much and give little in return.
Sandy Cowell
said on 19/Feb/19
@ Bobby - The 'kn' word happens to be 'knocks' (you back). What a rotter, and a fool to himself! 😝
Sandy Cowell
said on 18/Feb/19
@ Nik - Unless the toy lavatories were very big, they would be a bit pointless! I need at least a reasonably sized bucket to empty the contents of MY bladder!
I collected toy loos for a laugh, but, fairly predictably, zee boys 'abused' them with plasticine 💩 and lemon juice! I mean, what a cheek! The plasticine was mine and there for me to mould into 'rude and amusing shapes'* which I would then stick on the front covers of DVD's in 'Blockbuster Videos'!
My favourite masterpiece was a 'collection of soft, dangly bits'* which I artfully stuck on the front cover of what looked like a James Bond video, one where the trouser region was clearly on display.
If anyone used to work in 'Blockbuster Videos', yes, it was me! 😝🌽
* Both of the quotations marked with asterisks are from 'Blackadder'!
Sandy Cowell
said on 18/Feb/19
@ Bobby - I see what you mean about not being able to exceed X many words! My phone was going haywire just now and wouldn't even allow me to correct properly. I know that one mistake at least was left in and I think it began 'kn'. I'll have to get back on that!
Anyway, enough of that comparative nonsense! I'll get back to where I ended in saying that life is a lesson, and how we respond is going to reflect on how we are treated by others. Remember the quotation from 'Terminator 2', in which Arnie's robot character, the T101, says about man "It's in your nature to destroy yourselves."
That's so true, but we also have a choice. Make sure your one of those who doesn't, Bobby! You've already made a great start, getting your above-average heighted physique into the best shape possible, and how you managed to do that and still make university is beyond me because I would have thought that both take complete devotion. Yet manage it you have, so you must now learn to believe in yourself and be proud of what you've achieved thus far and have the confidence to go on to make giant strides in the future.
All the very best to you Bobby!
Sandy xxx 😁👍
Sandy Cowell
said on 18/Feb/19
Hey Bobby! Sorry about the slightly late reply. I actually went for a walk last night at 10 to 2 in the morning. That's the first time I'd left the house since 27th December. It was painful, but liberating and I came back into the house to a nice cup of tea with vanilla milk and sat down to watch some Chases. It was while the second one was on, with Anne Hegerty, that there was a question about, if I remember correctly, who went into hiding to protect his safety. Two of the choices were Galileo (1564) and Copernicus, born 1473 and how about this for a coincidence? It would have been his 548th Birthday TOMORROW! So these two like-minded scientists, who were born 4 days short of 91 years apart, were both Aquarian/Pisces cusp. I know more about Galilao than I do about Copernicus, my interest in Galileo Galilei being triggered by the Queen song 'Bohemian Rhapsody'. It's a shame that the two of them couldn't have been born at a time where they could have met up and combined their ideas. Yes, far ahead of their time, it wouldn't have been 'worth it' from a political or religious point of view to have arranged a meeting between a Pole and an Italian, even for the advancement of Science. Man was - and still is - very set in his ways and as you rightfully emphasised, he's frightened of things that he doesn't, or doesn't even want to understand or give credibility to.
My own personal experience stems from trying to help a man, my boyfriend for 5 and a third years who ended up dying, and mixing with the people he hung around with. I remember coming home from work one evening and he had taken all my qualifications out and displayed them round the room. I'd never come back to an empty house, and I would frequently walk into a dope-smoke filled room. That was the last thing I needed after a day's work, and even though the job was boring beyond belief most of the time, I would walk there and back, which was about 9 miles covered in a day. The place was filled with badly brought-up toddlers, who would find it quite normal to sit with their parents as they rolled joints and drank super-strength beer. Not that it was the fault of the nippers, they were badly neglected, and used nappies left strewn all over the show was the norm. I recollect some being put OUT OF MY REACH, but, hell, I could smell them. I picked these nappies (diapers to you - a much nicer word!) up when I'd found something to stand on, threw them away, and ran a bath, bundling three of the toddlers in for a thoroughly good scrubbing! That night, I bathed in lukewarm water....
The boyfriend didn't mean any harm in displaying my certificates, but many of his associates would do all in their power to belittle me afterwards, pick on me for my size and say I was 'ditzy'! I had money stolen by these people when I was asleep in bed. I decided to call it a day when I came home one evening and the partying went on all night, and I was so tired the following day that I went to the lavatory at work, there falling asleep. After that night, I'd return to my Mum's house after work.
Both my parents were furious that I was 'wasting' my time with such a person, but there was good in him. He, when drunk, also tried to put me down and call me stupid and useless, but when sober, he'd be all ears when I talked about history and was eager to learn. His Mum, who was lovely, kind, soft-hearted and owned three cats, showed me his school reports and his best subject was history. I also told him the method by which I remember dates, and that is through association with other birthdays of people I've known, (I remember many of the kids' Birthdays from school and even, daft as it may seem, the class register from when I was 4-5 years old), and there are other things, to do with numbers correlating with my weight at certain times in my life which I 'use' to jog my memory.
I was 25 and two thirds when I moved in with him. He'd already been my friend for over 4 years and I could see he needed help, and so a caring friendship turned into something greater. When he died, just over a year after his Mum, there was an enormous turn-out at his funeral, which, of course, included both the kids he missed so much. I was told by people who knew him that I kept him alive for far longer than they ever expected him to live so how can that have been a waste of time?
Yet you have had knocks and knock-backs at just 24. Don't let them embitter you. While you are learning at university, you are broadening your mind and I suggest that you sit back and enjoy it. I worked hard at school to prove that I was educable, and not a waste of money. I went to a private school, and we took exams every single term, or semester to you! I realised the value of this when I took my final exams and actually enjoyed them. There were loads more besides 'O' Levels, including London Chamber of Commerce, concentrating strongly on grammar, for which I got distinctions in all but one, which had nothing to do with grammar (!) and the Royal Society of Arts, whereby the equivalent of a distinction was a 'pass with Credit'.
Now I learn trivia, history, anything I fancy, out of fun. Feeling under pressure to learn, as you will be at the moment, isn't so enjoyable, but if you can manage to muster up 100% for one of your essays on a highly complex subject, and then some @-hole kno you back for whatever reason, who's the real loser?
Things really do get easier as you progress through life.
Nik
said on 17/Feb/19
🐩💨😷!
Nik
said on 17/Feb/19
@ Sandy Cowell - Meet Colin! 🐇!
Nik
said on 17/Feb/19
@ Sandy Cowell - Hello Jargon the bunny rabbit (rabbitoh!)! 🐇!
It looks like there is an army of rabbitoh's hiding away on people's devices, all of them directly related to Jargon and my very own 🐇!
🐇🐇🐇🐇🐇🐇🐇🐇🐇🐇🐇🐇🐇🐇🐇🐇! 🐇👈! 🐇👌!
Sandy Cowell
said on 16/Feb/19
Hello everyone! Meet Jargon the Rabbit! He is an escaped laboratory bunny, and directly related to Nik's rabbit friend. A whole load of them escaped from a lab one evening and they have been cyber hiding ever since!
Jargon takes great delight in corrupting what people write, so if you find yourself coming out with rubbish, and you have a white bunny emoji, you have more than likely been the victim of one of Jargon's relations, and there are many, many of them because they breed like....well, you know! 🐇🖕
Bobby 178cm
said on 16/Feb/19
@Sandy Cowell
Continued Again
I guess that's the curse of having above average intelligence and being an introvert. I'm no genius and won't ever pretend to be, but I do think I'm more intelligent than the average person since I seem to just grasp ideas and concepts fairly quickly compared to other people. There are some things I'm not good at, but I can learn those things if I apply myself to them. Maybe I'll learn to be fully accepting of myself someday when people learn to see past all my blockades and actually give my potential a chance to shine forth. Much of this self-criticism extends from being denied by others around me to prove myself to them. Heck, the only reason I'm in university is that it's the only way I can land a job in the future and being denied every job I apply to is starting to embitter. It's not like I don't want to work either, but they don't want to give me the work either. My mother said I'd make a woman very happy one day since I'm patient and understanding, but I fear I'd scare off any prospective woman with all the baggage and the brooding that I do.
It's not anything like Connor, I just brood because I've been disappointed all my life by others and this is my natural response when things don't go my way. Maybe it's childish, but I like to think that my effort should matter when I'm willing to give it, not have it be ignored. That surprisingly came out, but I reckon I feel comfortable enough in exposing some of my insecurities to you since you seem to be an understanding and level headed person.
I'll try to have a great weekend regardless :)
Bobby 178cm
said on 16/Feb/19
@Sandy Cowell
Well, remember too that Galileo was a successor to Nicolaus Copernicus who originally posited the notion of Heliocentrism in around 1503, but since Galileo was born around two decades after Copernicus died, the research was still fresh. Also, it was not yet a science but was actually a philosophical theory. All subjects which eventually became known doctrine initially began as ideologies before transforming into sciences. In fact, Astronomy was one of the first things that philosophers studied in Ancient Greece. I can't seem to recall what the study was actually called, but the word is of Greek origin, known as Αστρονομια (Astronomia), but the Latins took the word for their own and referred to a new line of thinking on the subject as Astronomia nova or New Astronomy before Copernicus or Galileo came around of course. It does befuddle me how much of the world takes knowledge for granted when most doctrines owe their origins to Greek schools of thought. I'm not trying to come off as ethnically superior but I think we ought to give credit where credit is due. As for Galileo, most revere him as an inhuman genius, but he was very much human and very much afraid. He preferred to live in shame and ostracism than to enlighten those around him about the true nature of the universe. The threat of death can reduce anyone to cowardice, but I suppose self-preservation are strong instincts in all who share in the breath of life.
I found the subject all too fascinating and getting to read a portion of the Cyborg Manifesto, which was insanely complicated, was a real treat. I recall last semester how my professor of Modern Social and Political Thought (This was Political Science in a nutshell) stated that ideas have a tendency of scaring people, and she was right. She had a way of discussing controversial topics to invoke class participation and after my assertation that there were only two genders and being shot down over the invention of infinite many genders, I sort of retreated into myself and just sat there absorbing everything and forming my own conclusions. However, what my professor said was indeed correct about people being scared of ideas. I like to separate people into categories. Most of society occupies a single giant box, but those who become fascinated with ideology and theology, occupy a smaller version of that box. The philosopher, John Stuart Mill, wrote a book titled, On Liberty, whereupon many things he discussed most prominently the essence of free thought and free speech and how these things should not be infringed upon by the government or by anybody else. So, not even something as restrictive as political correctness should stop someone from voicing their opinions about matters, and yet too many people gladly give away their freedoms if it means not being ostracized by their peers and by society at large. The video game character, Ezio Auditore, had a speech about the virtue of free will which he gave to a crowd of people during a fictionalized version of the Bonfire of the Vanities. He concluded that people should learn to think for themselves because too many of them gladly give their freedoms to those who would seek to take it from them. As well, if you'd like, I can upload my paper online, in the cloud, and you can read it, I called it, Paving the Way for the Superhuman. I would have to scan it to the laptop though because I no longer have it saved it as a word document.
I'm definitely still holding out the hope that we have real superpowers one day. Think of all the good that can be done with that. We can stop diseases and reduce workplace injuries and ensure that the cost of medical bills is reduced by more than half their price. That's the idealist in me speaking out.
Nostradamus is actually mentioned in a video game called Assassin's Creed Unity, and you come across many of his philosophies and his prophecies. They act as puzzles for the game which lead you to a reward in the end, but they are also difficult to solve. It comes to my attention that people used to live very fulfilling, intellectual lifestyles before the modern day that we live in now. There have been people as young as myself who were responsible for ideas that would shape generations ahead of their lifetime. I feel vastly inferior when comparing myself to these intellectuals who gave us so much in the end. It's a crime against humanity and against knowledge for them to have gone so ignored and so ostracized in their heydays. People fear what they don't understand, all the time. It's as much a statement on their stupidity as well as their ignorance.
I suppose it is a very human thing, but they are glaring contradictions nonetheless, and I sometimes find myself thinking in one way more often than any other. As a naturally optimistic person, I have been robbed of that virtue by the ills of society and the injustices that continue to pervade the world over. People have become so desensitized to suffering and injustice, and to tragedy, that nothing is done to correct these things, and it would take a great miracle to correct the flaws in human nature so that all can live in freedom and in peace. The former king of the ancient kingdom of Israel, the wise king Solomon, often lamented that in much wisdom comes much sorrow. I find myself echoing in his footsteps and in his lamentations. Sometimes knowledge can be a curse.
Sandy Cowell
said on 15/Feb/19
@ Nik:
🦍..🐯🖕..🦁✌️..🐩💨..😷
👕
🍗
Have a happy weekend!
Sandy Cowell
said on 15/Feb/19
@ Bobby - I was going to give a bit of thought to digest what you've been saying, but I simply had to reply today because it happens to be Galileo's 455th Birthday, though strictly speaking, being as I am in England, and it is now the 16th, this comment will still be dated the 15th February. One trait of the Aquarian is that he or she is ahead of his or her time by a supposed 50 years and that certainly applied to Galileo - and more - but to come out with things like "The Earth is round and we are held down by gravity" or as in Galileo's case that 'We on planet Earth revolve around the Sun", was heresy! His advanced way of thinking could have cost him his life, but he was told by the Church to no longer state his views in public and was cleared of these charges of heresy at the grand old age of 50, living to the age of 77.
I can imagine that studying transhumanism and posthumanism would have messed with my head too much at 22, but with the advancement of machines 'thinking for themselves', let alone robots looking and thinking like human beings, it is quite frightening to think that the 'human' way of thinking could go on beyond our lives, but who'd be there to make and service them? Would they do it? No, definitely too much of a head """" for me - but I'll gladly sit and watch the films.
If anyone had predicted that in the 16th/17th Century, it would have been a heresy charge for sure, or the person would have been burnt at the stake for witchcraft. Nostradamus, Doctor. writer and astronomer, who was born at the beginning of the 1500's, was so busy with helping out with victims of the plague that, it would seem, any witchcraft accusations were cancelled out by his work with medicine. These are just my presumptions though and he wrote rather than spoke in public. I saw a film about him once in which Amanda Plummer played the Queen of France and she met Nostradamus. She was surrounded by children, including her own and a young Mary Queen of Scotts, and the physician said to the Queen "You will outlive all these children". She did.
There is no proper evidence that Nostradamus really saw the young Mary Queen of Scotts while she was being brought up; I'd like to do some reading up on this very interesting man, who I THINK was born in 1503, but I'm not 100% sure. I just know that it was the early 16th Century and Henry VII was still on the English throne. My brother has a book on him, so if I can wade through his enormous array of books, I'll be in for a fascinating read. Better still would be an informative DVD about his life.
To actually admit, Bobby, that you are both pessimistic and optimistic, idealistic and a realist is just admitting that you're human. I've found that I'm expected to be positive all the time and at times I find it very difficult to cry, possibly because I cried a great many tears when my boyfriend died back in 1992. It is true that time is a great healer, but things have happened to me since, which I have never been able to cry out of my system. On the amusing side, I remember an episode of 'South Park' wherein Cartman sees a family of people who have buttocks were their heads should be! After that, he thinks he has seen the funniest thing that he's ever likely to see in his life, and he can't laugh anymore, so he goes along to the school Counsellor, Counsellor Mackie, who says "Mmmmkay!" all the time. It really is one of the most amusing episodes of 'South Park' I've ever seen! They are called the Thompsons, only they can't produce their "S's", so they call themselves the Thompthons and they spit a lot! Mrs Thompthon is a very emotional woman and when she cries, well, everybody has to cover up, like so: 😷.
I think it's a funny concept to end on anyway! It's good and healthy to show your emotions and have a good cry sometimes, don't bottle up your feelings and be honest with yourself about yourself. That bit of inner peace others will pick up on. You're far too young to be so self-critical. Accept yourself, keep yourself fighting fit and happiness will exude from you as and when you're ready to display your inner strength, contentment and confidence.
Have a great weekend,
All the very best,
Sandy xxx 😁👍
Nik Ashton
said on 14/Feb/19
🦍👌!
Bobby 178cm
said on 14/Feb/19
@Sandy Cowell
Continued - because there is apparently a word limit on these comment boxes?
Anyway, I was going to continue saying that I am a great many things, and by great, I mean that I've got so many perspectives on life that anyone else who wasn't philosophical would call me a hypocrite. I am simultaneously an optimist and a pessimist, an existentialist and an existential nihilist, an idealist and a realist, a cynic and a believer. Maybe I'll churn that down to mean that nobody is ever just one thing or has only one perspective on matters. Your perspective will change based on your mood and your experiences, you might feel idealistic today and cynical tomorrow, you never know. My moods jump around so often I sometimes stop to fathom if perhaps I have some mental illness although I have never been diagnosed with a mental illness before.
I apologize if I come across as hopelessly moody or depressing, I don't think it's anything clinical but I've always been a sensitive person and a lot of things bother me that I let go unvoiced.
Cheers, I actually needed to get this all out. Other people would be overwhelmed with all these words. I've got a lot to say, I just don't voice it.
Bobby 178cm
said on 14/Feb/19
@Sandy Cowell
Well, I'm 24 years old, and I only this much because I took Political Science, and a number of other courses centered on Sociology and Psychology with the odd flair of Philosophy thrown in, but Political Science is a side category of Philosophy.
I was quite fond of Chemistry while in High School, but most of the theoretical sciences elude my understanding and being that I have never been interested or good in Math, I have never pursued any of the hard sciences in university. I still think that humanity can do great things with genetic engineering for example, and I don't mean with GMOs, but improving the human species. I learned about Transhumanism and Posthumanism in a college course around 2 or so years ago. It was a great class, and I wrote a paper discussing my position on both that earned me a full 100%, and it remains to this day, my best-graded essay. Anyway, Transhumanism differs from Posthumanism such that the former focuses on the enhancement of the human species as a whole without introducing mechanical or electrical components. So, basically, think of a superhero like Spider-Man, that's a good example of a Transhumanism, but a character such as, well, Cyborg, would be a Posthuman because he is enhanced technologically with the aid of electrical components, making him, er, a Cyborg. This is sort of like wish fulfillment for me though, I don't think we'll have superpowers anytime soon, but it is feasible. There was a program on the History Channel called Spider-Man Tech which delved into the science behind Spider-Man following the success of Spider-Man 3, so it was in 2007. It was on YouTube before, but now all the videos have been deleted due to copyright and all my attempts to find it online have been met with nothing, but this was a program released over 10 years ago and they concluded that Spider-Man is possible. Imagine what they'll say now.
Back to Capitalism, I think money is a necessary evil, and I never want more than I actually need and perhaps desire to get by in my life. I just want enough of it to be comfortable, but I am not looking to be an elitist. The problem with wealth distribution is that it's disproportionate and wholly unfair, especially when you stop to consider that the people who built society and who regularly innovate new methods to improve the standard of living make peanuts in comparison to celebrities. I suppose this just describes the human condition through being that we are more likely to award someone for entertaining us than we are to award someone for enlightening us. Poor Galileo was ostracized by the Catholic Church for going against their own canon about how the universe worked. Of course if you stop to pick up and read a Bible, it says nothing about geocentrism at all, but generally implies knowledge of heliocentrism alongside a primitive understanding of gravity which holds the earth in place on its axis. It befuddles me how people continue to pervert the truth to fit their own lies. Even if it's not your truth or someone else's truth, one must never pervert the original message to mislead everyone else. I think that's unethical.
I think I've always been aware of how time can close in on you, and I've been aware of my own mortality in the last ten years at least. I can't imagine what it would be like to be immortal and having to witness progress over a long period of time while you remain unchanged. It's already hard enough when you see people your own grandparents' generation and being hit with the reality that they are stuck in a certain generational kind of thinking. Things like cell phones and computers must be a scary and bleak prospect for them because those things never existed when they were young and acclimating to them is too mentally taxing, so they don't bother.
I can't say I really understand what it's like to watch the life ebb away from someone over a long period of time and the only funeral I've ever been to, I was too young to grasp the meaning of death. Still, that must have been tremendously difficult for you to know it was out of your control and your power to fix. I think the short answer version to why they were more concerned for you is a reflection of the reality that they knew they couldn't do anything for him, but they could at least point out your own issues. I don't know what kind of problems your boyfriend had, but if he was depressed and miserable, I would tentatively say that he's at least at peace now but I don't necessarily believe in an afterlife either. I will say, however, that even though I'm young, I feel like I've lived through ten different lifetimes because I've got the bitterness and the cynicism of an old man sometimes. Still, I remember watching a video from a YouTuber who formed a video game walkthrough group called The MediaCows, and this guy had a dark period of his life when he was confronted with his own mortality and he spiraled into depression as a result, and he eventually had to conclude in the end that no matter how awful your life becomes or what you go through, life is always worth living. I am sometimes less inclined to believe him, but I do know that even those who commit suicide don't actually want to die, they just want an end to their pain. I'm sorry, I didn't want that to get bleak but I guess that's my problem in life, I can be bleak about things.
Sandy Cowell
said on 14/Feb/19
@ Bobby - I am a massive fan of films though and it's amazing how much you can learn from them!
Nik Ashton
said on 13/Feb/19
🦍👌!
Sandy Cowell
said on 13/Feb/19
@ Bobby - Neither am I a fan of Capitalism, and in all honesty, when I was your age, the thought of conversing about it would have been quite beyond my capabilities!
The only parts of science that truly appealed to me were biology and chemistry, but when you think about it, they are all intertwined. Yes, I have heard of Faraday, and his enormous contribution to the advancement of science, and I bet he didn't make a fortune out of his brainpower, whereas he would have been entitled to do so! No, the 'Capitalists' were the ones to do that. A good, honest businessman is worthy of respect, of course, but the taxing of everything barring fresh air does kind of stink. The Beatles wrote a good song about 'The Taxman'.
One thing I have learnt as I've got older is how time closes in on you, and, for instance, in 2009, when it was 500 years since Henry VIII came to the throne, I realised that the time that had elapsed was just a little more than ten of my lifetimes. I remember clearly what passed through my head when I was three and then just a 'few' years later, so much time has flown by! Not that my interest in history hasn't always been active, I think the older you get, the clearer the quickness of time and man's staggeringly fast progress becomes. It's awesome, yet frightening at the same time and brings home that we are here for such a short and finite time.
We lost another of our celebrities three days ago. Carmen Argenziano I think is his name. He was in the second Godfather film, The Accused, Identity, Swordfish and many more. I don't feel 75 is any age to die these days. I know he was still working and was in a prominent TV series. He leaves behind his spouse Lisa and sons Joseph and Tony.
I lost a long-term boyfriend when I was 31 and one week and he had just turned 39. I literally sat and watched him bleed to death over the course of 14 hours; the little bit of comfort one can draw from is that he was unconscious. The doctors knew he wouldn't make it; I could tell from their eyes. He was an unhappy man because he couldn't see his two children and had recently lost his Mum. Added to that, he was being massively over-prescribed the sort of drugs that are supposed to stop you drinking, plus he was given antidepressants, but he mixed the lot with alcohol. I took him to a doctor just a few days before and I couldn't believe it when the doctor was more concerned that I was anorexic. I had loads of energy, but looked tiny, weighing 98 pounds in clothes. I begged them to admit him to hospital but was told, "We can't give him a bed to stop him from drinking." A few days later he was dead.
Yes, there's a great deal wrong with the system and how people are prioritised. Whether I could put that down to the fact that they'd given up on him with his many suicide attempts, which stopped the five years I spent with him, doesn't make any darn difference. I know the doctor who over-prescribed was directly or otherwise responsible for many more deaths and ended up no longer being allowed to write out prescriptions, but that didn't take away from the pain on the faces of his two children at his funeral, which will be etched on my mind for as long as I live. The girl was 14 and the boy 20.
Yes, life can be sad, but it can be beautiful too. To have a good brain is a blessing, and if you find that people are frightened off by it, they are hardly the right company for you, Bobby. I'd have thought that you'd be able to find some kindred spirits at university, after all, that's where the brainy people go! It would be a wonderful blessing if you could find something similar to Cambridge University's Footlights Society/Club; just two members of which were Stephen Fry and Hugh Laurie, and Stephen is continuing to impart his knowledge via the medium of TV and books and act at the same time, while Hugh has realised all his dreams, including becoming an acting sensation and even a musician.
You have a lot to live for, and your life should be enhanced by having a high intellect. You are at peace with your height now, which is of great importance. I never have been, even at my peak. Because of my size, I've been ripped off something rotten, but it wouldn't happen now because I've become far more assertive and I have my ex-army boyfriend to thank for that. Enjoy yourself along the way and keeping a good sense of humour is an enormous plus in this life too.
Ha ha! I told you I never know what I'm going to talk about. I'm like a 'tall' version of Ronnie Corbett in his chair, flitting from subject to subject, or 'digressing', as he used to say. Mind you, that's considerably before your time.....
Have a great day!
Sandy xxx 😊👍
Bobby 178cm
said on 10/Feb/19
@Sandy Cowell
I'm not a connoisseur of history, but I've been complimented on my memory by people, and I admit quite tentatively that my memory if channeled productively, can be a source of great knowledge and trivia for others. To be perfectly honest, I am not a big fan of Capitalism and don't get me wrong, I don't think that it's unethical to have a business and to make profits but it becomes a huge problem when all you care about is turning a profit at the expense of bankrupting people or shutting down the ideas of others. Now, as to the enterprise of electricity, you can imagine that Capitalists, namely politicians, were not concerned about the scientific benefits of electricity or of the benefit to human living, but electricity simply became a widespread phenomenon simply because it was foretold, "You will one-day tax electricity." This is a paraphrase of Michael Faraday, and I am certain you are familiar with a Faraday cage, well, the name comes from him. A Faraday cage, by the way, blocks electrical signals, either from entering or from escaping. So, it's a perfect nesting ground for transmitting all manner of nefarious schemes, wouldn't you agree?
I'm not the biggest of films myself, but there are some that I have seen that I quite enjoyed and would be happy to view again, in the future. As a born "Canadian" (which in my opinion, is a meaningless accolade or description), I did no American history either but growing up, I was fascinated with the U.S., and simply because the country was larger, and the history was so much more interesting. In fact, America is a cesspit for religious propaganda and trials for witchcraft. It is quite intriguing that you bring up the matter of Satanism because back when America was all colonies (a modern equivalent to city-states) and was hailed as New England, the idea of Satan being able to interact with the physical world was widespread amongst Puritans/Protestants. It's this very premise which affected the most famous American religious prosecution of America's history, the Salem Witch Trials of 1692. I've actually chosen to do a history assignment on the events, but the trouble is that so few sources exist on the topic, despite its immortalized romanticism amongst people worldwide. I even plan to take in the series, Salem, as I am in the mood for something that has to do with mysticism and history, but this likely roots back to my earlier years marathoning Scooby-Doo every Saturday morning as a wee lad of 10 years old.
I'm not much versed into English history and don't know anything really beyond some things, mainly, the Whitechapel murders, or as famously dubbed, The Autumn of Terror. I enjoyed the tidbit of conspiracy which developed around Jack the Ripper and his alluded origins as hailing from America, and the most infamous of them all was the connection of H.H Holmes to the Ripper murders. I think it's the most popular theory around as the man himself was in London around the time of the murders, and Scotland Yard was even planning to investigate the allegations of the Ripper's apparent immigration from the States by sending a few detectives, but ultimately called it off because the funds could not be secured for the investigation.
I think it's quite creepy that you had neighbors who dabbled into things like witchcraft and Satanic rituals. I personally wouldn't choose to be friends with people like that. It's all well and good to make movies and write books on these things, but to practice this in real life? I just don't see the appeal, but I too was raised a Christian, a Greek Orthodox to be exact.
I do think it's a blessing to have met someone with a propensity for knowledge as yourself as I find too often that people my own age group lack the interest and the vocabulary for such discussions. I think my inquisitive nature scares people off. No one likes questioning what they think they know, after all, but I do it all the time. You can never truly know anything, only aspire to find the truth.
Thanks for getting back to me, Sandy, and I hope that my response was able to convey the same sort of tone that you were going for.
:)