Tommy Wiseau's Height
5ft 8 ¼ (173.4 cm)
Polish-American visionary filmmaker, known for directing and starring in The Room.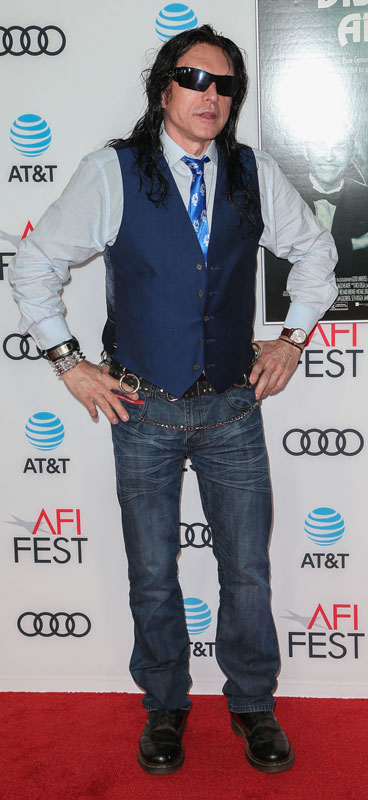 Photos by PR Photos
Add a Comment
36 comments
Average Guess (23 Votes)
5ft 7.95in (172.6cm)
Rampage(-_-_-)Clover
said on 8/Apr/20
Rob, could you give Sestero a page?
I think a solid 6ft1 guy
Nik Ashton
said on 5/Oct/19
It would be great to see him photographed with me and Rob! All the vowels can be found in his name!
Tim S.
said on 29/Mar/19
I'd wager a weak 5'8".

Editor Rob
Sestero seems to think he's 6 inches taller than Tommy and in SMH there was an interesting tidbit:

"I pitched (the story) to Tommy and he said, 'yeah it sounds like a good idea but I have one request: why don't you and I be same height in movie'," Sestero says.

"I'm about six inches taller... It had nothing to do with the story but I was like, sure why not."

As a result, Wiseau had platform shoes made and wore pants to cover them.

"And then he's like, you cannot show my shoes in movie, that is one rule."

Of course, his shoes are the first thing you notice.
Rampage(-_-_-)Clover
said on 5/Feb/19
Sestero I think could be 6ft1-2 range
Jackman
said on 5/Feb/19
Saw him and Greg Sestero the other day at a Room screening and had a picture taken with them.
Tommy was definitely wearing lifts, I'm 174cm and he looked to have at least 2 inches on me while Greg had about 4 inches on me.
Greg looked like a solid 6'1, Tommy I'd guess was a strong 5'8 although it's hard to tell when they're wearing lifts.
I'd also strongly recommend watching The Room in theaters, it's a unique experience and if you're lucky you'll get to meet the legend himself!
Carl Thorslund
said on 14/Jan/19
My guess about his height?
I cannot tell you, it's confidential.
Sal
said on 27/Jan/18
Looked a half inch to an inch shorter than Franco at the Globes and on Kimmel. Is it footwear Rob?

Editor Rob
It must be...he can't be only an inch shorter than those guys!
Rampage(-_-_-)Clover
said on 24/Dec/17
Rob, could you add Greg Sestero?
Rampage(-_-_-)Clover
said on 22/Dec/17
Sestero looks 6ft1 range to me
Sam
said on 20/Dec/17
Lol, thanks for describing him correctly as "visionary". Can seem about two inches over Dave Franco and 2.5 over James Franco so this can seem a good listing.
Jacob
said on 13/Dec/17
I did not hit her! Oh hey Paul! Lol didn't guess this fellow at a strong 5'8".25 thanks rob !
Jack
said on 13/Dec/17
I've met Greg Sestero in person, while he's listed as 6'1.5, he's no taller than 184cm.
Based on his pictures with Franco and Rogan I'd put him at 6'0.25. I'm 189cm and he barely reached past my eye level
u\Kwq
said on 13/Dec/17
5ft 8.5 was peak. He wears thick boots, 5ft 8 flat now.
Nik
said on 12/Dec/17
5'8" flat!
Klapperschlangensindgeil21
said on 12/Dec/17
The man, the myth, the legend! I wanted him to have his own page for a while now.
5'12
said on 12/Dec/17
@6foottom
Looks like your friend is standing a bit closer to the camera than Tommy is.
Some Guy
said on 11/Dec/17
Rob, from what source did you find him to be "Polish-American"? Wiseau is very secretive about his past and not even Sestero fully knows where he's from or how he financed his project. It wasn't until recently when Wiseau was in Jimmy Kimmel Show and there he mentioned being "originally from Europe" which doesn't clarify that much.
Editor Rob: sounds very Polish to me!
Starlo
said on 11/Dec/17
Greg can definitely give off a 6'2 vibe. I don't see him under 6'1... unless a tiny bit.
Sean5
said on 11/Dec/17
Oh hai Rob, thanks for posting him, I'd recommend everyone to see the disaster artist movie it's really good hauh
Paul NS (6ft0.5)
said on 11/Dec/17
Greg could be a strong 6ft1. Hopefully he's not insecure and isn't bothered by the 5'5.5 Dave Franco playing him... has to be one of the larger height differences I've seen with regards to an actor playing a real person of late.
EM
said on 11/Dec/17
Possibly this for a peak height and little under it today? He's in his 60s.
vaiski
said on 11/Dec/17
I did not hit her, it's not true! It's bull****! I did not hit her! I did NOT.
Oh hi, Mark.
Dingus
said on 10/Dec/17
This seems correct. A few years ago google had his heigh listed as 4'09".
Anonymous
said on 10/Dec/17
i did not hit her..i did naught...hi mark
6footTom
said on 10/Dec/17
I think this is too high, Tommy has always looked about 5'7" to me. In fact I know a guy from my university who met him at a screening of The Room in Chicago and also took a picture with him.
Click Here
I pulled this from his Facebook page and I can confirm that he(the guy on the left) is just under 5'10" and he has an easy 2.5 inches on Tommy Wiseau in the picture.
176cm guy
said on 10/Dec/17
Finally we got a page for him, been expecting one for quite a while now.
Dave178
said on 10/Dec/17
Hahaha! What an addition, Rob! 5'8" sounds about right.
grizz
said on 10/Dec/17
"visionary filmmaker"
can't.stop.laughing.
The Shredder
said on 10/Dec/17
" I am not 5'8 " , I am not 5'8" , I am not 5'8" , I am NOOOTTT! ... Oh Hi Rob! "
Anonymous
said on 10/Dec/17
5ft 8.25in? Haha what a story Rob
Vitro
said on 10/Dec/17
YES! Tommy is on here. I am a huge fan of The Room and just watched Disaster Artist. I so knew that he was a solid 5'8.
@Rob Will Greg Sestero be on here, Google says he is 6ft 2 and it looks possible to believe.
Editor Rob: not sure Greg looks that high.
Some Guy
said on 10/Dec/17
Oh hi Mark!
Animus
said on 10/Dec/17
He can look 174cm range next to Franco.
5'12
said on 10/Dec/17
Surprised by this listing; I always thought this guy was 5'6"-ish
Kevin
said on 10/Dec/17
5'8 flat nowadays. He could've been 5'8.5 back when he filmed The Room but either way he's proof that a legit 5'8 isn't short.
I think Greg Sestero could be 6'1. He looked 1 inch shorter than 6'2 listed Greg Ellery in The Room and had at least a couple inches on James Franco.
HonestSlovene
said on 10/Dec/17
The movie is so bad that's actually good. XD Also, this listing seems about right.