Burt Reynolds
Even in his 80's, Burt still seems to enjoy wearing Elevator Boots, which look like they would add about 3 inches to his stature.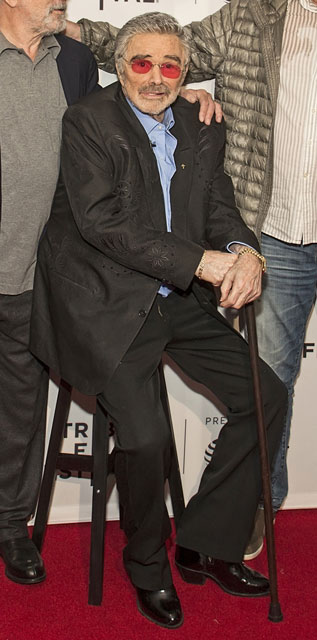 Photo by PR Photos
Sylvester Stallone
Sly's height has gone up and down like a yo-yo due to the variety and thickness of footwear he has worn through his career. In this family photo from 2017, Sly still seems to favour a pair of suspiciously bulging boots to help boost his height.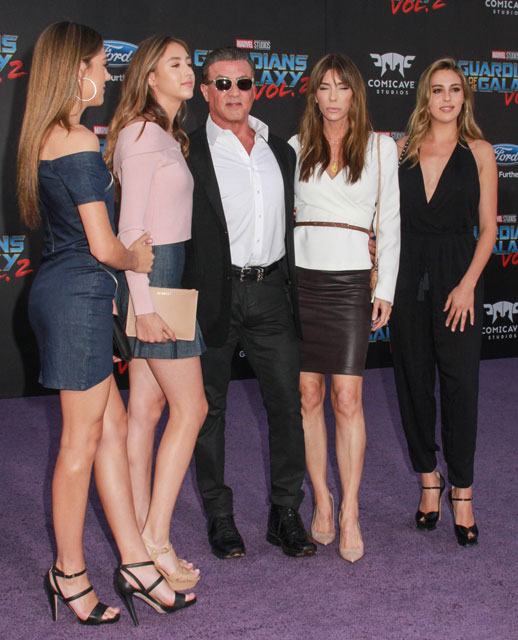 Photo by PR Photos
Tom Cruise
Spotting elevator shoes can sometimes be tricky, but one sure-fire giveaway is that the laces section of shoes will have a sudden and sharp increase in angle, making them seem unnatural. In this photo from the 2015 Mission Impossible premiere, Tom's shoes seem to fit the definition of a classic custom elevator shoe.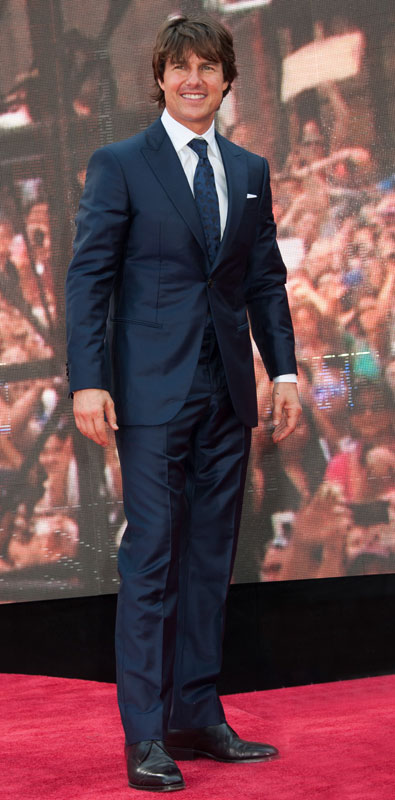 Photo by PR Photos
Robert Downey Jr
Over the last decade, Robert Downey Jr has seemed to grow taller, managing to look between 5ft 9 and 10 on many occasions. The reason? Have you seen his footwear!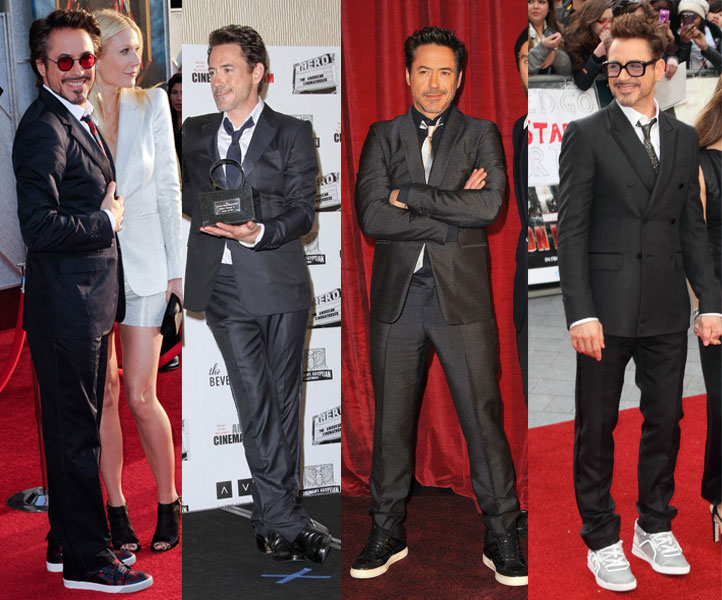 Photo by PR Photos
Vin Diesel
Action hero Vin is one of the best postured males in Hollywood, but does he really wear lifts? Undoubtedly Vin has a penchant for thicker footwear, especially logger-style boots which boost him 2 inches taller, but whether he has any lifts inside them is a matter of opinion.

Photo by PR Photos
James Kyson Lee
The Heroes actor is somebody I've seen first-hand wearing very large footwear, which boosted his height by an extra couple of inches.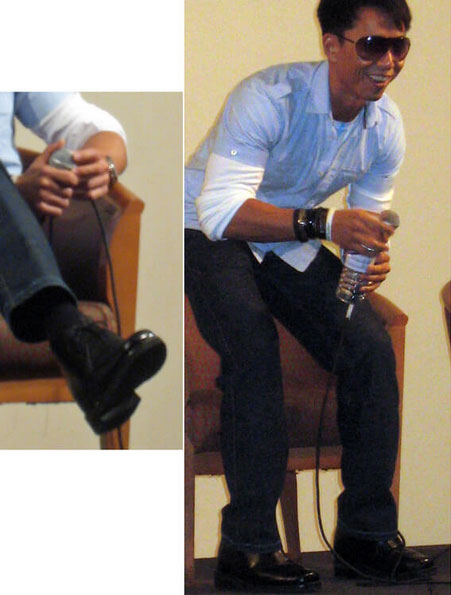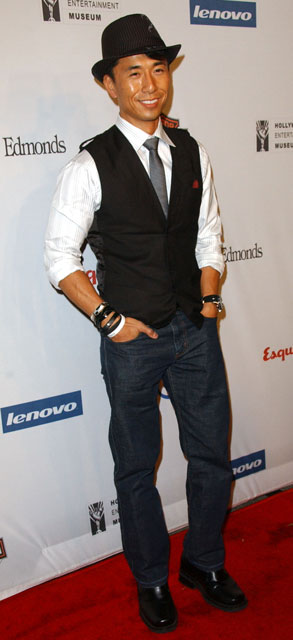 Simon Cowell
Simon has a certain style; boot-cut trousers or jeans which drape just that little bit longer to the floor than you'd expect. Many people speculate he wears lifts. He certainly seems to wear thick heels to add an extra 2 inches to his physique, but are these really elevator boots, or simply just a little cuban or cowboy heel?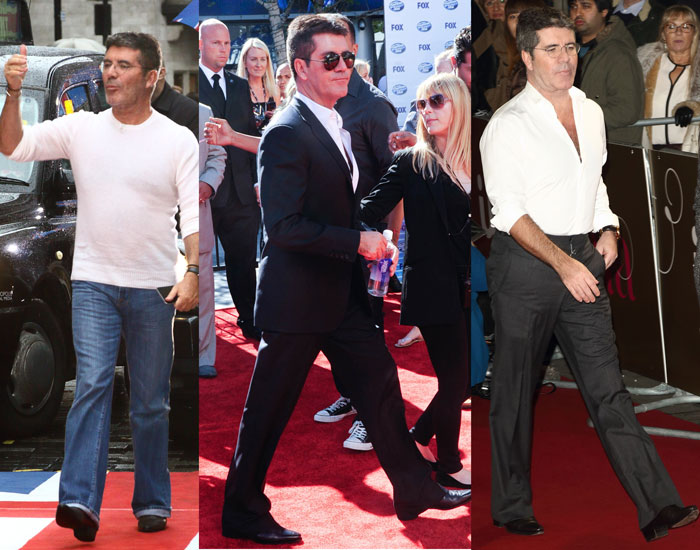 Photo by PR Photos
Daniel Radcliffe
In 2015 Radcliffe wore a pair of shoes that newspapers like the Daily Mail picked up on as looking rather suspicious. They certainly have a classic look of a small elevator shoe which could give about 2 inches in total height. Though, they are not as 'huge' as the papers seemed to suggest. Wearing shorter-length trousers and having bigger than average feet for a 5ft 4 man probably didn't help...

Photo by PR Photos
Zac Posen
The American Fashion designer looks to be a fan of thick heels, as evidenced in the type of footwear he wears. In recent years, the black shoes he wears have a classic appearance which looks like an elevator shoe.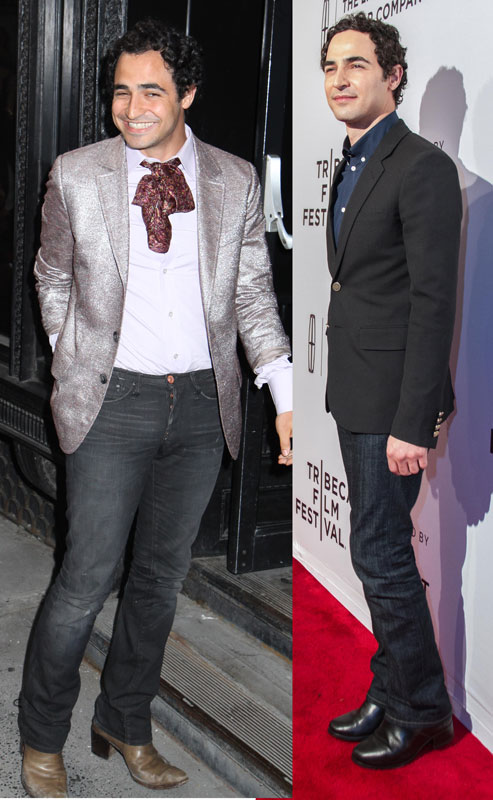 Photo by PR Photos
Asak
said on 29/Jun/20
Rob can you review a shoe lift called lift kits you can the same model but cheap on Amazon it says they give 2 inches but I doubt it.
RubBenn
said on 26/Feb/20
Hello Rob. Can you please suggest shoes that boost your height about 2 inches that aren't elevator shoes? Thanks a lot

Editor Rob
These Hogan
aren't designed as elevators, though they do give 2 inch range.
raven
said on 20/Jan/20
Rob please answer if you read this i am dying to know: what you wrote little up above for RDJ - Over the last decade, Robert Downey Jr has seemed to grow taller, managing to look between 5ft 9 and 10 on many occasions. Is this height with or without lifts ( elevator shoes ) ?

Editor Rob
He got used to wearing lifts/elevators, and with good posture can really appear over 5ft 9 at times...
TheBat
said on 11/Oct/19
@Editor Rob
Not surprised the Dons are better made, they're really expensive.

Editor Rob
Yeah it's like some sneakers being £150 pounds...it's a lot of money when you think about it.
TheBat
said on 10/Oct/19
What were the most comfortable elevators you tried out Rob?

Editor Rob
I don't personally wear elevators apart from testing them for videos or to see the quality. Some of the cheaper ones are perfectly fine for many people on a budget. Ones like Dons/Guido Maggio are more high-end and expensive, but generally are better made.
Importer
said on 6/Oct/19
@Editor Rob Thank you sir
Importer
said on 5/Oct/19
Rob could you help me out ? I need a pair of ankle sneakers that give 3cm of height increase.

Editor Rob
There's some
here
that are close to 3cm.
Some other nike like air max motion, air span 2, zoom winflo, epic react flyknit, m2k tekno are around 3cm.
TheBat
said on 4/Oct/19
I wonder how tall Zac Posen is in those heels, those are so massive.

Editor Rob
I think the ones on the right are an elevator shoe that might be getting him close to 2.75-3 inch of height.
Gime
said on 5/Aug/19
Would you add Shawn Mendes?
Click Here
TheBat
said on 22/Jul/19
The Burt Reynolds and Vin Diesel elevator shoes are quite legendary. Burt most likely wore them for style but Vin is way more insecure.
H price
said on 3/May/19
Love Burt Renold boots just ehat i am looking for
Rising - 174 cm
said on 10/Jan/19
@Rob: True, I overstated the point. Probably a fair amount are custom elevator sneakers by this point. But in the 3rd photo of RDJ above, he's wearing these for instance:
Click Here
I think he rarely wears the same sneakers for very long and some will be elevator sneakers while others will just be designer sneakers he adds lifts to, much like these boots he wore to the Iron Man premiere:
Click Here
Or as I posted below, he also tried those Hogan sneakers Sly often wore, which I consider to be elevator sneakers and the designer "wedge" sneakers I also posted below were really another name for an expensive elevator sneaker. Downey has worn other thick sneakers by the same designer:
Click Here
These look to be the same model and advertise a 2" sole:
Click Here
Seems like he'll almost always be in that solid 2"-2.5" range for height gained when he's in sneakers, which is actually pretty good for anyone who wants to look taller while wearing sneakers. He's definitely gotten better at it since Iron Man. These(elevator loafers?) are subtle compared to what he wore when Iron Man came out:
Click Here
Much like the '08 Laker game, these closeups show Sly with some serious elevator boots around late '08-'09:
Click Here
Same type of custom boot as the Laker game.
Jonathan Rhys Meyers may have them beat with these elevator boots, though:
Click Here
Don't know for sure if these have anything inside or are just Cuban heels, but they're easily 2":
Click Here
Pretty similar style to what Burt wore in the photo above.
Jeremy Piven also looks to be in a pretty standard elevator to me here:
Click Here
and probably here considering how high his ankle is:
Click Here

Editor Rob
Yeah, the Tyson model looks the same he's wearing on the talk show.

Rhys probably got comfortably over 3.5 inches if he has a 2 inch lift inside the boot. I actually found him increasing his claim slightly the other week, to 179cm!
Rising - 174 cm
said on 1/Jan/19
Looks like Downey finally had proper elevator hi-tops/boots made rather than just stuffing 2" lifts into designer hi-tops/mid-tops:
Click Here
That sort of angle is clearly more than just a 1" internal lift. He could get 2.5"-3" with elevators like that.
This probably seems the right page for the comparison I did of what Cruise and Mel Gibson were wearing in 2016 to the BAFTAS and Venice Film Festival, respectively.
Click Here
Click Here
Click Here
Click Here
Click Here
Click Here
Catching them in the same stride and position makes for an easy comparison, but you see that same bulge/angle at the laces, a similar size heel and shape. That seems to be pretty typical for a moderate 2" elevator and their shoes seem shorter in length than a normal shoe. This is the style Tom wears regularly the last 5 years, though he wore an elevator boots from around 2010-2013 I'd guess added more like 2.3" range:
Click Here
Gibson usually wears more of the Cuban heel Chelsea-type boot:
Click Here
and wore cowboy boots before that:
Click Here
Click Here
but wears the more typical elevator to some formal events like the 2017 Oscars:
Click Here
but it's funny that between Zac Posen and Karl Lagerfeld here:
Click Here
The size of the elevators these fashion designers wear put the actors to shame.
@Rob: Btw, Unfortunately, this page should probably be updated to reflect Burt passed away.

Editor Rob
I do think some of Downey's older high tops are probably custom made. Those certainly aren't huge or anything because the higher the internal lift, the shorter the shoe has to become as the length of the foot (in the horizontal) becomes less.
Rising - 174 cm
said on 3/Aug/18
Keith Urban:
Click Here
(Keith is perhaps the most obvious outside of RDJ)
Emmanuel Macron:
Click Here
(Not the first French president to wear lifts)
Kane Hodder the last 4 or 5 years also appears to have traded in his New Rock platform boots for a more typical looking boot that I'd guess has a lift inside:
Click Here
Click Here
(Typically I would have left this one in the "maybe" category, but the fact those New Rock boots while technically not elevators/lifts were clearly to enhance his height and I'm told by a collector who owns Kane's Jason Goes to Hell boots that Kane stuffed his boots back then increasing the probability he has lifts in these ones)
Simon Cowell might often just wear cuban or western heels, but I think he was actually wearing elevator boots here:
Click Here
The actual heel doesn't look that big and the shape looks consistent with an elevator boot.
Also, I don't think those are technically boots Stallone has at the GOTG2 premiere. Here's the best shot I've found of them:
Click Here
I think those are his Hogan sneakers. The one problem is the logo can be difficult to make out on the black pairs so I can't say for sure without a clear closeup, but the design such as the shape and sole look identical to this pair:
Click Here
You can make out the Hogan "H" logo there. The Hogans are advertised as having a 3.5 cm outsole/heel and 2 cm removable insole so I'm not sure if they qualify as elevators, but they serve that purpose. They go for $300-400 give or take.
But Sly as well as RDJ and Gibson often wear thick sneakers and boots sometimes with lifts and the distinction between them can be blurred. In fact, RDJ has also worn Hogans:
Click Here
Downey typically wears designer high-tops(often worth $2000!) and appears to insert his own lifts in them, but here he's wearing Givenchy Tyson wedge sneakers that are advertised as having a 2.5" heel:
Click Here
He wears all sorts of height-increasing footwear, but usually not as big offscreen as onscreen.
Rising - 174 cm
said on 8/Jul/18
@Rob: Yeah, Tom did appear to wear normal shoes quite a bit during that time around 2007-2008, but wearing noticeably less than an inch is surprising, similar to Sly wearing Converse recently. I think most here would have been surprised if Tom was the same height as Stiller, but the press treats him like he's shorter! For a while, he seemed to give up the thicker boots he wore while married to Nicole, but whether it was the press noting the height difference with Katie or Tom focusing primarily on action films, it'd be difficult to imagine him in shoes like that now.
Rising - 174 cm
said on 5/Jul/18
@Rob: Yeah, talk shows and courtside at basketball games or similar events are the best times to see if a celeb wears elevators/lifts. This is another good pic where you can compare Tom's shoes to Jimmy's from the side:
Click Here
The front of Tom's shoes where the laces are have that curved shape of an elevator, but you can also see his foot/ankle sits noticeably higher than Jimmy's. Even an average elevator becomes much more noticeable when side by side with a normal shoe.
LOL. Chuck Norris action jeans are perfect for roundhouse kicks! I think Mel is a guy who became familiar with lifts filming with Sigourney and then got tired of hearing he was short. When he doesn't have cowboy boots, I think he's a guy who will occasionally put a lift in a sneaker or boot like that for a similar 2" boost on screen and on talk shows. Cruise seems like a similar case since just a decade ago he was wearing what looked like 2 cm sneakers to the Tropic Thunder premiere even with Katie standing about 6' in heels. As for Blake, I'm sure there are men who want to compensate for height loss, but I think he's probably worn enhanced footwear much of his adult life. Here he is in 2001 wearing boots with a similar design:
Click Here
As you said on Blake's page, some of these boots will add 5-6 cm anyway, but the design with the platform reminds me of these:
Click Here
Although both the platform and heel were bigger on Downey's boots. Blake does actually seem in good health for his age and he's actually a few years older than Burt.

Editor Rob
Tom definitely made a rare outing at that Tropic Thunder in what seemed normal sneakers similar to
Converse
. I don't think we've ever seen him in such low sneakers since...but he was still taller than guys like Stiller that day.
Rising - 174 cm
said on 3/Jul/18
A few additional celebs not mentioned on the page.
Recently, Mel Gibson seems to have put a sizable(1") lift in his favorite New Balance sneakers based on the unusual bulge:
Click Here
A bulge like that in the lace area is one of the biggest giveaways Rob often mentions and in this case, you can see Gibson wearing those same sneakers on numerous other occasions without that bulge:
Click Here
We can see for sure he doesn't have lifts there and the sneakers wind up looking quite different. The fact he's worn cowboy boots a lot for decades has made it difficult to tell when he's worn lifts, much like Vin Diesel, but here he was wearing ankle boots that didn't conceal his ankle bone:
Click Here
The only reason I can think of for the ankle bone being visible above the top of boots like that is a good 1" lift. The angle of the foot and slope also suggests his foot is sitting higher than it would with even a normal insole.
Michael Douglas was a DiFabrizio client like Stallone and Reynolds and here he is on The Tonight Show in 1992:
Click Here
Considering how high his ankle sits, the bulkiness and the lace area, I'd guess that's an elevator boot.
Antonio Banderas is a big heel guy like Simon Cowell, but he'll also wear elevator shoes in the 2" range:
Click Here
Chuck Norris was another DiFabrizio client and has worn boots similar to those worn by Burt Reynolds even in his 70's, such as here at the Expendables 2 premiere in 2012:
Click Here
Again, it can be difficult to tell when it's just a cowboy-type boot, but imo, those are an elevator boot in that style. He could still look a good 5'9.5" in them while he was likely more like 5'8" by age 72.
Robert Blake belongs to both the DiFabrizio club and the much more exclusive 80+ year old elevator club:
Click Here
It's possible he just has cowboy boots with an unusually big heel in the first pic, which would serve the same purpose, but I think it's obvious in the second pic his boots are built for maximum gain with the platform and likely have a lift inside. You can see from his proportions how lifts don't work as well on 5'3"-5'4" men as 5'8"-5'10" men.

Editor Rob
Gibson might have wanted a bit of extra height on set, they look like they could have lifts in them.
Blake looks like he's compensating for height loss, those are pretty decent heels...he is in better shape than poor Burt though.
Chuck has certainly loved cowboy boots through his career,
Click Here
- I remember in the 80's wanting Chuck Norris action jeans too!
Rising - 174 cm
said on 3/Jul/18
This is a cool page. Here are some photos of celebs already added to the page. I'm guessing elevators is used somewhat loosely to at least include insert lifts since that's what Downey often does.
Sly not with elevator shoes, but Hogan sneakers:
Click Here
However, those are particularly thick sneakers and you can see from how high his ankle is, especially in the first 2 pics, he's slipping an extra 1" lift inside to give him maybe a 2.5"-2.75" boost overall. However, this is one occasion where Sly had obvious elevator boots and they're potentially built for a 3"+ boost:
Click Here
This is probably one of the better examples of Vin wearing an actual elevator shoe:
Click Here
That likely adds about 2" as well making it more less equal to his typical boots sans lifts, but it looks a bit better with a suit. He does almost always wear combat/logger boots with a minimum 1.5" to 1.75" heel and 0.75" to 1" platform and I think he'll supplement them with lifts on occasions when he looks his 6'1" claim, but I don't think he bothers a lot of the time as it's not really necessary with a 4-5 cm boot and military posture.
Cruise has obvious elevator shoes of about 2" with Jimmy Fallon:
Click Here
Tom seemed to have more of a 2.3" elevator boot at times a few years back, but seems to favor elevator shoes like this a lot now.

Editor Rob
Spotting an elevator is always easier if an actor was sitting on a couch like Tom with Jimmy. The amount of material above the sole is more than a normal shoe, which is the giveaway - it needs to be higher to accomodate an extra inch of lift and make the shoe wearable and comfortable.
Blake
said on 26/Jan/18
Rob, I know this veering off topic for this page, but what is your favourite film?

Editor Rob
I still have these in my top 10:

Original Stars Wars, Aliens, Mad Max Road Warrior, Inception, The Prestige, Raiders, Pulp Fiction.
Edgemont
said on 11/Jan/18
The photo of Zac with the black boot is definitely an elevator shoe.
Blake
said on 3/Dec/17
Rob, do you think if you were in the 5 ft-5 ft 3 range you would wear lifts? It always seems to me that generally 5 ft 5-8 are common lift wearers in the celeb community. Another thing Rob do you like pages like this to have a good number of comments below? I think it would interesting if I was reading this for the first time and then read interesting discussion below (preferably from more level headed online personas than other pages attract)
[Editor Rob: it's hard to really say - sometimes the shorter you are, the more impact or awareness of height you might have in your life. It may then increase the chance that you'd look for ways to become taller, i.e. through lifts or elevators.
For celebs who choose to wear lifts - they are in a business in which image/looks are more important and may have worn them in film/tv shows and liked that extra boost, so began wearing them outwith movies.
Yeah, articles need traffic first, some won't ever even get much comments.
In the past in film there were defintely some actors who wore really huge shoes, like Humprey Bogart. You can see
Bogarts External heels
which add another good 3-3.5 inch to his 1 inch heel. The guy probably looked like a six footer to people if he wore these in scenes...]
Blake
said on 28/Nov/17
Rob, Didn't you meet another actor who was 5 ft 7 range but appeared 5 ft 9? Shouldn't you add him to this list as well?
[Editor Rob: I'd need to find photo of bulging boots for that actor before adding him.]