In the golden days of Hollywood, a variety of tricks were used in making shorter stars appear taller. From tailoring camera angles to reduce height differences, to having taller co-stars walk in a purpose built ditch, one of the most common techniques was having the actor don a pair of elevator shoes, designed to boost one's height without it being too obvious. Appearing taller is a confidence booster. Unfortunately, in today's society, stature plays more of a role than we might think.
There are numerous online retailers selling Elevator Shoes. Some claim to make you up to 5 inches taller, but the reality is that most give typically anywhere from 2 to 3 inches of actual height. This can mean appearing between 1.5 and 2 inches taller in comparison to when you are wearing a normal sneaker or shoe. It's a decent boost, and if you're concerned about your height, buying elevator shoes is one option worth considering.
The photo below illustrates the differing quality available online.
The black pair of Shoes retailed between $50 and $100. Many companies selling similar styles, also claim to make you 3-4 inches taller. Of course the reality is that they are measuring the very highest point on the back of the shoe's internal lift, which isn't how much height the shoe actually gives. The black shoe claimed to make you 3.5 inches taller, but it was at least an inch less. Due to the angle of your foot, you actually don't get as much height as the manufacturers claim.
The brown shoes on the right cost in the $200 range and claimed to make you 2.6 inches taller. They don't quite give that, but are near 2.3 inches, which is a notable amount.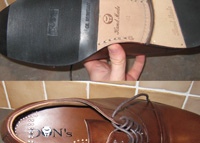 If you're thinking about buying elevator shoes, it's better to spend a bit more money and go for a quality brand that will be comfortable to wear and last longer. The brown shoes are from Don's, and are the only elevator shoes I personally recommend. Their genuine quality shines through: the real leather used, the construction of the sole, the improvement to your posture and the overall fit. They are hand-made and not churned out cheaply with synthetic materials that will fall apart after a few months.
If I was to wear those shoes out and about in public, I would appear like a 5ft 10 man to people.
This photo says it all: 5ft 8 Rob and 5ft 8 Jenny...except when I'm wearing a pair of Don's Elevator's!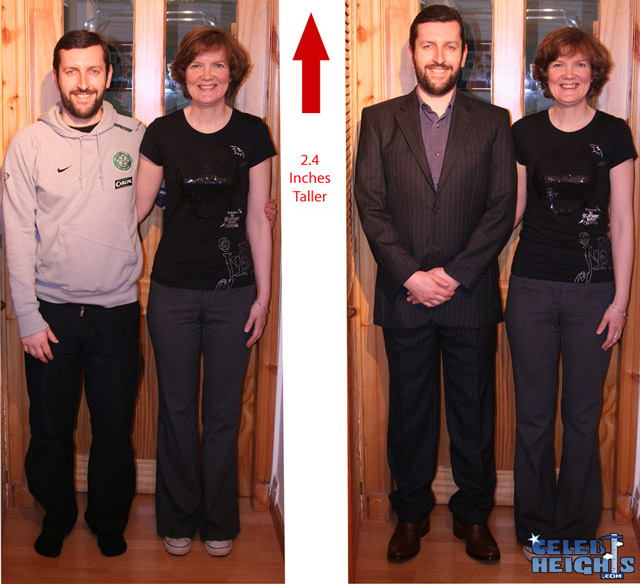 If the kind of elevation shown above isn't enough for you, then there are larger versions of these elevator boots available, ones that can give you nearly 4 inches of added height. You can see me trying out a pair of these Big (3.8 inches) in the photo below...5ft 8 Jenny (wearing a 1/4 inch flat shoe) beside
BIG ROB
: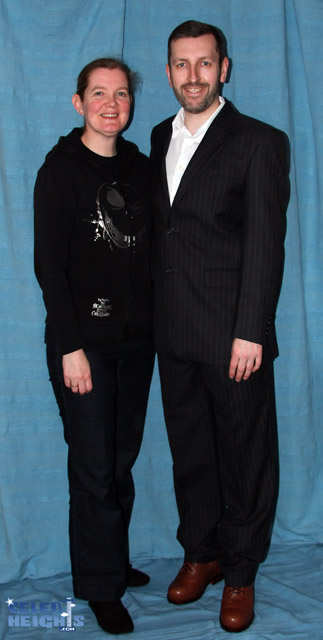 This video also compares myself wearing The Big Elevator Boots beside Jenny, who wears a large platform heel:
Click Here