Several factors can effect the height of objects (or people) in photos. Not only do we have posture and footwear differences to consider, we also have other factors such as whether the camera is tilted, how high the camera is above the ground, and the position of the subjects in the frame.
A plain background makes it harder to decipher if these factors might be present.
Camera Tilt
Not all photographers are going to hold their camera perpendicular to the ground. This photo below shows how a 4 or 8 degree tilt might effect height. You could easily reduce the height difference between subjects by 1-1.25 inches with a 4-5 degree tilt or 2-2.25 inches with a 7-8 degree tilt.

Camera Horizontal / 4 degree tilt / 8 degree tilt
If the backdrop was neutral with no objects present, it may be harder to tell how much tilt there might be in a photo.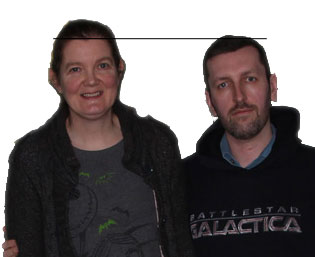 8 degree tilt Reducing Height Difference
In many photoshoots, the camera is pretty level, but there will be a proportion which might have 1-2 degree tilts that could effect either side of the photo.
For instance, a small tilt can knock a half inch off one side easily.
The right photo below is the original, but I felt there was a 1-2 degree tilt against Alexis, so the left is closer to being an accurate representation.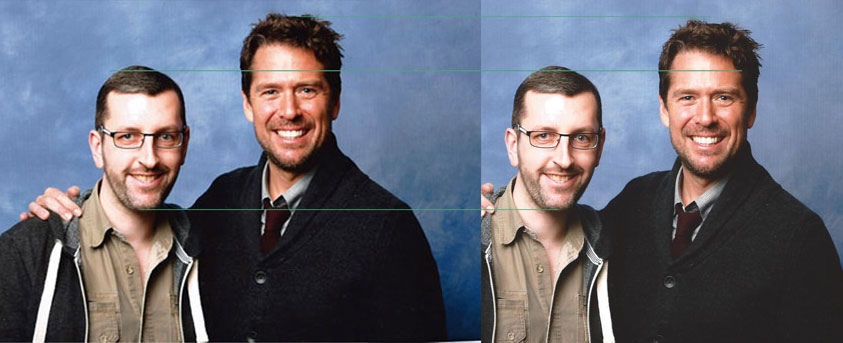 1.5 degree tilt
Distance of Subjects
The closer the camera is to the subjects, the greater the effect might be in making one person appear taller than they really are. But sometimes being closer or slightly further away might not have much effect. In fact, the height of the camera plays a role in this.
For instance, using these bottles to illustrate: On the photo on the right, we have lowered the camera a few inches, thus making the top of the right-hand bottle appear shorter against the left-hand bottle. In the photo on the left, I put the camera at the same height as the black mark.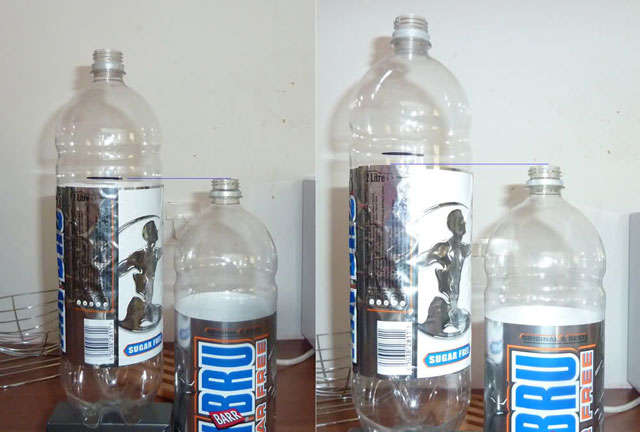 Camera Height can effect Real Height Difference
In this photo below, being noticeably closer (8-9 inches) can certainly make the person closest to the camera appear 2-3 inches taller than they are.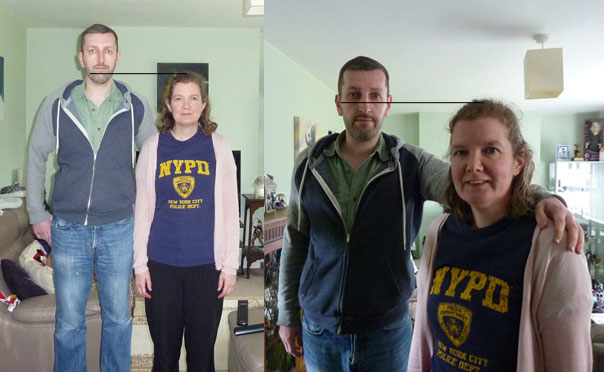 Jenny with significant Camera Advantage
If we have a camera that is positioned higher up, sometimes the person further away can be the one who appears slightly taller (the person closer to the camera is now at the disadvantage). For instance, in this still from my video called
Sly Photo Tips
, I placed the camera higher up and was standing a few inches behind Jenny. In my case, being further away actually helped me appear slightly taller.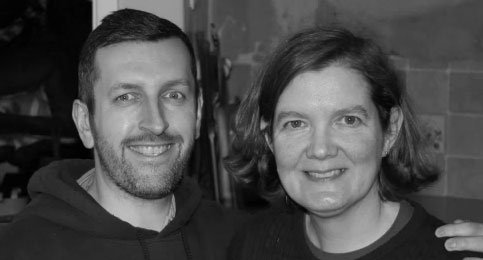 Rob further away than Jenny, but appearing a bit taller
Rem
said on 17/Apr/18
Rob you have the body of a 5'9.5 5'10 guy. The thing is that you have got a really short neck. 5'10 guys appear taller than you just because of that. Because if you put ypurself back to back i am sure you will be shoulder with shoulder.

Editor Rob
With a longer head and higher shoulders it probably balances out a bit. People do look at cues like eye level, chin, shoulders when forming an overall quick estimate of somebody's height.
Blake
said on 17/Feb/18
Rob, do you ever find it odd you know more about some celebs physical characteristics than they do? Some celebs might have never pondered their head length, but you have.

Editor Rob
People have asked me about head lengths over the years. It can certainly play a role in how others perceive your height.
Johnson
said on 16/Feb/18
@Rob are you in the 5th picture wearing lifts? Or in a box?
You look very tall

Editor Rob
That was an 8-8.5 inch toolbox if I remember, I was trying to show an example of 6ft 4-4.5 to somebody on the site!
Johnson
said on 16/Feb/18
Anyway Jenny is around 1.72 nowadays and Rob around 173.5 in measurements nowadays
Rory
said on 15/Feb/18
Rob, this picture seems taken at a weird angle who do you think is gaining the advantage from it ?
Click Here

Editor Rob
I wouldn't have thought Paul was gaining much from that position, he might indeed be a bit taller than damon.
1Up
said on 15/Feb/18
Rob, how much do you think the head shapes have on people guessing heights?
I tried to measure my head but got 8.75 inches.

Editor Rob
It has some effect. I've said before that head proportions can mean in photos a person with a smaller head (8.75 is small for a man) seems taller than somebody with a longer head.

I seen a man recently who was 6ft 3 or 4 but had a head that looked 8.5 inches, I'm sure he gets guessed at 6ft 5 by folk.