Since starting CelebHeights I've probably attended 120 conventions. I have a lot to thank for their existence - namely, in 2007 I met Jenny at one of these events and we've been together ever since. Also, I've had the opportunity to meet a considerable amount of celebrities, which has helped the site immensely.
The primary reason I go to conventions is to get content for the site. By meeting actors and getting a photo with them, hopefully this gives visitors an idea of how tall they can look.
Unfortunately, not all photos are going to turn out great. Not everybody is going to be standing like Vin Diesel. Even if a photo doesn't turn out as we'd hope, I've still had the opportunity to see them up close and give an estimate of how tall they looked.
Taking The Stool
I want celebrities to stand as best they can. A photo of myself and an actor sitting together is pretty useless for a site called Celeb
Height
s.com. I also have no desire to 'show off' photos with celebrities for social likes or to 'impress' friends. Having a photo with a celebrity can be a fleeting experience, which may only last 5-10 seconds. Sadly, 99% of the fans that an actor takes a photo with, won't ever be remembered by said celebrity. I'm sure celebs have visited this site and been surprised to find they had taken a photo with me! There may be a few reasons for celebrities sitting down. Firstly, a celebrity may be entering the twilight of their careers and simply find the prospect of standing for a lengthy period of time to be a daunting experience.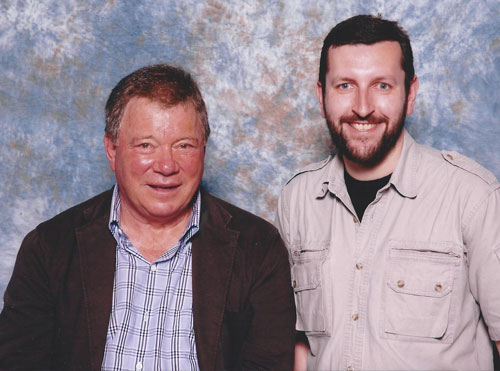 William Shatner and Rob @ LFCC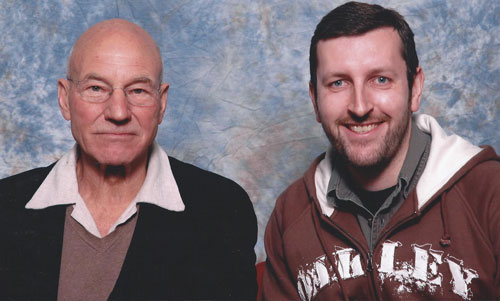 Patrick Stewart and Rob @ Collectormania
Instead of Height, you now know his Head Size!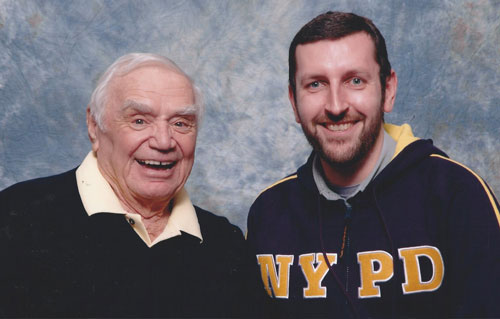 Ernest Borgnine (RIP) and Rob @ Autographica
Secondly, an organiser might actually offer them a seat, in order to get through a certain amount of photos in a set time. Usually if an organiser has oversold tickets, they might decide to plonk an actor on a chair so there's minimal interaction and the pictures can be taken quicker (at the expense of the fans, whose encounter feels even more rushed than normal). There have been events I've attended in which I've witnessed stewards literally shoving people towards the celebrity to speed things up.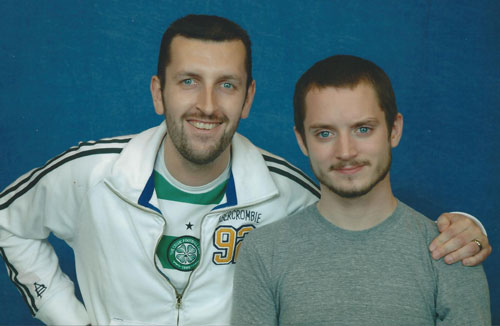 Elijah Wood @ LFCC 2006
In this photosession with Elijah, the photographer actually went up and offered him a stool (he took it, whereas when the photographer asked Nathan Fillion if he wanted one, Nathan laughed at the idea of sitting on a stool).
With Jared Padalecki, I believe it was more a case of trying to get through 600 photos in 1 hour which resulted in him sitting down. We were told to be quick, don't speak or even touch him! With 600 photos to take, even an extra 2 seconds per person adds up to 20 minutes!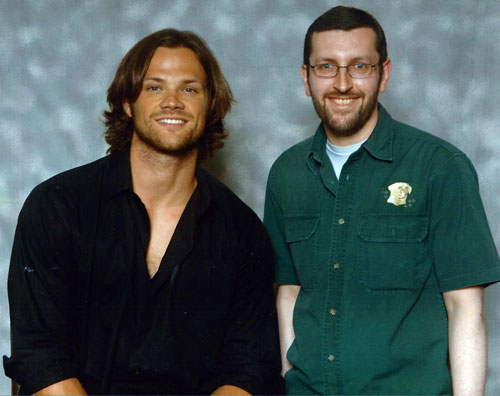 Jared, 5ft 6 on a stool
With Charles Dance - attending his first convention - he was standing at first, but an Alien cosplayer (in a rubber suit) seemed to spook him a bit, and for the rest of the photos he was sitting on a stool.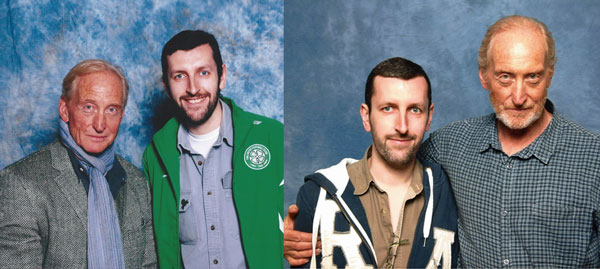 Charles @ LFCC on stool / Standing at Collectormania
I've mentioned before on this site about Peter Mayhew. There were only 5 of us in this session. For a tall girl in front of me, Peter of his own accord sprang up like a spring chicken from his chair to take a photo with her. When I asked him if he might stand for the rest (all 4 of us sub Six Footers), he politely refused.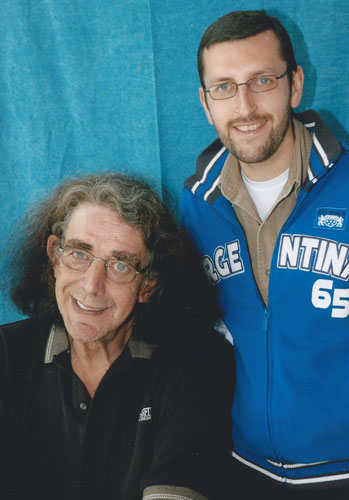 Peter Mayhew @ Collectormania
Chair Height: 4ft 9 inches
Thirdly, they could be fatigued, ill or simply don't want to interact much with fans.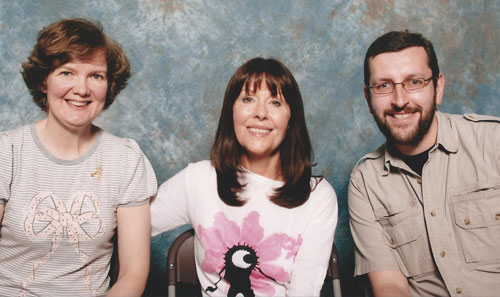 Elisabeth Sladen (RIP) in July 2010. Passed away in April 2011 (Pancreatic cancer)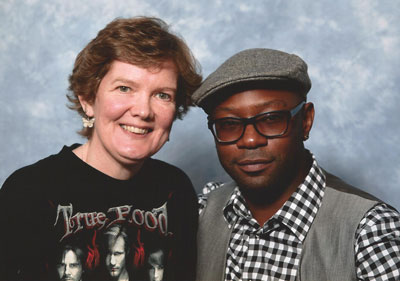 Nelsan Ellis (RIP) at Showmasters event. Jet lagged.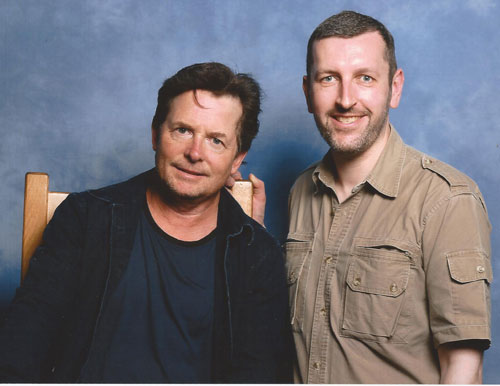 Michael J. Fox @ LFCC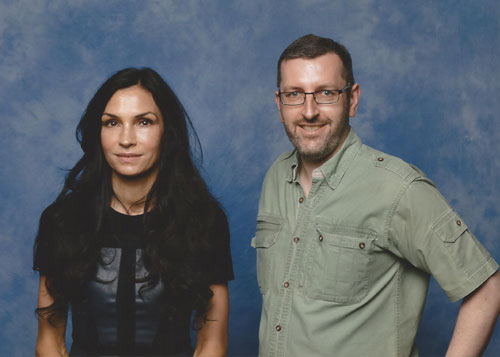 Famke Janssen @ LFCC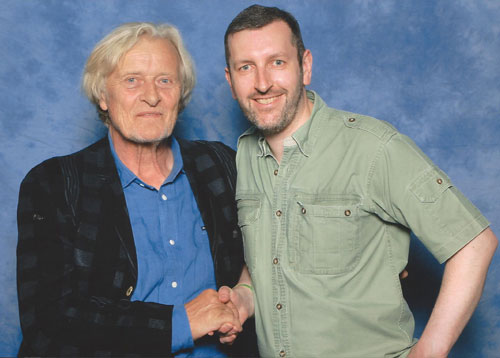 Rutger Hauer @ LFCC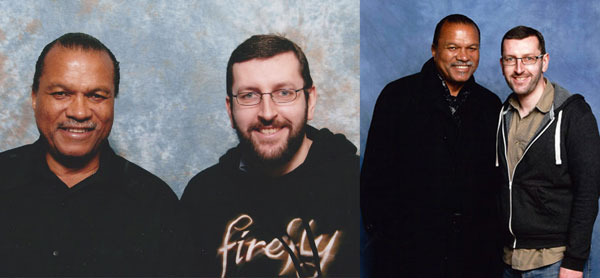 Billy sitting @ 2009 Collectormania / Standing @ 2013 Collectormania
Sometimes, there's no obvious reason. Sean Young was friendly enough, looked fit and healthy walking about the event hall, yet still asked for a seat anyway.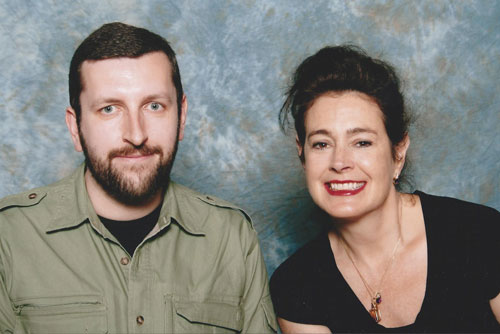 Sean @ LFCC 2010
Lastly, like mentioned with Charles Dance, sometimes an actor might be standing, but something happens and they decide to sit for the remainder of the session. In this photo Jenny got with James Marsters, some of the fans were being a bit too 'huggy' it seems, and he went from standing to asking for a stool.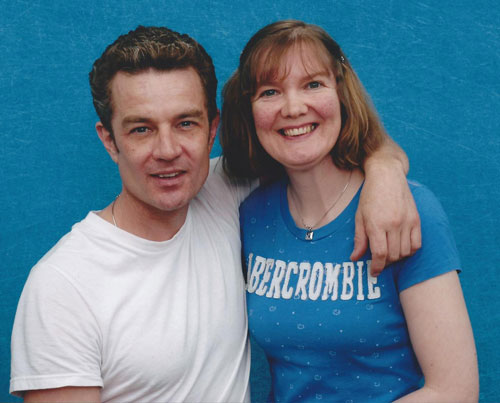 James on stool @ Collectormania
A Poor Stance
Gladly for this site, of the celebrities I have photos with, 95% have been standing. But even if upright, that's no guarantee of a usable photo. Usually in a photosession, you can form an idea of how well a person is standing by watching attendees in front of you taking their pictures. If I feel I could get a better photo, I may ask them to do a pose. However, sometimes doing a pose might not help, as shown below: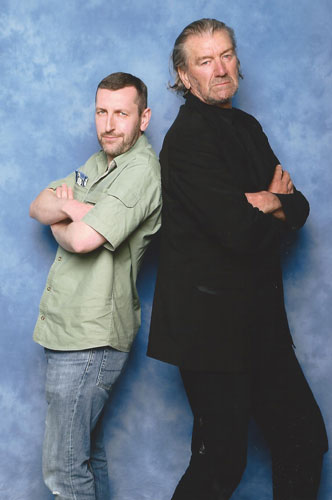 6ft 5 Clive Russell @ Collectormania, Losing several inches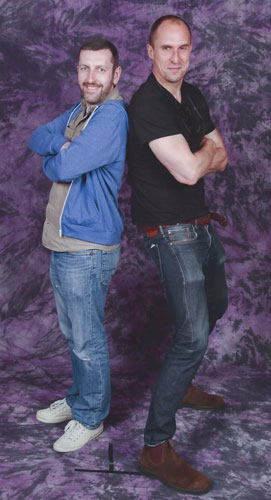 6ft 4 Andrew Brooke losing 4 inches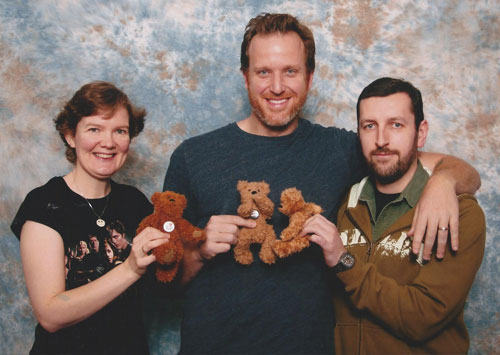 6ft 6 Patrick Brennan slouching badly
Of course, celebrities sometimes mix it up during a photosession. I've watched people in front of me in a queue get great photos with the celeb standing perfectly...then comes my turn and at the last second they have adjusted their posture and lost height. Whilst I can sometimes adjust my own stance quick enough to try to lose some height too, sometimes it's impossible - like here with Michael Cudlitz, at the last second he dropped a few inches - standing tall he looked 6ft 1 range.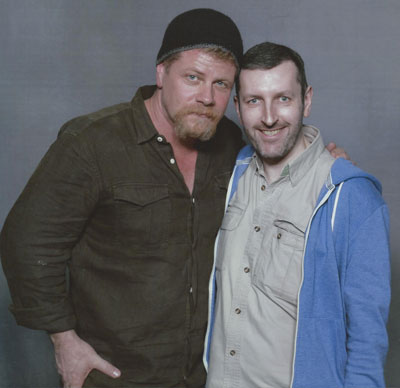 Michael @ Walker Stalker Con
Kim Coates really is nearly 6ft in person, but he sure dropped over 2 inches in height with me at the last moment!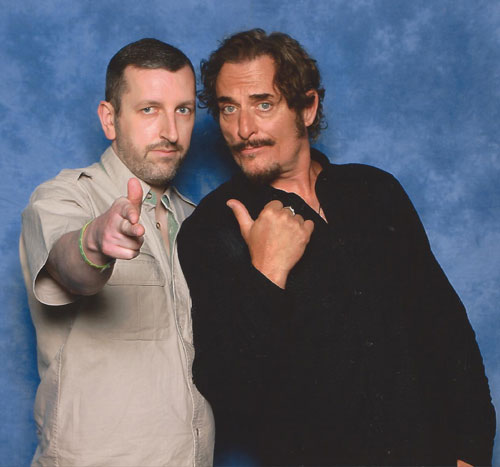 Kim Coates @ LFCC
With Grant O'Rourke, he was standing ok, then just as the photo was getting taken, he went from looking 5ft 10.5 to 5ft 7.5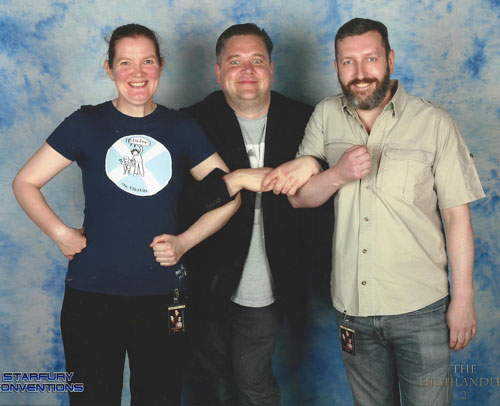 5ft 10.5 Grant O'Rourke...well he was, 2 seconds prior to this photo being snapped!
Sometimes I might have got a photo with a celebrity that wasn't particularly good, but at a later date managed to get another one, which turned out more useful for the site. For instance, I met Rupert Young at Collectormania, but he dropped a few more inches than myself. A year or so later I met him again, and between Jenny and myself, he stood more upright and as a result it's a more useful photo to show how tall he is.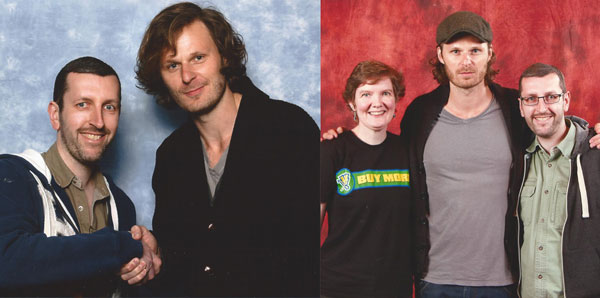 Rupert Young @ Collectormania / MCM Comic Con
Even I can screw up. It's rare, but it happens ;) For instance, here I was meeting Shawnee Smith at MCM Expo. I forget for a moment I'm supposed to be taking a photo for CelebHeights and slouched down. The next day I forked out another 20 quid to get the one on the right. I remembered to stand properly this time, but in doing so, seemed to lose my ability to forge a proper smile :)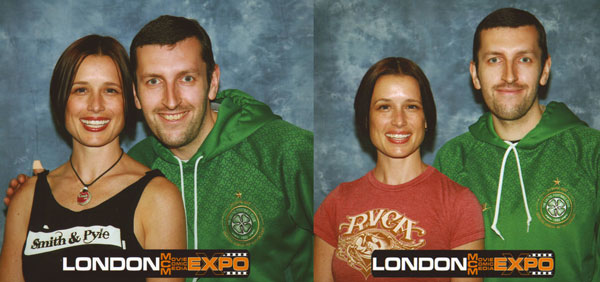 Shawnee Smith and Rob @ MCM Comic Con 2008