CelebHeights.com has compiled a list of 18 female celebrities who have dated shorter guys, had shorter partners or married short husbands.
1) CLARE GRANT (5ft 6.5) and SETH GREEN (5ft 3)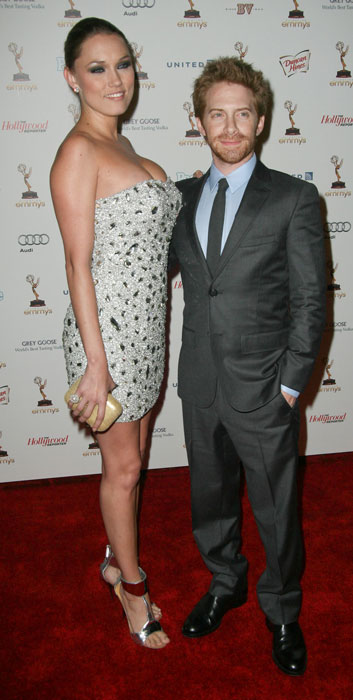 Married since 2010
Photo by PR Photos
2) TINA FEY (5ft 4.5) and JEFF RICHMOND (5ft 2)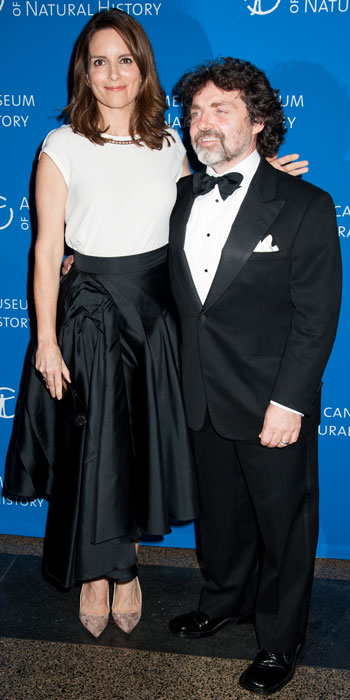 Married since 2001
Photo by PR Photos
3) SLAVICA RADIC (5ft 9) and BERNIE ECCLESTONE (5ft 1.75)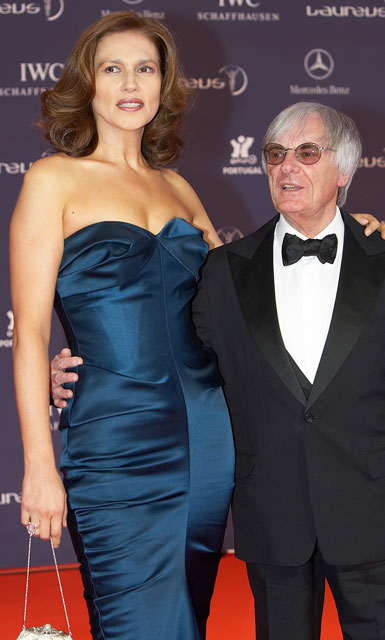 Married from 1985 to 2009
Photo by PR Photos
4) ARIANA COOPER (5ft 11) and DERYCK WHIBLEY (5ft 4)
5) CAMERON DIAZ (5ft 8) and BENJI MADDEN (5ft 5.75)
6) ENIKO PARRISH (5ft 6) and KEVIN HART (5ft 2)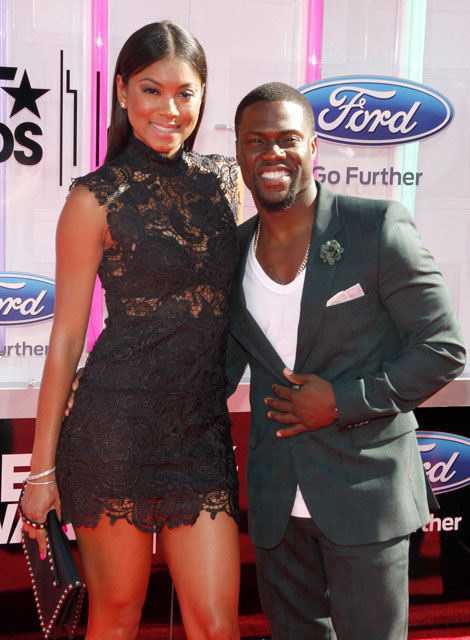 Married since 2016
Photo by PR Photos
7) RUVE ROBERTSON (6ft 2.75) and NEAL MCDONOUGH (6ft)
8) ERIN DARKE (5ft 7) and DANIEL RADCLIFFE (5ft 4.5)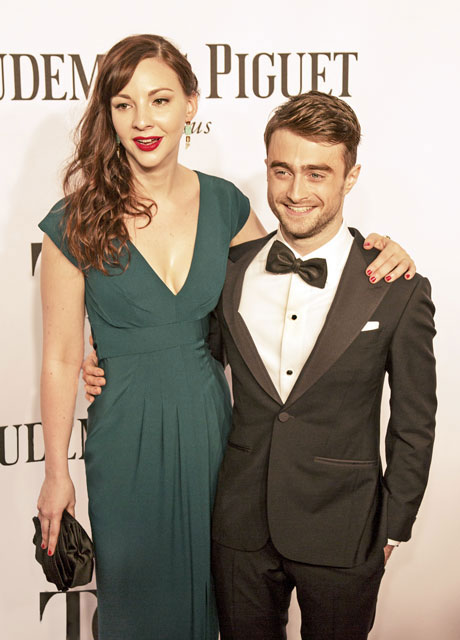 In a Relationship since 2012
Photo by PR Photos
9) CARLA BRUNI (5ft 8) and NICOLAS SARKOZY (5ft 5.5)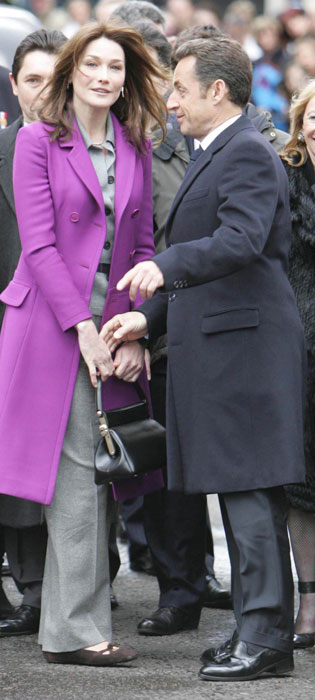 Married since 2008
Photo by PR Photos
10) TRACY POLLAN (5ft 5) and MICHAEL J. FOX (5ft 3-4)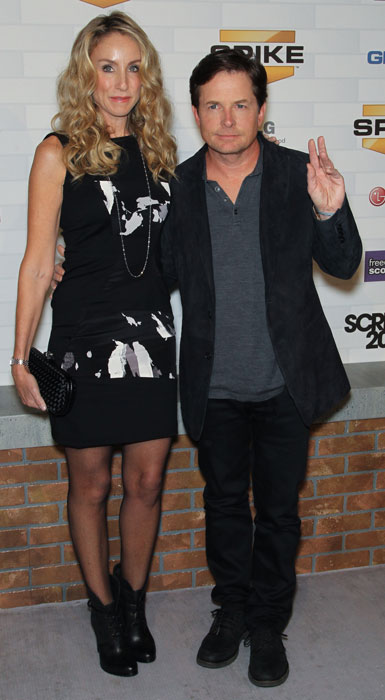 Married since 1988
Photo by PR Photos
11) L'WREN SCOTT (6ft 3) and MICK JAGGER (5ft 10)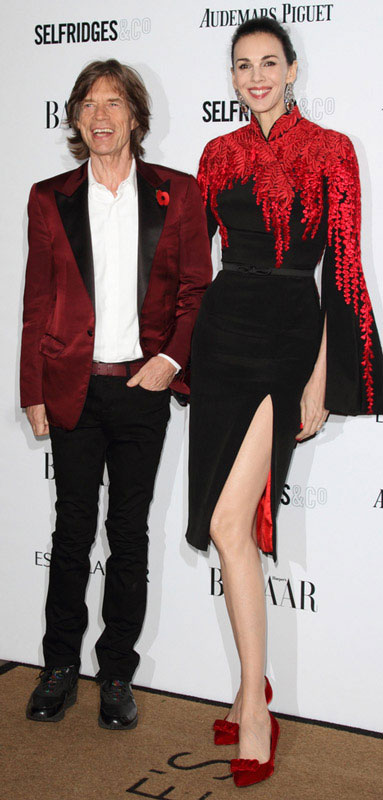 Relationship from 2001-2014
Photo by PR Photos
12) UMA THURMAN (5ft 11.25) and ANDRE BALAZS (5ft 7)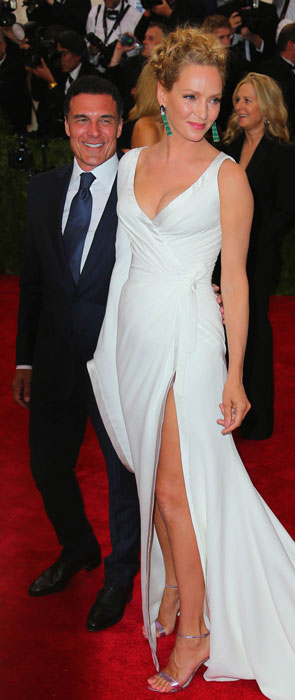 Relationship since 2015
Photo by PR Photos
13) PENNY LANCASTER (6ft 1) and ROD STEWART (5ft 10)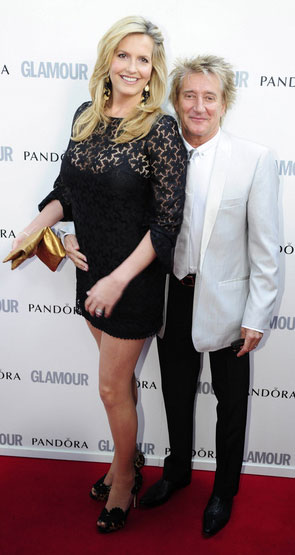 Married since 2007
Photo by PR Photos
14) SOPHIE DAHL (5ft 11) and JAMIE CULLUM (5ft 4)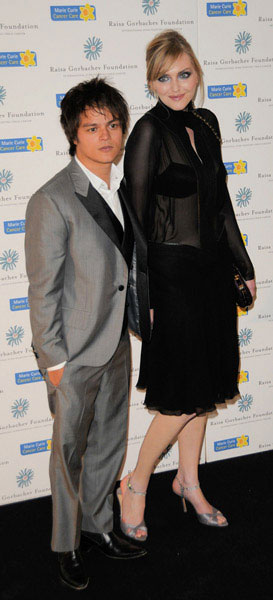 Married since 2010
Photo by PR Photos
15) NEHA KAPUR (5ft 10) and KUNAL NAYAAR (5ft 7.25)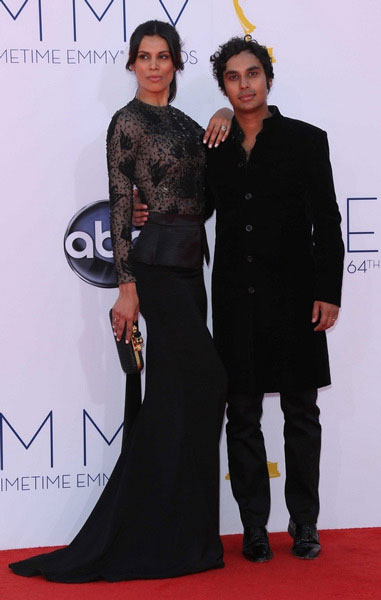 Married since 2011
Photo by PR Photos
16) JENNA ELFMAN (5ft 10) and BODHI ELFMAN (5ft 7.5)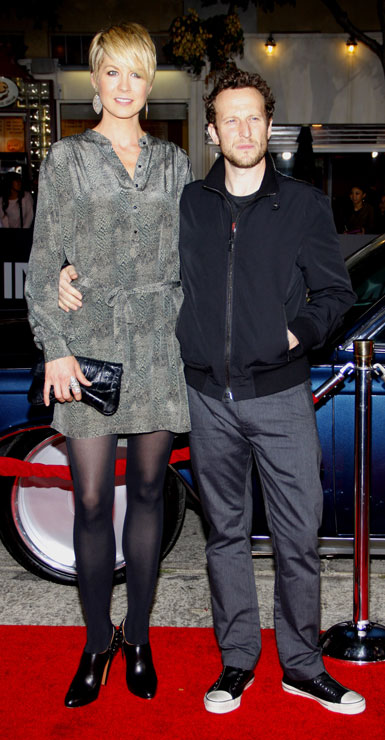 Married since 1995
Photo by PR Photos
17) JESSICA MILLER (5ft 10) and LARS ULRICH (5ft 5.5)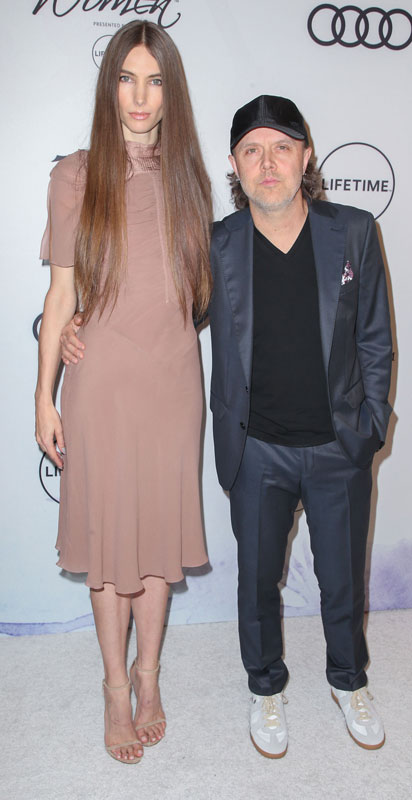 In Relationship since 2012
Photo by PR Photos
18) SUSAN ANTON (5ft 11) and DUDLEY MOORE (5ft 2.5)
19) CATRIONA MCGINN (6ft) and MARK PAUL GOSSELAAR (5ft 11)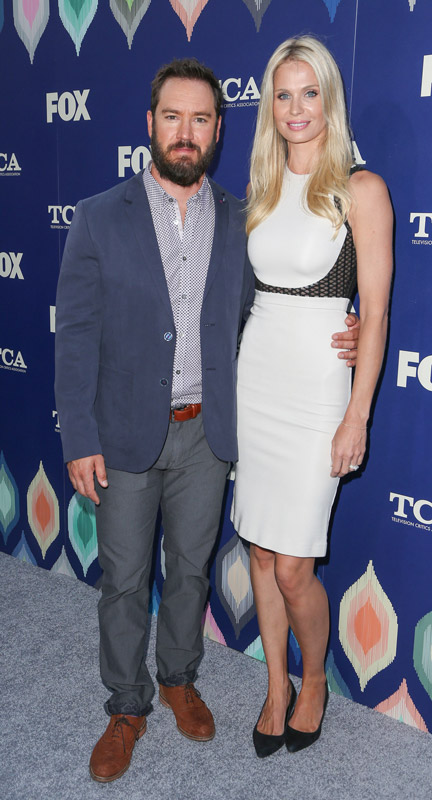 Photo by PR Photos
MrCrusher
said on 13/Jan/20
In just about all the examples above, I reckon that the height differences would be more than compensated for by the size of the guys wallet.
Hamish Gordon
said on 8/Jan/20
Hey Rob, what do you think is the ideal height difference in a couple between a man and a woman? So that the man is still taller or the same height as the women when she is wearing her highest heels. I would of personally said anything 4 inches+ would be fine or maybe its more or fewer inches?
Do you think three inches is the absolute minimum height difference or would a woman still edge out a guy if she is wearing her highest heels considering the man is wearing shoe 2- 3cm thick?
Thank you!!

Editor Rob
If you are 4 inches taller than a partner, then if she wears platform heels, she still won't be taller than you, but very close to eyelevel. Even in normal heels you'll be 1-2 inches taller beside her.

I actually like looking eye to eye with a partner, of course height has never played any role for myself when falling in love...
truthteller25
said on 10/Nov/19
I would marry someone taller than me at my 5'10. But women are the ones who won't marry shorter.
Del Mar
said on 10/Nov/19
No way is Mark PG 5'11 if his wife's only 6'
AA DOOM
said on 3/Sep/19
@Asterix Height is an illusion, you marry a person not their legs or whatever. Peace
Asterix
said on 21/Aug/19
Rob,
Do you agree that really confident man who has his lifestyle together can attract any woman, doesn't matter how much taller she is than him?

Editor Rob
It helps having a good personality, but there will still be a proportion of women who would never date a shorter man, regardless of how great a personality or lifestyle.
Antonio55
said on 20/Aug/19
Justin Chon and Aleksandra Egorova
Littlelee5ft6
said on 3/May/19
If mary Tyler moore is 5ft 7 and Susan Anton 5ft 11 then they must be in flat shoes in the photo and not heels as Mary looks about 5 inches taller than dudley and Susan 8 or 9 inches taller whereas if they were in heels Susan would be a foot taller than him and Mary about 8 inches taller
Nik
said on 29/Apr/19
@ Sandy Cowell & Rob - It's great that Susan Anton and Dudley Moore have been added to this page! The height difference between them is the biggest on this page!
Miss Sandy Cowell
said on 29/Apr/19
Heeeey! Nice one Rob! Thanks very much! 😁👌
Perspective
said on 20/Apr/19
Mark Paul Gosselaar and Catriona McGinn

Editor Rob
She seems a bit taller than him yeah.
Miss Sandy Cowell
said on 20/Apr/19
Hey Rob! Do you think you could add Dudley Moore and Susan Anton. I've sent along a picture and the height difference is VAST! 😁
Thanks!

Editor Rob
Yes I will add them to the end.
Blake
said on 15/Apr/19
Rob, I think this page would make a good YouTube video, for your current style of video.

Editor Rob
I did consider a lot of videos like that, but I can't just grab the 10 large size photos from this page and put them in a video.
Tunman
said on 15/Mar/19
Rob,did you know someone personally whose wife/partner was totally towering him like 6-7"taller or even more?The most amazing one was a dwarf who married a 5'8 woman what's more she was really strict while he was a cool man,the most unlikely couple I've seen so far and not only for height.
Also what about weight difference?Despite the fact that there is many overweight women in western countries,I barely recall the case of a woman who was around 200Lbs for 5'5 whose husband was hardly 140-150Lbs for 5'7 range.Seems like the weight difference is even more intimidating?

Editor Rob
Off hand I can't think of any with tall female and significantly (5-6 inches) shorter partner that I know personally.
Another Person
said on 4/Jan/19
You forgot one of the most famous examples. Christie Brinkley (5'9) and Billy Joel (5'5).
Nik
said on 20/May/18
This is a very interesting page!
Tall Sam
said on 18/May/18
Tall gals with short guys always was a pet peeve of mine when I was younger as a tall dude with mixed success dating haha, but don't really care anymore much, especially when a charming guy like Radcliffe or Michael J. Fox. Screw Ulrich though lol.
suzyq
said on 21/Apr/18
Another idea is for couples with the greatest height differential.
MJKoP
said on 7/Mar/18
Great article(pictorial?), Rob....though if I were to nitpick, you should *probably* add an 'er' to the word 'short' in the title as Rod Stewart, Mick Jagger, and Neal McDonough are 5'10", 5'10", and 6'0"(respectively). I know it's all relative, but...

Editor Rob
Yes, shorter is the more descriptive term to use.
Sandy Cowell
said on 1/Mar/18
@ Rob - Thank you, and what a nice picture! 👍😅
Sandy Cowell
said on 1/Mar/18
@ Rob - I can put forward Liv Tyler, who was married to 'Spacehogs' frontman, Royston Langton/Langdon/Langden, with whom she had son Milo! There was a big difference between the two of them!

Editor Rob
Yes I can add them.
Vexacus
said on 28/Feb/18
Interesting article , I don't see much difference between Ruve Robertson and Neal McDonough . Very different to the case of Gwendoline Christie and Nikolaj Coster-Waldau.
Sandy Cowell
said on 28/Feb/18
@ Rob - Now this page HAS to be a new addition to the site, 'cos I've never seen it before! What an awesome idea, and a great morale-booster to the shorter men out there!
Can we make suggestions for this page, of couples who have now split up? How about couples in recent history - which we can back up with photographs, of course?
Cheers Rob! Nice work!

Editor Rob
If anybody suggest some, I'd certainly consider increasing the list.

I just added another one, Lars Ulrich and Jessica Miller, he used to be with 5ft 10 range Connie Nielsen for a fair few years too.
Borats Chicken
said on 27/Feb/18
this should give hope for those guys to not worry about rejected of there height amazing rob

Editor Rob
Quite a few of these couples have been together a fair while too!

I remember reading this quote a while ago talking about an author, this women shows there are people out there who like shorter men:

"I was taller - [Martin Amis is] only 5ft 4in, I'm just 5ft 7in - but this wasn't a problem for Martin. I lived in very high heels during those years and Martin never asked me to go out wearing flats. And I know not why, but I have a weakness for small men. My last boyfriend, the late architect Christopher Bowerbank, was also a lot shorter than me.
I also like men who are cleverer than me. Like playing tennis with a pro, it raises your game"

You can't work on your height, but you can improve many other aspects of yourself that women will find attraction too.
N Boy
said on 26/Feb/18
Hey rob, do you think there is about a 4 inch (maybe slightly less) difference in height between Daniel and Darke? Every picture of them together kind of seems around a 3.5-4 inch difference between them. In the pic of them here it seems about a 5-5.5 inch difference (where she only looks to have about a inch advantage in footwear as seen here
Click Here
Do you think there is only a 2.5 inch difference between them? Also all the other images out there where erin is barefeet seems at least 3 inches taller even with Daniel's footwear advantage.

Editor Rob
I think at times there looks near 3 inches between them, other times I thought 2.5. Of course, Radcliffe himself can seem sometimes closer to 5ft 4.
josh b
said on 25/Feb/18
What about Rod Stewart and Penny Lancaster Rob?

Editor Rob
Yeah, there's a few more out there, Nicole Keith/Tom too. I'll add a few more.