Adele's Height
5ft 8 (172.7 cm)
British Singer famous for Albums 19 and 21 commented on her height in The Mail on Sunday, saying
"I'm 5ft 9in"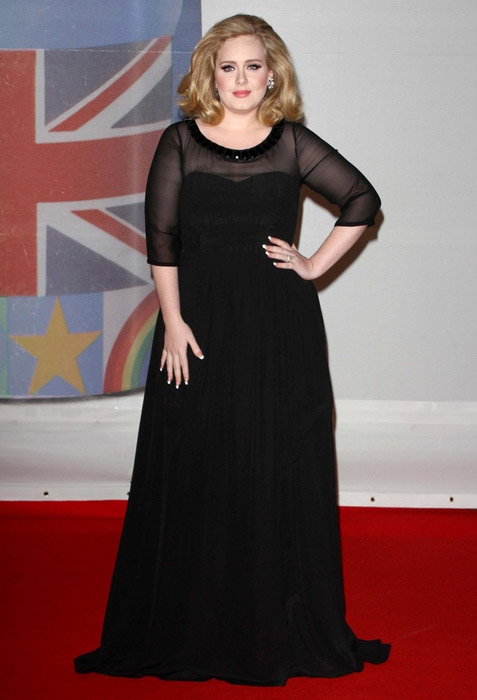 Photos by PR Photos
Add a Comment
71 comments
Average Guess (54 Votes)
5ft 7.84in (172.3cm)
Rohon Ray
said on 14/Jan/21
Nik Ashton, what's ur morning height?
Inna
said on 25/Nov/20
In the show of Skavlan in December 2015, where Adele is invited and also Princess Madeleine of Sweden which is 170cm 5'7" tall, is clearly is seen that Madeleine is two whole inches taller than Adele, which means that Adele can't be more than maximum 165cm 5'5". The Swedish Princess is in 4 inch heels, while Adele's footwear can not be seen, I am convinced that she also has at least three inch heels.
J2Frenzy
said on 8/Nov/20
I've heard she's lost some weight, which aside from all the health and fitness benefits, may help her measurement a little
Nik Ashton
said on 8/Nov/20
She's taller than Nikolas Ashton and this is cool!
Tamilicious
said on 25/Oct/20
As listed.
Realist
said on 10/Jul/20
She looks 172 cms or just under 5'8
Nik Ashton
said on 8/May/20
She ain't as tall as Rob Paul!
Nicholas 5'9.25"
said on 8/May/20
Congrats on her for losing a bunch of weight during this pandemic, she gets 5'8" from me!
Miss Sandy Cowell
said on 5/May/20
🎁🎊🎈🎂 Happy Birthday Adele! 🎂🎈🎊🎁
A Very Happy Birthday to singer Adele, who celebrates her 32nd Birthday today.
5ft8. 😁👍
🎁🎊🎈🎂🎁🎊🎈🎂🎁🎊🎈🎂🎁🎊🎈🎂
Littlelee5ft6
said on 10/Apr/20
Theres no way shes 5ft 5 or 6 just type adele Jonathan ross into google and watch the first video that comes up. Shes in a 3-4 inch heel and looks the same height as jonathan I personally think she could be 5ft 9
Jancys
said on 23/Feb/19
Strong 5ft 7. Pretty tall woman.
MAD SAM
said on 10/Aug/18
I would say 5'7.75" at 172 cm, don't think she's full 5'8"
Canson
said on 15/Apr/18
@Conan: why bother to only list your morning and not you're true height? Your afternoon
Christian-6'5 3/8
said on 14/Apr/18
@Conan
If you're 5'9 7/8" in the morning, you're likely about 5'9 1/8" for most of the day. So that's not 2 inches taller than Adele.
Conan
said on 13/Apr/18
I think she is 5 ft 8 in (172.7 cm).She is shorter than me nearly 2 in (5 cm). I'm 5 ft 9 7/8 in (177.5 cm) in the morning
Vexacus
said on 16/Feb/18
She's a weak 5'9 , 174.6 cm , beautiful lady .
Oliver
said on 15/Dec/17
No offense, Rob. There's not much evidence to argue her height. I hardly find a photo of her, standing next to someone of known height. So, how did you decide to have her at 5ft 8?
Editor Rob:
a 5ft 9 women in heels should look quite tall, but I am not sure I've seen enough to think she is as tall as she claims. She's in a heel
here
for instance, at times she doesn't even seem like she'd be 5ft8 actually.
Slim
said on 18/Sep/17
5ft7.75" tbh.
Tommy
said on 7/Sep/17
her height is 175cm, is not 172.7cm.
oliver
said on 20/Aug/17
Rob,do you think there's a chance she is 5ft 6? She looks 2in shorter than Beyonce who has two inches footwear advantage over her. Moreover, she also looks one inch shorter than Katy Perry. And at one event,she wore high heels, Ellen was in flats and she didn't look much taller.
I'd love to hear your opinion.
Editor Rob: with poor posture she might appear under 5ft 7, but I would be surprised if she was anyhwere near 5ft 6 measured.
Kelly
said on 22/Jul/17
Ok there was a picture of Taylor and Adele Taylor was like an inch and a half taller so like Taylor is 5'9" 1/2
Adele would be 5'8 now there is also a pitcure of Justin when he was smaller like 2011 Adele was at least an inch and a half taller Justin would be 5'6 which makes sense Selena was always 5'5 and if she was wearing heals she would be 5'6" 1/2 but now Justin grew a bit from then he is 5'9 exact so that means Adele IS 5'8 THAT IS HER REAL HEIGHT
even
said on 6/Jul/17
5 foot 7.75 inches
Ally
said on 5/Jul/17
She is 5,7
oliver
said on 4/Mar/17
Rob, please search for the photos of Adele and Beyonce on google. At one of the Grammys,Beyonce looked good two inches on Adele and they seemed to wear similar heels. I still puzzle why Adele is being listed two inches taller.
oliver
said on 16/Jan/17
Rob, have you confirmed that she is really 5'8. I'm a bit surprised to see her at that height.
Editor Rob: oliver, that's just the impression I've got from seeing her over the years, I'm not sure I would have gone with her 5ft 9 claim.
Sandy Cowell
said on 6/Jan/17
I will go for 5ft7.75 for Adele.
She was so funny on the Ellen deGeneres show! She went into a department store and started making the most ridiculous requests from the shop staff, taking the orders from Ellen through one of those ear devices! It was crazy! I put the TV on the '+1' channel to see it all over again and then I decided to see it the following morning at 7a bloody m because twice was still not enough!
Rexxy
said on 20/Jul/16
@linke 185lbs? LOL! Clearly you're in denial about your own weight if you think at the time of your post she was that weight!
Not your fault though, media affects us all in one way or another. *hugs*
PS She's 5'7.5'', we met her a few times and my girlfriend it 5'6.5''
Charlie
said on 28/Mar/16
in heels she can look 5' 8" she is definitely not 5' 8" flat feet. But 5' 8" is correct because she is in heels. Without heels she maybe be 5' 5". heels can add 3 inches to height. I'll say her physical height is 5' 5"
Candy Apple
said on 26/Mar/16
I think her height doesn't show so much because she's a curvy gal. One probably doesn't notice it, unless standing next to or near her. I do think she is a true 5'9. The weight claim of 165lbs doesn't seem right though. I am 5'10 with a large frame. When I weighed 163, I was pretty thin. I would say she's around the 200+ mark weight wise. Height seems about right.
Hautney
said on 21/Feb/16
Idk if there's anything to do with the heels, but she is about an inch shorter than Katy Perry, who is almost as tall as Mariah Carey, and Mariah Carey is about an inch shorter than Whitney Houston, whose height has been measured as 5'6''
Elaine
said on 18/Feb/16
I don't really care what her height and weight is. I just love her. for, She is great singer and from what I have heard her say and act, I think she is a wonderful person.
linke
said on 29/Dec/15
Looks weak 5'8, now maybe 185 lbs.
oliver
said on 19/Dec/15
She really looks that tall.
Rob, is she 176 lbs?
I think 190-200 lbs.
Editor Rob: she did lose some weight, a few years back she was well over 200, maybe now she is under it, but 170's range I'm not sure. She seems bigger than that.
Mouse22
said on 10/Dec/15
Sometimes she doesn't look as tall because of her heavy build but compare her to some of the other female celebs she's often stood next to, Rihanna, Katy Perry etc, she's taller than them and 5'9" seems quite realistic. I wonder where the 5'8" above comes from.
AJ Morales
said on 23/Nov/15
Wow. I never thought she was that tall. I always pictured her being more like 5 ft 6.
Sophie
said on 27/Oct/15
More like 5ft7
Helga
said on 13/Apr/15
She's real 5.9.
dmeyer
said on 21/Jan/14
At academy a she claimed 5'9 and about 6'1 heel on
Cliff
said on 4/Sep/13
The more pictures I see of her, the more I really think she may be a full 5'9"
aparash
said on 24/Feb/13
At the Oscars red carpet right now she said "Usually im 5'9" but with these on im a 6'1".. Courtesy ABC"
leonari
said on 24/Feb/13
Right this moment she said on the Oscar Red carpet that in her bare feet she is 5'9". Go figure.
shilohblue
said on 14/Jan/13
She was towering over everyone when she accepted the award at the Golden Globes.
Joejoe
said on 10/Nov/12
I always thought Adele looked more a 5ft 7 rather than a 5ft 8, think she needs to be downgraded a bit, maybe she claims her height at 5ft 9 because when she wears heels she's that height....?
Johnnyfive
said on 2/Sep/12
Never comes across as tall. I though she was 5'3. I'm not paying much mind to her height anyway but based on the Jonas bros pic she looks 5'6 or 5'6.5 to me.
Me
said on 23/Aug/12
I wouldn't have thought Adele was 5ft 8. She always looks a lot smaller. I'm 5ft 8 or nearly. Really Surprised.I knew Jessie J was about 5ft 9 to 5ft 10 but Adele???
joshua
said on 2/Aug/12
Shes small for 5ft8 Jessie Js Taller shes 5ft10
anon.
said on 27/Jan/12
There is NO WAY adele is 5'9 or 5'8. She does not look that tall. I'd downgrade her to 5'6.5.
Henkka
said on 7/Jan/12
@Vanessa: I know that the Jonas Brothers have an obvious advantage over her, but still, even if she was on flats and bending her knees (she wasn't on that pic, there's another pic where we can see their legs and she was losing height, but not much), she still can't be 5'9".
I'll post the pic when I find it. Look at the backstage videos of her and Ellen DeGeneres (who's around 5'6.5"); with equal footwear, Adele is 1" taller than her at most, which means that she can't be over 5'7.5".
Vanessa
said on 4/Jan/12
Henkka - If you pay attention, she bends her knees when take pictures close to smaller people! In the pictured with the Jonas Brothers we can see it clearly!
Here is the pic :
Click Here
And she was wearing flats that day! I saw many videos of that show! Also, I heard she saying in an interview that her height is 5'9. I'm an Adeleaddict!! haha
Vanessa
said on 4/Jan/12
Henkka - If you pay attention, she bends her knees when take pictures close to smaller people! In the pictured with the Jonas Brothers we can see it clearly!
Vanessa
said on 4/Jan/12
Adele is 5 ft 9 in!
Henkka
said on 21/Dec/11
I thought she was 5'9", until this week. Now I'm sure, a strong 5'7" is the most she could be. The videos and pics next to the Jonas Brothers, Ellen Degeneres, Alicia Keys... I've seen make her look in the 5'6.5"-5'7.5" range tops. We'd need more proof, but as of now, I'm not seeing a chance of her being anything over 5'7.5"...
Jamie
said on 20/Dec/11
How about 5'8 Jonas Brothers and Adele? We don't know about footwear but assuming she is wearing flats and the guys are wearing shoes that give them one inch (making them 5'9) she can at most be 5'7!?
Click Here
If she is NOT in flats she must be even smaller than 5'7. I think she should be downgraded a little ...
Bakura
said on 19/Dec/11
Rob, she needs a downgrade:
Click Here
With the Jonas Brothers, she looks 5'6.5" max.
[Editor Rob: as I said in february, there is a chance she wasn't her claim.

but, one thing to note for her is that in photos is she can look 5ft 6 range, but then she likely drops a bit of height in poses.

one thing though, she likes to stand cross legged.]
178
said on 19/Oct/11
Adele with Paul Weller - listed here as 5' 10"... although I believe he's 5' 10.75":
Click Here
Rob, there is clearly more than 1 inch between them. Would you upgrade Paul as many posts have suggested or downgrade Adele?
[Editor Rob: I don't know, I've not looked at this girl much since adding her]
John
said on 5/Oct/11
So George what you are saying that caucasian women can't sing?
George
said on 2/Sep/11
Adele is really tall i just watched the VMAs and her hands are really large and fingers very long almost making her 6 foot in the VMA, she has a very strong voice and i initially thought it was an african woman singing when i only heard the voice on radio , but realize now it was a tall caucasion lady !!
Sharon Burke
said on 4/Aug/11
I've met Adele a few times in London, and was about an inch shorter than my husband (6'1) when wearing 3 inch heels, which puts her around 5'9. So I believe her claim. Plus there's no need for female singers to lie about their height, so why would she?
hugewhofan
said on 2/Jul/11
is Adele really 5ft 9? im listening to "Rolling in the deep" right now. who IS Rory Emerald (the ninja in the music video)?
Lynn Cee
said on 25/Feb/11
Did you see Adele on the Ellen Degeneres show yesterday? To my amazement, Adele absolutely towered over Ellen. Ellen appeared to be in her usual flats, but, even given Adele's higher heeled shoes, Adele would still be taller than Ellen by at least 1.5" "" yet Ellen's height is listed as 5'7 or 5'7.5" and Adele is listed as 5'6" ... something doesn't square with reality. Watch a clip of Adele's brilliant performance on Ellen and you will see, at the end, when Ellen comes over to congratulate Adele, that Ellen has to look w-a-y up at Adele (I always assumed that Adele was short and stout, but not so). Reality check, please!
[Editor Rob: she isn't listed 5ft 6 on this page, I put her at her claim (5ft 9) but there is argument whether she is really 5ft 8]
J.J.
said on 24/Jun/09
Mark Ronson is 5'10" so Adele might be 5'6" I've me this girl who is 5'6.75" but claims 5'9" becuase she is taller than her friends & forgetting that 5'6.75" is falling on the tall side of girls
MD
said on 9/Jun/09
Here's a rather odd comparison that actually makes her look short...
Here she is with Mark Ronson, but the catch is that she's barefoot and he's in full-on dress shoes. This will make the comparison tougher, but it's the only photos where I've seen her feet standing straight next to someone else:
Click Here
Click Here
I generally hear that Mark Ronson is 6'0", but I'm not even sure of that (he should have been added here a long time ago, BTW). What does seem apparent is that Adele is most likely shorter than 5'9", but she's still well above average height.
Lala
said on 7/Jun/09
I think she's alot shorter than that actually. Maybe 5'6
niel04
said on 2/Mar/09
She's definitely not 5'9... more like 5'7, maybe even 5'6.
joe
said on 23/Feb/09
i saw her at the brits and she wasnt that much taller than nicole appleton. by an inch or so i would say. its hard to judge as you can bet they were all wearing heels. i dont think shes 5'9. 5'7 is very possible.
joe
said on 14/Feb/09
im surprised shes 5'9. i thought she would be 5'6 at the maximum. i always thought she was around 5'4 for some reason! it does show how wrong people can be with judging peoples heights. its hit and miss all the time!
Anonymous
said on 13/Feb/09
I always thought she was 5'2 for some reason...5'9 is cool too
Ellie Vanderlooka
said on 13/Feb/09
I'm 23 and i'm around gabby reece's height so you could imagine the staring
Anonymous
said on 11/Feb/09
Yes, thought she would be around this height, it helps carry that bit of extra weight, it suits her
j
said on 11/Feb/09
pretty sure this isn't right. when she won a grammy and stood next to kanye, she was only maybe one inch taller than him, and that was with heels on.
Elle
said on 10/Feb/09
Ya know what, I had a feeling she'd either be pretty small (like 5'2 or 5'3) or pretty tall (5'7+). 5'9. Impressive.