Diplo's Height
5ft 10 ½ (179.1 cm)
Thomas Pentz is an American DJ and Record Producer. He once mentioned on twitter
"I'm 6 ft tall and I'm still the shortest person in this dutch festival"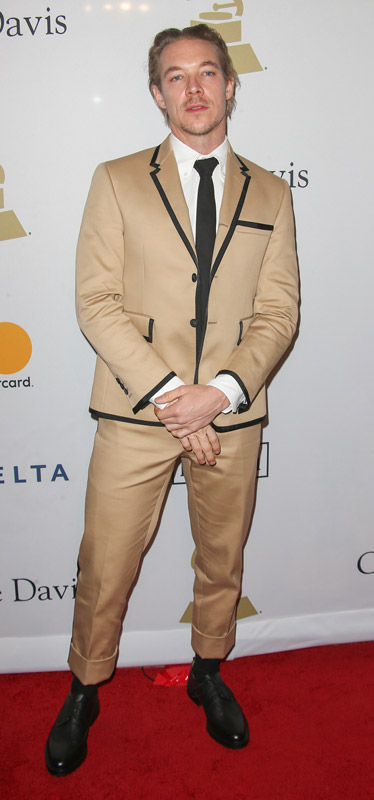 Photos by PR Photos
Add a Comment
22 comments
Average Guess (22 Votes)
5ft 10.66in (179.5cm)
Greg
said on 4/Jul/19
@Royce he's losing posture there Ninja might be 6'2 looks around 3 or so inches shorter maybe 3.5
Miss Sandy Cowell
said on 11/Apr/19
Hmm...
Hi Christian and how are you? I've only just found your comment and it did cheer me up! I must say, it didn't take much working on.....😂🤓🤔
Cheers Christian! xxx
Greg
said on 9/Apr/19
@Damon Blank I can actually see a weak 5'11 for Diplo.
Damon Blank
said on 7/Apr/19
I don't think he's 6 foot. I think he's more 5 ft 10.
Christian 6'5 3/8"
said on 6/Apr/19
@Sandy
Nice pun, lol
Miss Sandy Cowell
said on 6/Apr/19
If Diplo believes that we believe that he's 6ft then he's a bit of a dipstick and has proved himself unworthy of earning himself a DIPLOma in the art of guessing people's heights!
📄✖️
5ft10.5 is ample for him!
TheBat
said on 7/Feb/19
Lol at 6'0". He's 5'10.5 like me.
Demi
said on 23/Jun/18
Looks about the same height with Dua Lipa in her recent ig story. 5'9
Greg
said on 16/Nov/17
Just seen a picture of him standing next to 5'11 claiming Dillon Francis. Diplo looked almost identical to him with the exceptiom that Francis was dropping some height by leaning. I would give Diplo 5'10.5-.75" I don't agree with the average estimate.
TJE
said on 9/Oct/17
Here he is with 5'8 Nas:
Click Here
He looks a good 2 inches taller and he seems to be leaning forward. Maybe this listing is fine after all. At least 5'10.
Christian-6'5 3/8
said on 14/Aug/17
5'10", I think his original listing was more appropriate, Rob.
G 5'11
said on 13/Aug/17
At one point I seen a 5'7 listing for him on google and always assumed he was that height until I was recently looking at some Instagram pictures with him and Dillon francis who claims 5'11 and seems more or less honest. they looked really similar. There's a chance Dillon edges him, but I think Diplo has a chance of anything 5'10.25-5'10.75" imo, I would believe this listing.
Yvon
said on 24/Jul/17
Next to SRK, who is just about 5.6 without his elevator shoes, he is shorter than 5.10
oogaboogo
said on 30/May/17
Looks 5'9" range around Big Sean and Miguel
Laf
said on 20/May/17
Rob, what made you change him from a flat 5'10?
Editor Rob: I thought the guy's posture at times maybe isn't as great...when standing tall I think there is a chance of a bit over 5ft 10.
TJE
said on 18/May/17
@MD
Ditto
MD
said on 18/May/17
He is not taller than 5'10".
Cal77
said on 17/May/17
Has a good 3 inches on Justin Bieber
Click Here
Click Here
His 6 foot claim is a huge lie, at best probably 5'10 he could even be a strong 5'9 but I'll give him 5'10 for now
theL4st
said on 16/May/17
nevermind he looks decently taller than solid 5'10 diddy
ffs
said on 15/Mar/17
If the guy says he's 6 feet tall why don't you just belief him? Is there really this big conspiracy where everyone says they're taller than they really are? You've never seen the guy irl
Editor Rob: I've not seen enough to suggest he is six foot barefoot, but in footwear maybe it's not impossible.
MaryAnne
said on 14/Mar/17
I had no idea he was added. Why on earth did i not see him on the recently added list of famous people? Thanks Rob..