FaZe Rug's Height
5ft 6 (167.6 cm)
Brian Awadis is an American Youtuber. Director of FaZe Clan, he has 6 million subscribers and over 1 billion views on his channel. At age 18, he said he was
"5'6"
and also mentioned his brother Brandon Awadis height was
"about 5'8 or 9"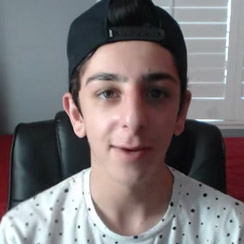 Add a Comment
31 comments
Average Guess (68 Votes)
5ft 6in (167.6cm)
Endrit
said on 2/May/20
I think faze rug grew to be around 5'7" , Brawadis I feel is around 5'9.25"-5'9.5" range , and papa rug I think is around 5'10.5"-5'10.75" , ROB PAUL , can you do a video on Brawadis and his family please!?
Abz
said on 17/Apr/20
I can't see Rug above 5 ft 6. I think he hits exactly 5 ft 6 during the day most of the time. His brother proclaims to be 5 ft 10 but is nowhere close of it, more in the 5 ft 8 range. Although I do believe their father is a solid 5'9.
Khiz
said on 7/Apr/20
He just made a tik tok and he listed himself as 5'7
Joan Rodriguez
said on 15/Dec/19
On his recent video where he facetimes his youtube friends to see if they pick up and while he was on the phone with Logan paul he said he was 120 lbs 5'6. Time stamp if you need it 6:00
TheBat
said on 15/Apr/19
5'6.5" isn't impossible. But I'm fine with the 5'6" listing.
cmillzz
said on 30/Mar/19
@khaled
No he hasn't.
khaled taban
said on 13/Feb/19
Rob, He is 5'7", I think he has grown arounf an inch.
lee168cm
said on 21/Jul/18
He's 5ft 6 no taller
Declan Mclean
said on 20/Jul/18
Hey Rob, it's time to update this because now faze rug is 21 and looks like he has grown a full inch from when he was 18, now i would say he's *5 foot 7*
Yasir
said on 6/May/18
Faze rug might have grown 1 inch making him 5"7 by now.
Tiff
said on 21/Apr/18
I don't think Rug is shorter than 5'6". His brother Brandon is definitely 5'9" and Molly Eskam is 5'8". You could definitely see all the heights together in Brandon's "Who Knows Faze Rug Better" video ft Molly.
Idkman223
said on 31/Mar/18
Rob, I think rug is actually 5ft9. Here is a pic of him standing in front of a measurer. He looks about 3 inches under the 6ft mark. What do you think Rob? He is defintely no shorter than 5ft8. My brother is 5ft9 and has the same build as him.
Edit: sorry forgot to include the link!
Click Here

Editor Rob
I'm not sure he grew in height, from that it's hard to really tell how tall he is.
Yasir
said on 29/Mar/18
Rob heres a picture of the dude near faze rug who is a strong 5"6...
Click Here
would you say the last guy on the left is the same height as faze rug?

Editor Rob
It's a possibility he could be 5ft 6 range, it would be interesting to see him standing straight in a photo with someone like faze.
Lenny
said on 7/Mar/18
He does look around 5"7 Id say
Martin Marquez
said on 4/Feb/18
I think Brian is 5'7 because in the video where he took Molly eskam to the trampoline park he said him and Molly were 5'7 and that they were matching
Matt99
said on 14/Jan/18
His ex Molly Eskam claimed "around 5'9" on instagram when she's nowhere near that, she's 5'6 range like Rug.
Ismael Macias
said on 4/Jan/18
He is shorter than I expected.
Anonymous
said on 30/Dec/17
Rob please put in Faze Rain, I need to know! Lol.
Caden
said on 18/Dec/17
I'm 14 and I'm 5'10
Editor Rob: if you stood beside Faze you'd be looking into his hair...and possibly age 20 you might be looking 3 inches above his head.
Johnny Yoakum
said on 15/Dec/17
I'm 12 and 5'6
Devin Topper
said on 12/Nov/17
I'm almost taller than him think about it btw I'm 13 and I'm 5.5
FaZerug
said on 26/Sep/17
Hey guys I'm 20 now and 5 10 ♡♡♡smash the like button
Celebheights 6'1.5
said on 12/Sep/17
I can by anywhere from 5'5 3/4"-5'6" from what I've seen. He's at least 4 CM shorter than Drake Bell is.
insomniak
said on 3/Sep/17
167cm flat would be more accurate.
Slothee
said on 3/Sep/17
He probably doesn't fall under this listing. Tho I'm only thinking this cause of the average guess being a fraction over 5'6".
McBeans
said on 30/Aug/17
His brother is a strong 5'7 at the most but I think the listing for Rug is pretty accurate
Cameron
said on 29/Aug/17
Strong 5'6".
Slim183
said on 25/Aug/17
A weak 5'6".
Celebheights 6'1.5
said on 21/Aug/17
Wait a minute, he claimed to be 5'9? Mark on this website would have 3 1/2" inches on this guy.
Editor Rob: Rug claims 5ft 6 and thinks his brother is 5ft 8-9
Celebheights 6'1.5
said on 21/Aug/17
With Brawadis, who has claimed to only be 5'9" on his Twitter page:
Click Here
Click Here
Him claiming to be 5'8" is very ridiculous.
Ben
said on 20/Aug/17
At first I thought he claimed 5'8" or 9 hehe, I wouldn't suprised since it seems to be a trend for YouTubers to add 2-3 inches to their height
Editor Rob: Rug seems to be reasonably honest, well he doesn't look like a 5ft 4 guy, but 5ft 6ish.