JoJo's Height
5ft 3 ½ (161.3 cm)
American Singer and actress in movie RV. She said on a Cambio Chat (as pointed out by visitor Rasheed):
"I think being Five Three and a Half is really limiting and I would just look long and leaner and it would make life easier."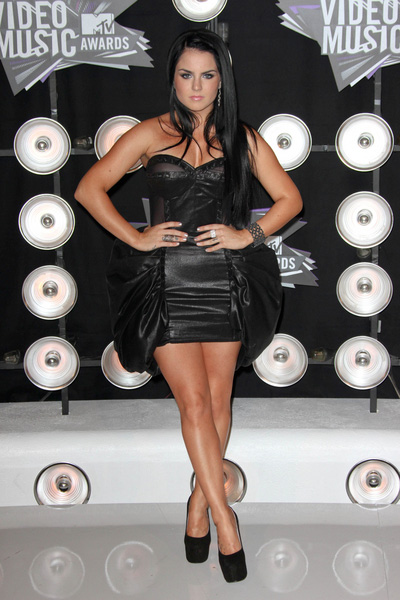 Photo by PR Photos
Add a Comment
95 comments
Average Guess (11 Votes)
5ft 4.16in (163cm)
Nik
said on 31/May/18
Nice name! It's nice to see the height honesty of JoJo!
African171-173cm
said on 20/Dec/17
Happy 27th Birthday JoJo.It's my 22nd birthday...back to height...she looks about 5'3 and very beautiful...She doesn't have to look longer and leaner...
Lovatic
said on 24/Jun/17
She did start in the industry very young, so there is kinda a wide range lol. I'd say anywhere from 5'3 - 5'5. Prob not 5'5 tho. Most likely a weak 5'4.
Sandy Cowell
said on 23/Nov/16
Jo-Jo 5ft3,5! Get back!
Rasheed
said on 4/Aug/12
In this video JoJo said herself that she is 5'3.5'' and would like to be taller than that.
Click Here
[Editor Rob: it's bizarre she said that this height is very limiting...it's not like she's 4ft 3, 5ft 3.5 is nearly average!]
Mark
said on 23/Sep/11
@jolanatino esperanza Look here buddy, this is a HEIGHT website, not a WEIGHT website, if you wanna talk about WEIGHT go elsewhere!
jolanatino esperanza
said on 26/Mar/11
it is normal no matter how tallk you are, there is no right or wrong height!! But when it comes to weight thats another story... Check your BMI (Body Mass Index)
Phil
said on 5/Jul/08
Click Here
According to this site, it's 5'3.8" for girls aged 15 & 16 and it's 5'4.2" for girls aged 17 & 18. I think it's more like 5'5" overall, though. Girls seem to be anywhere from 5'1" to 5'9".
Sophie
said on 3/Jul/08
I'm curious, what's the average height of girls aged 15~17 in America? I mean when you go into a high school, what's the normal height?
Anonymous
said on 15/Jan/08
shes 5'5.5; in heels she was about the same height as sara paxton (shes in heels too)
Anonymous
said on 6/Jan/08
i dont think she is that short cuz in a pic of her and josh hutcherson she is like a foot and an half taller then him and he look young so he was probably 5"1
Danu
said on 6/Jan/08
Jojo is not too tall, She is too Short-too beauty.
JoJo's turbine.!gone above fans..
said on 4/Jan/08
Last time her agent asked, she said she was around 5'4 and a half so i think she knows best. And i know that because her agent's my uncle :) and that was around mid 07. She probably grew taller, who knows
sxcB
said on 11/Nov/07
Well...but i heard my friend,Emma, said that she is about 5'3.5, 'cause Emma have been to Jojo's consert before in L.A.
And i think i know you PREAW. i am thai too. Are you from Australia? 'cause i am.
preaw_z ,,
said on 26/Sep/07
Sa wad dee ka. ..
i'm Thai
i really like her
because she so lovely and a good girl
*Take care your self
Areli
said on 13/Sep/07
i heard she was 5'3'' when she was 13 but now shes probably 5'6'' or 5'5'' somewhwere around there.
Cathy
said on 3/Sep/07
she's grown a lot since she first came out
my prediction on her height in 03 was around 5'1.5
but now she's probably around 5'6......
she looks really tall in events!
glenn
said on 12/Jun/07
thank you dmeyer.someone mentioned it on the site last week.never before i dont think.
dmeyer
said on 11/Jun/07
you have a very nice eye color glenn i never notice it before
Astrid
said on 11/Jun/07
Next to Emma Roberts and Sara Paxton:
Click Here
She's wearing flats here.
Anonymous
said on 9/Jun/07
Looks a lot shorter than 5'7 Sara Paxton, though this site lists Sara as 5'6.5, I don't doubt that!
Click Here
Astrid
said on 12/May/07
Well, I am nearly 5'10" (I am 5'9.75" exactly) myself and I have a couple of friends who are 5'3" barefoot. When they stand next to me, they pass my shoulders by only a couple of inches.
Click Here
In this picture, she is standing next to Akon (about 5'11"). For once we see JoJo in flats. In this picture she is not standing up straight but is leaning slightly forward so if she was standing up straight, she would be taller still.
Click the picture to zoom in.
Click Here
And in this picture, JoJo is next to both Akon and singer Paula DeAnda. Paula is supposedly 5'5", which I think is an inch too tall. Paula appears to be exactly 5'4" in that pic.
JoJo is leaning quite considerably and she is still taller than Paula, not to mention her feet are dug into the sand, making her appear shorter, unlike Paula, who is standing "on top" of the sand.
Again, click the picture to zoom in.
I hope this proves something!
ashley
said on 1/May/07
She looks a lot taller on T.V. than she is in really looks when prforming. I thought that she would be like, 5'9". I am 5'7", so that makes me 3.5 inches taller
Victorian
said on 20/Apr/07
Oops, I'm going to have to correct myself. Estimate height for his head is slightly over 9.5 inches (app. 25 cm).
Now if you look closely, you'll see that the top of her head will reach as high as Fahey's upper lips. That leaves a little more than 7.5 inches of a difference, minus the inch of his shoe which leaves a difference of 16/17 cm.
Apart from his head height I still stand by all other things I said in my previous post, the shoe size can prove me wrong.
Victorian
said on 20/Apr/07
I don't know. Judging the angle on the pic a 15/16/17 cm height difference (when they're put near eachother) seems actually quite reasonable. According to this site, Fahey's head should be slightly over 7.5 inches (app. 20 cm).
Now, if you had proof regarding the footwear I'd possibly be convinced. Though I can't seem to find them in the links you gave (though I could've missed it). On the pic they appear to 5 to 6 inches max, lifting her somewhere between 4 and 5 feet (as the platform seems minimal).
Gotta admit that I'm more inclined to go with 5ft3.5 now though, as Rob estimated.
Astrid
said on 20/Apr/07
Sorry my mistake, it appears yes the man in my previous pictues is Damien Fahey. According to this site, Damien is marked at 6'2". I stand by what I said before... :)
Victorian
said on 18/Apr/07
hehe, one's again showing my age.
But I don't recognize Daly in that picture at all. Granted, I never watch TRL, but I have seen Carson Daly a bunch of times and if that is him he's a great shapeshifter.
The guy in the picture does resemble Damien Fahey (found him after a bit o' googling) more though.
Astrid
said on 18/Apr/07
I know it says TRL with JoJo and Jesse McCartney on the page... but on that picture it's JoJo and Carson, this is JoJo and Jesse together, backstage.
Click Here
Victorian
said on 17/Apr/07
That's not Carson Daly, but 5-9 Jesse McCartney. 5-3 (maybe 5-3.5) seems just about right for this 'teenie-bopper'.
Yes, I know I reveal my old age by using that word, lol.
Astrid
said on 15/Apr/07
Here is a picture of JoJo (5'3"-5'5", according to this page) next to Carson Daly off TRL (6'2"). JoJo is wearing huge heels and Carson is in sneakers.
Click Here
Now I know what you're thinking - that JoJo's bigass heels don't prove anything.
But:
Take a look at how tall the heels make her. That is NO more than a two inch difference between her and Carson. So, if she was 5'3.5", and even if Carson was 6'1 as this site puts him, that would mean her heels would have to be 9.5" high. Which is impossible. These shoes are 5 inches high...
Pumps-
Click Here
;File=511-ZOYA;
Platforms-
Click Here
;File=DOLLY-51;
So if she's wearing six inch high pumps, and Carson is 6'2", JoJo would have to be 5'6" barefoot.
If she's wearing six inch high pumps, and Carson is 6'1", JoJo would have to be 5'5" barefoot.
Surely this is proof that JoJo is taller than this site marks her!
P.S Her shoes are NOT seven inches high. Google "7 inch high heels".
mai
said on 12/Apr/07
she really looks taller than 5'2. i guess it is 5'3. yeah ins only '1 difference, but still. u can SEE the difference. i was hoping that she is as tiny as me. cause i am about 5'1. i gotta check how tall emma roberts is.:)
Resa
said on 3/Apr/07
nah shes 5'2 maybe.. theres no way shes over that. she wears super high heels all the time.
kristine
said on 2/Apr/07
she's taller than emma roberts in aquamarine. emma is 5'5" btw.
cute
said on 24/Mar/07
hey secret..
thats not true..
i have a friend whos 5'7 3/4 (172-173)and i'm 5'2 (157) and i come up to my friends nose.. under her nose ... so... if thats true what your saying.. jojo is under 5'2 or your height is wrong... or your mistaken..
Astrid
said on 15/Mar/07
She said she was 5'4" (at age 14). Her mum is 5'8". There's a pic I've seen of her next to her mum at around 12/13, and I saw another one taken a few months ago (so at age 16). She's definitely. She looked about 5'5" in the recent pic next to her mum, neither were wearing heels. I'll try and find the URLs.
(Jean) News Writter/ Photography
said on 24/Feb/07
Im 5"2 and I stood next to her in New York and I was taller than her and she is was about 1 and a half inches smaller
mandy
said on 15/Feb/07
yea i'd even say 5'2 she looks really short
Glenn
said on 13/Feb/07
I agree with Rob.5-3ish.
Astrid
said on 12/Feb/07
I think her slim figure makes her appear taller a lot of the time... but if I met her I'd probably be a fair bit taller than her.
Bombay Rocker
said on 12/Feb/07
what say glenn....whats ur guess on this hottie?
Glenn
said on 11/Feb/07
Rob,you have this pic?
[Editor Rob: yes, you have sent this girl]
secret
said on 10/Feb/07
shes no tall than 5'5 coz im 5'7 3/4 an she comes up to my shoulder an thas with shoes with smaller heels
Nobody
said on 18/Dec/06
shes 5'3 or 5'4 i checked in her vid when she was standing on the wall and she was also wering shoes so probably 5'3
Anonymous
said on 12/Dec/06
I saw her on TRL. very very skinny but probably like 5'2 at the most. she was wearing heels but wihtout them she couldnt be ore than 5'2
Serene
said on 5/Dec/06
Yeah..she has grown lot...from the 5'1" figure
Anonymous
said on 19/Nov/06
To me, she appeared eye-to-eye or taller than Cheryl Hines, who played her mother in RV. This site marks her at 5'5", so JoJo has got to be around that height as well.
Anonymous
said on 13/Nov/06
she defs aint 5'6 thats stupid, she is only a tad taller than fergie who is 5'3
Astrid
said on 12/Nov/06
In the video for "Too Little Too Late" where she is seen pulling out of a cuddle from Mike Zaher (UCLA student who plays her cheating boyfriend in the video) you can guess her height fairly accurately. Mike is 5'10", and JoJo was only wearing sneakers, and after they hug there is about a half-head difference, so I'd say she would be 5'6". I'm 5'10" aswelll and I'm 14, though I've stopped growing. Who knows maybe JoJo will grow a bit more. But she's definitely not 5'3".
Anonymous
said on 2/Nov/06
moody. thats a bad angle go to jojo-online.com and you will see jojo is bout 2.5 maybe 3 inches shorter than vanessa, and jojo had atleast 4 inch heels on caues vanessa even pointed out the fact they were massive.
heather
said on 25/Oct/06
Click Here
shows hardly 1 inch diff b/w jojo n venessa who is 5'7".i think venessa is shorter coz both were wearing similiar high heels
moody
said on 20/Oct/06
yeah..looks like it
Anonymous
said on 22/Sep/06
5'2.5-5'3 sounds right. very skinny though makes her look taller
Matt
said on 9/Sep/06
she is 5'3" yeah right that girl has got to 5'4 1/2"
[Editor Rob: look at pics from few months ago of her with 5ft 7 robin williams, in heels]
max
said on 6/Sep/06
She's atleast 5'5
Jane
said on 6/Sep/06
WOW i didn't know they were so short but i suppose they are. i thought i was short. im 170cm and i want to be taller. it feels greatr to be heaps taller than them.
Damien
said on 1/Sep/06
Yeah, 5ft 3 no more I dont think she could grow up to 5ft8 (I'm now 17, 5f8 Am I short ?)
ManWhoSoldTheWorld
said on 31/Aug/06
5ft3. 110% correct. look at trl with jojo and robin williams.
ashii
said on 28/Aug/06
YA 5'3" WAS BOUT MY HEIGHT WE SAW HER SHOPPING
Anonymous
said on 7/Aug/06
jojo looks 5'2 and emma looks 4'10 as what i noticed from acquamarine
prescious_laydee
said on 31/Jul/06
I saw JoJo last week in The ACC and she is around 5'3
Anonymous
said on 20/Jun/06
Lil' Special, she lives in EDGEWATER, NJ (north jersey in bergen county) we are friends. she went to my school b4 she became famous. i saw her last year and she was about 5'2.5.. but she probably has grown since then.
tia
said on 28/May/06
im 15 and im 5'6 when i saw jojo she looked 5'3 im pretty sure she's done growing
Wicked Kid
said on 27/May/06
If Jojo's mom's tall, it doesn't indicate that she'd be tall too. And Lil'Special...I think you're kinda over-exaggerating the difference in height between Jojo and Emma Roberts...
piglet
said on 23/May/06
i don't know bout u guys but i rili do think that jojo is just 5'3 max coz i bought this magazine, and it showed a whole body picture, nad she doesn't look that tall... so for me she's 5'3'' max...
nicole
said on 16/May/06
zara: it really depends on genetics how tall you're going to be, not really the age you are. Jojo may have stopped growing, or maybe she will grow a bit more, who knows.
Lil'Special
said on 13/May/06
You all don't know JoJo's height because you all never got close. JoJo is 5'2 and Emma Roberts is 4'10. You don't know how I knew because I live in Los Angeles/CA. And I've been in Hollywood that's why I know their Height
Serene
said on 9/May/06
Hmm...even though she may look like a 5 feet 3, but still I don't so she is one.
5 feet 2,maybe...
Wicked Kid
said on 4/May/06
anonymous, we can't see if they're wearing heels or not. has anyone here watched aquamarine?
starr
said on 25/Apr/06
no, no NO! if anyone has jojo's cd, in the pull out it shows her next her mom, (who is really tall,by the way)and since her mom is 5'8" or so, i can see that when she is next to her mom she is around 5'3" OR 5'4" never under 5'3"! that is crazy if you say she's shorter than 5'3"!
anonymous
said on 30/Mar/06
Click Here
on number 15 of this flash, jojo and emma roberts are like 3/4 of a head shorter so they actually look 5' or 4'11
big pimpin
said on 23/Mar/06
jojo doesn't look that short i thought about 5'6" or something.
emma
said on 19/Mar/06
I think Emma Roberts is probaly about 5'2, 5'3 being the most. JoJo being 5'4 or 5'5. Sara Paxton 5'4. I am about emma's height and i know that alot of people think as me being really short is becuase i am really thin and thats why she probaly looks really small
[Editor Rob: Paxton is around that 5ft 6 mark, taller than mojo by several inch, who herself is taller than roberts by another few inches. 5ft 1 for the emma might be closer to truth?]
WickedKid
said on 13/Mar/06
Huh. I don't know about you guys. But Emma Roberts barely looks 5'0.
Amanda
said on 8/Mar/06
Sara Paxton is 5' 6" because she *always* comes out to that height when people compare her to other actresses. If you go to editorial.gettyimages.com, there are pics of JoJo next to Paxton and they look only an inch or two apart, but JoJo's heels are slightly taller so I'd say JoJo could be 5' 4", maybe? Plus, JoJo was a little closer to the camera. Emma Roberts looks about three inches shorter than JoJo.
Here are my guesses, as of 26 Feb 2006 (Aquamarine premiere):
JoJo = 5' 4" (163 cm)
Sara Paxton = 5' 6" (168 cm)
Emma Roberts = 5' 1" (155 cm)
Serene
said on 3/Mar/06
Are you sure that Jojo is now 5'3"? Looks shorter though, I mean a bit shorter like 159cm? Why you didn't add Emma Robert's height in Celebheights?? Her height is sometimes confusing.
Anonymous
said on 27/Feb/06
i saw the photos of jojo on gettyimages next to the 168 cm sara paxton and they look the same height and jojo towers over the 160 cm emma roberts
[Editor Rob: yes, I would compare her to the paxton girl who looks maybe 5ft 6 range...but emma roberts doesn't look 5ft 3 though, more 5ft 1...jojo can look now 5ft 3 range]
secretsoundxox
said on 26/Feb/06
shes defo grown since her album came out.
id say about 5'4
Anonymous
said on 1/Feb/06
shes like 5 foot 2- 2.5 definately
we chilled togetha
and im 5 foot 1
shes a bit taller than me though
and im a year older
:(
Wicked Kid
said on 25/Jan/06
Anonymous dude, 5'2.5" - 5'3" isn't much of a difference!! LOL. I wouldn't fight over a 0.5" then.
cdtt
said on 25/Jan/06
I saw the preview of her new movie R.V. and when she stood next to Robin Williams (5'7") and she is listed 5'2.5" she only looked 1 nich shorter than him. But I dont remember the shoes she had on.
gyllenhaalic823
said on 1/Jan/06
she's a lot tinier than what you think. I'm 5'0" and she looks smaller than me in the pictures from TRL that the first "Anonymous" person here posted. Yeah, she might have grown, but seriously, she's tiny! She must have been 4'11.5" or something when that TRL was filmed, so I'm guessing that's when she was almost 14 but still 13?? (If that's the case I will have a 3/4" advantage on her when I'm her age if she stops growing and I grow at the same rate. Of course thats a bit confusing so nevermind! =)p )
She is probably around 5'2" now though after looking at some of the other photos here.
P.S. In some of the photos on her website, doesn't she look sort of like lindsay lohan?? Slightly I guess . . .
Anonymous
said on 23/Dec/05
okay well shes def not evem 5 foot 3
i know her personally
and i'd say the last time i saw her
she was about 5 foot 2- 5 foot 2.5
Anonymous
said on 23/Dec/05
http://www.jojoonline.com/main.html
Pic in there with her and George Bush. He's got about half a foot on her and he's 5'11"
Wicked Kid
said on 8/Dec/05
Well, Jojo looks 5'1" to me though. And anyone knows Tyler Hilton's height?
Serene
said on 1/Dec/05
Haha, I see then. Okay, well if IMDB.com is growing huge, I can put anyone in the list 6'0"..haha..
Okay Rob, I get the point here. THank you
Anonymous
said on 26/Nov/05
jojo is 5 foot 2- 2 1/2. she went to my middle school, LEONIA MIDDLE SCHOOL, and i saw her last year at homecoming. she was an inch taller than me and i am 5 foot 1. yes, were friends. she might have grown though. so 5 foot 2.5 is probably right.
Serene
said on 22/Nov/05
JoJo looks kinda of short,you know. And wicked kid is right has his/her proof too. The more famous you are, the more tall you get.
Anyway, who created IMDB.com? Who does the editing anyway?
[Editor Rob: maybe when I'm famous I'll become 5ft 9...

imdb has grown to become huge, employing a fair few 'content' editors. It's far easier to get a height changed there than here since I'm the only one editing this site ;)

begin note to self - never reveal true identity - end note]
Wicked Kid
said on 20/Nov/05
L.LO is 5'5" as far as this site states. 5'5" - 4" = 5'1" I believe. Don't you all know that IMDB always exaggerates the celebs heights? http://www.imdb.com/name/nm1685658/bio ; They upped her height since the last time I checked which was in January, it was 5'1". I don't see the significant 3" growth in this year though assuming that she WAS 5'1" then. From what I see, the more famous you become, the taller you get.
[Editor Rob: I think she's growing, but not sure how much in the last 4 months...quite possibly she's in the 5ft 3 range now...from recentish pics doesn't look far off it!]
ds
said on 11/Nov/05
I'm 15, and underwent puperta. But I grew like 2 inches in the last 8 months. That's pretty good. It's possible for JoJo to grow because she's around my age...
Anonymous
said on 10/Nov/05
http://photos1.blogger.com/blogger/4530/1777/200/cosmogroup.jpg- standing next to 5'1" Hilary Duff Jojo is clearly an inch taller
Anonymous
said on 31/Oct/05
in a picture on wire image she is about 1 inche taller than christina aguilera, and about 2.5 inches taller than lisa pressley
blusilv
said on 12/Oct/05
the real height is 5'3"
and it couldn't be wrong
Anonymous
said on 20/Sep/05
And plus she is dwarfed by 5'5" Lindsay Lohan: http://editorial.gettyimages.com/source/search/details_pop.aspx?iid=51152423&cdi=0 ;
Anonymous
said on 20/Sep/05
It's hard to find Jojo's height because she hardly has photos with celebs that have their heights known, but take a look at this: http://editorial.gettyimages.com/source/search/details_pop.aspx?iid=51270919&cdi=0 ; Even if Damien Fahey is 1.88, she still looks 5'. And one with Gavin Degraw: http://editorial.gettyimages.com/source/search/details_pop.aspx?iid=51233012&cdi=0 ; I don't know his height but he towers her too. You can see even when Jojo's in normal shoes, they're thick-soled: http://editorial.gettyimages.com/source/search/details_pop.aspx?iid=50987013&cdi=0 ; I'd still think she's like 5' because if she's 5'2" or above she won't look so short even when she's standing by herself. She's definately underwent puberty already so I doubt she'd have any growth spurt.
Carl
said on 29/Jun/05
JoJo is really short,but I don't think she's just 5ft 1. I think she's somewhere around 5ft 2.