Mika's Height
6ft 3 (190.5 cm)
Lebanese born British Singer. Said on his twitter:
"I'm 6 ft 4"
and in a video
"Sono alto 1,92"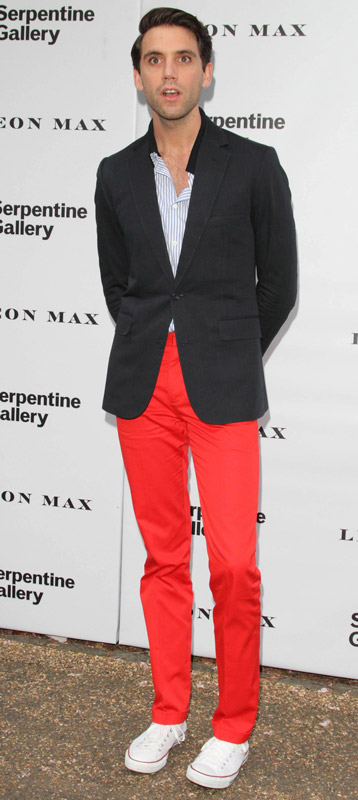 Photos by PR Photos
Add a Comment
52 comments
Average Guess (8 Votes)
6ft 3.13in (190.8cm)
Chris Junior Hernandez 1990
said on 11/Mar/20
Rob, do you think pull out a meaurement tape you could have him at 6'3 1/4?

Editor Rob
Yeah it's not ruled out. He has a solid 6ft 3 range look.
Rampage(-_-_-)Clover
said on 15/Nov/19
Could fall into 191-192cm range
berta
said on 8/Jul/19
i dint realise this guy was tall. i really thought he was maybe 5 foot 10 guy. But now looking at pictures i see he is tall.
Andrea
said on 26/Jun/19
Here he claims 192, Rob:
Click Here
I'm not sure he's quite that tall though, BAREFOOT...

Editor Rob
I'll mention that quote at the top.
Rampage(-_-_-)Clover
said on 15/Jun/19
A bit over 6ft3
Dmeyer
said on 28/Apr/18
Hé deserves an upgreat might bé 6'4 converse on 6'3,25-3,5 barefeet
Karlan
said on 9/Mar/18
Rob, thank you for the interesting site. How do you think how tall the girl is near Mick's left shoulder? I think 5'2.
www.instagram.com/p/BTwC_7VhAUV/?taken-by=loumaioffht

Editor Rob
It's a possibly good guess, I'd have said over 5ft and no more than 5ft 2, the girl on his right looks more like a five footer.
Ibracadabra
said on 10/Jun/17
Rob, you rule out a 6ft4 listing for Mika ? He looks so tall to be only 6ft3...
Editor Rob: I'm still not convinced he looks a big 6ft 4 guy.
Ibracadabra
said on 18/Feb/17
Rob, don't you think he needs an upgrade? His claim is highly likely for me.
Andrea
said on 8/Dec/16
Rob, can you give him a photo?
Like Wiz, it seems that even Mika claimed both 6'2 and 6'4 in different occasions...
I couldn't find the video or the interview but even in this forum (
Click Here
) they say (back in 2007) that he claimed to be 6'2!
And someone mentioned he even claimed 6'3 and a bit! So he basically claimed 6'2, 6'3 and 6'4!!!
Honestly, from what I've seen, I do think that 6'2 is a bit too low for him. He's hosting an italian tv programme now and I've seen him with a few italian celebrities... I think somewhere around 6'3 is believable for him (a fraction under 6'3 maybe is not impossible but I'd be surprised if he was just 6'2)! Look at him with this italian presenter:
Click Here
This guy seems to have claimed 187 at some point and I've recently read an interview where he said to be 190!!! I think, when standing tall, he's somewhere in 6'1 range... Mika still looks a couple inches taller than him in the clip, doesn't he?
Editor Rob: Andrea, he's all over the place with claims, these celebs should be more consistent!

In the clip I'd have thought about 6ft 3 was possible.
Andrea
said on 2/Nov/15
It seems he has claimed to be 6'2 too, reading old comments and some forums...
Here in Italy he's quite famous because he is one of the judges of Xfactor (in the last years)!
He generally looks between 6'2 and 6'3, do you think 6'2.5 would be a better listing?
Noway is he 6'4 of course!!!
[Editor Rob: would need to find him with more people whose height is well known.]
Dmeyer
said on 7/Feb/15
He claims 6'4 and looks near it rob are you sûre je is just 6'3 to me aleast 6'3.5
ciro
said on 4/Mar/14
In a italian TV spot Raul Bova and Mika had a discussion because Bova seems a dwarf near him.
dmeyer
said on 25/Jan/14
rob the guy claims 6 ft 4 and he looks taller than 189cm garou while mika has converse he realy looks 6 ft 3.75-4 in could he get an upgreat like 6 ft 3.5 might be possible as he looks 6 ft 3 plus in converse so could defenetly be 6 ft 4 , whi would a guy like this lie , or maybe garou is shorter , but garou towers 5 ft 7.25 dion in big heels he as to be 6 ft 2 range mika looks 1-2in bigger while in converse 6 ft 3.5
DMEYER
said on 12/Jan/14
6 ft 3.5-4 in is possible whi would such a tal guy lie
DMEYER
said on 12/Jan/14
6 ft 3.25 is possible
dmeyer
said on 12/Jan/14
in converse he looks 5cm on 189cm supose to be garou so 193cm is possible but then garou could be just 185/186cm
Madilyn
said on 12/Nov/13
I did meet Mika this March (2013) and he appeared to be about this height. Maybe a liiiiittttlllleee bit taller. I would say about 6' 5.5" would be my guess. I'm about 5' 9" and he towered over me. Super sweet guy though. I can't wait to meet him again. :)
lauren mckee
said on 31/Aug/11
that is really strange because i said mika was 6ft 3in and i have never stood next to mika
Elena
said on 25/Jun/11
Stood next to him, so i think he's about 6'1-6'2. No more.
Donnie
said on 13/Mar/11
From what I've seen he looks about 6 3 - 6 4 with shoes/boots. I'm not sure how tall he'd be barefoot.
Bohm
said on 6/Jul/09
His narrow shoulders make him look pretty small.
Ivan 6'2.25
said on 15/May/08
He is 6'2.5 tall,said on a french/english news that he is 6'2
Kelsy
said on 15/Mar/08
I'm 5'3", and when I met him I was wearing heels of at least 3" and had to crane my neck to look into his eyes (which are gorgeous...and he's so personable he makes it a point to look right at you anyway)
LouLOu
said on 2/Mar/08
Saw him in Harrods today having lunch in the Georgian Restaurant - 6 4 i would say!
Markus
said on 21/Feb/08
Saw him at the brit awards, looks no more than 6ft 2in flat, probably 6ft 3 in shoes. He is just really skinny which makes tallish people appear really tall!
venus
said on 16/Jan/08
Hmm, he looks 6'2 to me, the curly afro hair makes him look 6'5!
Kaneda
said on 10/Dec/07
How could anyone ever think this guy is 7 foot? He's tall but 7 foot? Anyway, to be honest I thought he was around 6'1 or 6'2 because you often overestimate the height of someone who's lanky.. But this guy is really tall.. could easily be 6'3,5...
Maria
said on 10/Dec/07
he is adorable! his string beaniness only makes him hotter.
leonari
said on 9/Dec/07
could be even 6'4- Too lanky for this height.
tom
said on 14/Nov/07
my mate matt said he was 7 foot, i have now discovered he is a mere 191.I will call matt and sternly remind him of his inadiquicies. thank you for the alarming information.
Gloria
said on 21/Oct/07
Yes I met him yesterday and he's about 191 cm...he's very tall...
myspace celebrity
said on 14/Aug/07
i think 6'2.5, maybe because he can look slim and tall
Franco
said on 26/Jul/07
to be honest he said 6'2 / 6'3 / 6'1 etc but he had these flat shoes in SanRemo festival and he did look tall.
i have studied this guy for quite a while even though i dont like his music, and i came to a conclusion he is 188cm and appears over 190cm because of his skinny body and dress.
so yes MIKA is 188cm (not short at all).
Anonymous
said on 19/Jul/07
I met Mika last month, and I think 6'3 is about right if you count his hair. I'm about 5'8 and was probably around 5'9.5 with my shoes on, and I came up to about where his cheek bones are.
Anonymous
said on 18/Jul/07
On one interview he says he is 6'2. On the other he says he is 6'3 and a bit... which one is correct?...
honda
said on 10/Jul/07
I watched festivalbar in tv and DJsilvestrin(1,80) said to mika:"you are very tall"...
Thalia
said on 9/Jul/07
Vania,you're right,Mika's the sexiest man alive,wow he's tall,in many bios they put mika's height as a general height,well im from mexico,here a "general" heigth is 1.75m.
vania
said on 8/Jul/07
update!! I was wrong, you are right... He is 6 ft 3 and a bit! interview:
Click Here
vania
said on 2/Jul/07
he said in an interview he's 6'2. He's very skinny, that's why he looks 6'3. Useless comment: he's the sexiest man alive.
Anonymous
said on 14/Jun/07
He looks 6 feet in his video. And on the scenes where he's singing he looks more like 5'9.75. But I do think he's 6'3. Looks like a young Jeremy Irons.
Anonymous
said on 23/Apr/07
In this interview he said he was 6'2"
Click Here
Anonymous
said on 19/Apr/07
Yeah, and Jay Leno is not quite a good recommendation to measure celeb heights taller or as tall as him. Heck even celebs that are shorter than him look definitely taller in his show.
david bak
said on 19/Apr/07
I say him next to jay leno, and no way was mika 4 inches taller than him! Mika only looks 6'1.
Anonymous
said on 13/Apr/07
Next to Jay Leno he seemed to be 3 or 4 inches taller so that makes him between 6'1.5 and 6'2.75. He doesn't look 6'3 but close though.
knockout drops
said on 8/Apr/07
anyway he's very lanky and looks pretty tall
knockout drops
said on 8/Apr/07
i love this guy!
Anonymous
said on 6/Apr/07
omg..... I thought the illusion of him wearing skinnies made his leg look longer.. but geee whiz.. he's friggin tall!
Ray
said on 4/Apr/07
I heard him mention he was 6'4". Didn't think he looked quite that but I'd say at least 6 foot 2 or 3.
Chris
said on 3/Apr/07
He looked 4 inches taller than Jay Leno.
Franco
said on 1/Apr/07
he came ot SANREMO festival in italy to sing GRACE KELLY, looked at least 1.90cm so 1.91cm or 1.92cm is possible.
ms crababel
said on 1/Apr/07
is he really that tall?