Skepta's Height
6ft ½ in (184.2 cm)
English grime artist known for songs such as "
Shutdown
" and "That's Not Me". On Twitter he described himself as a 6ft man and
"SKEPTA... Dark skin 6 ft High"
.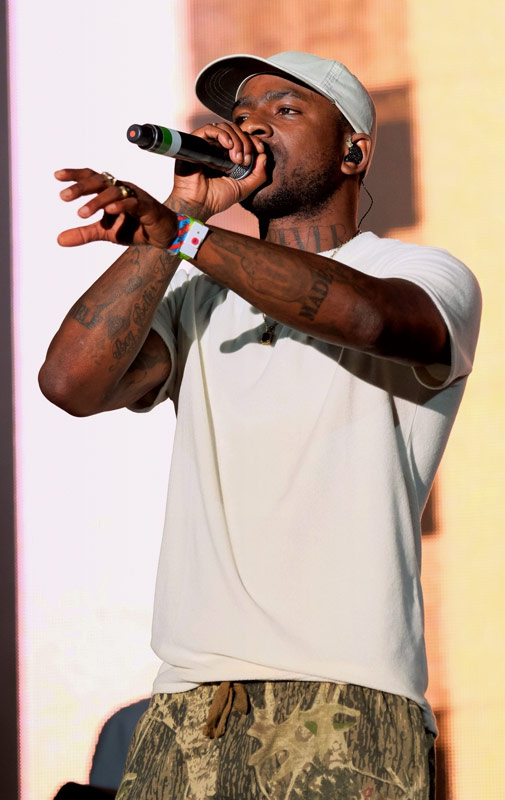 Photo by DFP Photographic/BigShot.com
Add a Comment
50 comments
Average Guess (30 Votes)
6ft 0.61in (184.4cm)
Que lo Que
said on 18/Jan/20
Exact same height and build as the 184 John Cena
C k
said on 31/Dec/19
I measured 184 barefoot in the afternoon 2 years ago when I was still 17, just saw this guy at Sydney airport, was wearing normal shoes but looked 188-190 range easily at least...Very tall guy and probably over 200 pounds too. Didn't get too close to him so couldn't see how much taller he really was but I'm sure 188 is fair.
pov
said on 7/Aug/19
Legit 6"0 he's the exact same height as me 184cm, saw him at JFK airport. Most guys our height claim 6"1 / 6"2. He's honest
Nick92
said on 8/Jan/19
@rob seriously consider giving skepta another updrade look at him next to 6ft1 playboi carti
Click Here
Rampage(-_-_-)Clover
said on 26/Jun/18
Giggs and Wretch I think are more solid 6ft1 guys
Nick92
said on 18/Jun/18
I honestly think he will possibly clear 6ft0.75-6ft1 and giggs would be a possible 186cm
;)
said on 13/May/18
I really think he just might be 6'1
Faza
said on 18/Oct/17
Could be 6ft1 on the nose 6ft0.5- 6ft0.75 range for sure looks a big guy im sure he was taller than chris brown by a good inch
Noongar
said on 3/Sep/17
Skepta is LIT 🔥🔥🔥🔥👌🏾👌🏾👌🏾💪🏾💪🏾💪🏾
177cm
said on 4/Aug/17
JME claimed that the 2 are the same height on Twitter back in 2012. Clearly at least an inch difference
Jacob
said on 18/Jul/17
Hey rob have you seen him with Manson he looks a legit 6'1" and half next to him or he's got the foot wear advantage
Mark(5'9.25")
said on 24/Apr/17
Could be 6'0.75" like Cena, Cavill, and Pine.
anon
said on 20/Apr/17
Skepta is genuinely a rea 6 footer
His brother JME is 5'11"
Rampage(-_-_-)Clover
said on 16/Apr/17
Out of bed: 186-187cm
Before bed: 184-185cm
nick92
said on 11/Apr/17
rob what do you think of this pic do you really think they would measure at the same height? I honestly think skepta would measure half an inch taller
Click Here
Editor Rob: Skepta could be an inch taller there..but he might be a wee bit nearer the camera, his head looks a bit bigger.
Rampage(-_-_-)Clover
said on 1/Apr/17
Well, 6ft0¾ in feet is 184.8cm so it's not that far a stretch
Christian-196.2cm (6ft5.25)
said on 31/Mar/17
He's a decent 184cm, but I doubt he's 6ft0.75 or 6ft1 though.
Christian-196.2cm (6ft5.25)
said on 30/Mar/17
Most guys his height would claim 6ft1 or even 6ft2.
Rampage(-_-_-)Clover
said on 28/Mar/17
Rob, could 6ft0¾ be closer?
Editor Rob: it's not unreasonable, at times he could pull off looking a big 6ft 1 guy!
anon
said on 23/Mar/17
yh Kano is tough to guess I would imagine he might be a 5'11 guy he can look a bit taller tho its hard to say, Not sure on Yungen sometimes it can be deceptive, I thought Skepta was taller maybe due to his hench build.
Robert
said on 23/Mar/17
You're very tall
TheReel
said on 20/Mar/17
Hey Rob just out of curiosity did you ever follow grime?, your what only a couple what a couple years older than Wiley?, and I know back in the early 2000's a suprinsinly large amount of the fan base was from Scotland, tuning in to rinse fm to hear roll deep etc
Editor Rob: thereel, I don't really follow any genre or specific band.

if something sounds good to me, I enjoy it, regardless of who is singing or playing it.

for any rapper/grimer when I add them I've usually also at same time watched some of their videos...
anon
said on 17/Mar/17
Any Idea on guys like Kano, Yungen and Sneakbo?
Editor Rob: Kano I think I'll go with 181 for him, he has a taller look at times. Tricky guy...
189Night
said on 16/Mar/17
@gwynbleidd Yea i was thinking that range aswell, i looked on there clothing website and it has Gud listed as 190cm and Sherman listed 187cm
Gwynbleidd
said on 12/Mar/17
Skepta is a guy of great proportions in stature and body type. Definitely 6' 1" for me.
@189Night, I follow Yung Lean as a person and artist, and judging by moments with his fellow music artists such as Bladee (about 5'11" - 6' 0" range), Yung Sherman (6' 2") and Yung Gud (about 6' 2" - 6' 3" range) and that picture, I'd say Yung Lean is 5' 8". Not tall, not short.
anon
said on 2/Jan/17
Would have guessed him 6'1 range or at worst a weak 6'1, He looked more than 1.5 Inches taller than Chipmunk and he is probably at least an Inch taller than Chris Brown, I am still not 100% sure this guy would only measure 6'0.5 but then sometimes pics can be deceiving and tough to compare etc.
richard
said on 1/Jan/17
skepta and bizzle are the same height both 1.84. people think skepta is super tall because they don't realise that 6 foot looks very tall, due to all the 5 foot 10 and 11 guys claiming it.
189Night
said on 20/Dec/16
Next to Skepta is Yung Lean, his height isn't out there, how tall would you say he is compared to Skepta in this pic---
Click Here
189Night
said on 18/Dec/16
Next to Skepta is Yung Lean, how tall would you say he is
so
said on 30/Sep/16
When he was with Drake they are both slouching Skepta with his leg and Drake with his back. But he seems at least and inch bigger than him.
Click Here
Click Here
Rampage(-_-_-)Clover
said on 7/Aug/16
This guy looks 184/185cm or a weak 6ft1 at least.
az
said on 5/Aug/16
he is clearly no less than 6 foot and a half, good listing rob. maximum 6 foot 1. he looks hugeee on screen. skepta is a tall man.
John
said on 4/Aug/16
6ft 0 max, clearly not more
joe joe
said on 3/Aug/16
@Rampage(-_-_-)Clover agreed!!! the reason why so many people perceive 6ft as average ( which it isn't) is all the 5'11 dudes walking around claiming 6ft. For context I belive the UK avaerage for a man to be around 178cm. Is that correct?
Rampage(-_-_-)Clover
said on 3/Aug/16
NX, a solid 6ft (185cm out of bed, 183cm before bed) is the start of tall for a male. But I wouldn't refer to it as being 'really tall' or 'towering' except for a female. It gets perceived as average understandably because men who are really about 5ft11 and often times less claim to be 6ft.
NX
said on 31/Jul/16
At most he would be 6'1. I think this is a pretty accurate listing to be honest. A lot of people here think 6 foot flat is average and not that tall, I know a guy who is a legit 6ft (183cm) and he towers everyone, in public he looks really tall in a crowd
Rampage(-_-_-)Clover
said on 31/Jul/16
Could be 6ft1
NX
said on 28/Jul/16
Hes definitely bigger than just 6 feet
I would say 6'1 for skepta
skeppy
said on 21/Jul/16
He raps in song "Castles" that he's six foot tall black guy
nick92
said on 12/Jul/16
hey rob that's what I said but maybe I didn't word it correctly my bad lol
anon
said on 12/Jul/16
This listing is a bit too low, There is more chance he is 6'1.5 somewhere around 6'1/ 6'2, I highly doubt he is under 6'1 judging from everything I have seen of him in videos and stuff.
nick92
said on 11/Jul/16
A recent pic of "184cm/6.05ft" Lethal Bizzle and "184cm/6.05ft" Skepta. Rob Skepta definitely needs a upgrade because even here lethal bizzle is slouching abit, and I'm very sure skepta will still edge him out if the both stood up straight.
Click Here
Editor Rob: actually I would have thought Bizzle had the poorer posture out of the 2...
HB
said on 13/May/16
Surprising. Always got a 6'2" or 6'3" impression from videos.
wagwan
said on 12/May/16
Met skepta today with a few friends i would say 6'2 or 3, he is never 6ft
nick92
said on 4/May/16
hey rob thanks for upgrading, but I honestly still think hes 6ft1 heres a pic with him and p didy whos listed 5ft10. its not the best angle and if diddy wasn't slouching I still see 3inches difference there
Click Here
Anon
said on 25/Apr/16
To those saying 6'1-6'2 this is how a strong 6 foot looks compared to most people, I'm not sure why your shocked the bbk lot aren't the tallest mind you. I can see him being a strong 6 foot though, probably wakes up at 6'0.75.
randomer
said on 24/Apr/16
hes at least 6'1
i have been listening to skeptas music for years, in the majority of his music videos he is much taller than most other people in the videos
just take a look at this. hes much taller than everyone in this music video
Click Here
nick92
said on 9/Apr/16
sorry rob this height is completely wrong! tbh allthough i have realised it seems like skepta has lost nearly a inch in height recently but im a geniune 183 i never measure under this height sometimes my morning height touches just over 185. i personally know people who know skepta and when i ask how tall he is they always say "abit taller than you" to me he seems more 6'1.25-6'1.5 he is not under this. plus he is taller than 6ft willey. and in the music video champion behind the scenes him and chris brown shook hands he had a clear inch on chris brown.
Click Here
Click Here
whatch at 1minute 41
Editor Rob: he didn't look much bigger than brown, but he could be over 6ft and giving a general description. I know he can look more than an inch over chipmunk who also claimed 6ft, although he did say 5ft 11 years ago.
Dee
said on 3/Apr/16
Skepta is only 6'0?? Wow, in all of his music videos he towers over everybody. I would've guessed him at 6'2-6'3.
BBK
said on 1/Apr/16
This guy seems more 6ft1 to me than just a six footer