Alan Thicke's Height
6ft 1 (185.4 cm)
Canadian actor, best remembered for playing Dr Jason Seaver in 1980's tv show Growing Pains.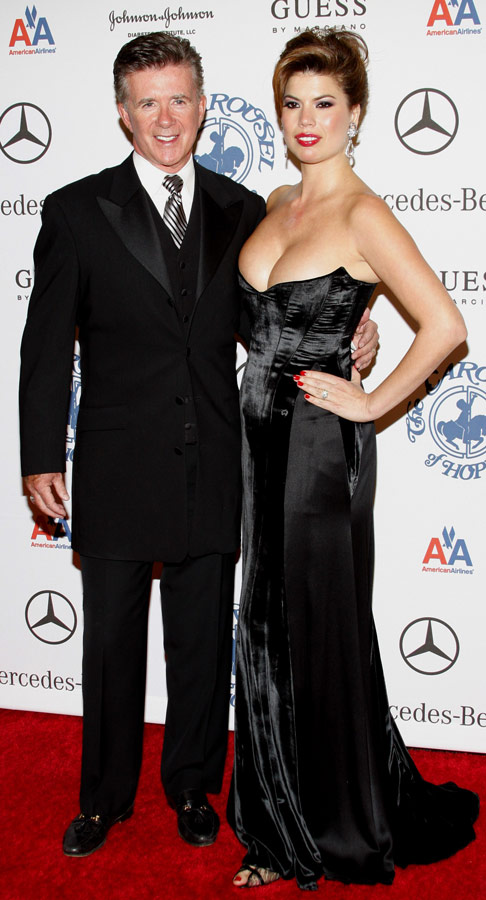 Photo by starfrenzy/BigShot.com
Add a Comment
19 comments
Average Guess (3 Votes)
6ft 1in (185.4cm)
Rober
said on 26/Sep/18
Hi Rob,
May you add Kirk Cameron from Growing Pains?
Thank you
Mr. R
said on 14/Dec/16
Sorry to hear of his passing. Met him a few times. Really nice guy. He was just a little over 6 foot. That Makes Robin about 6-2.5
Rober
said on 30/Mar/16
What is the height of Kirk Cameron???? Google says 178 but he looks like 176,5 - 177
Sam
said on 21/Aug/15
I don't know how true this is, but in one of the most ridiculous casting rumors of all time, it was rumored he was in the running for the role of Oskar Schindler in Schindler's List...good God, that would have been off-putting.
Rampage(-_-_-)Clover
said on 1/Mar/15
I've seen him listed at 6ft2 also.
Rampage(-_-_-)Clover
said on 9/Nov/13
Is 184cm peak maybe closer, Rob?
Rampage(-_-_-)Clover
said on 3/Nov/13
Rob, is 182cm possible?
Robin is easily 2in taller than his dad
[Editor Rob: he can look 182 or 3]
Rampage(-_-_-)Clover
said on 20/Sep/13
This is about right. You can see where Robin Thicke gets his height from.
Gerrard
said on 20/Jul/11
5'10" - 5'11" NPH in dress shoes had 1 inch on him, and Cameron is 5'8".
jtm
said on 4/Nov/10
i don't think kirk is 5'10 more like 5'8 or 5'9 and thicke never looks 6'1 to me.
Chad
said on 28/May/09
Joe are you kidding me ??? Alan Thicke Towered over kirk cameron in growing pains by 3 inches and kirk is 5'10" . Alan is a solid 6'1" . nothing less !!
C. Mangione
said on 30/Mar/09
He's a canadian actor
Walter J LeCompte
said on 11/Feb/09
I thought he was always a 6 footer but 6'1 does seem plausable
Joe
said on 6/Mar/08
I never met him or anything but he does not give the impression of being that tall. He's nothing over 6-0 in my opinion.
MD
said on 26/Apr/06
Not meaning to hijack the thread, but does anyone know how tall his son, Robin, is? I was guessing 5'11" to 6'0" but I've never saw him standing next to his dad.
Anonymous
said on 25/Apr/06
Charlie I stood right next to Alan on the monorail in Tampa airport, I'm a solid 6ft and he was about an inch taller
Frank2
said on 14/Mar/06
Alan is a neighbor of mine. He's about 6' give or take a half an inch.
Observer
said on 26/Sep/05
Alan Thicke recently appeared on the UPN sitcom "Half and Half" and didn't look much more than 5'11''.
Mr. R
said on 3/May/05
This is fairly accurate. I saw Thicke at the Osmosis Jones premiere several years ago, and he is close to this, maybe 183-184 cm.