Alexander Armstrong's Height
5ft 11 (180.3 cm)
British comedic actor from The Armstrong and Miller show and tv presenter of Pointless. On his twitter page he mentioned his height a few times saying he was
'5'11'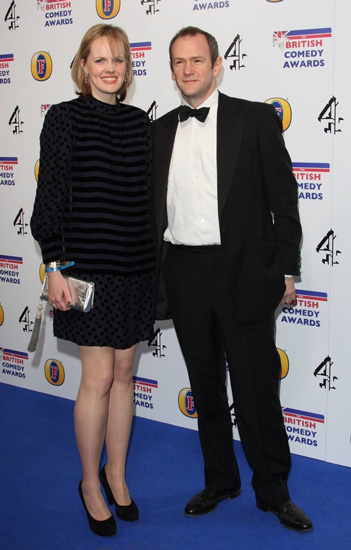 Photos by PR Photos
Add a Comment
31 comments
Average Guess (30 Votes)
5ft 10.82in (179.9cm)
Miss Sandy Cowell
said on 12/Jul/21
There's a lady on 'Pointless' who wants to buy a new toilet should she win today.
Well, folks, I found that extremely amusing, as I can equate with the problem.
Is there something wrong with my wiring?
Ideally, what I desire is a 'Buy One Get One Free' opportunity. Both my toilets could do with replacing! 🚽✖️2️⃣
I wouldn't BOGOFf at a chance like THAT! 😁👌🚽🚽
Alexander gets 5ft11.
Miss Sandy Cowell
said on 3/May/21
I'm watching a very interesting edition of Pointless and the subject is Royal Roles. I couldn't believe that the film 'Anne of A Thousand Days', from 1969, only scored 1 point. It starred Genevieve Bujold as Anne Boleyn and I suppose it's a film very close to my heart because it was the first film I saw about Anne Boleyn, Henry VIII's second wife. Richard Burton gave a powerful performance as Henry VIII.
Alexander has a member of a band called Ethanol on this show, on the Challenge challenge and he said he liked the name, adding that it's 'as good as any'!
Alex gets 5ft11. 😉
Miss Sandy Cowell
said on 24/Oct/20
Alexander is starring in the 'Miss Marple' episode 'A Murder is Announced'.
I don't tend to watch the star-studded show much, but I left it on after 'Coronation Street' while combing my cats. 🐈🐈
Then suddenly I heard a very familiar voice. It was that of Alexander, and I looked up and found that it really was him! He looked really tall too, in a show consisting of mainly short women. Seeing him with the huge Richard Osman can often throw one off the scent that he's an above-average guy.
5ft11. 🎬😁👍
Miss Sandy Cowell
said on 17/Jun/20
There was an amazing programme on ITV1 last night about Alexander's adventures in the Arctic and huge Greenland, complete with a view of the Northern Lights - fantastic!
5ft11 🌍🌎🏔️❄️🐕
Chris Junior Hernandez 1990
said on 23/May/20
There is no way he is only 8" lower than Osman. Osman look close to 22cm taller.
Nik Ashton
said on 25/Oct/19
I would love to see a photograph of him with Gary Neville!
Chris Junior Hernandez 1990
said on 29/Jul/19
Worst he is 179cm a low. I don't see 5'11 or a proper 5'10.75" when Osman stand next to him several times.
Junior Hernandez 1990
said on 8/Apr/19
Funny that there is obviously not under 22cm between Armstrong and Richard Osman and they were listed only 8 inch a part. To me Osman is strong 6'7 1/2 and Armstrong is max 5'10 3/4.
Miss Sandy Cowell
said on 16/Mar/19
@ Monkey Knees and James B - Ooh! That's interesting! It just goes to show how much a good posture can throw one off the scent!
Miss Sandy Cowell
said on 16/Mar/19
Arghh! Nice one Alex! He just called Wendi Peters, formerly of 'Coronation Street', (and I'm sure she used to have a page), on a Celebrity edition of 'Pointless'. He called Wendi "Windy.... Windy?
She replied "Eh, sometimes!"
Alexander never looks shorter than his 5ft11, regardless of his co-star, Richard Osman, standing well in access of six-and-a-half feet. Alex has a tall person's physique and an excellent posture.
5ft11 for the host of this great and comical, yet thoroughly interesting show.
Littlelee168cm
said on 23/Jan/19
I'm guessing the woman pictured with him must be somewhere between 5ft 9 and 10 without her heels then they don't look too high those heels

Editor Rob
Hannah Bronwen Snow (the lady) does look quite tall in that 5ft 9+ range
Monkey knees
said on 3/Jan/19
Have met him whilst working as a sound tech assistant when he sang live last year; i am 5ft 11.5in morning height, he was a good inch shorter than me, with his dress shoes on. Just over 5ft 10in.
Junior Hernandez 1990
said on 15/May/18
Richard Osman makes him look 5'10. Osman could be arguable 6'7 1/4-6'7 1/2 that still make Alexander under 5'10 3/4. So let alone max 5'11 that is no way he could be this tall.
lee168cm
said on 27/Nov/17
Rob t if he was a tiny bit taller than you then he must be at least 5'11 if you were wearing 2.5 inch heels though why a guy of average height would wear heels at all is beyond me even I at my size don't. Not that I'm judging you. It's your life
Rob T
said on 6/Jun/17
Met him today. I'm 5'9 and was wearing 2.5 inches heels he was a tiny bit taller than me. 5'10 possibly 5'10.5 at a pinch. Lovely chap.
S.J.H
said on 21/Mar/17
@James B said on 14/Feb/17
He could be 177cm and just 180cm with 3cm footwear
James B
said on 14/Feb/17
I've met Alexander Armstrong and he's not 5ft 11. Was at most 4cm taller than me and I'm 5ft 8 (173cm). Probably 5ft 10 on a good day. Michael Scott (who I've also met) is just over 6ft 1 and if you look at them on 'Invisible Cities' he looks about 3.5 inches taller than Armstrong.
Chris
said on 5/Feb/17
Maybe closer to 5"10. 179? There is pretty much 9 inches between Osman and him
Rampage(-_-_-)Clover
said on 30/Oct/16
lol at 6ft3...
Alex R
said on 3/Jun/16
He's nowhere near 6'3.
N
said on 27/Mar/15
He's the shortest 5'11" I've ever met. At 5'11" I've never looked down at somebody my own height!
pjk
said on 20/Oct/14
Alexander looks about 5'10" - 5'11". Richard Osman looks very tall. He looks easily 6'7" next to Alexander.
MaskDeMasque
said on 6/Feb/13
Click Here
Armstrong with 6'1 listed Paul O Grady and Richard Osman who claims 6'7. Could Osman be more than 6'7? That looks slightly more than 8 inch difference.
MaskDeMasque
said on 11/Feb/12
hmm so that makes ben miller about 5'8ish which i always expected, never looks the 5'9 he has claimed.
Josh B
said on 11/Feb/12
I can now die happily knowing I've contributed :D
Josh B
said on 10/Feb/12
ROB, he replied to my twitter question with 5'11, you were right. :D
Click Here

Editor Rob
excellent, you now get your name forever at the top of the page now :)

yeah, so pretty much that's what the interviewer done - checked the net and then put it into the article!

Godred
said on 10/Feb/12
Yep think you`ve got this guy nailed Rob,never looked close to 6`3 to me,that`s quite an inflation.i guess he might be 184.
Josh B
said on 10/Feb/12
He's in the elite band of celebs that add 3 or 4 inches to their height, wouldn't you say rob.

Editor Rob
I'm wondering though if the interviewer who mentioned 6ft 3 actually just went on the net and picked the figure up now...
Lord
said on 9/Feb/12
He looks a definite 6'3" next to 6'6" Richard Osman.
MaskDeMasque
said on 9/Feb/12
seems about right. is listed as 6'3 on a certain film site, which i thought seemed way too tall to be correct.
Josh B
said on 9/Feb/12
Yey, thanks Rob.
What a height inflation, 3 inches is quite a lot.