Allan Hyde's Height
5ft 8 (172.7 cm)
Danish actor best known for playing the role of Godric on HBO tv series True Blood. His Danish agency give his measured height as 5ft 8.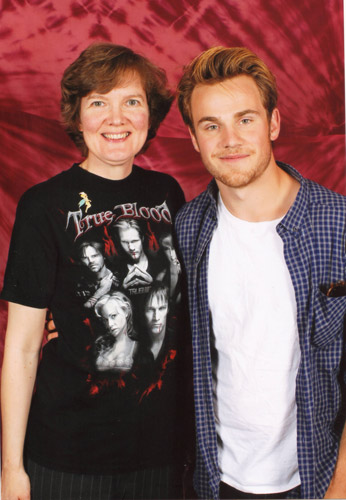 5ft 8 Jenny and Allan
Add a Comment
15 comments
Average Guess (12 Votes)
5ft 7.5in (171.5cm)
TJE
said on 22/Oct/16
Definitely slouching here. I see 172-173 upstraight.
Chio
said on 21/Oct/16
5'7.25, i can't see more.
Key
said on 12/Mar/16
Wow, really? 5'8"??? He looked 5'5" in True Blood! Wow, I'm shocked lol
Kourosh
said on 4/Jun/15
rob wouldnt you say he is very short for his ethnicity?
Once i was invited to a summer program to make a marketing plan to promote facilities and technology for handicap people. I got a chance to work with danish people in the program. In my group there were 15 young ( 21 to 29 )Danish male students and 10 danish female students. Among the males i was taller than only 3 or 4 as i was almost taller than all ladies except one.
is it normal for me being that short to them? ( considering my height at 5'9.5)
[Editor Rob: yes the average Dane is a bit taller than say the average Brit, so nearly 5ft 8 probably seems more like a 5ft 7 in the UK...]
Mike T
said on 29/Jun/14
Looks 5'6" to me in this photo. It could be his posture, but I'm just saying someone 5'7" wouldn't look like this next to someone who's 5'8".
thekillingjoke
said on 17/Jun/14
I'm not buying anything over a flat 5'7.
fsd
said on 15/Mar/14
he doesnt look taller than 5'7 ft
SaveUsY2J
said on 10/Mar/14
He is leaning somewhat but I still find it hard to see a full 5'8 standing up straight.
Byron T.
said on 7/Mar/14
I agree with the others, he doesn't look 5'8.'' 5'7'' max!
Chris
said on 4/Mar/14
How the hell is he supposed to be the same height as Jenny when his shoulders are quite a bit lower, and also his eyelevel? Granted, he has a big head, but still he looks about 5'7 in this photo
Powerhouse
said on 2/Mar/14
He looks about 5'7.5 max
MrTBlack
said on 27/Feb/14
Do they measure Celebs in Denmark? Every modeling and talent agency I went to just asked me for my height and weight.
[Editor Rob: for that agency they take a lot of measurements...I mean, a helluva lot body measurements, stuff I would never have thought about!]
Sam
said on 27/Feb/14
Yeah, he looks more 5'7" range, is he dropping a lot of height or have low footwear?
[Editor Rob: I only saw him myself walking by, but never met him for a picture unfortunately and Jenny said he could have been under 5ft 8, but hey, if he was measured 5ft 8...unless it was earlier in the day!]
MD
said on 27/Feb/14
I was thinking the same thing. This is a classic example in a photo of soemone's hair making them look taller or shorter. Take the hair out, and it's definitely more than just an inch difference for sure.
Jack
said on 26/Feb/14
He looks more than 1 inch shorter than Jenny. Seriously he's not much taller than 5'7".