Amy Cimorelli's Height
4ft 10 ½ (148.6 cm)
American singer from the group Cimorelli, consisting of Amy, Lisa, Lauren, Dani, Christina and Katherine. Speaking of their heights, Amy has said:
"Guys I'm not five foot something with the skinny jeans :( :( I'm four ten booooo"
, and
"4'1O AND EIGHT TENTHS OF AN INCH BOO YA!"
, also
"I'm 4'10 and a half"
Lauren said:
"I think 5'7?"
Dani said in June 2013
"IDEK HOW TALL I AM I'M LIKE 5'6 AND 1/2 OR SOMETHING IDK"
Christina said in June 2012
"I am five foot six!"
Katherine said in September 2014
"she's [Dani] 5'8 and I'm 5'9 and 1/4 of an inch!!"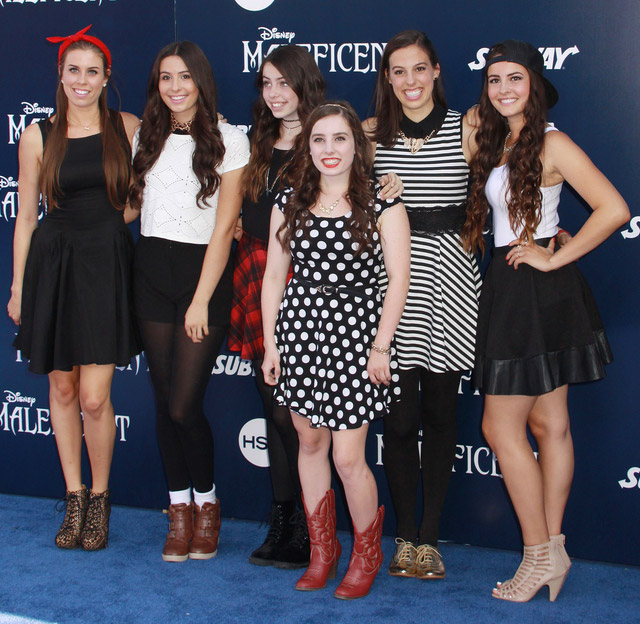 Christina, Lauren, Dani, Amy, Katherine and Lisa
Photo by PR Photos
Add a Comment
24 comments
Average Guess (10 Votes)
4ft 10.78in (149.3cm)
Nik
said on 29/Apr/19
It seems like all the Cimorelli girls are interested in the topic of height! 😂😂😂😂😂😂!
MAD SAM
said on 3/Jul/18
Yea 4'10.5" at 148.5 cm
Rachel
said on 24/Mar/17
Amy was born with a mild form of Turner Syndrome which affected her height. Here she is standing next to her youngest brother who is 10 years younger than her
Click Here
.
Christian-196.2cm (6ft5.25)
said on 21/Dec/16
Rob, how did Amy end up being so short compared to her sisters? All the other ones are well above average height. In fact, the tallest one (Katherine) is almost 11 inches taller than Amy. It's crazy how there can be a height gap that big between two siblings of the same gender.
Editor Rob: Christian, this is what Amy said:

"People alwaysss ask me why I'm short...... I'm like ummmm genetics why else?"
Leonardo 1.73m
said on 20/Dec/16
Amy 4'10.5
Lisa 5'5.75
Christina 5'5.75
Lauren 5'6.5
Dani 5'8.25
Katherine 5'9
Dustin
said on 18/Dec/16
@Rob thanks!
Dustin
said on 18/Dec/16
@Rob here's a couple of video of Lisa Cimorelli saying her height. At 4:56
Click Here
and at 5:14
Click Here
Editor Rob: oh oh, that means I have to add her now! 😋
Thanks for pointing out the link, the female Cimorelli's will be complete now 👍👍
Dustin
said on 17/Dec/16
@Rob six sisters you the pages of the rest Lisa would be the last one. She claims to be 5'5.5 and 5'6. BTW they have 5 brothers haha
Editor Rob: ffs, I hope the brothers don't sing! 🤣🤣 If anybody could find a video of Lisa saying a height, I would add her!
Dustin
said on 15/Dec/16
Can you make Lisa Cimorelli a page
Editor Rob: aren't there enough already? How many Cimorelli's are there!! 😹😹
Dustin
said on 23/Jul/16
Can you make a page for rest of the girls
Mike
said on 16/May/16
I think Lisa is in the 165-166 range
Mike
said on 6/Apr/16
Can you make Lisa a page
Mike
said on 8/Mar/16
Can you make pages of the rest of the sisters
rachel
said on 21/Feb/16
at least she's really honest and doesn't care what people say about her!
go amy!!!!
Justin
said on 18/Oct/15
I'm with @ Justin it would be nice to have the other sisters!.
Justin
said on 13/Sep/15
Can you make a page for the rest of the sisters
Jessica
said on 19/Jun/15
There are lots of celebrities who are that tall!
Derp
said on 3/Jun/15
Can you do the rest of them aswell? :)
Mike
said on 1/May/15
@ Rob can you do the rest of the sisters
John
said on 12/Apr/15
Can you please do the rest of the cimorelli sisters
Tymmo
said on 13/Jan/15
Actually let me take that back, I think Dani is around 170cm, she wears really chunky shoes all the time that's why she looks so tall but she isn't very much taller than her sister Lauren who is 167-168cm
Tymmo
said on 28/Sep/14
Christina (24) - 168cm
Katherine (22) - 175.5cm
Lisa (21) - 165cm
Amy (19) - 149cm
Lauren (16) - 167cm
Dani (14) - 173cm
Guest
said on 22/Sep/14
at least shes honest
littlesue
said on 22/Sep/14
More 4ft 10 3/4 then if 4ft 10 and 8 tenths