Amy Davidson's Height
5ft 0 (152.4 cm)
American actress known for playing Kerry Hennessy on tv series 8 Simple Rules. On her twitter she mentioned:
"All 5ft of me!"
and also on her imdbResume has 5ft and 100 pounds in weight.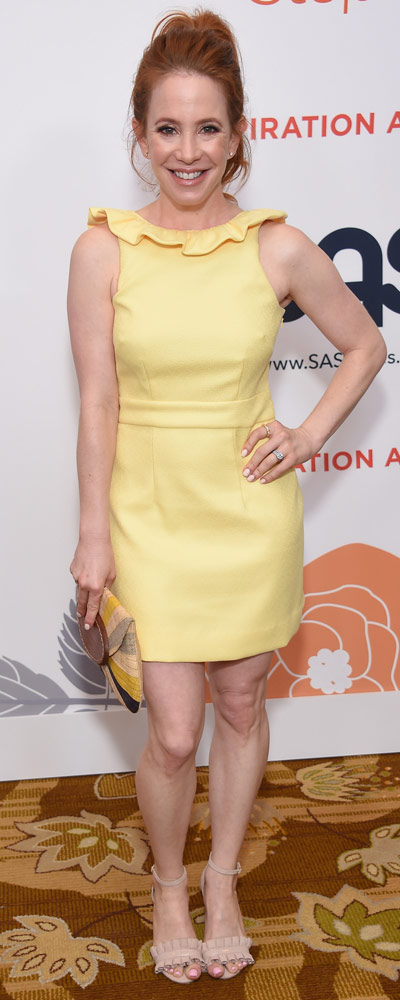 Photo by PR Photos
Add a Comment
25 comments
Average Guess (1 Votes)
5ft 0in (152.4cm)
Jim
said on 9/Jul/11
I'm guessing 4'11.......she looked super short next to EVERYBODY on 8 SIMPLE RULES.....she rounds up an inch
Becky
said on 3/Oct/08
personally amy is about the same height as my counselor this year and my counselor is 5ft tall and i wouldn't be that short!I like my height as it is and i don't want to make any changes to it!I'm 18 years old and i am 5 ft. 5 which is pretty average for a woman my age(18 and older) and ive seen girls who are much shorter than me even for those who are 5ft tall and yes, some girls are taller than me while others are shorter than me!Period!
shosho
said on 20/Jun/08
i think she's shorter than 5'0 she looked tiny in 8 simple rules ,btw um 19 and um 4'9 hehehe
Jim H
said on 2/Apr/08
Amy's short stature is just one of many things that make her so attractive. But what is really wonderful is her acting ability. I just saw her in the "Green River" movie and the scene where she makes the video tape confession is terrifying and heart wrenching...she really became the character. Love her! :)
Emma
said on 21/Dec/07
im from Australia and all the websites that i'v been on have said that amy is 5ft. she is tiny. in 8 simple rules she looks about 4'11, she doesnt try 2 make her self look taller, thats wat i like bout her. it is Friday 21st december 11:45
Emma
said on 20/Dec/07
i would say she's about 5ft. i think im like 4'9 or somethin and me mum is 5ft so i think Amy would b about my mums height. i luv they you act in 8 Simple Rules, it's so funny
repoob
said on 28/Aug/07
Amy is 4'11". I met her and the other cast members during the run of 8 Simple Rules. And she has to stand up straight to make 4'11. She is tiny.
xXx__Viv
said on 28/Aug/07
im 12 years old and im about 4'11/5 ft and my mom iz always freaking out saying omg omg ur way 2 short blah blah blah (i smtimes agree w/her) and i think itz awsm that Amy Davidson's short (no offence lol) bcuz it means that im not the only 1... but the difference iz that Amy Davidson iz famous on more than 1 tv show (8 simple rules & so little time) that duznt mean that i'll get famous 2. =[
kevin
said on 29/Apr/07
She is max. 4'11 theres no way shes 5 foot
X
said on 5/Oct/06
Her 5 ft. 0 stature allows her to still play teens while she is a decade older.
She has always said she is 5 ft. even. If she was "rounding up", then she'd probably do so within only an inch as the term should suggest.
Megan
said on 28/Sep/06
why does everyone keep sayin they love her even tho she is short? just becuz someone is short, there is no reason not to like her. not every woman can be 5'8" or above.
Emma W
said on 24/Sep/06
Oh, and this is not a negative thing at all, but i too notice the nose... still love Amy tho :)
Emma W
said on 24/Sep/06
The photo with Ryan Seacrest is the prettiest ive seen her. Im 5ft too (if not shorter) so i think it's great she's a shorty too. Though i have to say - beside the 5'7 Kaley Cuoco on the show, they only look like 3 inches apart for some reason! Something is definitely odd there...
mandy
said on 13/Jun/06
yeah i just noticed that about her to! but i think being shorts cool i mean im only 5'1 and im 15, maybe i'll grow maybe i wont but amy your still really pretty even though your short.
katie
said on 10/Jun/06
I think that even though Amy is only 5 feet tall (i think she is actually 4 foot 9..but that doesnt matter) she is an amazingly talented actor n an amazingly pretty woman. I think that she was great playing Kerry on 8 Simple Rules and I would love to see them bring that show back on the air because for me it ranks right up there with Boy Meets World!! I would love to meet Amy because one day I hope to become an actress. But any how I think that even though she is 5 feet tall she is so very pretty and I love her hair!!!peace out! P.S I love Martin Spanjers
Cliff
said on 2/May/06
I wonder if she is more like 4ft10-11 and just rounding up. Perhaps Amy will chime in and tell us!
Jason
said on 19/Apr/06
Good point Mae!
Tammy22
said on 19/Apr/06
I think Amy is heaps pretty and I'm heaps jealous of her height!! I wish i was 5 ft. But im 15 yrs old, female and 5'9". What does everyone think about this height? Am i too tall? I think i have stopped growing now.
Mae
said on 18/Apr/06
Jason2 - I've seen a lot of petite women with tall men. One good example is Eva Longoria and Tony Parker. Another is Jada Pinkett Smith and Will Smith. I think you'd have a shot with any petite woman. But if it's Amy Davidson you're after, you have to try to meet her first...
Amy Davidson
said on 18/Apr/06
To A.J i like your comment
Jason2
said on 11/Apr/06
I think she has always been VERY attractive. I was really glad to hear that she is older.... so it's ok to say she's hot. And being only 5'0", makes her that much more adorable. But I'm 6'4", so I probably don't have a shot with her!
Madi and Bren
said on 10/Apr/06
We think she is short really short, but is really pretty but we think she got a nose job, we can tell from the episodes from So little time the newer ones which she is in and 8 Simple Rules of dating my teenage daughter. She had a bit of a hook nose in So little time and doesn't in 8 Simple Rules.....
Sorry if I made you feel bad but we just notice this a lot.
Amy Davidson
said on 22/Mar/06
Thank you so much for your comments I love you all
Kris
said on 1/Mar/06
I agree on 8 simple rules she looks short but still pretty, and in photos she may always be the shortest but atleast she is not fake and doesn't look fake as she seems content with who whe is...
a.j.
said on 22/Feb/06
I like the fact that Amy's honest about her height. I rarely see her wearing heels on the show. Unlike some celebrities, she doesn't try to convince others that she's a few inches taller. She's simply comfortable with who she is. In a business where most people think "taller is better," this is one small celebrity with tall character.