Andre Morell's Height
6ft 0 (182.9 cm)
British actor best remembered for roles in films such as The Hound of the Baskervilles, The Plague of the Zombies, Ben-Hur, Barry Lyndon, 10 Rillington Place, The Bridge on the River Kwai and as Professor Bernard Quatermass in the 1950's TV show Quatermass and the Pitt. His agency described him as standing 6 feet tall.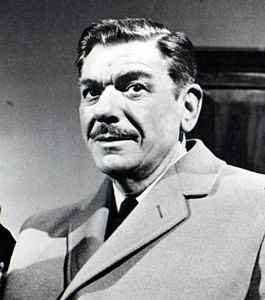 Andre Morell in Columbia Pictures 1961 film "Cash on Demand"
Add a Comment
13 comments
Average Guess (1 Votes)
6ft 0in (182.9cm)
Tom
said on 16/Aug/17
More like 5'10''.
Jake: 1.84 m- 1.85 m
said on 28/Aug/16
Wonderful character actor.
Jake: 1.84 m- 1.85 m
said on 5/Jun/15
Huge fan of this actor and I think he appeared around the 6ft on-screen.
Arch Stanton
said on 22/Dec/14
Yes in The Virgin Queen I thought he looked 5 ft 8. The link to the Sellers film shouldn't be blocked though, its on the tube like the queen. If the link doesn't work try searching Never Let Go on the tube. I think there you can see why I was getting a 5'7" range impression! Sellers did look bigger than normal in that film in both height and weight though, so might have been in lifts.
Arch Stanton
said on 21/Dec/14
Check out 37 minutes here for Todd with Joan Collins
Click Here
Now she's going to have a bit of a heel I'd imagine but he's also in boots I think.
[Editor Rob: anywhere from 5ft 8-9 range could be possible.]
Arch Stanton
said on 21/Dec/14
Yeah I know I never saw only 5 ft 7. From a distance at times he could almost be mistaken for Richard Burton. I honestly took him for 5'9 range but looking into it he is shorter than I thought. See him with Peter Sellers for instance in the film I mentioned and Bette Davis in
Click Here
from 14-15 minutes. I don't know if Sellers was wearing lifts in that film though as he was meant to look like an imposing crime boss and gained weight. Todd definitely looked shorter. Perhaps 5 ft 8 then. He really can look 5 ft 7 range in a lot of the comparisons I've been looking at but his proportions when walking often seem nearer 5 ft 9, perhaps 5'8" is best.
More at 5 ft 10!!!!
[Editor Rob: yes, I never joke about heights, although More's height mention is a bit of one.
The book he was in is nearly falling apart, I don't look through it much, but here
Is his 5ft 10 mention
:) I think they should have used a better photo of him though, feeding a cow lol...]
Arch Stanton
said on 21/Dec/14
Oh sorry here's the link for Never Let Go
Click Here
check out 35:40, 42:39, 54:57 (with 5 ft 5 Adam Faith), 57:42 and 1 hr 11 range if you haven't time to see the whole film which is well worth it. A classic IMO.
[Editor Rob: site might be blocked by my isp...]
Arch Stanton
said on 21/Dec/14
OK I've just watched Never Let Go with Peter Sellers and Richard Todd. Well worth watching, Sellers is quite menacing as the garage boss, only 1 hr 25 if you have time, but check out 35:40, 42:39, 54:57 (with 5 ft 5 Adam Faith), 57:42 and 1 hr 11 range. Look at Todd's acting at 1h:11-12, great actor, had a similar intensity and look as Burton at times. Based on that and the Duke/Attenborough pic I'm thinking flat 5 ft 7 maybe 171cm. If you see the film and Todd by himself you can see why I thought he was taller. He has a bigger presence and the face of a taller guy and could quite easily seem 5'9 or 5'10 at times but I reckon he was actually only that. I'm going to watch Operation Crossbow later see if I can get him with John Mills just to be sure.
Arch Stanton
said on 20/Dec/14
Increasingly looking like Todd is more 5'7" range. Surprises me, I didn't think he looked that short. Found this still with Herbert Lom who you might remember from the Pink Panther movies and I've always had him at 5 ft 8 flat, Sellers always edged him out. Todd looks a bit shorter here
Click Here
I'll have to check out the movie, Dorian Gray from 1970 if I can find it perhaps tomorrow.
[Editor Rob: check back at my previous reply, I'm not sure he would be quite that small. I've never seen the film he was in with
Hartnell
who I think was 5ft 8 peak, at least near it anyway.]
Arch Stanton
said on 20/Dec/14
Click Here
Nup Todd's got to be shorter than 5'9" range check out this, he makes the Duke (who was about 6 ft in his prime I think) look like 6'2" here. He's further away from the camera but seems like he'd be barely taller than Attenborough there! I didn't see him as low as that in some of the films I seen but I wasn't exactly focusing on his height that much at the time. I'll definitely see a film or two over the next few days and let you know.
[Editor Rob: there's another few photos on getty you can see him with
Alastair Sim
and also one of morell, 5ft 8-8.5 range is possible...this guy is tricky, then you see a full shot
With Reagan
...]
Arch Stanton
said on 20/Dec/14
Todd's dwarfed in this pic with Michael Redgrave
Click Here
but in the film I didn't see a difference quite that big. There's a case for Redgrave being a full 6'3" though and that was near a beach I think.
Arch Stanton
said on 20/Dec/14
Gregson had 3-3.5 inches on Kenneth I think so I think around 5'10.5" might be a good shout seems as you have him at 5'7" flat. Here's a still from Genevieve although I think Kenneth is on slightly lower ground as it was taken in the road and posture is a little looser.
Click Here
If you've seen a 5'11-6' listing it's too much I think and was probably a shoe measurement. I think 5 ft 11 is probably the most I could buy and is possible I guess. I'm not sure I saw 4 inches though. Richard Todd reminded me a bit of Ewan Mcgregor and Richard Burton. I'd have guessed 5'9.5" but the 5'9" listing for him on the web I think is about OK.
Click Here
All listed as big names in 50s British cinema here. I did search for Todd and Dirk Bogarde to see if they did a film together but they didn't. I might check out a film or two of Todd for some more comparisons to be more confident on 5'9".
[Editor Rob: I just looked through one of my books and found More...his agency had him at an eye watering 5ft 10 lol.]
Arch Stanton
said on 20/Dec/14
Another good entry and interesting choice given that Richard Todd and John Gregson are still missing! Definitely worth adding though. Can you squeeze in Stage Fright and Seven Days to Noon? I remember him inspectors in both, Seven Days it was quite a big role for him as the film was about tracking down a guy with a bomb! Glad you included 10 Rillington Place!! He was the judge in that. You've still not seen it have you? It really is worth watching on a dark windy evening!!
[Editor Rob: what do we think Todd could be, I always try to find some sort of mention but didn't see one for him.

Gregson I think he's in one of my books, but 5ft 10 range might be possible, I'm sure he was listed taller though...]