American singer, known for being one-half of The Chainsmokers, who have had hit songs like "Closer", "Don't Let Me Down" and "All We Know".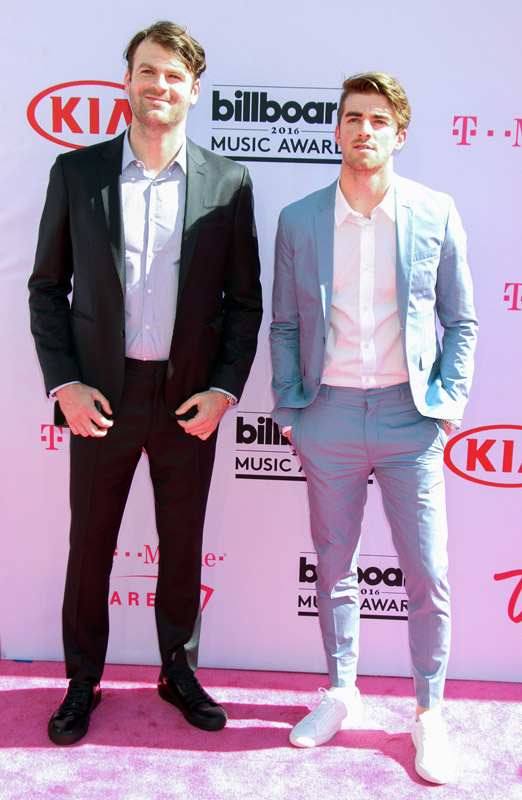 Alex Pall and Andrew Taggart
Photos by PR Photos
khaled taban 5ft9
said on 28/May/22
@Rob- Are you sure about Taggart being 5ft9?
Alex Pall is 6ft1 on Google, and Andrew looks below Alex's eyelevel. He basically looks over five inches shorter than Alex.

Editor Rob
I've seen photos of their height difference vary from 3-5 inches.
Heightist9999
said on 15/Mar/22
Took me only a few paparazzi/music videos of him to be sure that he can't be 5ft 9 flat. I can't see him measure even close to 5ft 9 actually. Haven't seen him next to people but his proportions look above this listing for sure...
Miss Sandy Cowell
said on 2/Dec/20
His pal Alex has a few inches on him, making Andrew's 5ft9 look below average which, of course, it's not.
I see his average vote has suffered somewhat as a result.
Mr Taggart gets the full 5ft9 from me. 😯🚬
Frew
said on 6/Jul/20
He seems to be 5 feet 8.5 inches
Wine Berry
said on 16/May/19
Wow I thought he was 6'1" when I saw him in "who do you love"
Kazakh
said on 13/Apr/19
strong 5ft 9
Adrian berger bendiksen
said on 7/Jan/19
I saw himmm and he lookedabout my height witvh is 179
Ffs
said on 21/May/18
He looks 5'10 to be honest...
Jerry184
said on 25/Feb/18
About Alex Pall, un this recent vídeo "You owe me" he looks just 5'11 next to Andrew
MD
said on 8/Feb/18
@Rob,
Can you list him at a more realistic height? There is a lot of evidence showing him not to be this tall. Here is a recent picture with 5'10" Charlie Puth (the other one, BTW, is losing quite a bit of height in that shot as he looks taller in another one from that shoot):
Click Here
5'9" is REALLY push it for Andrew.
MD
said on 7/Feb/18
He's definitely not a full 5'9", and that is another example of it. In fact, I'm still not convinced Leto is 5'9" mid-day kind of guy. I'd probably give him the 173 or 174 cm you're talking about. I guess 172 cm could be possible, but I'm not quite there yet. But, yeah, no, he's not 5'9".
The Chainsmokers Fan
said on 5/Feb/18
Drew is not 5'9'' I'm sure, this is a new photo of him with 5'9'' (175 cm) listed Jared Leto;
Click Here
Notice that he has an advantage of awkwardly tall hair and Jared doesn't, if he reaches 5'9'' with tall hair, I guess him around 173-174 cm, maybe 172 cm at lowest, but he definitely looks shorter than 5'9'' most times, both in his live performances and photoshoots.
Anonymous
said on 10/Sep/17
Rob what do you think about his partner Alex Pall? He claims 6'1 but it seems more like 6 feet to me

Editor Rob
Alex Pall could look anywhere from 6ft to 6ft 1 range, somewhere in between maybe.
Leo
said on 21/May/17
yeah i would say smth between 5ft 8.5in -5ft 9in
MD
said on 18/Feb/17
This honestly still seems too tall to me, not by a lot, but by enough.
With Niall Horan.
Click Here
While he's not standing his straightest, he's also getting a bit of an advantage in this photo given his placement.
Xyzmeister
said on 6/Feb/17
Hi Rob, what height do you think Grace Tandon (Days)the singer is?
Click Here
She's in the middle, she also claims to be 5'9

Editor Rob
Daya's a lot nearer 5ft 4 than 5ft 9.