Angela Rippon's Height
5ft 5 (165.1 cm)
Peak height was 5ft 6 (167.6 cm)
English TV presenter. She once said
"When I was about 16 and 17 ... I was already 5ft 4. I'm 5ft 6 now."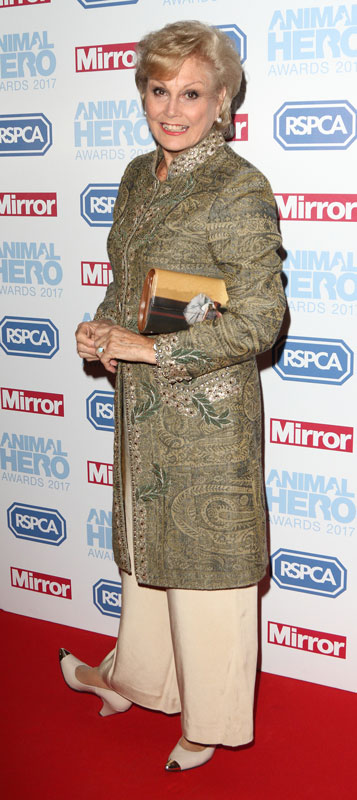 Photos by PR Photos
Add a Comment
7 comments
Average Guess (4 Votes)
Peak: 5ft 5.81in (167.2cm)
Current: 5ft 4.75in (164.5cm)
Nik Ashton
said on 3/Nov/19
She's above average!
5'2
said on 21/Nov/17
5'4" should be her present height
Sandy Cowell
said on 21/Nov/17
🐽 Correction Time 🐽
That should be 'YATES' and NOT 'Yes'!
Sandy Cowell
said on 20/Nov/17
@ Rob - Oh, so would I have done!
My luck is really non-existant! I was staying with friends in Faversham, Kent, back in the late 80's. My friend went to do the shopping the day after I did and she only saw Bob Geldof and Paula Yes for the umpteenth time as they lived there so it was hardly special to her! I would have gone nuts with excitement, but it wasn't to be, alas!
My boyfriend is another one who's seen loads! He even met Vincent Price when he was in the Army and the Royals attended a show. Often, the Army had to stand guard at events like that. Vincent was complaining about a frightful toothache, calling him darling, but he wasn't camp - merely extremely polite!
Sandy Cowell
said on 20/Nov/17
@ Rob - So you don't just have arrangements to meet celebrities, you bump into them in your everyday life!
And I travelled right across London to see Lemmy when I was 19 and he had gone home! (from a pub in the Portobello Road!)
Editor Rob: I actually do not see many as I'm not really 'looking', but certainly recognised Angela!
maurice needham
said on 20/Nov/17
I will have to admit that, when I left school, in 1953 I was only 5ft tall, and weighed 7st 2 Ib, now I am 12st and 5ft 10in
Sandy Cowell
said on 19/Nov/17
How strange to say that at 16 or 17 she was 'already 5ft4'!
The vast majority of girls are fully grown by then in the height department! Unless she was from a time when it was commonplace to be starved right into your teens, and be lucky enough to grow later (for many of them don't), then that is a strange and unusual thing to come across!
I remember Angela as a 70's newsreader who soared to fame for dancing with Morecambe and Wise on their Christmas Show one year in the 70's - latest 1975,but more reliably 1972 or 3! Everyone was surprised that a) she could dance so well and b) that she had a knock-out pair of legs!
Well, she was, I see above, all of 5ft6! Newsreading is hardly the ideal job to plump for if you wish to make your height known! She must be in her 70's now, so one inch less these days isn't at all bad! All that sprightly dancing must have kept her super-fit!
Editor Rob: I did see Angela about 4-5 years ago coming out of WH Smith at Terminal 5, I'd have said she looked not much over 5ft 5 then.