Anna Nicole Smith's Height
5ft 8 ½ (174 cm)
American model and actress, remembered as a 1993 Playmate of the Year and for roles in Nakes Gun 33⅓: The Final Insult, Skyscraper and The Hudsucker Proxy. She filled in her Playboy stats as follows:
"36DD Bust, 26 inch waist, 38 inch hip, 5ft 11 height, weight 140lbs (10 stone)"
The coroner's report stated her body was 71 inches with a weight of 178 pounds, although this contradicts her
1989 mugshot
.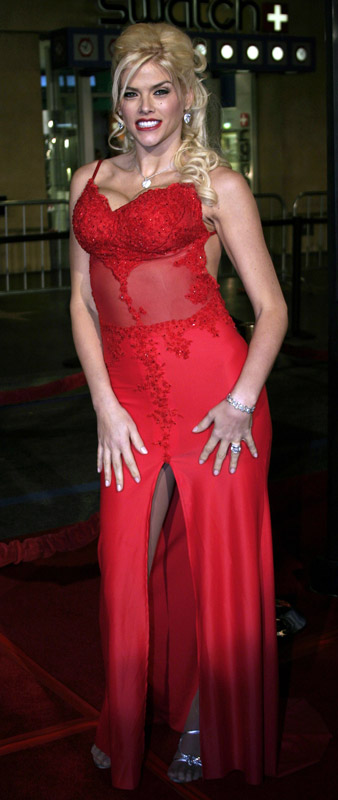 Photos by PR Photos
Add a Comment
27 comments
Average Guess (13 Votes)
5ft 9.31in (176cm)
ajveyh
said on 2/Apr/20
As I see this Ozzy Osbourne listed as 5'10" on her left in flat shoes. She is wearing high heeled shoes, so it gives her 4 cms advantage. She is still at least as tall as Ozzy, so 5'10 - 5'11 seems to be real.
Click Here
ajveyh
said on 2/Apr/20
I've found this with Carmen Electra who is around 160 cm:
Click Here
Carmen's eyes are about the same level as the top of Anna's shoulder. That makes Anna about 180 cms tall, so the original 5'11' claim seems to be fine. Let's say because of the angle of the picture Anna is that tall, but still 5'10 seems to be reasonable.
Daycringeothon
said on 1/Sep/19
Her height could have varied through the day more than the average person idk. It's pretty certain 5'8"-5'9.75" is where her height fell in. Her legs were no question long for her height even if just below 5'9" at her midday low. She was a big girl and heavy in her upper body as a model. That could have made her lose more through the day.
Daycringeothon
said on 27/Jan/19
let's say 5'8.75" most of the day with normal posture. That explains the 5'10" sightings in Bahamas with strict posture lol. The average measurement guess would be 5'8.25" for the whole day (counting her morning height with strict posture.)
Jtm
said on 30/Jan/18
This is even too much.
Blake
said on 28/Jan/18
Donald Trump described her as being six foot tall! He does this with any woman above 5ft 7
MaryAnne
said on 16/Jan/18
Rob, do you think that if she was not dead, would she get more attention in terms of height today?I mean, would she maintain her reign of celebheights? Would she able to compete with likes of swift,rai?

Editor Rob
She might have been in the top 100 regularly. Especially as there is such diversity in how tall folk had thought she looked.
Christian-6'5 3/8
said on 16/Jan/18
@MarryAnne
That's a crazy exaggeration for a 5'8.5" woman to be claiming 5'12" (which is the same thing as 6'0")
MaryAnne
said on 15/Jan/18
She claimed:"I'm 5ft 12". She is not 6ft for sure. Can you add her to female models list Rob?
MrTBlack
said on 15/Jan/18
I generally would say that mugshots inflate actually height but Anna Nicole is probably an exception. I'd say 5'9"?
Interval
said on 14/Jan/18
Rob how did they get 5 foot 11 out of 5 ft 8.5?

Editor Rob
I've no idea, but look at Anna in sneakers beside
Roger McDowell
who used to get called 6ft 1.
Cliff
said on 14/Jan/18
I think this is pretty far off - which is pretty unusual for Celebheights.
Please look at photos of her literally standing next to other celebrities like Brigitte Nielsen.
She was at least 5'10.5" Rob. Police mugshots are sometimes as reliable as heights gleamed from autopsy results as poster Peruna just stated.
Please take another look at her with other verifiably tall celebs and you'll see this is wrong as listed. Do you think the autopsy results, which listed her at 71 inches, would be this FAR off??! They're sometimes wrong, but usually not by three inches!

Editor Rob
they had Tupac at 6ft and he was barely taller than 'Big G', even Glenn thought that one strange.
A 5ft 10.5 women should surely look taller with
5ft 2 Roseanne
MJKoP
said on 14/Jan/18
glenn said on 10/Jun/07
she is around 5-10.i see her every night.i have 5 or 6 photos with her now.couldve been 20 photos if i took her every time.never saw her in my life,then in the last 8 months or so its nonstop.
Okay, either the date is wrong or this was meant for another page(in reference to a different celeb), as Anna Nicole passed on 08/Feb/07.
Though Glenn spotting ghosts would hardly surprise me....

Editor Rob
Yes that is a comment that should be moved to Christensen's page, which took over the database id from Anna's page.
MaryAnne
said on 14/Jan/18
Rob, the queen of celebheights.com is back (once upon a time, her height was discussed by majority of people before Taylor Swift was even famous) thank you,Rob for resurrecting her page.. Surprisingly enough, I did not expect her to be that short, she was said to hit 6 foot mark in 90's,then she,herself claimed 5'11. A few years ago she was listed 5'9.5 here. I thought she could maintain her 5'9.5 listing but you got me astonished rob.. also she was a model add her in the female models list rob :)

Editor Rob
Yes, she was due a reboot on Celebheights, and on a second look I decided that maybe 174cm was possible.
Peruna
said on 1/Jan/11
My Dad was a police man, he told me that the measuring of a suspect is never that accurate, always within an inch or even 2 ither way. Most of the time your measuured with your shoes on if your a man, if your intoxicated your head usually slumps forward with your chin down. My brother saw Anna Nicole Smith in the Bahamas a few years ago before she passed away, he didnt recognise her but someone pointed out it was her, she had on a velour leisure suit, sport shoes, no makeup and hair tied back, he said she was about the same height as him and he's about 5ft 10 and a little bit. I asked him a few days ago after reading this, was she around 5 ft 8, and he said not a cat in hells chance, she was most deffinetley his height,she was vey tall for a woman, his words not mine
joz
said on 5/May/07
with all respect i dont think she's 5'9 at least 5'7 to 5'8 see mug shot
glenn
said on 7/Apr/07
huh? who? what about tupac at 6ft?
Anon
said on 6/Apr/07
Well I guess you all look pretty damn stupid now the official autopsy report clearly states her as being 71 inches tall. You can't fake an autopsy report so I guess you'll have to accept it. Looks like ANS told the truth about her height.
Glenn
said on 7/Feb/07
Small heels I think.
16and5'7.25''
said on 6/Feb/07
Glenn, was she wearing heels in thi pic?
Glenn
said on 5/Feb/07
Wow Scott.thats tall!
Kats
said on 27/Oct/05
(to 18/Sep/05 comment) Lol, yes the police chart probably is accurate. Why I felt the need to defend Smith's height I will never know. And she almost certainly couldn't have grown 2 or more inches. I think it's time to lower this 5'10 height.
(LMAO at the "I'm 5ft 12" quote)
CelebHeights Editor
said on 26/Oct/05
lol, I forgot a few years ago she also said:
"I'm 5ft 12"
Anshelm
said on 21/Oct/05
Hmm... Naked Gun 33 1/3 is now on TV, and she looks maybe 183–185 cm/6'–6'1" (same height or taller than Leslie Nielsen) with (7–8 cm/3") heels on. So that would make her 176–178 cm/5'9¼–5'10" barefoot, and she has looked this on other occasions.
You really can't be sure with a movie, but video footage is less decieving than still images.
Anonymous
said on 18/Oct/05
Why hasn't this been changed to a generous 5'8" yet?
Anshelm
said on 10/Oct/05
Well, using a tape measure I got an estimate of c. 173 cm/5'8" from the pic with Carmen Electra – if Electra's 159 cm/5'2½". Even using Electra's old height of 163 cm/5'4" I get 177 cm/5'9½", still shorter than the claim. And based on Electra's recent measured height, I'd say she has never been taller than 161 cm/5'3½" – but of course you can round this up to 5'4".
Interestingly, I remember estimating Smith's height at c. 173 cm also in the early '90s, when I didn't know her official height. I later thought that I just made a poor estimate, but guess not...
And finally, wouldn't you agree, that at 173 cm her reported weights seem more believable? I mean, she was said to be 63 kg/138 lbs at the lighest, and with a height of 180 cm/5'11" that's nearly supermodel-thin. And frankly she's NEVER been that.
Nothing's granted here though. Isn't Kelly Osbourne supposed to be shorter than Electra? Using the tape measure I get c. 167 cm/5'6¾" for her... Be always prepared to question your own estimates ;)
CelebHeights Editor
said on 21/Aug/05
From a gossip newsgroup:
"She was quite dinky and delicate looking, she's a smaller woman than most people think and than her bios state, unless I'm much taller than I am. :)"