Annette Andre's Height
5ft 3 (160 cm)
Australian actress, best known for playing Jeannie in Randall & Hopkirk (Deceased). In a 1970's spotlight directory she was listed
"Height 5 feet 5 inches"
.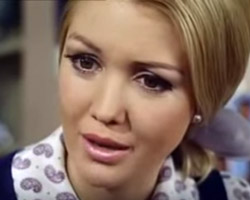 Annette in Randall & Hopkirk (Deceased)
Add a Comment
15 comments
Average Guess (2 Votes)
5ft 2.75in (159.4cm)
littlesue
said on 23/Sep/16
Arch I meant naturally women of that era usually did'nt have botox, lipo, fake boobs etc, the make up always been around x
Arch Stanton
said on 21/Sep/16
At 34:41 the guy on the left in the cap Nosher Powell was a boxer listed at 6 ft 4! More 6'2-3 I think. The guy on the right of Randall I think was around 6 ft 1 too. Olivia doesn't look much shorter than them in heels but it a bit nearer the camera! What do you reckon she looks?
Arch Stanton
said on 21/Sep/16
I think Olivia looks very close to 6 ft in heels, a bit shorter than Pratt in shoes. You'd guess heels might be 3 inch range ones, over 4 would be rarer I think. A chance of 5 ft 9?
Editor Rob:
there is a chance, I couldn't make out exactly her shoes in
The Last Wave
, she held up quite well with Richard Chamberlain in a few scenes.
Arch Stanton
said on 21/Sep/16
At 7:36 you can see how I got a 5 ft 10 impression of her! Perhaps with Olivia it is the 2 inch rule downgrading her height rather than upgrading?
Arch Stanton
said on 21/Sep/16
She does have a bit more hair on top than I thought in looking though, but 5 ft 9 range there certainly looks possible.
Arch Stanton
said on 21/Sep/16
Rob, check out 7:16 and 22:16
Click Here
I would be surprised if she was under 5 ft 9! Looks taller than 5'7.5 doesn't she? I see a good 6 inches on Annette!
Editor Rob: I would have said between 5-6 range was possibly, assuming similar heel size.
I haven't really looked at her with others beside that clip, so I don't know if the agency has knocked an inch off her listing...sometimes in the past they may well have done that.
Arch Stanton
said on 20/Sep/16
Rob, can you find a listing in a directory for Olivia Hamnett? In one Randall episode I reckon she looked virtually the same height as Randall in heels, looked near 6 ft 1 in heels. I would guess 5 ft 10 range.
Editor Rob: 5ft 7.5 is one listing for her...
Arch Stanton
said on 20/Sep/16
@Rory, it's not, but Peter Andre has that squasahed sort of nose too and has the same surname LOL. Half Italian certain possible, there's something Mediterranean about her, but not immediately obvious because her hair is dyed blonde!
TJE
said on 19/Sep/16
Her real last name is Andreallo, so maybe half Italian?
Editor Rob: that sounds like a possibility!
Rory
said on 18/Sep/16
Since when has having a squashed nose been a trait of Greek people lool ?
Arch Stanton
said on 18/Sep/16
@Rob, I've seen the series many times but only recently it occurred to me in one episode. it might be the makeup though, seeing recent photos she looks blue eyed but her eyes look as dark as charcoal at times in the series and photographs, look at the side image here, she can look Greek there. The eyes, the squashed sort of nose and the surname and being Australian which is what made me wonder as Peter Andre is as Andre isn't a surname of English descent! Maybe she's French I don't know!
Editor Rob: I suppose if you gave her darker hair she could look more southern european...

there's a lot of actresses from 60's, 70's era that today most people wouldn't know.

As the population grows and celebrity culture grows, globally you have to be a big star to be remembered. God knows what a site like this would be like in 60-70 years, how many of today's actors like your Ryan Reynolds, Julianne Moore or that kind of level would be remembered.
Arch Stanton
said on 16/Sep/16
Rob would you guess she had some sort of Greek ancestry? There's something about the squashed nose look and eyes which have that Greek vibe, Peter Andre has that sort of look and is Greek Australian of course and has Andre as a surname!
Editor Rob: she doesn't jump out at me as having Greek heritage, although I don't pay quite as much attention to ancestry as heights.
Arch Stanton
said on 15/Sep/16
Yes, 5'3 is the most really she could have been. Attractive, but face so heavily made up difficult to know what she looked like underneath! What was Sue saying about natural women of that era? Pratt is a guy who could look 5 ft 11 range a lot but when stood his best 6 ft I think. I saw that episode with Kieron Moore and Michael Gothard the other day and I think we're about right on Pratt at 6' and Moore at 6'1.5. But Gothard with Moore could look near an inch taller, he could look a gangly 189 with him, there's a chance on a little above 6'2 for him. Anton Rodgers I think looked similar to Pratt, he might have been maybe more 5'11.5 though, not easy to tell. I have the whole series on DVD, one of my favourites but I've not seen them all for a good 6 or 7 years. It's quintessential 60s really, the gaudy decor, the fashion (lots of lime greens and oranges), the cars, the music. Love it!
Chaz
said on 15/Sep/16
Could be as low as 5'2'' she was in at least 4 episodes of The Saint. looks like a foot shorter than Roger,she was Gorgeous.
Arch Stanton
said on 14/Sep/16
Thanks Rob. Been watching her a lot of late. 5 ft 5 is absolutely hilarious. In heels maybe! Annette can look 5 ft 2 range a lot, quite petite. Looking again at her with Veronica Carlson about 3 inches yeah so 5'3 possible, but still a chance on 5'2.5. Maybe it's the 2 inch rule though. 5'3 is the most I would have thought.
Editor Rob: I watched an episode on youtube and she wasn't in it much but generally did look at most 5ft 3, Pratt's posture at times isn't great.