Annie Lennox's Height
5ft 8 (172.7 cm)
Scottish Singer (The Eurythmics), known for songs like "Walking on Broken Glass", "Sweet Dreams" and "Why". In Stylist she said
"I'm quite tall [5 ft 8 in]so if I wear high heels I would be taller than everyone else in the room and I wouldn't feel comfortable. My daughters are even taller but they don't care"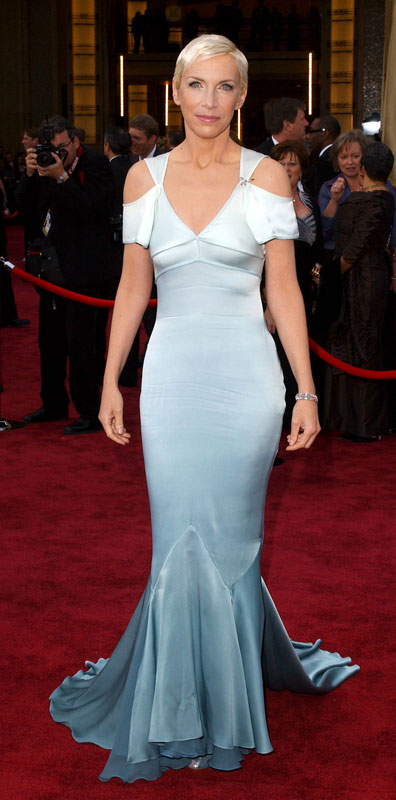 Photos by PR Photos
Add a Comment
27 comments
Average Guess (14 Votes)
5ft 7.55in (171.6cm)
Sandy A Cowell
said on 11/Apr/20
My boyfriend has great admiration for Annie and I can't fault his taste. Annie, Bjork and Enya were the melodic singers who sang the three "Lord of The Rings" songs, and they're all pitch perfect! 👌😲
5ft8 for Annie Lennox, who happens to be the tallest Annie Celebheights has to offer! 🎼🎤👩🏼🌺🌼
Miss Sandy Cowell
said on 29/Dec/19
🎂🎈🎁 Belated Birthday Wishes! 🎁🎈🎂
Annie celebrated her Birthday on Christmas Day. I hope she had a superb time with her family and friends! Thank you for the music over the years! 🎼🎶🎵 XX
5ft8 and in beautiful shape! 😁👍
🎂🎈🎁🕯️🎂🎈🎁🕯️🎂🎈🎁🕯️🎂🎈🎁🕯️
Nik
said on 2/Jan/19
5'8" is average range for men and it is a common "tall" height for women!
I hope that Annie enjoyed her Birthday, which is fascinatingly on Christmas Day!
Sandy Cowell
said on 26/Dec/18
🔔🎂 Happy Birthday Annie! 🎂🔔
I hope you enjoyed your Birthday and Christmas Day yesterday and Happy Boxing Day and New Year to you and your family and friends!
🎄🎅😀👍🔔
5ft8.
Nik
said on 13/Dec/17
@ Sandy Cowell - Hi!
I wasn't totally sure that Jim had a blue car, but I suspected it was Jim who was the owner of a blue car after you sent a red car emoji to the page of Ralph Sampson on the 14th September with you also claiming that the car you were in was blue. It could have been a relatives car or a friends car but if that had have been the case Jim could've had a blue one anyway, from me! He could paint it white and add a siren and then it would be a Police car! I am sure that Jim would have made a good Policeman as many of the qualities required in both the Police force and the army are the same, they are both very stressful occupations in which you have to often face fears for the survival of yourself and your colleagues, Jim will know all about that as my Dad did too. Both are very worthy professions to go into and I equally admire anyone who goes into either of them!
My Dad did lose his rag with all of his sons when we decided to talk when he was driving, when I said he told us all to shut up I meant my Mum as well as my brothers and myself!
It's fantastic that Christmas time is upon us and it is brilliant when people decorate rooms with trimmings and put Christmas trees up! I like to see these things done early too so it is good to hear about Ellen de Generes putting her Christmas decorations up in November! It's also heartwarming to know that at Christmas time, and all year round, she gives out presents, and to do this for the needy and the disadvantaged is very commendable and such a good idea! There is just one thing that I don't like at this time of year and that is companies who take advantage of people in order to make as much money as possible, people can suffer badly as a result of this and run up a huge debt. Christmas shouldn't all be about giving and receiving expensive gifts, the good TV programmes, music, food, and more important still the goodwill amongst people are the most important things along with the giving and receiving of affordable and reasonably priced presents. People shouldn't always be advised to purchase expensive presents and many people should be deterred from doing this.
There is a great choice of what to watch on television at Christmas time or at any time of the year, yes with so many channels showing programmes 24 hours a day we are so spoilt! It is incredible to spend a big part of the day watching soaps on ITV2 and the "Classic Coronation Street" on ITV3! To be able to watch Christmas movies from morning to night over Christmas is also a mouthwatering proposition!
Like you said, there has been a lot going on in the soaps recently, I too think that on "Coronation Street" Gary deserves forgiveness from Sarah, his heart is in the right place and he was remarkably brave in risking his own life. It was very sad about the adorable dog on Emmerdale having to be put down, the soaps do cover a lot of the sad and upsetting aspects of life and they can be difficult to watch at times.
I hope you have had a great day!
Cheers Sandy!
Sandy Cowell
said on 12/Dec/17
@ Nik - Hi! You gave Jim a blue car emoji! Did you know that his car is blue? I think I have mentioned it before - yes, almost definitely, but one other thing I DO know for sure is that you have told me that your Dad used to tell you lot to "shut up!" when you were in the car! I can imagine a car with three boisterous boys and your poor Mum trying to simmer you all down! No wonder your father couldn't tolerate it and, being a Policeman as he was, he'll have seen first hand what can happen in a noisy car when he will have been called out to an accident! Not very nice, so who can blame him for wanting order in his car! Jim always says that he can't tolerate any more violence and bloodshed because he's seen enough already! One of the soldiers he had trained up was so badly injured that Jim had to hold his intestines in until the soldier he sent to get help came back with the necessary first aid. The young man lived, I'm happy to say!
Yes, and now we can conveniently and appropriately get round to Gary Windass and the fact that it turned out he was alive and well after all! I was ever so pleased because I have grown to like him. I hope Sarah forgives him just this once! One indescression is just about forgivable, I think, depending on the circumstances, but should he do it again....!
We'll have to wait and see for the outcome of that conundrum! The way I'd see it is that he was endangering himself and he could so easily have died, so I think I'd forgive him.
I missed yesterday's 'Emmerdale', which is being repeated on ITV2 in exactly 15 minutes, followed by all 'Coronation Street' from last night as well! A feast for the eyes, and then on ITV3, 'Classic Coronation Street' will also be on! I look forward to that each weekday! They are up to New Year 1987 now! There was a party and young scallywag Terry Duckworth raided the tight fisted grocer's store when the booze ran out! I think they are onto him though!
So off I go!
See you later! 👍 🙋
Nik
said on 10/Dec/17
@ Sandy Cowell - Hi!
I an going to respond to you in 2 parts, first I want to say that the numbered points about your taste in music were a great read and very amusing too! I can also see similarities with my Dad and Jim as my Dad always used to tell us to shut up when he was driving.
It's good that you have banter with Christopher concerning his interest in pop music, but you can only listen to 100% of good music if you have CD's of Annie Lennox's music, maybe then you would listen to105% good music! Funnily enough "Walking on Broken Glass" was on Radio Leeds again yesterday dinner time, I had to chuckle and I thought of celebheights!
There is nothing wrong with a man being 5'8" in height and the same height as Annie Lennox, in fact you know what I think which is that every height should be celebrated! There is nothing wrong with men being short but 5'8" is not short for a man and blends in with the crowd very well, yes you will get towered over a bit these days by the minority but it is very near the median height, so it is more average than small!
Also your wish has come true and Gary Windass is still alive, I bet this made your day when you found out! I replied on his page this afternoon but now it's bed time! Part 2 will follow soon!
🚗 🚘 - Jim can have the blue 'un!
Cheers Sandy!
Anonymous
said on 9/Dec/17
If ur a 5.8 male ur short.
Sandy Cowell
said on 8/Dec/17
Note: Quentin (as in Christopher Quentin), is spelt like this: Q-U-E-N-T-I-N! That means yesterday's spelling (Quenton) was wrong!
Sandy Cowell
said on 7/Dec/17
@ Nik - Christmas is well and truly the best time of the year for television fayre, that's to be sure! I adore all the old Christmas specials, both past and present, which always get shown at some time or other and now that we have so many channels, we are simply spoilt for choice, which is marvellous! We even have a couple of channels which show Christmas movies from morning until night, really feel-good, family ones and the one available on Freeview even shows 'The Little House on the Prairie' from 3 - 5 in the morning, which I often catch because of my erratic sleep pattern. I am a great fan of that show and usually watch it on the 'True Entertainment' Channel. They have a showing at 7 in the morning and then a three parter starting at 10 am,
which is currently covering the second series - I think, but it might be the third! If you are interested in comparing Victor French, (who arrived on Celebheights this week) with Michael Landon, you can catch many an opportunity in the weekday mornings.
All programmes have a festive feel at this time of year of course, even sports fixtures! The studios are all highly decorated and look beautiful and arresting! I have noticed that the gorgeous Ellen de Generes starts decorating her studio in November! She adores Christmas and does her annual '12 Days of Giveaways', but having the heart of gold that she does, she gives presents and money away to the needy all year long - not to mention anyone she thinks is deserving of cheering up. I simply love that woman! She is so funny, and she loves animals and enjoys showing her audience hilarious animal internet clips! I always feel like a new person after I've laughed and cried (and cried with laughter) my way through one of her shows! Not many TV hosts can do that...
Then the soaps rustle up particularly exciting storylines for us every Christmas! How many 'soap babies' get born at Christmas? Loads do, and one of them was David Platt, played by 5ft6 actor Jack P Shepherd. Ironically, his mother Gail is expecting him on the afternoon special which is called 'Classic Coronation Street' and is shown on ITV3 on the weekdays at 2.40! The boy was the result of an affair Gail had with her soon-to-be-killed-off husband, Brian's Australian cousin! It has wrecked their marriage*, but I think they get back together before Brian meets with his demise outside a nightclub! I'm sure that's how he gets written out! Brian was played by 5ft7 Christopher Quinton (I have to check that because it doesn't sound right somehow). Christopher was always making the paper those days for being a real Romeo, and he had many affairs with topless models! He was extremely famous for wearing lifts! In fact, he is without doubt, the first lift wearer I ever came across!
Now it is 8 minutes to go until the soaps start on television tonight, kicking off with 'Emmerdale'! Hasn't it been sad lately with that adorable dog having to be put down? I was ever so upset. I wonder what's going to happen tonight? 'EastEnders' is also getting rather good and with Phelan still on the loose, 'Coronation Street' is also all systems go! I am secretly hoping that Gary Windass is still alive, by the way!
Have a terrific Friday!
Cheers, Sandy! 😁😆😉😄😃
* Yup! My autocorrect has been at it again, trying its hardest to make it clear to us that Gail and Brian have a 'marmite' to destroy, rather than a 'marriage'!
Sandy Cowell
said on 6/Dec/17
@ MaryAnne - Oh thank you so much! I'm the one blushing now! I read your comment in the car today on the way to the chemist to get my painkillers, which you'll no doubt be aware I have to take at the moment! I read it out loud in a delighted voice and my boyfriend told me to shut up! Then I got my phone out in the chemists to read the comment(s) and Jim, the boyfriend, didn't mind this time! I also read him the ones further down, and Nik's one which said he had good taste in music. He liked that! He also asked how I'd reply to Nik's suggestion that I rate my taste over his! I told him that I don't know yet, but I have done it now and it will be placed next to yours, MaryAnne, when it has been inspected by Rob! There was no planning involved; it just came blurting out! I think it's fun to just write away and see where the imagination takes you! It is quite the opposite to how I was taught at school, when we kids were told to 'plan' all our essays!
I have a few ideas of people I would like to see go up. Maybe writing this will give me the prompt I need! One of them is an actress called Anna Massey. Unfortunate she is no longer with us, but she was quite a girl in her time, starring in the very daring-for-its-time film 'Peeping Tom' and later in her life she appeared in the 'Inspector Morse' episode 'Happy Families', with funny bugger Martin Clunes! When they show it on TV, they always trim down the most comical bits, so it's best to see it on DVD!
I'm about to check out what is showing on TV tonight, which will probably be watched inbetween writing some more comments. I've enjoyed writing to you! Have a good evening!
Sandy 😊
💄👗👠👠➖girlie emojis because we are girlies!
Sandy Cowell
said on 6/Dec/17
@ Nik - Hi!
1. When it comes to tastes in music, I favour my taste the best of all!
2. There is nothing more pleasing to my ears than music from my own personal CD collection.
3. If my brother plays his awful poppy ploppy poopy charty farty pop records, I turn them off and put mine on! Mine are seriously good!
4. Jim listens to 95% good music, and from me that is high praise indeed!
5. But mine is 5% better!
I am incredibly modest because my music collection is PERFECT!
In fact, it is music to my ears, and guess what? My brother broke my CD player with HIS music! I think my player threw up and asphyxiated! 😌💿
MaryAnne
said on 5/Dec/17
@Sandy,awww sandy you are making me so pampered! *blushing* Honestly speaking, I genuinely enjoy myself when I am reading your comments. I regard your comments as fun to read and I like your wishlist as well. Yes, I am sure that Rob is checking Jean out :) She is in row waiting her turn
Nik
said on 5/Dec/17
@ Sandy Cowell - Hey!
But not quite as good as yours though, says you! Annie Lennox is an amazing singer!
It's just a shame that we don't get as much snow as we did when I was a child, I love the feeling of good will around at this time of year and a better choice of what to watch on TV, and also there is more sport!
Cheers!
Ajay
said on 4/Dec/17
Rob, Andrew Garfield's quote has the EXACT same structure as Annie's yet you dismissed it as fake.
"I never wanted to be an actor, I wanted to be the next Muggsy," recalls the 28-year-old Garfield. "I was skinny and short. I'm no longer short [6-foot-1]. But I'm still skinny. I'm OK with that now. But I struggled with it. It's very weird to beat yourself up for being born in the wrong body."
It's litteraly the same structure. Both talked about being tall or not short and the newspaper gave a height in a bracket. I don't see why you are sure Lennox claimed 5'8 yet Garfield didn't claim 6'1.
Editor Rob: I didn't say it was fake, just that I'm not sure it's a direct quote. Like Annie's, the height isn't being spoken in the quote itself. I've certainly mentioned Annie's at the top of her page because it is a new page. I may still mention Andrew's, though this week I don't have much time for lots of edits to pages.
Sandy Cowell
said on 4/Dec/17
@ MaryAnne - Ah thanks! That has made my day! I love you too, of course, and am an avid follower of the interesting names you put forward on the request page! Isn't it high time than Jean Shrimpton went up? 😉
Have a nice day!
@ Nik - Yes, Jim has a good taste in music - most of the time! (almost as good as mine!!!)
Have a great day yourself Nik!
It's getting all nice and cosy and Christmassy now! This is such a cool and loving time of year! 🎄🎍🎄🍺🐝💕🐦
SharpshooterTom
said on 4/Dec/17
She's almost 63, surely she's lost some height now? What height loss is typical a for a woman in her early 60's? As much of inch perhaps? Is it possible for any woman to approach 60 and not lose anything?
Editor Rob: a 0.5-1 inch loss might be possible. Some women who follow good exercise/diet/vitamin regimes might escape with minimal loss by 60.
Nona
said on 3/Dec/17
One of her daughters is 5'10"
The Shredder
said on 3/Dec/17
Some of them want to joke too. Some of them would think I did it better than You. ;).
MaryAnne
said on 3/Dec/17
Catchy comment of The Shredder is made of this,who is MaryAnne to disagree? I travel the comments and no better I see,everybody's is looking to comment.
MaryAnne
said on 3/Dec/17
Love you Sandy, you seem to me that you are rather sweet!
Nik
said on 3/Dec/17
I would like to say that Annie is a wonderful addition to this site, her singing talents are legendary, of that there is no doubt! I have heard "Walking on Broken Glass" on the radio at home a few times recently and it never disappoints!
In terms of Annie's height, I definitely think that 5'7" flat is too low and that 5'9" is too high, I generally get the impression that she is 5'8" or fractionally smaller. I believe that Annie is being honest because if she isn't 5'8" she will be fractionally over or under this!
Annie is another amazing celebrity to be added to celebheights, and thoroughly deserving of her place too!
Sandy, i have to say that Jim has a good taste in music!
Hijopotamus
said on 3/Dec/17
She always had heels and a skinny figure taller than Dave so she looked very tall until we knew Dave was only 5'6ish...
Beautiful girl and a great singer.
The Shredder
said on 2/Dec/17
5'8 is made of this , who is Rob to disagree? I travel the site
and no 5'7 I see, everybody's looking to downgrade.
Editor Rob: 👍
Rampage(-_-_-)Clover
said on 2/Dec/17
Looks on the tall side...I thought 5ft9 at least but this is believable as well.
Sandy Cowell
said on 2/Dec/17
Well done MaryAnne for your perseverance! My boyfriend would love you - he loves her! Many was the day he would play some video of hers that I bought him! Then I bought another one and the very same thing happened!
Well, after all that I certainly had many a viewing of Annie's stature and 5ft8 and slender as a whip is what I saw! In fact, she could pass for taller because of her slight frame!
So good to see this lovely lady on celebheights at last! 🎶🎤
MaryAnne
said on 2/Dec/17
Yea,Rob! She is pretty much honest. 5'7 is too low her and she does not give the impression of a 5'9 woman. She is 5'8. She and Jamie Lee Curtis are quite alike to me. Same type of women.