Ant McPartlin's Height
5ft 8 (172.7 cm)
English actor turned tv presenter.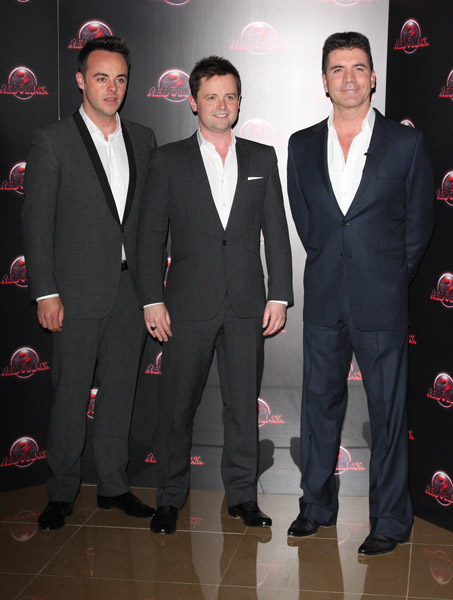 Photos by PR Photos
Add a Comment
16 comments
Average Guess (25 Votes)
5ft 7.9in (172.5cm)
Miss Sandy Cowell
said on 30/Nov/20
Ant and Dec had a right good laugh at the rate Victoria Derbyshire worked her way through her creepy-crawly laden bush tucker trial.
At the end, they were saying, "She was SOOORE SLAWWW that:
⭐ I had a shave halfway through...
⭐ The skeleton was alive when she started...
⭐ The castle was a new building when she began the trial and
⭐ We'll be starting the next 'I'm A Celebrity....' in Australia - TOMORROW!
Very funny boys, and yes, I like the name of the crow too. It was Russell!
Miss Sandy Cowell
said on 19/Nov/20
🎂 A Very Happy Belated Birthday to Ant McPartlin who turned 45 years of age yesterday.
🎂 How about this for an original gift? It was presented to Ant on their show 'I'm A Celebrity - Get Me Out of Here' by Dec, his comedy partner. He received an enormous great bottle of HAND SANITIZER - a whole year's supply!
😂😆😂
🎂 It can't go on for THAT long, surely?
Please not.... 😣😭🤮😩😝
🎂 I sincerely hope Ant received some truly decent presents as well! 🐜
🎂 How about a year's supply of meal worms? 🐛🍴😋🐛🐛
🎂 ....and some other things as well...
🎁💝🎁💝🎁💝🎁💝🎁💝🎁💝🎁💝🎁💝
Five foot eight.
sloppykissesfromgrandma
said on 7/Jun/20
what is the highest you would give him?

Editor Rob
5ft 8 is really most I would go for Ant, his hairstyle definitely can help him look a bit taller at times though.
FiveEightJake
said on 21/Mar/20
I've now witnessed him get edged out by Bradley Walsh and Ronan Keating, is 5'7.5 possible Rob? I'd say Bradley at least takes him by half an inch to 3/4 of an inch.

Editor Rob
5ft 7.5 would be the lowest I'd give him
Miss Sandy Cowell
said on 18/Nov/19
🎁🎂🕯️🎉 Happy Birthday Ant! 🎉🕯️🎂🎁
A million good wishes go in funny-guy Ant's direction today, as he turns all the 4️⃣s - 4️⃣4️⃣!
I'll see him with Dec later on 'I'm A Celebrity...'! 😂😂😂
5ft8. 🐜😁👍🎶🐜
🎁🎂🕯️🎉🎁🎂🕯️🎉🎁🎂🕯️🎉🎁🎂🕯️🎉
Junior Hernandez 1990
said on 10/Sep/18
Ant 172cm
Dec 165cm
Darius Campbell 193.5cm
Declan Mclean
said on 27/Jul/18
I believe ant is 5foot7 and dec seems 5,4-5,5
Bennett
said on 5/Nov/17
Ant Mac is 5ft6 to 5ft7. 5ft8 too genErous
S.J.H
said on 1/Feb/17
Ant is 5'7 and Dec is 5'4
Sandy Cowell
said on 27/Nov/16
@ Arch - Haha! I know many people who've grown tired of them too! My Dad is just one of them. I guess I must be the faithful sort! Hell, I even forgave them for having Jeremy Kyle on their Saturday Night Takeaway; I much preferred it when they wound him up on his American show, which was on an earlier Saturday Night Takeaway and made him really lose his temper. It was great!
Sandy Cowell
said on 27/Nov/16
I've just overheard him introduce a game where the competitors will be competing for treats 'which bite back!'
Arch Stanton
said on 27/Nov/16
Admittedly I don't Sandy, I tired of them five years ago, the're one of the reasons I don't watch that show now as they do my head in! I used to find them funny, but they just both look smug now, especially Ant who looks like he doesn't want to be there.
Cranky
said on 7/Nov/15
I am 5'9" (1.75) and have stood behind both these two at their local newsagent in Chiswick, West London. Ant was no more than 5'7" (1.70) max.
Gaz
said on 27/Mar/15
sometimes it looks like theres 3 inches between the two
Click Here
Sean5
said on 21/Feb/15
Yes 2-2.5inch difference to Dec
William0101
said on 24/Dec/13
I thought he was taller until I saw him stood next to Robbie Williams