Anthony Bourdain's Height
6ft 4 (193 cm)
American celebrity chef, television personality and author, best remembered for the programme No Reservations. He has said in WncMagazine and numerous interviews,
"I'm 6'4""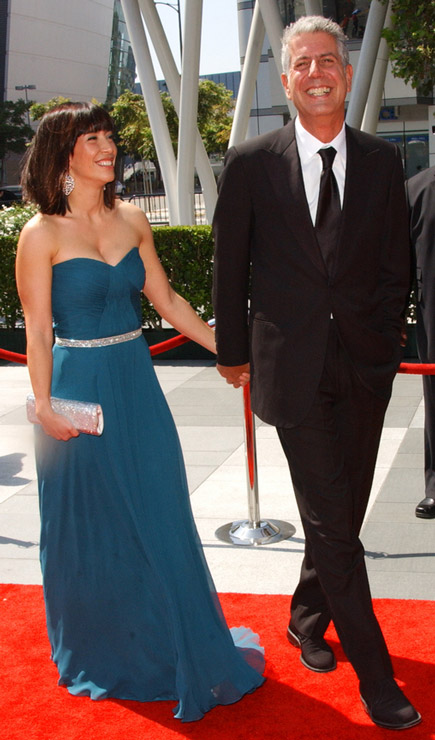 Photos by PR Photos
Add a Comment
42 comments
Average Guess (20 Votes)
6ft 4.08in (193.2cm)
Yang (5ft 8 Chinese men)
said on 29/Oct/18
Tallest chef out there. Solid 6ft 4 as I can clearly see him taller than average men outthere. RIP Anthony Bourdain (1956-June 2018)
Arch Stanton
said on 13/Jun/18
Seeing him with Anderson Cooper, looked minimum 6'4 even at 60 odd. Seemed to have everything, I'd kill to have the life he had! But you don't know what goes on inside. Anthony did drink a lot and take a lot of drugs throughout his life, that can make you depressed.
Nik
said on 11/Jun/18
R.I.P Anthony Bourdain.
Canson
said on 10/Jun/18
Classic 6'4 (193cm)
Canson
said on 10/Jun/18
Yes RIP
ViceGonz
said on 9/Jun/18
That man was every bit of 6'4". RIP. See you on the other side
Sandy Cowell
said on 9/Jun/18
Such a tragically early end to a life devoted to enrich those of others.
RIP Anthony xxx
Dionisio Rojas
said on 8/Jun/18
You'll be missed big boy!!!
Ian555
said on 8/Jun/18
Would've guessed 6'4 to 6'6 range. He looked very tall on his show. Very funny and entertaining chef.
AndyMeu
said on 8/Jun/18
Rest in peace, hero.
Rampage(-_-_-)Clover
said on 8/Jun/18
Awful news. Loved No Reservations
RIP
MJKoP
said on 8/Jun/18
RIP, big guy! :(
Surpriseto
said on 8/Jun/18
Talli rip
Bane
said on 8/Jun/18
Guessed him at 6'5". RIP to one of the most entertaining chefs. Sad to hear he died.
Nik
said on 20/Apr/18
Maybe slightly less nowadays!
Tall Sam
said on 18/Apr/18
Right around 6'4" flat and an insufferable personality.
Canson
said on 20/Sep/17
If a legit 6'4" is guessed 6'6" just shows that other 6'4" guys here aren't 6'4
Im 171CM
said on 18/Sep/17
Kinda tall lookin thought he was around or looked around 6'6"
Tim
said on 27/Jul/17
Anthony is a legit 6'4 man (could be .5 taller in the morning). He is he is with my brother in the evening (right) who is 6 foot flat
Click Here
Lmeister
said on 4/Jul/17
I guess in his youth he was a strong 6ft4. His lanky build makes him look even taller. Nowadays maybe lost a bit of height. Peak 6ft4.25 Now 6ft3.5
Im 171CM
said on 13/Jun/17
His age he may of lost a inch may be..I'd say 6'3"
189night
said on 12/Jun/17
rob, how tall do you think bjj fighter marcus buchecha is close to him?
Click Here
(VERY probably that both are barefeet in the photo)
Editor Rob: Anthony may well have lost a bit of height, but the guy can look over 6ft, maybe 6ft 1 if Bourdain was losing more posture than him.
LG69
said on 2/May/17
@201,
LOL
Tony is obviously taller than 6'0 flat. At the least he is 6'3"
Oanh
said on 2/May/17
Looks his stated height. Andrew Zimmern is listed in various sources at 5'11", but just a few years ago, he was listed at 5'10".
Don't know why he went up an 1", but it probably has to do with the his popular show "Bizarre Foods"
Andrew looks 5'10", and at probably 250lbs.
opus
said on 22/Apr/17
tall guy. min 6'4''
Anon
said on 10/Feb/17
Looks all of 6'4". Could maybe be lower now he's older.
201
said on 16/Jan/17
nowhere near 6'4". i lived in the same building as bourdain and rode the elevator with him. he's 6' tops.
Niggurd
said on 30/Dec/16
Wasn't he listed at 6'4.5 or 6'5" in the past?
Rampage(-_-_-)Clover
said on 15/Oct/16
I noticed on the European episodes of No Reservations there's the odd person that's taller than him.
bruh
said on 10/Oct/16
@6'7'' with shoes...
yeah idk what you're on about but the average male height in America is 5'10'' so anything 6'0'' and above is towering over like half the planet already. 6'4'' is huge
6'7" with shoes...
said on 23/Sep/16
6'4" is not tall... I was over 6 foot at age 13... with a size 12 shoe.... everyone in my family is over 6 foot...I'm only 6'6" and feel small all the time... especially when I play basketball....the centers and forwards are taller than me...towering is 6'10 or taller....
Rampage(-_-_-)Clover
said on 9/Aug/16
Watched a bit of his show and he does look towering on the street
jbeck
said on 25/Feb/15
As much as he eats and drinks I'm shocked he isn't 600 lbs.
MD
said on 23/Jan/15
It's funny, on his CNN show where he's traveling to these different places around the world, he looks like an absolute giant half the time. lol They even do tricks and such to get him and the folks he's working with in the same shot, but you can just how tall he is relative to most of the subjects on the show.
He's easily what he's currently listed.
Ace
said on 21/Jan/15
He is shockingly tall. I met him not too long ago and I was surprised that he had an easy inch on me. He also is pretty broad and imposing.
avi
said on 2/Nov/13
6'3 range no doubt
Enmascarado
said on 25/Sep/13
He's a legit 6'4, it's rare to see another person as tall as him on his shows.
wiltonstilts
said on 29/Jun/13
My cat from hell, jackson galaxy is he on here? Also a tall man. 6'2 I believe
wiltonstilts
said on 29/Jun/13
I never noticed that you added him before. Hes a social animal very funny, quite the character, hes loud and enjoys his drinks. He is tall. 6'3 and a half id say. 6'4 at one point.
Jack
said on 25/May/13
I always assumed he was tall, but I thought he was around 6'2" not 6'4"
Fern194cm-192cm
said on 18/May/13
Thanks for adding him ROb!
Fern194cm-192cm
said on 18/May/13
He is a true 6,4. Probably close to 6,4.5-6,4.75 outa bed.