Barry Sloane's Height
6ft 2 (188 cm)
British actor best known for playing Aiden on tv series Revenge and Niall on tv soap Hollyoaks. He said on his twitter
"[Gabriel Mann] is 6ft 1 and I'm 6ft 2 #NotALittleTeam"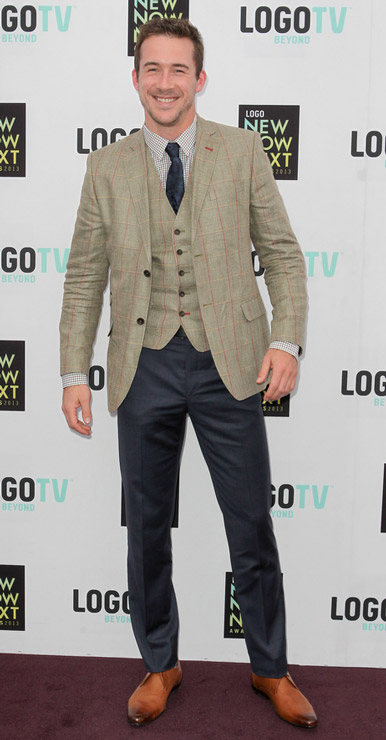 Photo by PR Photos
Add a Comment
33 comments
Average Guess (8 Votes)
6ft 2.22in (188.5cm)
Chris Junior Hernandez 1990
said on 16/Jul/19
In Six and L.A.'s Finest i hardly see Sloane under 6'2.25" the higher side he look 6'2.5". Barry is just another tall actor who downplay a little bit.
Matt99
said on 24/Jun/19
The new captain price in modern warfare 2019! Taller than the actual character, but who cares!
Junior Hernandez 1990
said on 14/Jun/19
Average guess is what he would be measured by Rob.
Barry Jones
said on 8/Apr/19
Seeing him stood next to Robert Taylor in Longmire, I'd swear there's as much as an inch between them. True RT's posture is usually quite slouched, and at 55/56 I'd say he's down an inch on his 6'3" entry here, but even accounting for that, I can see at the very least half an inch. I'd say 6'2.5", with Robert Taylor down to 6'2".
Junior Hernandez 1990
said on 11/Jan/19
Rob, would you consider to give him 6'2.25"?
Junior Hernandez 1990
said on 22/Aug/18
In Six he looked alot like 6'2 1/2.
Rampage(-_-_-)Clover
said on 21/Dec/17
187cm looks too low.
Bennett
said on 5/Nov/17
Must be an honest 6ft2 guy could have measure himself morning n claim it. Look at least 187cm.
S.J.H
said on 5/Jul/17
Waking up at 6'3 a large possible
Rampage(-_-_-)Clover
said on 15/Jun/17
Rob, which of these is most likely?
A) 191cm/189cm
B) 190.5cm/188.5cm
C) 190cm/188cm
D) 189.5cm/187.5cm
E) 189cm/187cm
Rampage(-_-_-)Clover
said on 15/Jun/17
Sloane: 6ft2¼(188.6cm)
Mann: 6ft0¾(184.8cm)
S.J.H
said on 21/Jan/17
Yeah rampage i start to see it barry look more a 188 plus guy and maybe so 188/189 zone and i will peak 188.5cm. Def one of most solid 6'2 actor listed here similar height as joel kinnaman and there is solid 3-4cm between gabriel mann and barry sloane , so if Mann get 6'0.75 then barry sloane is 6'2.25
Rampage(-_-_-)Clover
said on 19/Nov/16
188/189cm zone, IMO
Rampage(-_-_-)Clover
said on 27/Oct/16
If Mann is a full 6ft1 (debatable) then you can argue a strong 6ft2 for this guy.
S.J.H
said on 22/Aug/16
Once again i"ll say barry is 190cm and at worst 189 - 189.5cm and gabriel mann is a strong 6'1 and argueble at 6'1.25 too
Rampage(-_-_-)Clover
said on 18/Aug/16
I thought he can look more than 1in taller than Gabriel Mann whose a 6ft1
Rampage(-_-_-)Clover
said on 16/Aug/16
Rob, is 189cm possible?
Editor Rob: I wouldn't argue quite that tall for Barry.
S.J.H
said on 9/Aug/16
My guess 6'2 is not enough. He made lilly rabe look like decent 5'7 although shes listed 5'8. Barry look at least 6'2.5 for lowest and even like ryan reynolds downplay a 3/4inch something like that he could look a comfort 190cm. I would put him 6'2.75
Dmeyer
said on 28/Feb/16
188cm perfect height
Rampage(-_-_-)Clover
said on 31/Jan/16
6ft is beginning to fall into the above average zone. Then again maybe it's because a lot of 5ft10-11 guys are claiming it while guys actually are 6ft claim up to 6ft2!
Rick
said on 23/Oct/15
He must be taller than this, he always looks at least 3 inches taller than 6'1 Steve Bacic and 4 inches taller than 6' Josh Bowman. I'd say he was closer to a weak 6'4. He simply can't be under 6'3.
mrbobh5344
said on 1/Oct/15
Certainly looks tall. Can easily believe 6'2"... but in scenes on Longmier he usually looks taller than Robert Taylor. Makes me question Taylor's 6'3".... who rarely towers over anyone.
Isabelle
said on 20/Jan/14
Rob could you please do a height for Josh Bowman?
Jess
said on 18/Jan/14
Rob what do you consider tall for a man and woman. I'm thinking 6'1" and up for a man, and 5'8" and up for a woman.
[Editor Rob: 6ft today is probably a good mark to start calling tall, nearly 5ft 8 for a woman.]
cole
said on 9/Dec/13
@pataan19: I would agree on 5'11 for Bowman from what I have seen. He's listed 6ft most places, but then again alot of 5'11 guys will be listed 6ft.
pataan19
said on 25/Nov/13
Judging by the various photos of Josh Bowman with various fellow cast members from Revenge, I would say that he is 5'11" on the nose, no more! May possibly be 181 at a stretch! Emily Vancamp in 3-4 inch heels is always a tad taller or the same height as him when he's got dress shoes on!
Elburg
said on 25/Nov/13
Gabriel Mann is listed at 6'1'', and he really didn't tower over 5'10''-5'11'' Ethan Hawke in Great Expectations.
Emily
said on 25/Nov/13
His suit is really short and doesn't cover his whole torso. Also, he's wearing his pants really high, so that can always cover where the legs actually are because you're looking at the pants length and not the legs. Also, he's not standing straight. I'd say his legs are average.
MD
said on 25/Nov/13
Really long legs, or is it just the cut of the suit?
pataan19
said on 24/Nov/13
Yeah, I think he is an honest 6'2", but I have to say, Gabriel Mann always seems a solid inch shorter than him in the scenes of them together in Revenge! What do you think Rob, maybe 6'1" for Mann?
[Editor Rob: it would be probable for him.]
cole
said on 23/Nov/13
He might be rounding up a little, but I haven't seen enough of him to be entirely sure. How tall would you say fellow castmember on Revenge, Joshua Bowman is, Rob?
JonDaMon
said on 23/Nov/13
He's a tall guy, not quite sure if he's 6'2 tall though.
Emily
said on 22/Nov/13
And you agree with his claim?
[Editor Rob: for the moment, we'll see if it changes in the future.]