Billy Corgan's Height
6ft 3 (190.5 cm)
American singer, guitarist from The Smashing Pumpkins. In a 1997 episode of The Regis show, he claimed
"I'm 6'3".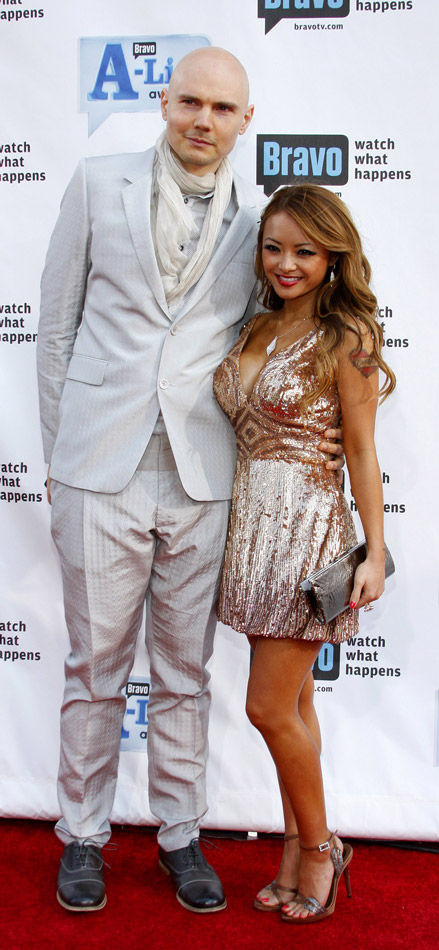 Add a Comment
74 comments
Average Guess (19 Votes)
6ft 3.25in (191.1cm)
Christopher Cygos
said on 19/May/20
He's a big guy. Met him in the 90s and he towered over me - and I'm not tiny. I'm 5'11. He's an easy 6'3. I'd say he's probably 6'4
bigmike
said on 27/Nov/19
Legit 6'3" maybe a little above, It's true that he had a massive late growth spurt at 18 when he was 5'10" and a year later by the age of 19 he finished up at 6'3"? i know that several people says that but i never heard anything referring to that from him
greg180cm
said on 14/Oct/19
i've met him in a concert, he was one of the most legits 6'3 i've seen
in person looks even more taller like 6'4 - 6'5 but barefoot is probably 6'3, very cool and laid back dude.
a6feetdude
said on 15/Sep/19
I would say he is more in 191 range but anyway it's hard to tell he's 6'3 when he slouches which is always, if he stood straight it would be probably 6'4
Spencer Dobkin
said on 8/Aug/18
I saw them in concert a few days ago and Billy looked big. He looked 6'3" if not a little over. Tall guy.
Sal
said on 19/Jul/18
I always thought I had read 6'4" for him, but I saw a photo of him with Dennis Rodman after he mentioned they were friends on Joe Rogan and He made Dennis look a legit 6'8" which we know isn't true. Thoughts Rob?
Tristessa0912.
said on 16/Nov/17
I read an interview where he said he's 6-3 3/4 to be exact. around 192,4 cm. seems fair to me. but the interview was from the middle of the 90's.
DavePH95
said on 14/Mar/17
Tall and lanky guy. Back in the day he was much slimmer, made him look quite tall.
mjkzero
said on 31/Jan/16
Hey rob how tall do you reckon james iha and darcy wretzky are. Have read 5`9 and 5`7. Any ideas for Jimmy chamberlin have never seen a height listing for him
Editor Rob: really unfamiliar with them
anon630
said on 16/Dec/13
I was surprised how tall he was. Haven't stood right next to him, but I wouldn't be surprised if he was near 6'3.
Scott
said on 3/Sep/13
Wow. This listing shocked me. I think it's because Billy doesn't have the typical tall person's face or broad shoulders.
Xenon
said on 3/Jul/13
I am 6'2 and when i saw him on stage he was close to my height, id say about 6ft 3
BCC
said on 14/Jun/13
he was 5'9 at 18 and 6'4 at 19. pretty weird to grow that much in only one year at such age...
nine large
said on 9/Aug/12
I'm 6' and he was at least 4" taller than me. Could have been wearing combat boots or something. Cool guy. Got an autograph for my roommate.
Elise-E-Boo
said on 21/Jan/12
He is tall. I remember seeing him when my band was playing in Highland Park. ;)
jtm
said on 8/May/11
how tall are the other members in smashing pumpkin are like james iha or d'arcy wretzky?
Mathew
said on 16/Feb/11
Yeah he's 6'3".
T.J.
said on 22/Feb/09
loose posture gives him a 6'0/6'1" illusion, but a legit 6'3" when standing straight
Haze
said on 2/Nov/08
with glenn in heels i see 6'2.5 - 3" easily. very loose posture but still looks it
ozzy osborne
said on 26/Oct/08
he looks like a kid in this picture
Andrew
said on 29/Apr/08
He's definitely 6'3", if you look up the Pumpkins performance on Conan O'Brien from years back he's pretty close to Conan's height and Conan has said he's 6'4.5". I believe it's on youtube.
glenn
said on 25/Apr/08
you could be right.i remember more 5-11.ill find the pic.i hope.
nate
said on 24/Apr/08
i always thought he was only a few inches shorter than billy. like 6-0, 6-1.
glenn
said on 15/Apr/08
i dont remember jimmy being tall or short.i thought average.5-11.maybe im way off.i have a lost pic somewhere.
nate
said on 15/Apr/08
isnt the drummer jimmy chamberlin pretty tall too?
mimi
said on 12/Apr/08
kaitlyn is right, if he stood up totally straight he would probably be 6'4", but he's a solid 6'3" when slouching/normal.
i've met him several times, i am 5' 9 1/2" and i must look up at him when speaking.
glenn
said on 19/Mar/08
thanks kaitlyn.
kaitlyn
said on 19/Mar/08
thats a GREAT picture of Billy. wow
he's 6'3 when he slouches, which is always.
nate
said on 9/Mar/08
even if glenn is 5-10 there, billy doesnt look 6-3
BUT he is... pics can be deceiving. oh and I love the smashing pumpkins!!
Ham
said on 17/Oct/07
He's a legit 6'3". Saw him in concert the other nite! He stood on stage afterward and talked to the audience and was next to a roadie who I actually had met earlier who was about my height (6'1") and he was definitely taller than the roadie! Great guy, put on an awesome show! Get the new album, it's great!
Betinho Macarini
said on 8/Oct/07
Yeah, I have always heard that Billy stands 6 ft 3 in tall. He is much taller than any other member of the Smashing Pumpkins. I have been his greatest fan for many years. He must be my favorite songwriter of all time. By the way, I am a 19 year old brazilian boy and guess what? I stand 6 ft 3 in too.
Love
Betinho
glenn
said on 8/Aug/07
late 1995.
Derek
said on 7/Aug/07
Been good. When was the picture with Billy taken?
glenn
said on 7/Aug/07
so,i ask again,how have you been?
Derek
said on 6/Aug/07
I'm the one you know Glenn. My name has a capital D while the other one uses all lower case.
glenn
said on 6/Aug/07
so which derek are you? the one i know?
Derek
said on 5/Aug/07
Apparently, there are 2 Dereks here. My comment is at the beginning where I mentioned Glenn was in heels and Billy looks indeed 6'3".
glenn
said on 5/Aug/07
correct derek.how you doing?
derek
said on 4/Aug/07
He looks 6'1 - 6'1.5 here with Glenn because Glenn is 5'10 in this picture... Do the math and it makes him 6'3
Alex
said on 1/Aug/07
Above with Glenn he actuayy looks more 6'1-6'1.5.
Gonzalo
said on 30/Jul/07
he is leaning so he might be the 6`3 he always look to me. An outstanding music talent
Anonymous
said on 30/Jul/07
D. Ray, Chris...the cute MTV chick is Tabitha Sorenson, and could well be5'6.5
Franco
said on 30/Jul/07
you dont understand Glenn... i never saw him in concert or anything (real life) just the usual MTV, pictures etc.
why i thought he was short?
because i stopped following his music ever since SIAMESE DREAMS (smashing pumpkins) and since that year (1994 i think) till now (2007) is a long time and at that time i never cared or pay attention to height until i discovered this website in 2006.
so my memories of him were a bit obfuscated and the fact he hunch a lot even when playing guitar gave me the impression of him being 175cm or so. i was definetely wrong, he is tall.
didnt need to explain that but i felt maybe it was necessary ;)
Middle-sized Cat
said on 29/Jul/07
Good old Billy Corgi! Didn't know he was THAT tall. Always thought his voice had a resemblance to Jagger's, which can't be a bad thing.
venus
said on 28/Jul/07
From what I see in this pic, he looks 6'2 to me
ekj
said on 28/Jul/07
met him in 2005 after one of his solo shows
Tall guy - i'm 6'1 certainly taller than me
on letterman looks an inch or so taller than dave - would say listing is correct
Glenn
said on 28/Jul/07
Anonymous was me.
msn87
said on 27/Jul/07
next to David Letterman he looked 1´89 - 1´90 m.
Anonymous
said on 27/Jul/07
exactly d-ray.
D. Ray Morton
said on 27/Jul/07
" he always looked insanely tall to me."
Same here. Always super-tall in photos (especially next to Jimmy). Always hunching over. He's a tall dude.
I didn't put together who the girl on right was until now (missed the posts below). She looks very Jennifer Anistonish here.
glenn
said on 27/Jul/07
i dont comprehend the outpouring of i thought he was short? he always looked insanely tall to me.
Franco
said on 26/Jul/07
the hell??????
i never thought he's 191cm!!!!!!!!! wow i always thought of him being short like 175cm or something. dear lord.
he actually looks around 190ish in that pic, actually he might be 188cm barefoot.
glenn
said on 26/Jul/07
all i know is i was measured at around 5-10 in those boots.
saga
said on 26/Jul/07
ok glenn but 2 inches of heels?? Well even if you are 5'10 in that shoes since he's not barefoot he should be about 6'4, right?
He's in the 6'3 range with shoes..possible 6'3.5 fully stretched..so barefoot i'd say a solid 6'2, likely 6'2.5 (189cm).
Eclipse Ben has almost 3 inches of hair on his head...Billy looks about 6'2 there.
I can't see a full 6'3 for Billy.
Rachel
said on 25/Jul/07
looks a good 189-190cm tall, maybe with great posture he can pull of looking 191cm or more.
Chris
said on 25/Jul/07
Good looking chick that MTV girl. Looks about 5'5" to 5'6" I guess, depending on the shoes.
Eclipse
said on 25/Jul/07
In looking at the picture with Glenn as well as the picture sent by J-Dog, he doesn't look over 6-1.
Eric Bonacchi
said on 25/Jul/07
wow this fella is pretty huge, never thought he was this tall
glenn
said on 25/Jul/07
those boots made me 5-10.
J-Dog
said on 25/Jul/07
Here is Billy Corgan by 5'10.5" Ben Harper.
Click Here
6'3'' JK
said on 25/Jul/07
He looks about 6'3''
saga
said on 25/Jul/07
I give Glenn even 1 inch of advantage 'cause of the boots..so if Glenn is 5'9 then Billy looks about 6'1..i guess a solid 6'2 (189cm) if he stands straight! Not a full 6'3 in my opinion.
Austrian
said on 25/Jul/07
lol? well, looks like 6'1 in this pic
glenn
said on 25/Jul/07
im wearing mc boots.he isnt standing as straight as he could.he is 6-3.that is tabitha soren of mtv on the right.
Smok
said on 25/Jul/07
Judging from this picture he's not 191 cm tall.
That's exactly my height and my wife (5'9), when she stands next to me, has the tip of her head around my mouth level. Unless Glenn is wearing some boots with very high heels I don't see how that guy could be 6'3, I wouldn't even be sure if he's 6'1.
derek
said on 24/Jul/07
yeah i always thought he was like 5'7 - 5'8 lol.... 6'3 is big suprise to me
OutBenchThis
said on 24/Jul/07
I never thought Corgan was this tall..I thought because he's lean he was 6'-6'1"..appropriate that this is outside a music shop.
AAAA
said on 24/Jul/07
glenn what do you mean by heels?
S.J
said on 24/Jul/07
i saw him in a pic with marilyn manson i guess manson was wearing platform boots
since they were about the same height
Derek
said on 24/Jul/07
I've seen 6'3" listings and Glenn says he was in heels, so 6'3" sounds pretty accurate.
Ade
said on 24/Jul/07
He has also claimed 6'4" in his journal. I'd believe 6'3".
anonymous
said on 24/Jul/07
Looks about 6'2.
Jay
said on 24/Jul/07
I always thought this guy was more 5'8ish, man was I wrong.
glenn
said on 24/Jul/07
he is 6-3.im in heels here.