Bobby George's Height
6ft 0 (182.9 cm)
Peak height was 6ft 1 (185.4 cm)
English darts player. He once mentioned
"By the age of 12 I stood 6ft tall and weighed over 14 stone"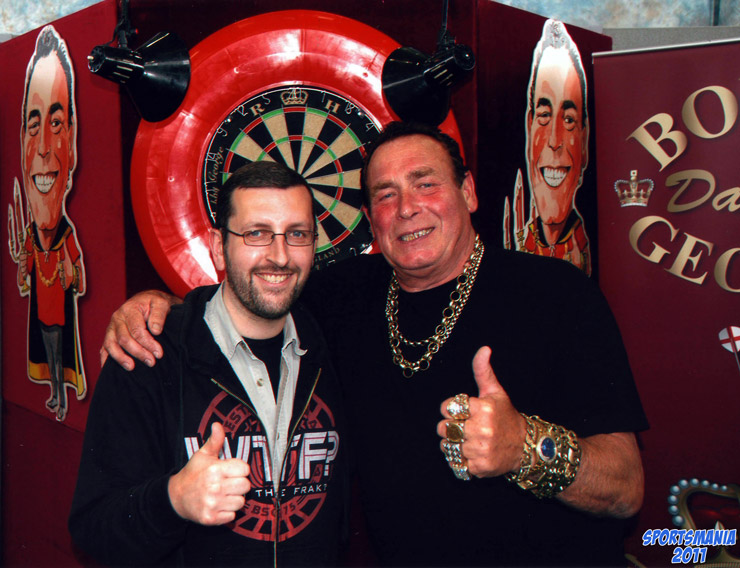 5ft 8 Rob and Bobby @ Sportsmania 2011
Add a Comment
43 comments
Average Guess (9 Votes)
Peak: 6ft 0.47in (184.1cm)
Current: 5ft 11.25in (181cm)
Vibram
said on 9/Aug/20
Bobby has a stoop and walks with a cane as of 2020. He looks 5ft10 in 2020. 6ft1 peak is believeable.
OriginalAnon
said on 3/Apr/20
Never 6'1''. He would be lucky if he's 5'11'' today.
Nik Ashton
said on 1/Dec/19
It's interesting that he was 6'0" when he was 12!
Miss Sandy Cowell
said on 17/Aug/19
I think all that jewellery is weighing Bobby down!
Still, I will go for 6ft now and 6ft1 for his peak height.
I think Rob was having a tall day! 🎯
Junior Hernandez 1990
said on 22/Dec/18
Looks like he was the richest darts player in the world. Lol.
Rampage(-_-_-)Clover
said on 11/Apr/18
Rob, could you add the late Eric Bristow?
Usually listed 6ft3 but I think maybe a little shy of that...
steve
said on 2/Jan/18
What about current world darts champion rob cross wonder his height, like Mvg he is bald and looks a bit shorter than him I think he looks near 5ft11 but not sure, I think Michael Van Gerwen looks 5ft11 maybe a bit more, Rob would you consider adding Van Gerwen to the site, currently the best darts player in the world would be good see a few darts stars on here though not sure how tall most are tbh
Faza
said on 21/Oct/17
Yh agree vibram on anderson looks solid 5ft9 mvg solid 5ft11 range i saw an article on suljovic a while back and he was described as 1meter90 which is weak 6ft3 looks a very big 6ft2range guy for sure
Vibram
said on 5/Oct/17
Booby George was 6'1.25, 15 stone at his peak in the 70's and early 80's. A big guy and bodybuilder. A chip off the block of Schwarzenegger. Eric Bristow was 6'3 peak and probably close to it today. Mensur Suljovic looks 6'2, a big guy.
I think 5'8.5 is probably Peter Wrights height, not the 5'9 I originally had. G.Anderson is def. a 5ft9.3 / 176cm kinda guy. Phil Taylor 5'7 (5'7.5 peak). van Gerwen 5'11.25 / 181cm. All of them together:
Click Here
Faza
said on 19/Jul/17
Rob any idea on phil taylor looks like a 5 ft6 guy to me tho his posture not good i think van gerwen looks 5ft11 solid
Editor Rob: could be anywhere in 5ft 6-7 range.
Dave B.
said on 9/Jul/17
I'm not sure how tall he would be today, but in the early 90s Eric Bristow was about 6'2 1/2". I played him in an exhibition, and I was slightly taller than him. I was 6'3" at the time.
Jack
said on 8/Apr/17
Saw Eric Bristow last week on the ferry to Dublin (heading to a big Darts tournament at o2). He is a solid 6 feet 4 inches. Very big guy.
anon
said on 31/Dec/16
Phil The Power Taylor I would say 5ft7, Michael Van Gerwen looks a good 5ft11 maybe a bit more, Gary Anderson can look 5ft9-10 range not too sure on him tbh.
matt
said on 15/Nov/16
I seen Adrian Lewis and Scott Mitchell the other night both are massive guys, probably 6'3 or 6'4, Met Adrian a few times great guys, never paid too much attention but he is over 6 ft by some margin imo.
Rob, Did you see anything of Lewis and Mitchell?, Mitchell also was a bdo world champion and Lewis a 2x pdc world champion
Editor Rob: matt, not really had time to look much at Darts players.
anon
said on 1/Nov/16
Rob, Do you watch much darts? What do you think about the 3 time world champion John Part?, he was similar height to bobby george who you have at 6'1 peak, Have seen Part listed as 6'0 but he can look more 6'1, He looks a bit taller than Wayne Mardle when working on sky not sure if Mardle claimed 6'0 or 6'1 before.
Editor Rob: unfortunately I don't really watch much apart from if I catch the odd bit channel hopping, so can't really tell how tall Part was.
anon
said on 17/Oct/16
Vibram, Nicholson claimed 5'9 on his Twitter when asked, Agree with most your estimates, Always wondered about Gary Anderson would have said 5'9.5 somewhere between 5'9 and 5'10 not too sure, Wade is 5'11, Thornton is 5'6 going off his old wesbite, Van Gerwen looks 5'11 range, Adrian Lewis said in Twitter he was 6'3 before I would have guessed him around 6'2 but he is such a big guy his weight could make him look shorter.
Taylor looks no more than 5'7 he could have been close to 5'8 peak tho.
Vibram
said on 26/Sep/16
In my opinion:
Phil Taylor: 5'7.7 (peak about 5'8)
Gary Anderson: 5'9.25
Paul Nicholson: 5'9
Michael van Gerwen: 5'11.25
Robert Thornton: 5'7
Terry Jenkins: 5'9
Adrian Lewis: 6'1
Peter Snakebite Wright: 5'9
James Wade: 5'11
matt
said on 18/Jul/16
Some of the Darts players heights are listed are on Unicorn site, They dont list Taylor i have heard 5'7 for Phil, Mvg would have said 5'11, James wade is listed as 5'11, Barneveld is down on there as 1.89m so 6'2.5?, Joe cullen 6'2, Mark Webster 6'2, Mervyn King old website had him as 5'9, Paul Nicholson 5'9 and Steve Beaton is 6'3 on his official website.
Not sure myself on Gary Anderson, I think he could be a weak 5'10? around 5'9.5- 10 range
anon
said on 14/Jul/16
Van Gerwen at 5- 10? Looks taller than that he is bald, 5'11 range seems likely for me looks same as Wade, Lewis looks like a 6'2 guy
anon
said on 12/Jul/16
Rob How Tall would you guess is Michael Van Gerwen he is bald he looks like a 5'11 to me as guess, Of the top players Lewis and Barneveld are both very tall, No Idea on Gary Anderson also, not sure if you have seen much of him I think 5'9-10 range?
Any Ideas on Van Gerwen or Anderson?
Editor Rob:
not sure on Gary, but if you look at Michael with
Carl Froch
, he's got to be somewhere in 5ft 11 range.
TJE
said on 17/Aug/15
182 seems like a better fit for today.
NBAer
said on 13/Aug/15
Doesn't look over 181 above with loose posture,183 seems believable standing better.
Ted Hughes
said on 16/Jul/15
Eric Bristow must be nudging 6ft 4 as a guy I live close to met him who is nudging 6ft 2 and Eric towers over him
ray
said on 13/Mar/15
I think Rob's estimate on Michael Van Gerwen could be correct he was wth Carl Froch last night at the premier league darts in Nottingham, They have pictures together and Carl looks a good 1/1.5 inches taller, Mvg bald but looks 5'10-5'11 range I think, I think he might be 5'10.5 or a weak 5'11 though he has quite a big build too.
Rampage(-_-_-)Clover
said on 11/Mar/15
I thought he was like 6ft4 or 6ft5, originally!
Rampage(-_-_-)Clover
said on 11/Jan/15
He can look around 5ft11 these days. He's big bloke nonetheless. Those hands are humongous
liam
said on 13/Nov/14
What are your thoughts on Russian women darts Player Anastasia Dobromyslova, she is listed 5ft8, could be right, have seen her at all Rob?
I agree on Taylor possibly 5ft7 for him, Lewis is hard to peg he can look 6'1- 6'3 range his posture can be off as he is a big guy, Wade is 5ft11 he is the only player I have met in person a few times in similar shoes to me and we were very close and I measure 180cm range so I think he is the 5'11.
[Editor Rob: I saw a few photos of her, she might be 5ft 7.5 range]
callum
said on 8/Nov/14
I would have guessed Richie George around 6'2, Looks Tall, for sure he is taller than Bobby, Bobby is like a 5ft11 guy with bad posture with his bad back if measured he could be maybe 5'11.5 now close to 6ft but his posture is awful as mentioned.
I would have said a weak 5'7 maybe for Phil Taylor not sure
tim
said on 7/Nov/14
How Tall would you guess Darts star Adrian Lewis Rob, He replied to a fan on Twitter 6ft3 when asked how tall he is, I always wondered about him at times he can Look 6ft2-3 range then other times he looks like 6ft1 range at a guess, I would have gussed overall around 6ft2 for him?
[Editor Rob: he's got to be at least 6ft 2 I think, he looks a quite big bloke when standing tall.]
ray
said on 4/Nov/14
Rob, Have you see his son Richie, He is a darts Player looks taller than his dad, might be 6ft1 at a guess, Looks Tallish
[Editor Rob: yes he could be in 6ft 1-2 range]
kevin
said on 1/Aug/14
Mvg looks in the 5'11 range to me similar to James Wade, Wes Newton, Lewis is likely 6'2 range he looks close with Bristow and Van Barneveld, Last week Wayne Mardle called Phil Taylor 5ft6- I would have guessed Taylor around 5'7 hard to tell with Phil.
Tallest Darts Player I have seen is Vincent Van Der voort think he is 6'6 and Roland Scholten was at least 6'4.
delvin
said on 19/Jul/14
bobby george looks about 180 cm to 181 cm in this picture
miko
said on 24/Dec/13
Lewis is a weak 6'2.
Vibram
said on 14/Dec/13
I see 5ft10.75 for Bobby George next to Rob. A hair over 6ft peak? It looked like Bristow had Bobby by 2.5 to 3 inches in the early 80's. I know he's had back problems (discs) for 20 odd years and looks shrunken compared to his heyday in the 1980's, lol. I think he needs a downgrade Rob. Phil Taylor is about 5ft7.5. 5ft8 in his 20's possible. Michael van Gerwen looks 5ft10.5 > 5ft11. Wade 5ft11. Barneveld is about 6ft2.5.
Click Here
miko
said on 26/Jul/13
I'm lucky enough to have met a few darts players, Phil Taylor is a weak 5'8 and Bobby was struggling with 6'0, I'd say 181/182cm these days.
Anonymous
said on 9/Feb/13
I asked on Phil Taylor website how tall he is , Always saw him listed as 5'8 and they replied Phil is 5'7
Arch Stanton
said on 28/Dec/12
Look at that bling, sheesh, I saw him on something about 10 years ago, thoroughly nice man, and yeah I thought he looked pretty tall.
[Editor Rob: all 24-carat gold! No wonder he's lost height.]
miko
said on 22/Oct/12
Do you think he can still stretch out to 6'0 then Rob?
I saw him at Rileys for a dart tournament with Phil Taylor and he looked maybe 5'11 to me, his posture around the middle was awful. Taylor was a weak 5'8.
[Editor Rob: i think he's lost height, maybe with some gammy knees and bad back he can walk around 5ft 11, but maybe if measured near 6ft.]
Brad
said on 15/Oct/12
I bet he owns a bulldog and loves ale.
mike 6 feet out of bed
said on 28/Jul/12
I see 5ft 10.5 but hes a little slouchched. His prime height is questionable
Mike Alk
said on 30/Aug/11
He's 5'9" for sure... and so is British Bulldog, they look the same height in their matches.....Bulldog was Beast though
T-Squared
said on 20/Mar/11
Apparently in the game manual for WWF Super Wrestelmania on the Genesis, Davey Boy Smith is listed as 6'3 and 260 lbs. Imagine how confused people were back in the day about the correct height of their favorite wrestlers.
Click Here
dk
said on 16/Jan/11
@ Clay
I hear his favourite colour was blue. What's yours, you guys?