Bradley Mcintosh's Height
5ft 5 (165.1 cm)
English singer, best known for being part of S Club 7. This photo was from a Collectormania/Sportsmania in Milton Keynes.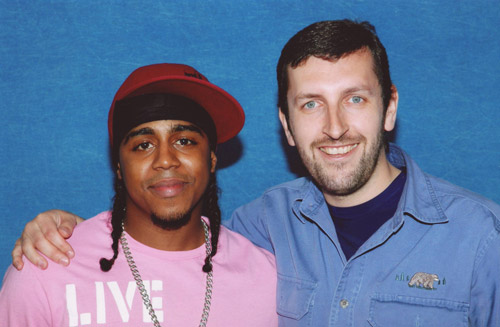 5ft 8 Rob and Bradley
You May Be Interested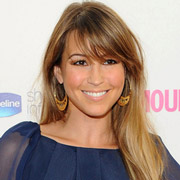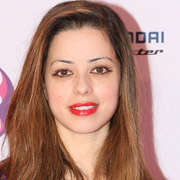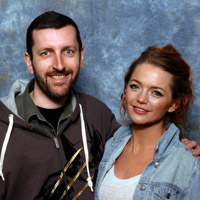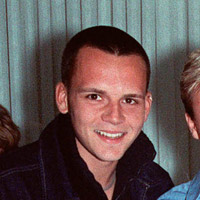 Add a Comment
33 comments
Average Guess (11 Votes)
5ft 5.07in (165.3cm)
Littlelee5ft6
said on 2/Jun/20
He didn't say 5ft 6 was a greater height christian he said a great height and hes correct
Nik Ashton
said on 8/May/20
I wish he'd take his hat off!
JohnMoore-162cm
said on 5/May/20
I would guess he is shy of 5ft5, like 5ft4 3/4" or so.
Canson
said on 29/Apr/20
@Christian: I'm thinking sarcasm too
Christian 6'5 3/8"
said on 27/Apr/20
@Rob
How is 5'6" a greater height than 5'8"? (no offense to anyone that's 5'6") I assume you're just being sarcastic.
CD
said on 3/Jan/20
The top of his cap is about 5'6ish, take off 2cm and he looks about 5'5.25 but he's raising his eyelevel slightly. Take into account Robs posture and he's 5'5 at the very most.
Littlelee5ft6
said on 1/Jan/20
Shiznak then you must be 2 inches shorter than you think you are hes definitely 5ft 5
shiznak
said on 31/Dec/19
saw once at a show in my local park, wouldn't have said he was anything below 5ft 7
khaled taban
said on 31/Jul/19
I'd give him 5'5.25".
Anonynon
said on 16/Dec/18
Does not look a 5'5" flat. Looks a bit over.
LOL @ 5'3" comment, not possible.
superintend
said on 11/Sep/17
on the photo he looks close to 5'5.5 range. Are you standing a bit loose there, Rob?
Editor Rob: I don't think I was standing tall. The top of his head is about 2cm underneath his cap I'd say.
Gary
said on 8/Dec/16
looks 5'3 and you sure you're 5'8 rob? from this pic I'd guess you're about 5'6.
Editor Rob: unfortunately Gary, I'm really 5ft 8, though I do sometimes wish I was 5ft 6, it's a great height.
Dmax
said on 30/Mar/16
I think the hat is fooling you Rob he looks more 5'4.5 to me considering your hunching.
therapper
said on 25/Jan/16
hats can be deceiving, and that eye level makes me wonder
therapper
said on 25/Jan/16
perhaps a bit over 5'5
120
said on 28/Mar/15
165 cm is right on the spot
Tik
said on 23/Dec/14
Thanks rob any idea on John and Paul's height, I heard 5 ft 9 for Paul but he looks taller and 5 ft 7 for John but I think he may have grown after that was listed
[Editor Rob: looking at them with bradley, I don't think Jon looks more than 5ft 7 and Paul doesn't look that much taller than Jon, maybe above 5ft 8 towards 9, but I'm not sure what they actually claimed themselves.]
tik
said on 21/Dec/14
Any idea on the rest of S clubs's height
[Editor Rob: well hannah is on this site, she is about 5ft 4, rachel no more than 5ft 1, jo o'meara doesn't look much taller than hannah. I had a search on Tina and found she claimed 2 inches taller than hannah, so maybe I'll add her.]
cd
said on 16/Oct/14
The photo does kind of give a 5ft 4 range impression, but it's hard to tell with his hat(s). I would guess he's shy of 5ft 5, like 5ft 4.75 or so.
Adamz
said on 18/Jul/14
Jeszuz weezus id hate to be any shorter than i am (173/4cm).
Powerhouse
said on 11/Feb/14
If they both stood straight it would easily be 4 inches difference, this guy is 5'4.25
Danimal
said on 10/Aug/12
How do you still have him at 5'5". You also have Corey Feldman at 5'5" and Bradley is an easy 2" under that.
[Editor Rob: both very similar range to me ]
Danimal
said on 20/Jan/12
Wow Rob, but I'm seeing 5'3" there MAX...
Shaun
said on 25/Nov/11
Five four and a half..
Rampage(-_-_-)Clover
said on 27/Oct/11
164cm(5"4.5) tops with Rob, possibly even just 163cm...
Maximus Meridius
said on 26/Aug/11
Rob is it possibe he grew taller after 18 michael owen was 5ft 6in when he was 18 and then he grew to 5ft 8in he may have done the same grown taller after 18 he must be at least 5ft 8in now the same height as michael owen males can grow after 18 it's not uncommon as people think since males can grow up to 25.
[Editor Rob: I doubt it, in that photo above he's 26 years anyway.]
Chris
said on 10/Jul/11
Without swagger he definitely 5'4"-5'5
Jonnny
said on 21/May/11
WOW!!! I thought he was way taller.
dk
said on 16/Jan/11
I thought Bradley was MUCH SMALLER. By the way, what's Bradley doing now?
[Editor Rob: no idea, 4 years ago he was 'working' with some producers, at least that's what he said to me. He also said people ask him about the 3 girls and he said 'man, I wish!']
maximus meridius
said on 13/Jan/11
He must have gotten taller now michael owen was 5ft 6in when he was 18 and then he grew to 5ft 8in he may have done the same grown taller after 18 he must be at least 5ft 8in now the same height as michael owen.
Rikashiku
said on 17/Dec/10
Wow, didn't think he was that short.
Damn that hat, but it looks about 3 inches. Posture has nothing to do with it.
Anonymous
said on 8/Jun/09
I'd say 5'4 or maybe 5-3.5 or unless Rob is 5-9.
Sam
said on 27/May/09
Uh... Rob check this page, i think there's a serious mistake here...
[Editor Rob: yeah, I fixed the wrong image ;)]