Brian McKnight's Height
6ft 4 (193 cm)
American Singer. Said in The Jakarta Post (13/3/09)
"I thought that if I grew to be 6'6" to 6'7", then everything I'd ever wanted would be very easy for me to achieve. But well, I got some 6'4" and 6'5""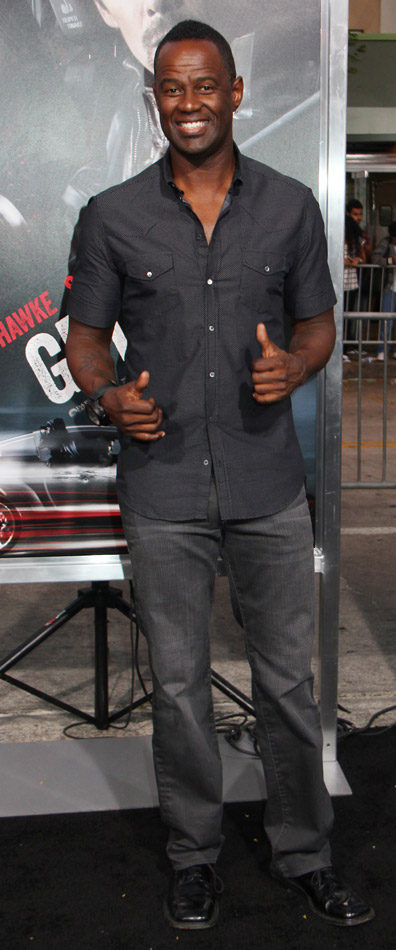 Photos by PR Photos
Add a Comment
27 comments
Average Guess (5 Votes)
6ft 3.85in (192.7cm)
Chris Junior Hernandez 1990
said on 12/Apr/21
Camera angle makes him look 1/2" missing from 6'4 next to Magic.
Canson
said on 5/Dec/20
@Editor Rob: He doesn't look 6'4 next to Magic. 6'3.25 peak may be too low but 6'3.5 fits. 6'4, 6'5 is a shoe height
Click Here
Click Here
Click Here

Editor Rob
6ft 3.5 could be possible
OriginalAnon
said on 8/Oct/20
191 range for McKnight. His height is always overstated. Great singer.
Canson
said on 27/Jan/19
6'4/6'5 is a shoe height. He's 6'3-6'4 barefoot
Realist
said on 22/Jul/17
T.O is 6"3 I seen him when I was 5'6 ish at 14 but he was tall and lean I was like 155 back then lol
Canson
said on 2/May/17
Weak 6'4" 192cm range.
S. White
said on 20/May/11
Saw Brian Mcknght at the essence festival in 1998 in the French quarter with his security. You could see him head and shoulders above anyone in the whole quarter. He's at least 6' 4" like UK says. Been to a couple concerts as well. The stage and tv make you appear taller so he does look even taller than that.
Ajax
said on 9/Feb/11
I'd say just a solid 6'3". Not less or More.
hkgk
said on 1/Jul/09
Click Here
he looks 6-3 easily there
matt
said on 28/Apr/09
Him being 5'11 and around that is absolutely out of the question
Just saw 'my wife and kids' with him in, (the very reason I checked for him on here) and he is an inch or two taller than 6'1.5 Damon Wayans
Unless he wears phenominal lifts, whcih I doubt..
fern
said on 11/Apr/09
looks to be 6 foot 4 next to almost 6,7 rodman on celeb apprentice
matt
said on 8/Mar/09
Well, like most celeb men, he probably adds abppx. 2 inches to his height. If he says 6'4, its probably closer to 6'2.
But he is quite tall, remember he was one of the first music stars to take a run at getting into the nba (before the rapper master p did preseason with Charlotte). I met him and hes one of these guys that doesnt LOOK tall, until you really think about it or get right in his face (maybe its his posture).
Downtown
said on 9/Feb/09
Brian is 6'4" but he has bad posture - he hunches.
RH
said on 18/Mar/08
I was front row in an concert, he was 6'0 or 6'1 no more that
J-Dog
said on 11/Jul/07
Viper Owens is not 6'2" flat, he is basically 6'3" 6'2" and 7/8th is 6'3".
Jason
said on 12/Jan/07
He's about 6 ft 3.5. I think this is right, because I seen him at a Sea-Tac airport check point without his shoes. He's at least 6'3"... but I think the extra half inch is about right.
Viper652
said on 5/Dec/06
This guy fluncuates in height.
J.
said on 4/Dec/06
He says, "I'm 6 feet 4 inches" in this brief article:
Click Here
Alex
said on 20/Nov/06
Brian McKnight looks at 6'3ish in those pictures you posted so I can def believe he is 6'3 or just about that. In the past he just gave me the impression of a 5'11-6'0 guy.
Alex
said on 16/Nov/06
He's doesn't look over 6'0 with Terrel Owens. Also a couple years ago I didn't think the guy was over 5'11.
Alex
said on 16/Nov/06
I never figured he was 6'3.5 or near it. I thought he looked more 5'11-6'0 actually.
D.J.
said on 14/Aug/06
Knighty looked a full 6'4" to me.
Denver Elias
said on 14/Aug/06
Met BM at his concert, Orlando House of Blues in Sep 03. Really nice dude - signed my album, had picture taken too. He is 6'4" - no doubt.
J.
said on 12/Apr/06
Could've sworn an old Jet cover story described him as 6'3" ...could be wrong though.
JCS
said on 11/Aug/05
Owens is 6'2 7/8".. so just under 6'3"
CelebHeights Editor
said on 11/Aug/05

In a VH1 interview he stated:
"I'm 6'4"
Ball-A-Hallic
said on 14/Apr/05
A friend of mine met T.O. and he's 6'0.5 and he said T.O. had atleast three inches on him puttin him at 6'3 but really I think T.O.'s only 6'2 or 6'2.5 But B-McKnight is pretty tall I figured he was 6'3 or 6'2.5