Brian Murphy's Height
5ft 6 (167.6 cm)
Peak height was 5ft 7 (170.2 cm)
English Actor best known for starring in British tv shows like George and Mildred and appearing in most recent years in Last of the Summer Wine.
I met him at a London Film Con in 2010.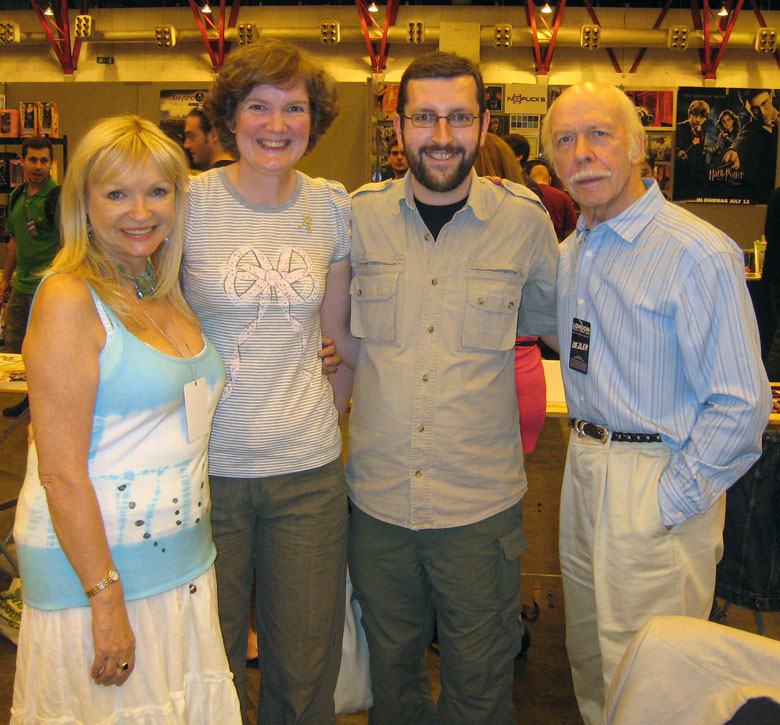 5ft 8 Rob with Brian
Add a Comment
50 comments
Average Guess (6 Votes)
Peak: 5ft 6.67in (169.3cm)
Current: 5ft 5.63in (166.7cm)
Miss Sandy Cowell
said on 19/Jan/21
In fact, Mr Rogers wasn't gay at all! Yootha's Mildred replied with the (very common for the 70s) "I'm rather happy myself!" 😆
The episode ended with Mr Rogers taking out the local barmaid!
🍺👱‍♀️👨‍⚕️🍺
Miss Sandy Cowell
said on 17/Jan/21
I've been watching 'George and Mildred' again and this time, Mildred is coming on to her new lodger. His name is Mr Rogers! 😂😂😂
Poor old George is getting seriously worried...
.... but he doesn't have to be for long. He's just told Mildred he's gay!
Brian's peak height - 5ft7
Today - 5ft6
Miss Sandy Cowell
said on 15/Jan/20
This morning's George and Mildred:
The man from the pet shop said to George over the phone regarding one of his pigeons, "I suggest that your bird isn't eating because he's dead!"
Couldn't George tell? Ha ha - that reminds me a little of Monty Python's 'Parrot Sketch', which I found online the other day, only the pet shop owner in the parrot parody was trying to fob off a dead bird as a slumbering pet!
😂😂😂...🐦🔫
5ft6.75 for Brian's peak and 5ft5.5 today.
Sandy Cowell
said on 11/Nov/18
@ Paul Wood - I know Yootha Joyce was 5ft4 because we, as in my family and myself, had front row seats at the theatre, whereby it was easy to compare her to Brian Murphy. I also read an article about her in Slimming Magazine. These articles were very thorough, and spanned a good 2 - 3 detailed pages of facts about her size, including height, weight, dress size and possibly even measurements.
Brian gets 5ft6.75 peak and 5ft5.5 for his current height.
Sandy Cowell
said on 13/Sep/18
Many moons ago, I saw a production of 'George and Mildred' at a seaside resort, possibly Sandown, Isle of Wight, but I'm not too sure, on a family holiday.
Brian didn't seem that much taller than the late Yootha Joyce, who was famously 5ft4. Even in my early teens, I couldn't help but notice things like that; with high heels, I reckon she'd have been looking down on him!
5ft6.5 for peak and an inch less in the above picture.
andre
said on 31/Dec/17
looks like a strong 166cm with you rob

Editor Rob
I think peak for this chap was probably somewhere in 5ft 7 range and he inflated his height 2 -3 inches.
Jim
said on 5/Feb/16
Joe played for Paul Bear Bryant at Alabama. Bryant was a strapping 6'-4". Sideline photos of Joe and Bryant clearly show Joe as being about 2 inches shorter, thus about 6'-2" in his prime. At Beaver Falls High School, Namath was the only starting white player on the basketball team and he routinely dunked the basketball, even with his back to the rim. Bear Bryant said Namath was the greatest athelete he ever coached.
JamesW
said on 16/Jan/16
Google images has several pictures of Namath and Don Maynard standing nose to nose. Maynard was 6 foot back in their playing days. Namath is clearly at least an inch shorter.
Rimbaud
said on 25/Nov/13
i was watching George and Mildred the other day and in it George said he was 5ft 10"!!! i was shocked! always looked on the shorter side of things. 5ft 7/6 seems about right. good actor, funny guy
RP
said on 16/Jan/13
He was about an inch shorter than a weak 6'2" OJ Simpson during the season they did Monday Night Football together. So, I'd go 6'0.75" at age 40. Probably really was 6'1.5" peak in his 20's. Joe had bad posture even at age 23. Look at his rookie clips. He was slouching then.
Tigon Man
said on 22/Oct/12
Met him once, very nice guy. I'd say 5'6 is about right.
Anonymous
said on 4/Feb/09
Joe was a 6'1-6'2 guy back in the 60's-80's. Probably 6'1.5-75. It's silly to even comment on him being peak height after about 1985 or so(43yr old)because he was the poster child for knee surgeries and replacements, he schrunk up as much as anybody. He probably is only about 5'11-6'0 now, he's a senoir citizen and a super slocher on top of it. People have got to stop confusing peak height with geiser height. Joe was probably 6'2 back in College at Alabama in about 1965, 23 yr old. Why do people look at a picture like the one above at the old folks home and talk about peak height.
Hugh
said on 24/Dec/08
Where are all of these 5ft11 claims coming from. How the hell are we to judge his height if he's leaning over the table.
richinkle
said on 9/Dec/08
Here is a youtube with a clip of Joe Namath on Here's Lucy (around 3:50) from his prime in the early 1970's, and a scene with Lucie Arnaz.
Click Here
Look closely and you'll see Joe is wearing a bit of a heel, similar in height to Lucie Arnaz's shoes. Even with that he's not more than an inch taller than she is. Since Lucie Arnaz is 5'-9 1/2", I would estimate Joe Namath at about 5'-11" - 5'-11 1/2", certainly no more than 6'-0".
Michael Draper
said on 25/Sep/08
My dad net Broadway Joe in 1972 he had a friend who brought Joe over. They were passing the ball, and my dad was trying to show off throwing the ball 60 yards and he was throwing very well, but then Broadway Joe threw the ball over a building that was nearly a hundred yards away. My dad says He never told him his real name he was trying to remain incognito. He gave my dad a name that he said was a false name. He never realized until today that it really was Broadway Joe though. He says Joe and my dads pal talked about college, and that Joe once hinted at who he was by saying call me Broadway Joe, and every one laughed.
Jordan
said on 21/May/08
My Dad met Namath back in 1971 in a bar and said Namath was an inch shorter then Him and My dad is 6'1. Namath had bad posture evene in the 60's and 70's.
Chewy
said on 4/May/08
6' 2" is insane. He was always 5' 11".
Observer
said on 11/Apr/08
I do not have any photos of this to prove it but years ago Joe was on The Mike Douglas Show with Susan Anton and they were eye to eye with her high heels off.
She's said to be 5'11.
LOOK UP TO THE TALL PEOPLE
said on 23/Feb/08
Click Here
glenn
said on 17/Feb/08
bill reread posts.comprehension helps.it avoids arguments too.
Bill
said on 16/Feb/08
I was a big fan as a kid, read all his books etc. When he was playing in the NFL he was listed as 6'2" but once commented that he was actually only 6'1" and the Jets routinely added an inch to his "official" height. No way was he 5'11". If so would have been one of the shorter quarterbacks in the league, and he wasn't.
glenn
said on 11/Jan/08
thanks for letting us know he always stooped.at least one or 2 people here backed me on him looking 5-11.
Sean
said on 6/Jan/08
You guys must be young since you don't seem to know Joe was always stoop-shouldered -- even back in his playing days. I have nothing to contribute about his height (sorry) but since no one answered Jordan's question ("Was he a nice guy or was he cold?")I thought I'd post. I met Joe a year ago at a book signing and he was very nice. He showed up 20 minutes early and stayed an hour late. He had a big smile and a comment for every person he signed for, and I noticed he asked every girl what her name was.
Derek
said on 31/Dec/07
The woman in the background looks like she's giving someone the finger. My dad met him several times. I think the most recent was 1995. He said the Jets offensive line was so bad, it's no surprise Joe's knees and back are so bad since he was sacked constantly.
Anonymous
said on 14/Dec/07
He was 6'2 back in the 60's-70's. The guy was famous for ripped up knees and knee surgeries and replacements 30 yrs ago, It's a miracle he's not in a wheelchair by now, so he probably is only about 5'11 now, he's in his 60's. It's hard to imagine anyone in more of a position to have lost a great amount of height than Joe Namath.
Bob
said on 12/Dec/07
I met Joe 15 years ago and had a pic taken with him in Las Vegas. I am 6' and Joe was shorter.
glenn
said on 9/Dec/07
thanks dave.i try my best.i didnt mind the weight comments for awhile.nowadays i feel its not needed.im not insecure.im happy with myself in all aspects.others things i cant change.mamun and rob bring photos to the site i have no interest in,but helps tremendous to the site.cause most of you are into it out there.the few us together make the site interesting.im sure theres tons of photos i bring in that may bore most.but i keep it more diverse than anyone.a-list,obscure,and metal.and posters like you dave are the reason we are here too.without the posters,we wouldnt exist.
Dave
said on 9/Dec/07
he looks an easy 6'1 if he were able to stand straight, an easy 6'2 back in the day i think. Great you got a pic with him glenn. And personally i dont see it my place to comment on anyones looks, no matter if they are a super model or not. The fact is this is a height website and glenn is the best guy we have for photos, he has provided great help on this site here. Much respect and thanks for all the photos glenn!..... also a thanks to editor rob for his photos, and manmun is contributing very well for the short time hes been doing so.
glenn
said on 8/Dec/07
its irritating danimal.i have a right to say that.and its sounds more weird when your asking about a girl in the background and not the subject at hand.thats all.nothing personal at you.
Socom
said on 8/Dec/07
Rob, Why is Sneaker's height 5'8? Just curious.

Editor Rob
something had to go on it because its stored as a height page with feet/inches, not a separate article or anything.
Danimal
said on 7/Dec/07
Glenn, I didn't see it the first time. I've been on here for 3 years now man. Because I did something once or twice, doesn't mean that's MY thing. Anyways, I've always pretty much been on your side. So what if I asked the same thing twice? I meant no disrespect.
glenn
said on 7/Dec/07
thanks socom.sorry.
glenn
said on 7/Dec/07
thanks socum.
glenn
said on 7/Dec/07
ayman i know you meant no harm,but after awhile one gets tired of the comments,even though luckily not abundant.its not needed.you look in shape.i hate fat guys telling me im fat,and bald guys telling me im bald,and short...
glenn
said on 7/Dec/07
i answered that for you danimal.you have a habit of doing that.you did that with hetfield.no disrespect.amazing guy.wouldnt stop talking to me.the kunt in the background said no photos,yet everyone was getting one.not my fault joe himself was holding up the line.
Socom
said on 6/Dec/07
He really looks around 6 feet even if he stands up straight, of course he might not be able too. Much respect Glenn!
Jordan
said on 6/Dec/07
Glenn, Was he a nice guy or was he cold?
Darren
said on 6/Dec/07
He is 6foot 2
Danimal
said on 6/Dec/07
So Glenn, who's the girl in the background?
MarkMark
said on 6/Dec/07
He was noticeably shorter than Chris Cuomo from GMA. Maybe 2-3 inches shorter. Anyone know how tall Cuomo is?
Del Mar
said on 6/Dec/07
Is that his average posture? Then, it seems like he has problems with really standing proper, poor guy. Your face expression reminds me of Brad Pitt here, glenn, that's cool!
glenn
said on 6/Dec/07
you know,for a long while i didnt mind the weight comments,now its just pretty rude.this was like 10-12 weeks ago.the photos you should now already dont pop out on he site the second its taken.thats absurd.it couldve been 3 years ago for all you know.is it even worth mentioning? its a photo.depending on my shirt or how i moved,it can distort things.ayman,i hope your a thin good looking guy?
Viper
said on 6/Dec/07
Hes 6-2 If he stands fully straight I have to think.
cantstop25
said on 6/Dec/07
the top of his spine looks all curved and hes got horrific posture, i guess that ocmes with age
glenn
said on 6/Dec/07
aaaa is right.he seemed 5-11.i was surprised he didnt seem taller,but he did have a horrible slouch from what appears to be a back problem.the women worked for him i believe.or sprint.this was to promote sprint.she was a kunt.
Frank
said on 5/Dec/07
He's not 6ft 2 and most likely never was
Mike
said on 5/Dec/07
Glenn, did he give you the Suzy Kolber treatment ?
Lynn
said on 5/Dec/07
uhm... some difficult to stay in the pic....
Danimal
said on 5/Dec/07
Cool shot Glenn. Who's the girl in the background?
AAAA
said on 5/Dec/07
I heard he was 5'11, even in his prime. Hard to gauge now. He has probably lost considerable height after all those knee surgeries