Brian Thompson's Height
6ft 2 (188 cm)
American Actor known for shows like The X-Files, Buffy and films Cobra and Lionheart. At one stage got described at a towering 6ft 8, but in the LA Times Apr 1998 he said
"I'm 6-2"
.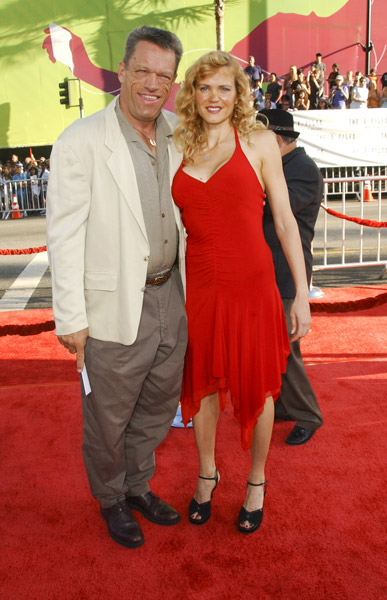 Photos by PR Photos
Add a Comment
40 comments
Average Guess (20 Votes)
6ft 2.33in (188.8cm)
Gabriel Gray
said on 14/Sep/20
Rob, he is famous for Cobra, how do you think of his weight on that movie, i think 225 lbs?

Editor Rob
at least 220 range looked very possible
Rampage(-_-_-)Clover
said on 6/Mar/20
6ft2 is fair since he claims that but I think it's likelier he measured a bit over it rather than under in his prime. Uncertain if he did round down a full inch though. Looked pretty imposing in Cobra
Miss Sandy Cowell
said on 28/Aug/19
🎂🎁 Happy 6️⃣0️⃣th Birthday Brian! 🎁🎂
Big Brian turns the Big 6-0 today!
Congratulations to him!
6ft2.
🎉🕯️🎁🎈🎉🕯️🎁🎈🎉🕯️🎁🎈🎉🕯️🎁🎈
Rampage(-_-_-)Clover
said on 7/May/19
No less than 188cm
Panaghiotis Sorokos
said on 7/Oct/18
deron mc bee 1m91 and brian thompson 1m88 see the photo here
Frances Alvarez
said on 11/Sep/18
History a film The Terminator a young Brian was height 6'3" punk look down/up a robot nude Arnold was 6'2" want give me a clothing
Rampage(-_-_-)Clover
said on 13/May/18
189cm peak
berta
said on 26/Sep/17
check out him and david duchovny on google. He have footwear advantage but is leaning alot. i thinkits safe to say that he cant have been shorter than 188cm i still think closer to 189 is closer. 188,6 guy something like that
Rampage(-_-_-)Clover
said on 9/Aug/17
Looked no less than 189-190cm in Cobra
Matt179
said on 5/Aug/17
This dude always had a ****ed up face. Its odd if you look at his face, his jaw always protude.
Ted
said on 3/Jul/17
A weak 6' 3'' for Thompson.
Mincer
said on 25/Jun/17
Rob do you think he was possibly 6'2.5 and rounded down?

Editor Rob
from all I've seen in 80's and 90's, I've no reason to think Brian is any taller than what he claimed, 6ft 2.

Nik
said on 21/Mar/17
@Editor Rob
What is your guess on the size of the heels warn by the lady in the picture above? Also how tall is she?
I think I would pass on being photographed with these two! Ha ha

Editor Rob
Nik, certainly no less than 3 inch range, maybe a tad more.
Sandy Cowell
said on 19/Mar/17
I enjoyed reading what Tapeworm had to say back in April 2011 about meeting Brian! He reckoned on his being 6ft3, which I find fully believable! 👍
berta
said on 23/Jan/17
this guy always looks big. but in chuck he didnt look mutch taller than 188. but overall i think he could be pushing 189. 188,5 cm is a good guess
Ton
said on 23/Jan/17
He looked 190 cm - 191 cm in COBRA. I guess he is taller than it's listed here.
josh jeffords
said on 6/Dec/16
Man this guy looked huge in the 90s was usually ripped and big cinder block head born bad guy.
He looked 6 3 at least towering little Van damme, also massive with stallon but not as much.
Oh yeah and his recurring tv monster roles always tall and big guy.
5 11 is impossible unless vd is 5 6 compare him to the massive ralf moelher he is close 6 3 prime.
As per the photo he is clearly not that anymore also lost posture and muscles still has the evil look.
Flyingcat007
said on 25/Nov/16
He is a legit 6'3 on X-Files.
T-Squared
said on 21/Oct/16
5'11" barefoot "roided"? Thompson has always been in great shape but I think he's more of a case of someone with great genetics for low body fat. He's tall and has a large frame but has never been quite as muscular as Arnold or other notorious mass monsters. I agree with the part about the footwear though.
Rampage(-_-_-)Clover
said on 30/Jul/16
6ft8 is a joke but possibly near 6ft3 peak?
184.3cm (Night)
said on 2/Mar/16
One of those go to guys back in 90's. He also played Shao Khan in that Mortal Kombat II movie.
5'11" barefoot
said on 28/Feb/16
Legit 6'2"....remember he wore boots or lifts in many movies which made him look 6'4"ish....anyhow this guy is roided and jacked all his movies he looks strong....great actor by the way...glad he's still around...
5'11 guy
said on 16/Nov/15
Rob, do you think he could have been 6'3 at its peak?

Editor Rob
I think he was a decent 6ft 2 as he claimed
LoganNoll1996
said on 14/Aug/15
Was always under the assumption he was Kevin Sorbo's height. I say 6'3.
john b
said on 24/Feb/14
Dont forget to add Rob he was also one of the punks in Terminator that Arnold takes their clothes in the first part of the film, also in Cobra played the bad guy with Stallon....his at Milton Keynes Collectomania this year in May 2014.
justin
said on 26/Apr/13
hes a tall guy 6'3" flat
Alex
said on 19/Jan/13
Well he is quite bulky and muscular for sure. Makes him appear larger. But I think his peak height was a legit 6'3''. Rob,what do you think?
denny
said on 7/Jan/13
6'3" for definite he was tall, wouldnt be surprised if he was 6'4 at his peak not 6'2"
Yaspaa
said on 11/Oct/12
No he ain't.
Antonio
said on 19/Aug/11
Yes he is 6.3
thebad7
said on 23/Jun/11
One of the most menacing looking villains to grace the screen--I always wondered why he didn't become a bigger star. Probably best known as The Night Slasher from COBRA. He's a tall guy, and totally stacked--I think he's taller than 6'2", Rob. In COBRA, he towers over everybody--I think 6'3" is more accurate for Thompson.
tb7
P.S.--I've seen him listed at anywhere from 6'2" all the way to 6'5", but I think he's spot-on at 6'3".
chris
said on 18/Apr/11
I met him in seattle in '89 i was 6'4" he was around the same height maybe half an inch shorter he was also really built and big maybe 6'2" now but he definitely was altleast 6'3" in the late 80's
Tapeworm
said on 5/Apr/11
I met the imposing 6'3" Brian at a large club in Chcago during a very crazy party night, crowded shoulder to shoulder.
I was at the Bar, and getting annoyed at some guy pressing me up against the bar. I could tell he was tall because his scapula(some call the wings on a person's upperback) were almost completely above mine, digging into my lower neck! I'm 6' tall barefoot, well, now 5'11.5, too much powerlifting.
My brother is 6'2" barefoot, and is quite tall in person, but BRIAN was taller, I was nick-named as "Tapeworm" in a large Gym in Westchester, NY for my obsession with knowing key measurements of all forms of athletes.( I'm an artist that specializes in Anatomy, which is part of why ).
he's also quite Large, I have been complimented many times by other lifters for my big forearms, Brians dwarfed mine. Actually larger than Anols' by at about 2 inches, mine are 1/4 inch smaller than Arnold S.'s and hest 2 inches taller than I.But that's the only part near as large as he is.
brian told me he was 6'3" after I asked due to how tall he appeared in the Club.
I don't believe he was being serious with the Magazine article, why I don't know, but I know a bunch of 6'4" guys and he's close, so bottom line, he's definately over 6'2".
I have only been wrong at guessing heights of athletes twice of over 100 estimates.
A long explanation to give any who care the picture of how & why I believed him in 2004.
Cheers
I turned to complain, only to smile and hooler hey your Brian Thompson, From The X-Files, BUT his 1st MAJOR Exposure in Film was a very very often seen part in the Original TERMINATOR.
He's the (then thin due to running a marathon that same day,and training for it for weeks.Which is why he weighed 190 Lbs. in Terminator (1984)at 6'3"
T-Squared
said on 10/Mar/11
If you look at his scene in Joe Dirt, he is really leaning over while walking towards the house with Spade. I would easily place him at 6'2 at the least, even considering how much Spade likely exaggerates his own height. Thompson was probably about an inch taller back in the 80s.
anon
said on 9/Mar/11
haha ashnar, then why would he claim 6'2'', how oblivious are you?
Anonymous
said on 2/Jan/09
He is 6'2 could be 6'3 he is big only 2to3 inches smaller then dolph
AshnarLynx
said on 29/Sep/07
Look, I'm really sick of these "a friend of mine met him and says he looked shorter" stories! Brian Thompson is big. He's always looked big and he is 6'3, as he is reported to be. Look at him in X-Files, Cobra, Jason and the Argonauts-wherever you want! End of discussion.
Bleemo
said on 24/May/07
Hmm it's strange to hear you say that he could be as low as 187 cm, I think he's taller then a flat 6'2. There's not too many still photos of this guy but recently I have been watching a lot of x files and also a few days ago Jason and the argonauts with him in as hercules.
In the argonauts he is clearly 5 inches taller then 5'10 Jason London and in X files he looks maybe 3 inches taller then Duchovny. I recall one scene in X files where he knocks out mulder whilst they both stand in a doorframe and he seemed to loom over him by more then 2 inches.
Also here's a picture of him with about 5-6 inches on 5'9 Jean claude van damme (his head''s tilted and jean has sticky up hair).
Click Here
Anonymous
said on 15/Feb/07
He looked nearly as tall as 6ft4 Jonathan Frakes when he was on Star Trek The Next Generation as a Klingon. There's this one scene where they're next to each other, and Frakes only seems slightly taller. I think he's closer to 6ft3.
Marc
said on 19/Feb/06
Friend of mine met Thompson and was surprised at how much smaller he looked in person. Friend is around 6'3" and said Thompson was my height, which is only 6'.