Brian Van Holt's Height
6ft 1 ½ (186.7 cm)
American actor best known for playing Bobby Cobb on Cougar Town and for roles in films such as S.W.A.T and House of Wax.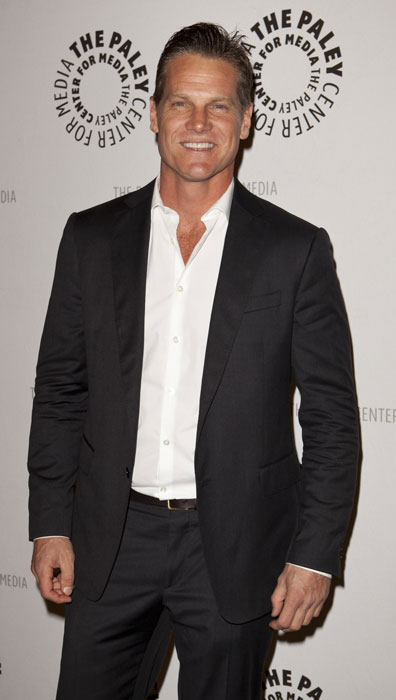 Photos by PR Photos
Add a Comment
25 comments
Average Guess (4 Votes)
6ft 1.75in (187.3cm)
Junior Hernandez 1990
said on 25/Mar/19
@berta Because Jared in 0.5" converse in that movie and Brain in much thicker footwear maybe 1-1.25" that leaves you 6'2 impression. I have seem him not looking taller than 6'1 1/4 Josh Hopkins most of time. The odds maybe Josh Hopkins is 6'1 1/2 that makes Brain look under listed.
berta
said on 7/Dec/18
i think this guy have bigger chanse of even being 188 than 186,5. He looks tall. He really did look tall next jared in house of wax
Junior Hernandez 1990
said on 11/Jul/18
6'2 out of way. Josh Hopkins look the same height as him in many occasions, Josh also can look taller.
Rampage(-_-_-)Clover
said on 18/Sep/17
Agreed. He looks this bare minimum, I dare say even 6ft2 isn't out of the question for him watching Cougar Town
Rampage(-_-_-)Clover
said on 14/Sep/17
Rob, which of these is likely?
A) 190.5cm/188.5cm
B) 190cm/188cm
C) 189.5cm/187.5cm
D) 189cm/187cm
E) 188.5cm/186.5cm
F) 188cm/186cm
Editor Rob: C-d range is very possible.
Rampage(-_-_-)Clover
said on 5/May/17
Might be 6ft2
berta
said on 30/Dec/16
saw house of wax the other day. he only looked like 3 cm shorter than jared who is 193. I dont think this guy is 190 but could be taller than this
Rampage(-_-_-)Clover
said on 1/Oct/14
Rob, is 188cm possible for Brian?
Jesse Stone
said on 9/Aug/14
He looks a lot taller than Sly Stallone in "Bullet to the head". In the fighting scene Stallone is wearing shoes and Holt is barefoot. Nevertheless about 10 cm taller than Sylvester !
Rampage(\-_-_-/)Clover
said on 27/Oct/10
Down everywhere as 185cm.
Yaspaa
said on 15/Apr/08
Jared Padalecki in flat converse still easily taller,this guy is at least 6'4 and probably gets out of bed at 6'5.
Click Here
Anonymous
said on 13/Apr/08
Elisha had heel advantage as did Holt.
Yaspaa
said on 11/Apr/08
Padalecki was wearing flat converse and Brian was in shoes.
Allie
said on 7/Dec/07
Van Holt is actually 6'3'' 2 inches shorter than padalecki!!
:)
Ed
said on 17/Sep/07
Viper, I agree he didn't look much shorter than Padalecki! I just watched House of Wax and there was barely any difference between them. Also, I don't know about 6ft4 as a barefoot height for him. In House of Wax Elisha Cuthbert at 5ft1.5 stood with the top of her head under his shoulders, so 6ft2.5-6ft3 could fit. Van Holt at 6ft1.5 could work to Padalecki's 6ft2.5-6ft3.
Viper
said on 9/Sep/07
"In House of Wax, he looks only an inch or so shorter than Jared. I'd say 6'3"."
I saw House of Wax again and he did look just an inch shorter than Jared, If that. And Jared even admits to being 6-3. Id say Holt is 6-1 1/2 and Jared is 6-2 1/2 - 6-3.
Anonymous
said on 20/May/07
lookee here:
Click Here
if chad michael murray is 182cm then brian must be at least 188cm tall. well, they got different postures...maybe 186 to 187 is also right.
Anonymous
said on 12/May/07
viper, you sound so envious. jared is 6'4, cope with it! anyone seen s.w.a.t. and compared brian van holt's height with the other cast members such as samuel l. jackson and colin farrell? that yould help figuring out.
Viper
said on 19/Mar/07
Which leads me to beleive that Jared is either 6-2 or 6-3, but not 6-4.
C. E.
said on 17/Mar/07
He can't be 6'5" because in House of Wax he's shorter than Jared Padalecki (stated in Supernatural's "The Benders" episode as 6'4"). That aside, unless they've started making doorways shorter he certainly isn't 6'1.5" either. In House of Wax, he looks only an inch or so shorter than Jared. I'd say 6'3".
SH
said on 7/Jul/06
6'5'' I do not think so. This is just an example of some one thinking a tall guy is a massive guy. IMDB lists him at 6'1'' which i think looks like an underestimate. He looked shoter than Jared Padeleki but a good bit taller than Chad, I would say he looks 6'2'' with a strong wide chest making him appear taller.
Jodi
said on 1/Jul/06
I think he's at least 6"5'. I loved him in the House of Wax and think he is so sexy
Josh
said on 11/Feb/06
yeah 6-1.5 (187cm) is right.
Josh
said on 9/Feb/06
he looks more like 6-1.5 (187cm) 6-2 (188cm).
snap
said on 26/Jan/06
looks 6'2"ishhhh