Bruce Dern's Height
5ft 10 ¾ (179.7 cm)
Peak height was 6ft 1 (185.4 cm)
American actor best known for roles in films such as Silent Running, Nebraska, The Burbs, The Cowboys, They Shoot Horses, Don't They?, Black Sunday, Coming Home, The Great Gatsby, Family Plot and Last Man Standing. He mentioned in his biography that he stood at an impressive
"Six Feet One"
and tipped the scales at
"180 pounds"
.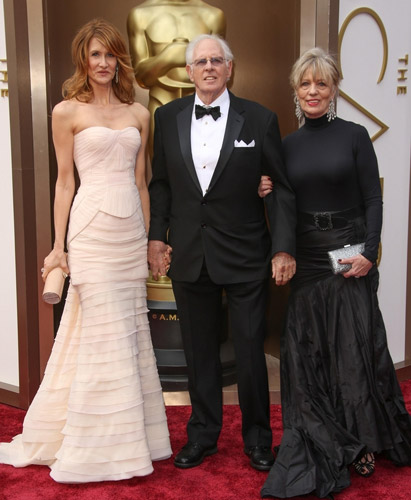 Photo by PR Photos
Add a Comment
50 comments
Average Guess (10 Votes)
Peak: 6ft 0.75in (184.8cm)
Current: 5ft 10.43in (178.9cm)
Arch Stanton
said on 9/May/20
Yes he was built like a tennis pro, lean muscle, thin but strong.
Nik
said on 8/May/20
It's interesting that he is just over an inch taller than his daughter Laura!
Rampage(-_-_-)Clover
said on 5/May/20
He stacked up well next to Eastwood and Wayne...I now think no less than 6ft1 in his youth...and also he wasn't a small-framed guy. Lean but well-built...
In old movies he reminds me a lot of Michael Bay...similar height and build.
Ian C.
said on 28/Jan/20
Dern was tall and strong enough in youth to have a credible movie brawl with Clint Eastwood in Hang 'Em High. You watch that and you don't think, why is Clint beating up on that skinny, whiny guy.
Arch Stanton
said on 6/Dec/19
I didn't know that Ian, Dern did always look skinny and thin of face, explains it I guess. He looked like a tennis player type too. Laura Dern also looks the type who would run a lot.
Miss Sandy Cowell
said on 6/Nov/19
@ Ian C - That is seriously interesting, Ian. My older brother used be a compulsive runner, and many a week he exceeded 100 miles. He does have pains in his legs/feet as a direct result, but he hasn't lost any height at 60.
I, on the other hand, started losing height after a fall in the black ice, which resulted in back injuries. What probably didn't help my ability to recover very well is that I grew up on a deliberately poor diet, in order to keep my weight as low as possible. Little did I know that it would have a long-term effect on my eventual height and then, later on, hasten the height-loss process.
Mind you, it's NEVER too late to start taking care of your nutritional needs, to minimize any further height-loss. It's a shame that in one's young years, one simply doesn't tend to think about the future.... 🤷‍♀️❓😕
Bruce's peak - 6ft1
Now - 5ft10.75
Ian C.
said on 4/Nov/19
Dern's loss of height may have been exacerbated by compulsive running. He was a marathoner of note, and sometimes logged a hundred miles a week. In his fifties he became addicted to pain medication, to deal with damage caused by all that running.
mrbobh
said on 9/Jul/19
watching him right now on the Tonight Show with Carson from March 2nd, 1978. He's wearing very flat slip on loafers... and has just greeted Ed M. There appears to be no more than 1 1/2" difference in their heights. I think 6' 1" was spot on. Their ages were 55 and 42.
Rampage(-_-_-)Clover
said on 6/Apr/19
Animus, but prime at least 2in taller
Animus
said on 1/Oct/18
Yeah, he's close to Matthew McConaughey these days.
Rampage(-_-_-)Clover
said on 23/May/18
He actually looks 6ft2 range beside Hanks in The Burbs and taller than Rick Ducummon (who coincidentally is listed here as 6ft2). I don't know if maybe lifts were involved though...
Arch Stanton
said on 16/Dec/17
Not "back" haha but thanks. Just saw the film and remembered us debating whether he was really 6 ft 1 peak and seeing him with Hanks I had to say something! Have a great Christmas Sandy!
Sandy Cowell
said on 15/Dec/17
🌟WELCOME BACK ARCH STANTON!🌟
Hooray! It's wonderful to have you back! 👏
Bruce can have 5ft10.75, and for his peak, 6ft1.
Arch Stanton
said on 14/Dec/17
In The Burbs Dern was easily an inch taller than Tom Hanks, in some scenes nearer two. I think the upgrade peak is a good call overall. He looked 6'1.5 with Hanks.
Rampage(-_-_-)Clover
said on 24/Nov/17
Arch, I'd say Wayne had lost a bit by that stage
Rampage(-_-_-)Clover
said on 24/Nov/17
5ft9 is ridiculous. He might still hit 5ft11 though
anyonmious
said on 4/Sep/17
bruce dern is probably 5'9 right now
Rampage(-_-_-)Clover
said on 3/Sep/17
Shocked he's lost that much considering he never drank or smoked....6ft1 peak is a fair shout
Charlie
said on 19/Mar/17
Laura Dern is listed 5 ft 10 so in heels she would be 6.0 ft.Bruce looks 3 inches shorter than his daughter Laura so i will guess Bruce is 5 ft 9.
MisterD
said on 14/Jul/16
Looked 2" taller than Tom Hanks in the Burbs'
Sam
said on 19/May/15
Rob, could you add They Shoot Horses, Don't They?, Black Sunday and Coming Home to his credits?

Editor Rob
I think bruce probably was pretty close to 6ft 1, nowadays at his age around 2 inches loss isn't huge, 1.5-2 inches nearing 80 for over 6ft men is common.
Rampage(-_-_-)Clover
said on 11/Mar/15
6ft1 peak isn't impossible
Arch Stanton
said on 11/Feb/15
He was great in the 70s especially, a real outcast/creepy demeanor. Seeing him in The Cowboys I think he'd have been awesome in a Dirty Harry film. He could have played the killer in the original Dirty Harry easily as well as the other guy I reckon.
Arch Stanton
said on 11/Feb/15
In The Cowboys he held his own well with John Wayne, in fact he pulled off looking only about 2 inches shorter.
Sam
said on 17/Nov/14
Dern with 6'2.5" listed Peter Fonda, looks around six feet IMO.
Click Here
Funny to read Dern talk about Fonda and how he became fed up w/ Peter. To Fonda acting was a "lark", that he didn't work hard and intensely like Dern and in Dern's opinion Fonda wasn't a "real actor".
jtm
said on 15/Nov/14
more convince than ever nicholson was even 5'9.
Sam
said on 11/Nov/14
At times in The King of Marvin Gardens, Dern looks closer to 4 inches than 3 inches taller than Jack Nicholson.
Click Here
Rampage(-_-_-)Clover
said on 7/Oct/14
Aged 67, Arch?
I don't know about that
Arch Stanton
said on 6/Oct/14
In Monster Dern looked about 2.5 inches taller than Charlize Theron, presumably he was still near peak then. He was looking about 184 in comparison.
JAC
said on 22/Jul/14
In the movie, The Posse, he appears to be considerably taller than Kirk Douglas. I would say several inches (3 maybe 4). In the Cowboys where he is standing and talking with John Wayne, he looks to be about as tall as John Wayne. Am I wrong about that? He did seem like a tall man in his prime, but has shrunk considerably. He is considerably shorter than his daughter, who is 5' 10.5", when she is in heels. I would say no more than 5' 10" now.
Arch Stanton
said on 25/May/14
He did look a bit too lanky in the 70s really to be only 6 ft flat. To the casual eye he seemed a few inches taller than that but it was seeing him in They Shoot Horses, Don't They next to 6'5.5 Michael Conrad and 6'2" Sarrazin which made him look max 184.
Arch Stanton
said on 19/May/14
Rob can you add Family Plot, Hitchcock's last film? Described as "tall and thin" in the film.
Arch Stanton
said on 2/Apr/14
Mm 6'2" listed Michael Sarrazin looked easily 2 inches taller though...
Arch Stanton
said on 2/Apr/14
Looks 6'1" in They Shoot Horses, Don't They?
Sam
said on 13/Mar/14
Yeah, I would have guessed him at around six foot even at peak, although he could have edged over it at peak. Will Forte's 5'9" listing seems to indicate that Dern is not over 5'10.5" these days.
Arch Stanton
said on 11/Mar/14
Oh yeah I'd forgotten he was in Hang em High! As I say I think 6'0.5" is a fair listing and he could often look a full 6'1. If I had to go for a full inch height I'd lean more on 6'1. This is a good shout though don't you think Sam as he could look nearer 6' at times.
Sam
said on 10/Mar/14
As listed at peak here, looking several inches taller than Robert Downey Jr. and Kiefer Sutherland.
Click Here
Sam
said on 10/Mar/14
Thanks for the addition Rob. I think he generally looks a strong six foot at peak. He was a pretty lanky looking guy at peak. He looked about 3 inches shorter than Clint Eastwood I thought in Hang Em High.
Arch Stanton
said on 9/Mar/14
He looks pretty tall in Silent Running. He could have passed for 6'1" peak put it that way.
Arch Stanton
said on 7/Mar/14
Watch the film though, Dern really looked a good 3 inches taller. Even at a weak 5'10" for Redford Dern looked 185cm. I think 184 is fair.
jtm
said on 7/Mar/14
Redford is leaning a little
he is also closer to the camera and i think redford was a weak 5'10.
Arch Stanton
said on 6/Mar/14
He could look both 6'1" and 6'0 from films I've seen him in, I think 6'0.5" is a reasonable compromise.
Arch Stanton
said on 6/Mar/14
Rob, can't find anything online of Gatsby aside from this very brief comparison at 1:10 pause
Click Here
Redford is leaning a little but you can see that Dern looked considerably taller. He really looked a solid 6'1" in The Great Gatbsy next to Redford I thought. I'll try to see some more of his more obscure movies over the next few days and try to state some more comparisons.
Arch Stanton
said on 6/Mar/14
Click Here
Today Dern is barely taller than Redford. He's lost a lot more height even though they're a similar age.
Arch Stanton
said on 6/Mar/14
@Jtm. He looked a good 3 inches taller than Robert Redford in the Great Gatsby.
jtm
said on 6/Mar/14
i think 183cm peak is mre accurate.
Arch Stanton
said on 6/Mar/14
I'd say he's well known for The Great Gatsby among those Rob too.
Arch Stanton
said on 6/Mar/14
Granted Jane Fonda could look near 5'10" in heels but he didn't really look much over 6ft next to her in Coming Home. He was a skinny guy peak and could look taller but I think 184 is about right. He was at least 2 inches shorter than Peter Fonda in The Wild Angels.
Arch Stanton
said on 6/Mar/14
Nice one Rob. Yeha I think that's about right now 180 if he stood his best toay. He did look quite tall still actually in Nebraska.
ArjunaKorale
said on 6/Mar/14
Thank you so much, Rob & Jenny, for adding Old Brucie. I think u maybe right about Dern's peak height - Bruce always struck me as being a tall man. I loved him in Silent Running (one of the most claustrophobically brilliant Sci-Fi movies ever made) & in The Cowboys (God Damn creepy villain).