Bruce Forsyth's Height
5ft 11 (180.3 cm)
British TV presenter, best remembered for hosting The Generation Game, Price is Right, and Strictly Come Dancing. He said in the Telegraph in 2009
"I'm six feet tall!"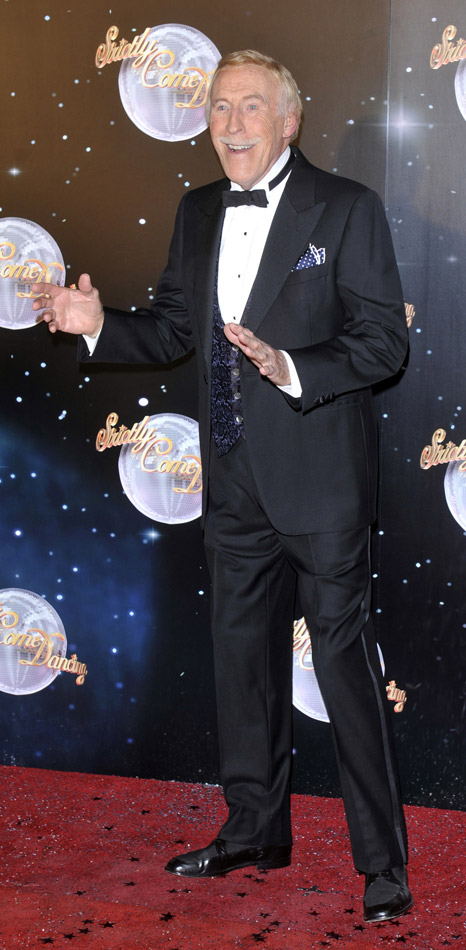 Photos by PR Photos
Add a Comment
55 comments
Average Guess (26 Votes)
5ft 11.4in (181.4cm)
Miss Sandy Cowell
said on 25/Mar/20
I turned my TV on this morning to Bruce Forsyth and 'The Price Is Right'. Initially, he was far and away the tallest, there being a really tiny woman contestant and some average ones, but later on there was a male of well over 6ft - and a 'Dolly Dealer' who, in shoes, was also in access of 6ft. The show ended with Bruce looking distinctly average, which was most unusual. He was nearly always the tallest when I watched 'The Generation Game'!
5ft11.25 for this comedy treasure. 😁
Miss Sandy Cowell
said on 22/Feb/20
Brucie was born 92 years ago today. I was devastated when he passed on, as was my brother. He always seemed so fit, I'd have thought he'd live well into his 90s. 5ft11, but often looked taller.
RIP Bruce Forsyth XXX 🕯️
texluh
said on 20/Nov/19
Bruce was 6ft - 6 ft to 6 ft 1/2 ins, in 1996. I was on stage with him in Basingstoke, pulled out of the audience to be ridiculed, in the nicest possible way, along with a few others (tap dancing). I am 6 ft 1 and he was eye to eye with me. I was deliberately slouching, but that's another story.
Nik
said on 30/Sep/19
R.I.P Bruce Forsyth.
Miss Sandy Cowell
said on 13/May/19
I'm watching the late Brucie on an old edition of 'The Price Is Right'. There is an extremely tall guy called Paul playing, and Bruce has remarked on how huge he is. The fellow talking to Bruce now looks more of average height to me. His name is Bill and he seems to hail from Cornwall. Bruce likes his accent, and next to Bill, Bruce looks tall.
When I was a kid, I watched Bruce's 'The Generation Game' every Saturday night. It was all part of our routine: scones, delicious cakes with chocolate bases and flavoured fondant toppings 😋 and finally TV! Blimey, I must have been young because I stopped eating cakes at 15! I was always under the impression that Bruce was around 6ft, but he was very lean, and that helped to elongate how tall he looked.
He was the ultimate friendly showman, and put all his guests at complete ease. Truly one of a kind.
5ft11.5.
FE
said on 30/Aug/18
@Edtior Rob,
Is an Upgrade to 181-2cm possible for Bruce?
Click Here
Click Here
Click Here
Click Here
Click Here
Click Here
Click Here
Click Here
Click Here
Click Here
Click Here
Click Here
Click Here
Paul Killick (Listed 5'11.5") and George Best (listed 5'9")
Click Here
Click Here
Click Here
Andrew Webber (Listed 5'9-9.25") and Peggy Mount (Listed 5'5")
Click Here
Click Here
Harry Secombe (Listed 5'8") and Jack Jones (Listed 6'1")
Click Here
Click Here
He still looked near 5'11" even in his 70s, He really does look near his 6ft claim.
What do u think Rob?

Editor Rob
I know Best claimed 5ft 8.5, Bruce could have been 5ft 11.5, but a full six foot I am not so sure about that.
John Stannard
said on 1/Mar/18
spot on I think 5'11, Anton du beke claims he's 5'11& when he did a strictly duet with Bruce on strictly they looked same height

Editor Rob
Anton has pushed his claim to 6ft before, but then that's no surprise for Anton!
Aza
said on 22/Aug/17
RIP Bruce.
Nik
said on 20/Aug/17
RIP Bruce Forsyth. He was a smashing man and personality.
Vibram
said on 20/Aug/17
RIP Bruce. But yeah he was about 179cm / 5'10.75 peak. Look at him next to 178cm prime Michael Parkinson in the mid 70's, there wasn't much in it, they looked almost equal with a slight 1cm brucie bonus. Probably 175cm at his death.
Arch Stanton
said on 20/Aug/17
Can you add a photo of him, with his wife :-)?
Arch Stanton
said on 20/Aug/17
His wife is stunning, pure class, one of those Latina fashionistas who tend to marry presidents or millionaires.
Arch Stanton
said on 20/Aug/17
Arch Stanton said on 18/Aug/17
RIP, Rob time to give him his full height back. His son looks tall, could be a 6'4 er? Click Here
Editor Rob: wouldn't have thought as tall as 6ft 4, maybe 6ft 3.
Yes, I was thinking of Bruce as 5'10-11 rather than 5'9.5 though!
Sandy Cowell
said on 19/Aug/17
What terrible news.
RIP Bruce xxx
MSJC
said on 19/Aug/17
RIP Sir Bruce
James
said on 18/Aug/17
He was 5'10" when I saw him on stage.
Arch Stanton
said on 18/Aug/17
RIP, Rob time to give him his full height back. His son looks tall, could be a 6'4 er?
Click Here
Editor Rob: wouldn't have thought as tall as 6ft 4, maybe 6ft 3.
Teddy
said on 18/Aug/17
RIP TV legend. Well he might have been 6' at his peak after his was born in the 1920
James B
said on 18/Aug/17
RIP Bruce
You had a lot of charisma
Aza
said on 16/Oct/16
Legendary host. Think he might have Ben a bit taller.
Chris
said on 25/Dec/14
Anyone over a certain age will know Bruce was well known for being tall in the 1960s and 1970s. He was honestly about 6 foot 1. He's obviously shorter now but he's 80+
Greg
said on 22/Jul/14
Just saw an excellent documentary on the Beeb about Nat King Cole, who was around 6'1"; at one point, he's standing next to Forsyth at the London Palladium and they're both around the same height. I'm afraid we all lose height as we age, just some more than others (I've lost at least an inch in my late 50's). Bruce now is about 5'10ish or less, he's lost a few or more inches which isn't that unusual (just look at Eastwood).
andrew
said on 3/Oct/13
This is quite a useful photo, alongside the Beatles back in the day, hope the link works:
Click Here
Flying Scotsman
said on 3/Nov/12
I used to be a security officer in Harrods and i stand, in shoes, at 5'11". I stood next to Bruce many a time in the store and i can assure you he is not over 6' tall. I looked down on him, not by much but he is without doubt no taller than 5'10" in his shoes.
little sue
said on 6/Oct/12
Watching him on Strictly last night I would say he was barely 5ft 9 now.
greg
said on 20/Aug/12
Watching very old footage of Forsythe and Tommy Cooper on stage together (they had the same manager and often appeared together), Forsythe looks to be at least 6ft, no less. He would have been noticeably above average height in post-war era Britain.
Delaney Rickett
said on 25/Jan/12
My mum and dad thought he was about 6 ft.
Adam Cornwell
said on 30/Dec/11
Anonymous: No, fortunately, I'm well over 6 ft (6 ft 1 7/8 in the morning and down to as low as 6 ft 0 1/2 some evenings). Funnily enough this correlates with being taller than about 4 out of every 5 men or more, so there is feedback there other than the tape measure. And my eyesight isn't bad either. Bruce was a tall man in 1996 and over six feet tall. There is a small really number of comments here for Brucey - but it's interesting that no one is even evaluating how he compares on TV, to people he stands next to. The only 'standing next to' accounts we have are people who were actually standing in the same room as him! I guess me and Greg could both be lying, but there is not much evidence for that. Peak height should be revised to what he was when he was 70ish in 1996 - or maybe to more, like when he was 40? Also, in 15 years from about age 70 to 84, his gait, fitness and health would have deteriorated ostensibly if he is ageing in a big way, and that hasn't really happened. In other words, he is exceptional and therefore his shrinkage may have been average (say an inch) or exceptional (say 1/4 inch). In that time he may only have shrunk 1/2 an inch.
Dean
said on 29/Mar/11
My opinion would be 179cm prime and 175cm now hes definetly under 5'10 now and on play your cards right in the 90s he looks about 5'10.
Chris Danks
said on 12/Dec/10
Really? That is suprising compared to wht he looks like on there!
Greg
said on 27/Nov/10
Worked at an awards do in London, Bruce and Chris Tarrant were presenting with Kirsty Gallagher. Bruce is 6' to 6'1". He is very long looking in real life. Taller than 5'11", im 5'9" and he towered me.
coops
said on 27/Nov/10
Doug says on 21/Apr/09
Look 6' in his prime.
-----------------------------
But that was a long time ago
I guess 5ft 9 max
tubbs
said on 14/Jun/09
5'10 without the rug.......
Doug
said on 21/Apr/09
Look 6' in his prime.
Ejel Khan
said on 14/Feb/09
Claimed 6' in his prime.
Anonymous
said on 26/Nov/08
hey does anyone know if old brucey here has lost any height and if so by how much please?.
Ian
said on 17/Aug/08
A man of 80 years 5ft 11 is tall. I bet he must have been about 6ft-6ft1 in his prime. My dad is 65 and a recent doctor checkup revealed he had lost an inch at this age so an inch or two loss may have occured by this age.
Daii
said on 12/Aug/08
He looks tall, more or less 6 foot, i would say 5'11 is correct
Markus
said on 24/Feb/08
Happy birthday brucie
Anonymous
said on 28/Dec/07
He is 79 years old! he must have surely lost some height!
Anonymous
said on 28/Dec/07
I read an interview that Bruce gave in a magazine, about 10 years ago that he stated that by the time he was 14 he was already 6' tall.
Robbie H
said on 26/Dec/07
hes in is late 70's now, must have been at least 6ft in his prime
Anonymous
said on 15/Feb/07
Paul Merton has himself stated that he is 5-11
alto
said on 22/Jan/07
If Tess Daly is 5'9, and in Strictly, she's wearing heels to match Bruce's height, perhaps look a bit taller, then the accuracy of Bruce's height is spot on. I've met the guy and I can safely say he's 5'11.
Rastus
said on 18/Dec/06
I know what you're saying Mikex but if you ever see clips from Sunday Night at the palladium, Bruce was always pretty tall and skinny - maybe just over 6'. He was usually the tallest of the performers and I think that he has actually shrunk a bit with age. Probably all that tap dancing.
Mikex
said on 10/Oct/06
No way was he ver 6'1''. I think he was probably 5'11 when young, down to about 5'10'' now. He hasn't really shrunk much with age I think.
Rastus
said on 11/Sep/06
Yes, on the Generation Game in the 70s there was once a question 'what height is Bruce?' and the answer was 6'1". I think he may have been over 6' up to his 40s (a long time ago), but age has definitely shortened him. By the way, on the picture of Boris below, remember he's standing next to the 6'7" and 6'9" Klitchkos!
the king
said on 28/Aug/06
clearly 5"10 dropped to 5"9 with age....from what iv seen on the star golf show this weekend.
Joe Chip
said on 3/Aug/06
I've seen Bruce a few times shopping in Surrey. He's only 5'6" maximum. He looks taller on TV although I suppose it depends on how big the TV is.
[Editor Rob: crikey...if bruce is only 5ft 6 then sammy davis junior must be about 4ft 11...was channel flicking and saw clip of him interviewing sammy way back in the 70's and towering over him!]
Elio
said on 11/Apr/06
You're right, after looking at photos of him with various people, he only seems 5'10". Weird... perhaps I misjudged him because I was expecting him to be a short guy (5'6") and he ended up being ~5'10" + unknown shoes. This was at Granada Studios in Manchester, and I think he was filming the gameshow 'Wipeout'. There was a makeup room just outside of the studio doors ( 2 studios next to each other) , saw him standing outside there with the people I was with at the time (we were all 13-16) , and he looked 6 foot stood next to them. I didn't approach him (whereas they did), so was probably about 5 metres away. Only spoke to him in the makeup room shortly after, by which time he was sat down. Wish I could go back in time and have a more educated guess. :)
Elio
said on 10/Apr/06
I met the late Bob Monkhouse (another UK presenter) back in 1998. I remember thinking he looked much taller than I imagined. Seemed 6 feet minimum. I was probably 5'10" at the time.
[Editor Rob: is it possible you were shorter, just looking at pics of him in the 90's just now, monkhouse doesn't look over 5ft 10, although I've no idea what his peak height was back in the 50's]
Editor Rob
said on 9/Apr/06
Just throwing a couple of heights on here, for want of not wanting to give them a page ;-)
Lionel Blair (uk audiences will know this guy) claims 6ft.
Rolf Harris has 5ft 10 now on his CV, possibly shrunk to that now in 70's.
Anonymous
said on 3/Feb/06
Becker does look short in that foto. But the Kilitsko's are massive.
Mikex
said on 7/Jan/06
Jonathan Ross of the platform boots fame. Ross is approx 6'1'' I guess yet he always appears to be as tall as 6'3'' guys like Boris Becker on his chat show.
[Editor Rob: Becker looking shortish for once! Becker himself, I've always thought might not be a full 6ft 3, maybe a smidge under...]
elio
said on 27/Dec/05
Definately seemed this tall (if not brushing 6ft) in his prime. After seeing him stand next to Jonathan Ross recently, he seemed 3-4 inches shorter which would put him around 5'9"-5'10" today.