Bryan Greenberg's Height
5ft 11 ½ (181.6 cm)
American actor, best known for films such as Prime, Bride Wars, The Perfect Score, Friends with Benefits and TV series How to Make It in America.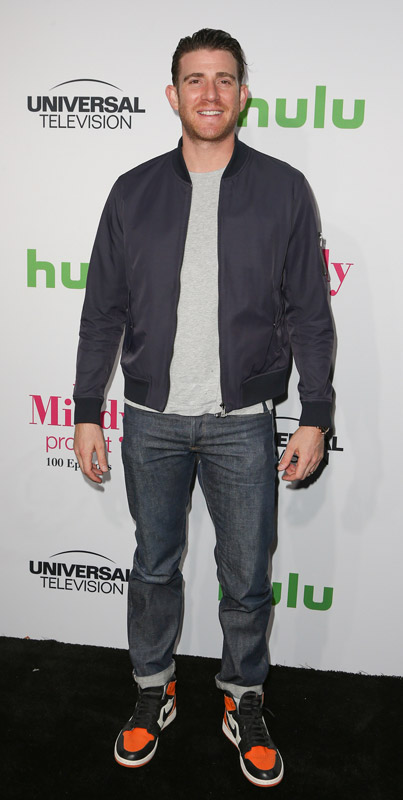 Photos by PR Photos
Add a Comment
32 comments
Average Guess (19 Votes)
5ft 11.3in (181.1cm)
Jkiller
said on 22/Oct/20
Closer to 5'11 than 6'0. 5'11.25 is probably very accurate.
HJ
said on 13/Jun/20
this is a ridiculous listing. this dude looks at least an inch shorter than MCM, on OTH, who is listed at 5' 11.5'' here. he needs to be downgraded to at least 5' 10'' or maybe shorter.
Chris Junior Hernandez 1990
said on 12/Jun/20
I see the downgrade now. But he really look as low as 5'11 1/4 w/o a hair with Obama.
Click Here
Posture hardly tell if he drop height from legs or had less footwear. But if Bryan gets 5'11 3/4 then i think Chris Evans had a hard time to be over 5'11 3/4 as well.
BT
said on 21/May/20
5'11.5 is a more believable mark than 6ft, but even that can look a stretch at times. He looks closer to 5'11 flat here with 6'0.5 ish Jamie Hector
Click Here
,
Click Here
. Of course he doesn't always stand with the best posture, so there's an argument for a comfortable 181 range, maybe close to 182, but I would be very surprised if he came close to 183.

Editor Rob
Almost 6ft is what he does look in person.
Junior Hernandez 1990
said on 16/Jul/18
Strange that he can look a flat 181cm with Obama but he can look 6'0 with many of his co star. Hard to pin down on Bryan.
Junior Hernandez 1990
said on 2/Jul/18
Average guess is too low. He look 182-182.5cm.
Junior Hernandez
said on 6/Feb/18
5'11 5/8 just like Captain American and Bale.
Razor
said on 27/Jan/18
Reuben, so you acknowledge a picture where he is a full 2 inches shorter than a 6ft actor, but you think it's reasonable to drop him 0.25 inches.
Reuben
said on 18/Jun/17
Here is he standing next 6 feet 0 in listed Jamie Hector. So I'd say he should be downgraded to 5 ft 11.5 in to 5 ft 11.75 in range as he'd also proved to look a tad shorter than Chris Evans as well and looked taller than Uma Thurman in the movie Prime by a little bit.
Click Here
S.J.H
said on 16/Jun/17
If obama is 185cm how can he be over 181cm. I don't think it's the shoe or posture issues. The odd maybe the camera angle but i did say he is 5'11.5 maybe not that close to 6'0 but just a touch at 182cm strongly feel chris evans the same height as him. Both need a little downgrade.
Bennett
said on 1/May/17
This guy is 5ft10
Reuben
said on 24/Feb/17
Rob, please read my comments about his height as well adding a picture for him and updating this page. I hope you take a look at these pics and maybe convinced he should be downgraded.
MD
said on 15/Feb/17
@Reuben, I think you're right on this one.
Reuben
said on 10/Feb/17
I found 2 more pictures to prove my opinion on his height.
w/ Barack Obama
Click Here
w/ Zachary Quinto, John Cho, Ben McKenzie, and Nick Zano
Click Here
Reuben
said on 10/Feb/17
I was recently watching the Mindy Project and he made a recurring role on there and it reminded me that I wanted to provide my opinion on him. I don't really think he is 6 feet on the dot and I think he could be possibly downgraded to the 5 ft 11.5 to 5 ft 11.75 in range. He looked slightly shorter than Chris Evans from photos I've seen and in the pic with John Slattery, he kind of slouched he looked similar in height to him. Also, I think this page needs to be updated with a picture and more credits such as movies such as Prime, Bride Wars, The Good Guy, and Friends with Benefits and TV shows such as One Tree Hill and How to Make it in America.
w/ Uma Thurman
Click Here
w/ Laura Prepon
Click Here
w/ cast of One Tree Hill
Click Here
w/ John Slattery
Click Here
w/ Josh Radnor & Chris Evans
Click Here
w/ Chris Evans
Click Here
Click Here
BT
said on 7/Nov/16
@Editor Rob: Has it been long since you've looked at Greenberg? He doesn't look much over 5'11.5 from what I've seen, nearer 5'11-11.25 range at times.
Editor Rob: BT, I think typically Greenberg looked close to 6ft last time I had looked, but yeah, it was a few years ago now.
S.J.H
said on 7/Nov/16
Although he look 181cm with barrack obama but i still think he could be 6'0 and he look 2.75 shorter than geoff stults who was 190cm
Hew
said on 10/Jan/13
Murray is 182 cm, so 181 cm for Greenberg.
ray 6' 158 lbs
said on 8/Aug/12
i would say he is 180 cm max 181 cm next to chad and james lafferty and he seemsed always 180-182 to me in how to make it in america and other films to
Jeff
said on 29/Nov/11
He was slightly shorter than Chad Michael Murray in One Tree Hill, and you have Murray listed as a 182cm
MD
said on 24/Oct/11
Looking at pictures of this guy with a 5'8"ish (tops) Kid Cudi, he's only marginally taller. He is not over 5'10.5". He's pretty broad, which can make him look taller, but he's not.
Jay
said on 23/Oct/11
Quit lying KB.
KB
said on 21/Aug/11
Dude. I just saw this guy last night. If he's 6'0 than, I'm 6'6" and I'm not 6'6". He's 5'9" MAX!!!
SeanM
said on 10/Dec/10
I met the guy last night, he's just a hair shorter than me and Im 6'2 dead even. Not even 6'2 and a 1/4, Id say he is about 6'1 and 1/2, but he's just a hair under 6'2, I was surprised actually.
Anonymous
said on 2/Oct/08
Chad Michael Murray always looked taller than him in One Tree Hill. I don't see him being listed as taller.
dmeyer
said on 6/Mar/08
could be nearer 184 cm
dmeyer
said on 5/Mar/08
waths funny about that guy is that he looks about the same height as uma when they are both in 1 in heels ,but when uma wears 2.5 in heels they still look the same maybe he is a bit over 6 ft ,i the begining of the movie he is barely the same height as her in sleepers ,then he is the same height as her in 2.5 in heels
dmeyer
said on 5/Mar/08
after looking at a scene were he has sneakers and she has 1 in boots he looks aexactly 6 feet no more no less
Anonymous
said on 15/Sep/06
No, he doesn't look taller than Uma when you can see their shoes.
Brett
said on 14/Apr/06
He actually does look taller then this in Prime Rob, but I think it could be to do with his seriously lanky frame, although he was convincingly taller then Uma Thurman, so maybe he is 6'1" or so?
J-Dog
said on 10/Nov/05
He looks 6'1" in that prime trailer.
dan
said on 5/Nov/05
In prime, he looks a tad taller than Uma. Maybe 6'1''... Either that or Uma is shrinking to 5'11'' nowdays... Cool, I get the first comment here... hehe.