Ukranian-born actor, best known for playing Finn Mikaelson in TV series The Originals and The Vampire Diaries. On the spotlight directory, he lists himself
6ft 1
. At this Collectormania, he had roughly 1/3rd inch more shoe than me.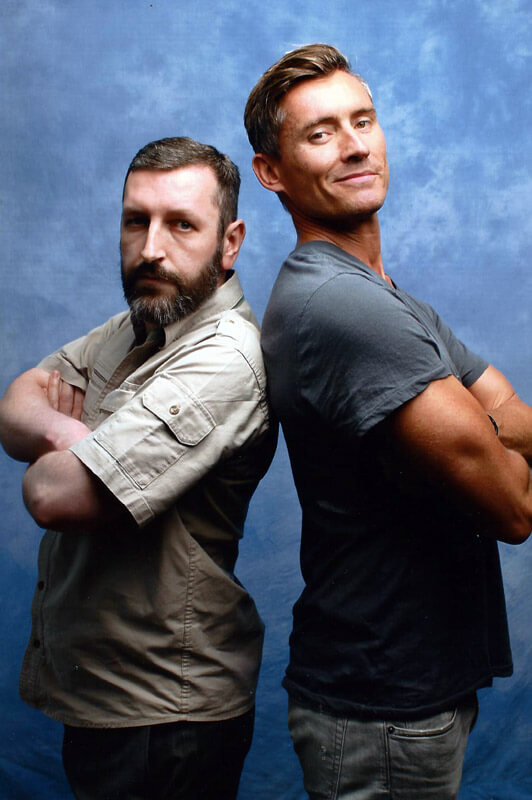 5ft 8 Rob and Caspar
Rick Havoc
said on 2/Jul/22
You got such a photogenic, moody-cool look here Rob!
Leighton Tang
said on 14/May/22
@Vexacus I know this is a little late, but it's probably the lighting.
Vexacus
said on 6/Jun/20
I see a legit 6'1 , but there's something strange in this pic . It looks like 3D. LOL.
Nik Ashton
said on 5/May/20
I'm not sure that he is 6'1"
Miss Sandy Cowell
said on 12/Nov/19
Now I'm functioning on the good-looking one, and I'm not talking about the beardless one! 😉
Jordan87
said on 30/Jan/19
He looks about 6'0.5", and listing himself at 6'1 is pretty good. Most guys his height would say 6'2.
berta
said on 5/Jan/19
You look like a viking with the beard Rob!!! LIKE :D THe guy looks his claimed height. Dont look shorter or taller.

Editor Rob
I think beards can effect perceived height. They can lengthen the head a bit and people sometimes at a glance take cues like chin heights.
World Citizen
said on 19/Dec/18
He looks it.
Sandy Cowell
said on 28/Oct/18
@ Rob - You must be the envy of beard lovers everywhere!
Caspar can have 6ft1 and a Halloween ghost! 👻
Zampo
said on 17/Oct/18
I guess he could have been like myself where at 18/19 was measured around 5'11.25-5'11.5 range and put myself down as 5'11 thus claiming the height for several years, not realizing I ended up being nearer 6'0 than 5'11. Till date a lot of my profiles etc still state 5'11 as my height. This scenario is actually a more common occurrence than people think.
Zampo
said on 20/Sep/18
6'0.75. Same height as Eric Christian Olsen. Definitely not the full 6'1.

Editor Rob
he definitely is nearer 6ft 1 than 6ft, which was what he used to get listed at.
Nik
said on 24/Jul/18
@ Rob
It is fascinating that Caspar may have once under listed his own height!

Editor Rob
I wouldn't have guessed him as short as 6 foot, but then sometimes people who are between 6ft and 6ft 1 might round down or up.

There was a quote by Dax Shephard I added to his page the other week "I'm 6-2 and a half. So if I'm feeling confident I round up, less confident I round down".
Rampage(-_-_-)Clover
said on 9/Apr/18
A fraction under 6ft1 at worst.
Looks a strong 6ft1 because of the bigger shoes
Jordan87
said on 6/Feb/18
Not quite 6'1, but I think he certainly breaks the 6'0 marker.
He would be taller than Guys like Henry Cavill, Christian Bale, Chris Evans.

Editor Rob
Casper used to have his height down as 6 feet, then changed it to 6 feet 1.

Rampage(-_-_-)Clover
said on 20/Dec/17
Does look shorter than Gatiss
Frost
said on 17/Nov/17
Looks like his inseam isn't much more than yours. Very long torso it seems.
Christian-6'5 3/8
said on 7/Oct/17
Casper gives a slightly shorter impression than a legit 6'1"er like Mark Gatiss standing next to Rob, with both Casper and Mark having 1/3" footwear advantage, I might add. I think Casper might measure 6'0.75"
Nik
said on 23/Aug/17
That's one mean beard Rob! I think the average vote is about right!
mickey
said on 22/Aug/17
seems carrect!
aknawkneemoose
said on 22/Aug/17
rob you're beard is a complete 10/10. a lot of guys can't grow good beards but you're a gifted soul lol

Editor Rob
it will 'shrink' a bit again when I add photos from July (i.e. Steven Yeun convention) because this photo with Caspar is from 19th August.
Giorgi
said on 21/Aug/17
Cool photo, Rob.
Aza
said on 21/Aug/17
Solid listing. Maybe slightly more. Have to say Rob you can certainly 'strike a pose'. Full beard does suit you.
Sandy Cowell
said on 20/Aug/17
Phwoar! Now that's what I call a beard, Rob!
.... and who is this handsome Ukranian standing with you? Caspar doesn't look much like a ghost in my eyes!
I HAVE been missing out!
I believe he is a healthy 6ft1, so healthy in fact, that I'm slapping on another quarter- inch!
This is definitely a page for the girls! 😉
Victor Surratt
said on 20/Aug/17
Looks like a solid 6'1"
Blake
said on 20/Aug/17
Rob, are you gonna shave your beard? Users on the site love it you look edgy with it especially in this picture

Editor Rob
I will see at the end of this month!
Ben
said on 20/Aug/17
I'm begging you Rob, please keep the beard!!
Johan
said on 20/Aug/17
Great Photo Rob :) Looks 6'1"
joe ###
said on 20/Aug/17
6´1 or 6´0.75
Jacky Huynh
said on 20/Aug/17
Looks perfectly 6ft 1in! He's one of those celebs honest about their height.
mrtguy
said on 20/Aug/17
Looking GOOD Rob, never have I've seen you look this AMAZING

Editor Rob
🤗
Slim183
said on 20/Aug/17
6'0.75 absolutely max.
Andrea
said on 19/Aug/17
He looks more a weak 6'1, maybe 184-5, considering that even with bigger footwear he looks 6'1 MAX...