Catherine Deneuve's Height
5ft 6 (167.6 cm)
French actress best known for roles in Belle de Jour, Dancer in the Dark, Persepolis, Repulsion, The Umbrellas of Cherbourg, The Young Girls of Rochefort, Tristana, Lovers like Us, The Last Metro and My Favorite Season. A visitor showed me an interview where she said in 1966 "I'm 170cm".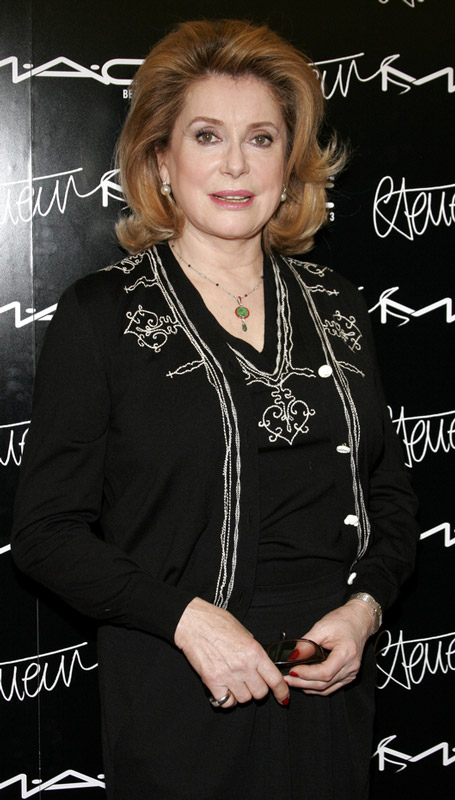 Photos by PR Photos
Add a Comment
19 comments
Average Guess (7 Votes)
5ft 5.93in (167.5cm)
Miss Sandy Cowell
said on 26/Nov/19
Seventeen years after Catherine's claim to measuring in at 170cm, she still looks that height to me! I'm watching 'The Hunger' and Catherine plays the wife of a rapidly-ageing David Bowie. They do a shower scene together,
at the beginning, before David starts growing old in a matter of hours.
He is taller than her, but the difference isn't as stark as that between David and Susan Sarandon, who was 5ft6/6.25 peak height.
Seeming as there is the one box, I'm compelled to give Catherine 5ft7!
Excellent film, and rather sad too. 😢
Miss Sandy Cowell
said on 22/Oct/19
💐🎂💝 Happy Birthday Catherine! 💝🎂💐
Many Happy Returns of the Day to Catherine, who turns 76 today. I saw her in 'The Hunger' with David Bowie at a special showing at a cinema club I used to belong to - brilliant!
5ft6 for this class act of an actress.
💐🎂💝🕯️😉🎂💝🕯️💐🎂💝🕯️💐🎂💝🕯️
Philip Jackson
said on 20/Sep/19
Rob, how tall do you think Nino Castelnuovo was? Can't find it

Editor Rob
I am not sure
Pierric
said on 28/Oct/17
Stand-ins for Deneuve should be 165 cms. (casting in 2017)
Click Here
1 m 57 for Isabelle Huppert.
Click Here
What I think Deneuve = 168 peak, 165 now. Huppert 159 peak, 157 now...
meezemaker
said on 19/Apr/17
Looks attendre least 10cm less than charlotte gainsbourg 's 173cm in "3 hearts"
Pierric
said on 1/Feb/17
Some French sites are looking for a stand-in of Deneuve and want 166 cms women...Is it a good information Rob ???
Click Here

Editor Rob
Pierric, it is likely what she is today.
Pierric
said on 23/Jan/17
Rob, again, for Isabelle Huppert I found a 1990 article where she is listed at...152 cms. Hmmmm ???
Read at the fifth ligne :
"Isabelle la blonde, la rousse ou la brune, bout'chou d'1 m 52 avec ses éternelles tâches de rousseur" ("Isabelle the blonde, the redhead or the brown, 1 m 52 bout'chou with its eternal freckles")
In French "bout'chou" or "bout de chou" means "very little".
Click Here

Editor Rob
is she really just 5ft, at a glance I might have thought 5ft 1.
Arch Stanton
said on 4/Jun/15
Belle de Jour is definitely her signature role and I think should be mentioned first.
pierric.
said on 2/Mar/15
Agree with Hypago.
Hypado
said on 30/Sep/14
Catherine Deneuve
Peak: 168cm
Now: 166cm
Shar
said on 7/Mar/14
Years ago I'd always read she was 5'3"-5'4". Short legs, short body.
Arch Stanton
said on 6/Jan/14
She looks 5'6 range in Repulsion, I came here guessing 169 actually. She might be 5'5" but she looked above average in the mid 60s.
pierric
said on 15/Jul/13
I often see her in the sixth "arrondissement" of Paris, where we live. She's around 165 cms nowadays.
David
said on 24/Nov/12
Sas her 3 or 4 Times in Paris I would say 5'5 Max
Heike
said on 2/Oct/11
In Potiche, Gerard Depardieu completely towered over her, who was wearing 3'' pumps. In 8 Femmes she didn't look much taller than the petite 5'3 Isabelle Huppert, and both were wearing same heels. So 5-4'' seems about right.
Liesbling
said on 29/Sep/11
There's a scene in 8 Femmes where she stood face to face with the reportedly 5'4 Emmanuelle Beart and she had one inch over Emmanuelle. They were both wearing same heels. I've also studied her figure in a number of movies, and she's of average height. Any claim below 5'4 is ridiculous.
east meets west
said on 4/Apr/09
I agree with both of you. A friend of mine once stood up close to her and Deneuve was slightly shorter than my friend's height of 5'4 1/2". They were apparently both wearing medium high heels at the time.
Katrene
said on 2/Feb/09
Noo, she's 164 cm! No more.
Arnault
said on 29/Jun/07
Saw her at the Cannes Film Festival several times over the years, and I can honestly tell you she is hardly over 5'4. She never was over 5'5 when she was young so the 5'7 height was pure fabrication. But then why should French actors be different from the American ones when exagerating height??