Charles Rocket's Height
6ft 3 ½ (191.8 cm)
American actor and comedian, best remembered for being part of Saturday Night Live and films like Dumb and Dumber, Hocus Pocus, Dances With Wolves, It's Pat and Earth Girls Are Easy.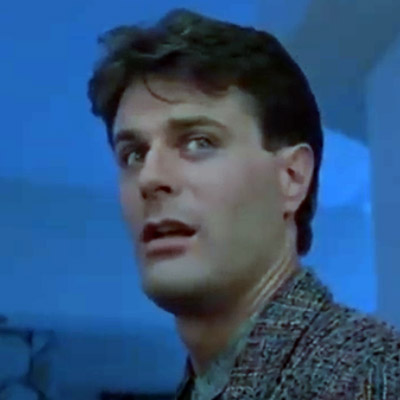 Charles in Earth Girls are Easy
Add a Comment
21 comments
Average Guess (7 Votes)
6ft 3.68in (192.2cm)
Rampage(-_-_-)Clover
said on 22/Jan/21
I think a 6ft4 upgrade would be a vast improvement
He just always looked imposing...I believed 6ft5 for may years
C: The Height Analyzer
said on 20/Jan/21
A case for Rocket being 6'5'':
This is a video of Part 1 of his TV movie, "The Steel Collar Man" (I think this was a television pilot that wasn't picked up):
Click Here
From 7:19 to 7:39, Rocket is standing by and looking taller than 6'5''-6'6'' Chuck Connors.
While Rocket is closer to the camera, but he does appear to be around Connor's height. This movie aired in 1985, and though Connors was 64 years old in 1985, there is a 1985 photo linked on Connor's own page, where he looks at least 6'6'' next to 6'9'' Larry Bird. The above video is probably the best case of Charles Rocket being 6'5.''
Below is a link to the memorial article I mentioned in an earlier post, where Rocket's friend described him as 6'5'':
Click Here
C: The Height Analyzer
said on 20/Jan/21
Rob, what do you think was the height difference was between Charles Rocket and the reported and self-claimed 6'3'' Matt Frewer?
Short clip:
Click Here
Based on 1:35 - 1:38, 2:22, and 2:54 from the above clip, Rocket looks about 1 inch or slightly over an inch taller than Frewer.
Full episode:
Click Here
From 5:47 to 5:55, Rocket looks about two inches taller than Frewer, which would have made Charles Rocket 6'5''. However, at 10:50 - 10:51 and 14:59-15:00, Rocket looks 2-3 inches shorter than Julius Carry, who was reportedly 6'5.''
Again, Rocket's height is hard to pin down.

Editor Rob
Could look 6ft 4 in the clip there
C: The Height Analyzer
said on 16/Jan/21
His height is hard to pinpoint, but I knew he was taller than the often-reported 6'2.'' In the dream sequence of "Earth Girl Are Easy," Rocket looked almost the same height as 6'4'' Jeff Goldblum, and Rocket may have been slouching in their face off. Rocket was two inches taller than Jim Carrey in that movie and in "Dumb and Dumber." He was also taller than 6'3'' Jeff Daniels by at least an inch. Rocket also had height over 6'2'' John Goodman in Normal, Ohio (maybe at least 2 inches?). However, Rocket looked 0.5 to 1 inch shorter than 6'4'' John Lithgow in his appearance on "3rd Rock from the Sun." From what I've seen of him on screen, I say he was anywhere from 6'3.5" to 6'5.''
I remember looking at a detailed memorial article about him from one of his friends, and his friend said that Rocket was 6'5.'' So 6'5'' may have been Charles Rocket's height.
Christian 6'5 3/8"
said on 1/Nov/20
@Rampage
Maybe 6'3.25" for Chevy peak, but I wouldn't go under that.
Vincent Caleb
said on 30/Oct/20
@Rampage: Agreed, Chevy was in no way, shape, or form less than. 6-3.5
Rampage(-_-_-)Clover
said on 19/May/20
Nah Christian, Chevy was easily that tall in the 70's-80's in SNL, Caddyshack and National Lampoon...

Editor Rob
Probably 6ft 3.5 up to 4 is arguable, but over 6ft 4 I couldn't see that figure.
Christian 6'5 3/8"
said on 12/May/20
@Rampage
I don't think Chevy was as tall as 6'3.5" though. Rocket at his current listing of 6'3.5" is fine.
Rampage(-_-_-)Clover
said on 9/May/20
Here are two great vintage shots of Charlie looming above everyone on SNL including peak Bill Murray. Pulls off 6ft5 rather convincingly there if I may say. I don't know if he wore lifts (unlikely) but I'll tell you this...Chevy Chase whose also down here at 6ft3½ never had that kind of height over Bill. To think that Charlie has been also described as 6ft2!
Click Here
Click Here
that right there is more like Tim Robbins/Vince Vaughn stuff
Rob, I'd seriously consider moving this guy to 6ft4.
ladeez
said on 8/May/20
he looks a bit over 6' 4 in "hocus pocus"
Tall Sam
said on 7/May/20
Not a great shot but interesting to see Jeff Goldblum at a disadvantage near the more upright Rocket.
Click Here

Editor Rob
They are moving a bit about that scene, though there was one point Rocket was looking up at Goldblum.
See it
Here
, though do not try to watch that film as the person chopped up all scenes 😄 It's like letting a Dog edit the film.
Jug
said on 7/May/20
He was about 6'5. At least 6'4. Looked several inches taller than both Daniels and Carrey. I believe his CV consistently listed him at 6'5. He was known for his height.
Miss Sandy Cowell
said on 6/May/20
⭐ Make that a young, good-looking Princess Stephanie!
Miss Sandy Cowell
said on 5/May/20
For some reason or other, Charles could pass for the brother of a young Princess Caroline of Monaco when she looked her best. Well, that's what I think anyway! ..💭
🤔 "Yup! A convincing brother-and-sister look is what I reckon..." 😉
Rampage(-_-_-)Clover
said on 5/May/20
Thanks Rob!
Personally I would have given 6ft4 but I can accept as the bare minimum. You can see he was noticeably taller than guys like Carrey, Daniels and John Candy.

Editor Rob
There was a few scenes in Earth Girls Are Easy he could seem anywhere from 6ft 3 to 4, same with Moonlighting, had a good amount on Willis.
Big T
said on 5/May/20
@Sandy Cowell no, he was 40 then and he has now been dead for 15 years
Tall Sam
said on 4/May/20
He actually was on SNL far before his small role. He could've passed for nearly 6'4" in Dumb and Dumber, having noticeably height over Jim Carrey and Jeff Daniels.
Miss Sandy Cowell
said on 4/May/20
Oh, how sad. I didn't know he had passed on. 😢
RIP Charles XX 🕯️
Samuel Healey
said on 4/May/20
v Nah, he looks more like a 6'3 and 3/4
Nik Ashton
said on 3/May/20
R.I.P Charles Rocket.
Miss Sandy Cowell
said on 3/May/20
What did Charles play in 'Dances With Wolves'? He must have been very young then, a kid even.
6ft3.5. 😀👍