American actor, known for films like Dude, Where's My Car?, Cruel Intentions, The New Guy and TV series Sliders. In an AOL chat in 1999, he says about his height:
"My nickname in school, which is funny now because I'm 6'4", was "midget." I was born premature, and I was the smallest kid in my class, and just my senior year I grew a lot."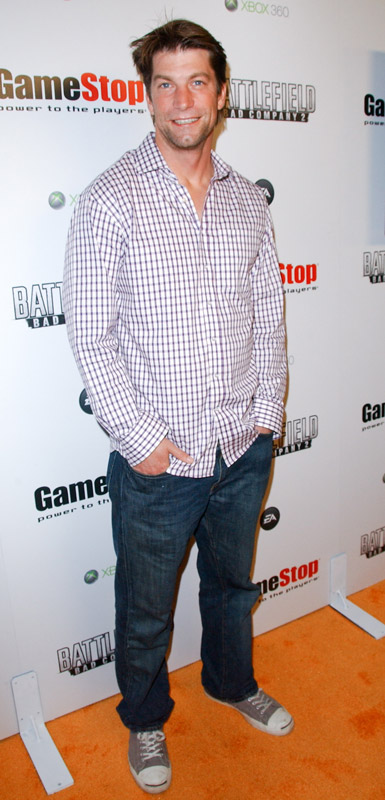 Photo by PR Photos
JayJay
said on 15/Jun/22
Would say 6' 2 1/2". Bro Jerry is 1" shorter.
Rampage(-_-_-)Clover
said on 2/Apr/22
Yeah I really think there's 1in tops between Charlie and Jerry, more likely Jerry being a little over 6ft2 than Charlie being 6ft3 flat, IMO.
berta
said on 24/Oct/20
i dont see 188 vs 192 for the brothers. there is maximum 3 cm and often looks 2 cm. sometimes it can look only 1,5 cm. probably 189 vs 191 in reality.
Junior Hernandez 1990
said on 6/Sep/18
If Jerry ended up a solid 6'2 before bed i wouldn't go above 6'3 for Charlie. They never look that 1.5" apart. In Sliders some scene they look only half inch and max 1" difference.
berta
said on 26/Nov/17
dont know if he looks 4 cm taller than his brother. maybe 2,5 cm. some photos they can look very close in height
Junior
said on 14/Oct/17
Talking about watching Sliders there is no way an inch between Jerry and Charlie. If Jerry stay the listing at 6'2 then Charlie had to be 6'2.75" not any higher. Thus, 6'3.5" Josh Duhamel doesn't look over 2cm taller than Jerry as well. In the right way to say Jerry downplay 6'2 and closer to truth 6'2.75" and 6'3.5" listing is correct for Charlie and Josh.
Rampage(-_-_-)Clover
said on 18/Aug/17
Not a chance he's under this. Jerry is arguably a bit over 6ft2 and Charlie has more than 1in on him in photos...
S.J.H
said on 5/May/16
Sometime he look like 6''2.25 alone. Maybe bad posture. Other time he seem big like 6'3-6'3.25 but 6'3.5 sound a little high
Rampage(-_-_-)Clover
said on 13/Aug/13
Charlie O'Connell - 6ft3.5in(192cm)
Jerry O'Connell - 6ft2.25in(189cm)
mike 6 feet out of bed
said on 9/Aug/12
Yea this guy had at least an inch or 2 on ashton kutcher in dude wheres my car
steven
said on 17/Jan/12
he does't look much like 6'3. let alone 6'4. he does look 6'3.5 in shoe. probably 6'2.5 barefoot and 6'2.75 on a good day.
Candyman
said on 10/Aug/11
Yeah it happens. Nature loves variety.
Mr. Kaplan
said on 8/Apr/11
Sorry wrong link. Pictures are available anywhere anyway. His torso is way too long for his legs.
Candyman
said on 12/Mar/11
Thats due to spinal growth.
Mr. Kaplan
said on 21/Feb/11
Click Here
He has the legs of a 5'10" guy.
Hugh
said on 9/Jan/09
I'd say 6ft3.5 is spot on.
Hugh
said on 8/Nov/08
This guy is close to 6ft4 but not in the same mould as say Liam Neeson, Tom Selleck or say David Morse who are genuinely 6ft4.
Hugh
said on 1/Sep/08
Jerry is 6ft2.5 and Charlie 6ft4.
Anonymous KinG
said on 29/Mar/08
he looks no much(1,2cm) taller than his big brother jerry.. the most he would be 6ft2.75(190cm)..
6'
said on 27/Nov/07
Thought Jerry and him were the same height?
Anonymous
said on 18/Oct/07
Jerry O'Connell has admitted that his little brother, Charley, who was on "The Bachelor" a few years ago is an inch taller than him at 6-3.
Derek
said on 2/Dec/06
He had about 1'-1.5" on Ashton Kutcher in Dude Wheres My Car. I believe Ashton is 6'2 1/2", so Charlie is 6'3 1/2"-6'4".