Chaske Spencer's Height
6ft 1 ½ (186.7 cm)
US Actor from Twilight: New Moon. These pics (by malcolm) are from Massive Events Twilight Conventions in 2009 and 2011.
Chaske had around 1/4 inch more thicker shoes in top shot and near 1/2 inch thicker sneaker than us in bottom shot. He said he went from 175lbs up to 195lbs to play the character Sam in the film.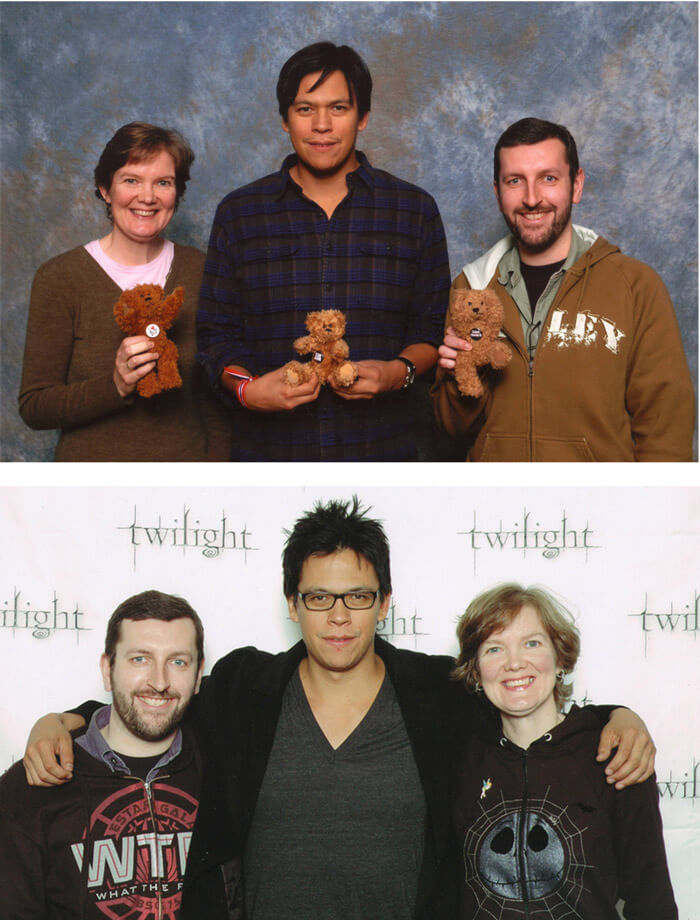 5ft 8 Rob, 5ft 8 Jenny and Chaske
Add a Comment
106 comments
Average Guess (31 Votes)
6ft 1.9in (187.7cm)
Chris Junior Hernandez 1990
said on 8/Feb/21
Rob had listed him at his lowest. He can pull off looking more on 6'1 5/8-3/4.
Vincent Caleb
said on 25/Oct/20
This listing looks good, idk why people are upgrading him to 6'2"+
Jkiller
said on 25/Oct/20
Think it's fairly obvious he's atleast 6'1.75, right over 187cm. Close to 6'2
VitoCheng
said on 16/Oct/20
Possible to 188cm
Jam Cherry
said on 26/Jun/20
He's pretty tall could well be 187 cm
Nik
said on 29/Apr/20
Maybe his posture isn't as good in the bottom photo!
185vietnamese
said on 20/Feb/20
He's around my height!!
Chris Junior Hernandez 1990
said on 18/Nov/19
@Christian 6'5 3/8" You can have him at 6'1 1/4 but i do have a legit 6'0 friend met him at a comic con saying both time he stand close to him felt that he look between 6'1 1/4 to 3/4 range. So my guess is 6'1 1/2 seem right.
Bobby 5'10 (178cm)
said on 22/Mar/19
Looks taller in the top picture than the bottom one and that's factoring in the footwear too, which he had less of in the top picture.
Christian 6'5 3/8"
said on 19/Mar/19
@Junior
Yes, I realize that. He still doesn't look much over 6'1.5" when you consider that he had a 1/4" shoe advantage over Rob. That makes up for the camera distance difference.
Junior Hernandez 1990
said on 18/Mar/19
He look 6'1.75" with Joe Manganiello. I did go with 6'1.5" at worst.
@Christian Rob's head was slightly closer to camera than Chaske stand compare with the picture Rob with 6'1.5" guy in red T-shirt. Chaske can be the around the same height as the other 6'1.5" guy.
Nik
said on 6/Mar/19
He looks over 6'1.5" in the top photograph!
Christian 6'5 3/8"
said on 30/Jun/18
He has a high eyel level which can give the illusion of him being taller.
Nik
said on 29/Jun/18
He does look at least his listed height! I like the photo, including the teddies!
Rampage(-_-_-)Clover
said on 9/Apr/18
I can see him measuring 187cm on the nose.
Anonymous
said on 28/Dec/17
Listed accurately by google at 187 cm.
Henry
said on 21/Dec/17
How do you tall think he is with the advantage shoe in the first picture Rob? 6'2? 6'2.25?
Editor Rob: that day he seemed closer to 6ft 2 than 1, the following day he was in converse and not looking much over 6ft 1 flat.

PD 213
said on 4/Nov/17
I don't even know who this is, but I think this is a good listing, as my dad's 5'7-5'7.5 and I am 5'11.5.
A few months ago, I used to claim 6'1 as I had almost this much difference with my dad, but at the walk-in clinic, got measured at 181.5cm spot-on.
Christian-6'5 3/8
said on 23/Oct/17
This is how tall a real 6'1.5" guy should look next to a 5'8 1/8" guy like Rob. And keep in mind Chaske even had 1/4" more footwear than Rob, yet still looks the same height as the 6'1.5" measured guy (who had no footwear advantage)
Click Here
Funny how many people are saying Chaske's over 6'2", some even 6'2.75", lol.
KH
said on 29/Aug/17
Looks bigger then this in the photos. I would upgrade him to 6'2.
Editor Rob:
people can look taller/shorter in photos 👍
Here's one guy who is
actually 6ft 1.5
Mr. Thompson
said on 28/Aug/17
He looks 6'2.75" in the first picture and 6'1.75" in the second..
Anon2
said on 24/Aug/17
Rob, if only you knew the type of heels Brock wears with his jeans. But yes Brock is still taller than Chaske though.
Danimal
said on 23/Aug/17
I'm seeing over 6'2".. Maybe 6'2.5".
Editor Rob:
he does look
Shorter than Lesnar
maybe brock really is 6ft 2.5 and chaske 6ft 1.5...
Junior
said on 18/Aug/17
He looks like a big 6'2 in The Twilight Saga: New Moon.
even
said on 24/Jul/17
6'1.75" is the most fair judgment .
Rampage(-_-_-)Clover
said on 18/Jul/17
189cm is a stretch. Early morning/out of bed it's likely though.
S.J.H
said on 16/Jun/17
Rob, could 6'1.75 a chance for Chaske?
Bard
said on 3/Jun/17
One of the few listings here where the person actually looks taller than it.
Giorgi
said on 6/May/17
He looks definately taller. Could even hit 6'2.5 I feel.
berta
said on 5/May/17
maybe he could be a full 188 guy? for some reaon this seems a little low.
Rampage(-_-_-)Clover
said on 28/Mar/17
6ft1¾ is debatable but I'd be surprised if he measured a full 6ft2 in the afternoon let alone 6ft2¼.
S.J.H
said on 31/Oct/16
He look 6'2-6'2.25 with joe manganiello
Rampage(-_-_-)Clover
said on 8/Apr/16
High shoulders can add to the illusion of more height. I don't think he's under this listing.
John
said on 3/Mar/16
His thick hair can make his appearance as over 6'2", but 6'1.75 the closer I look, Rob's listing is correct.
S.J.H
said on 31/Aug/15
He is 6'2.. I wonder why rob underlisted him.
Rampage(-_-_-)Clover
said on 5/May/15
An easy 6ft2 in the upper photo...
JK
said on 2/Apr/15
Looks 6'2.25 in the first picture
joe 193cm night
said on 24/Mar/15
Rob, What? it looks the same height alberto del rio
pablo77bar
said on 7/Mar/15
he looks like 6ft 2
S.J.H
said on 6/Mar/15
Think of others 6'2 actors my guess majority Chaske Spencer look taller than 80% of them
blue
said on 9/Dec/14
sooo cute the teddies bears:-)
Crypto139
said on 27/Oct/14
Very high shoulders for his height. Could probably fool some shorter dudes into believing he is above 6 feet 2.
Emil 182.5 cm
said on 28/Aug/14
Bloody hell he's massive
6'0 and half
said on 14/Aug/14
186 cm - 187cm
teej
said on 23/Jul/14
Spot on 187cm thats the same height difference between me and my 5'8 girlfriend, she's just upto the bottom of my nose
Spencer 6'1.25
said on 26/May/14
1.87 D;, I thought it was going to be just like me
Themotorbikeman
said on 25/Jan/14
Bottom photo is 5 inches between Rob and Chaske. Are people not using the forehead to eye line rule anymore as being 4 inches?
Top picture is more like 6 inches difference between Rob and Chaske.
6ft 1.5 for Chaske is very reasonable.
Rampage(-_-_-)Clover
said on 26/Dec/13
Around 187-188cm. Might just be 6ft2
thc
said on 28/Aug/13
looks 185-186 cm in the second shot, 188-189 cm in the first...
Mathew
said on 24/Aug/13
Looks every bit of a legit 6'1.5" in the top shot to me. Don't know where all the 6'3" estimates are coming from. Given his footware advantage he doesn't look much more than 6'0" range in the bottom pic.
Rusty
said on 22/Aug/13
He looks as tall next to Rob as many people Rob gives 6'3" to. However Rob met him in person so we gotta take his word
Lurk
said on 14/Aug/13
Ironically he looks as tall as (if not taller) than some of the supposed "6ft'3" guys on this site...
Balrog
said on 10/Aug/13
He looks closer to 6'2'' to me. Could he be a weak 6'2'' or 6'1.75" ?
Rampage(-_-_-)Clover
said on 31/Jul/13
Looks 189-190cm in the more recent photo and 186-187cm in the older one.
This guy is pretty close to 6ft2. Like, within 0.5in of it. I could've sworn he was 2in taller than Pattinson in Twilight.
"Chaske Spencer's height is 6ft 1.75in (187cm)"
Lo sgozzatore
said on 27/Jul/13
Rob, i still dont get it why he looks so tall next to Jenny in the first pic. I mean, he looks about 6'1.5 with you, but he looks in the 6'2-6'3 range with Jenny. He gives me a taller impression than the 189 challenger guy (with Jenny i mean)
[Editor Rob: in the top shot I had a 1/4 inch less than chaske and a 1/4 inch more so the swing is 1/2 inch for chaske over jenny. Bottom one we both had converse so he had half inch more.]
avi
said on 26/Jul/13
@Johno says on 11/Jun/13
How do you figure? There's 5 inches in the picture here. I admit picture 2 is weird cause he looks 6'1 at most and he has 1/2 advantage. I think he's strong 6'1 but not 6'1.5
Johno
said on 11/Jun/13
Rob i don't see chaske anywhere over a 6'1 flat, infact i believe if you were to measure him to the dot with stadiometre, with the tapping and all - chaske would measure 6'0.8, 6'0.9
I believe a 6'1 listing is suitable for him.
Johno
said on 11/Jun/13
I think if you were to compare him to that 6'1.4? challenger, chaske would come out shorter and minus footwear, honestly chaske wouldn't look above 6'1 flat.
If i were to be technical, i would chaske at 6'1.8 - 6'1.9 but that would be getting silly.
6'1 flat is good enough for chaske.
He has a little head, it gives an illusion that he is taller. Rob having him at 6'1.5 is his top height. He is shorter then that.
Chaske max 6'1 flat
Johno
said on 11/Jun/13
I am comparing the tip of rob's head to chaske. Rob's head comes 0.5 inches below his eyeline which is roughly 5 inches then minus 0.25 inches footwear.
He does seem bordering 6'1 not necessarily 6'1.5.
jimmy
said on 10/Jun/13
Johno are u putting this guy under 6'1" to justify ur claim about a weak 6'4" Manganiello?
Johno
said on 7/Jun/13
Under 6'1
Mike
said on 11/Apr/13
Rob it's a crime to have Chaske listed as 6'1.5" and Ferrigno 6'3".I doubt that that Lou is a tad taller than Chaske.
[Editor Rob: next time i see Lou I'll see him with a few other people around 6ft 2 or 3 and see if he matches up]
jimmy
said on 11/Mar/13
He doesn't look 3.5 inches shorter than Joe Manganiello Rob.Maybe a bit more than 2 inches.
[Editor Rob: I think he looks 3-3.5 inches taller, there's a few photos of them out there.]
J.C.Parker
said on 21/Jan/13
i dont get it.. 5´8 reaches the same spot in my head as it does in this guy´s..
but im shorter than my 6´1 closet door..
Mathew
said on 7/Jan/13
6'1.5" on the top picture, but he looks shorter below.
Aragorn 5'11
said on 2/Jan/13
Strong 6'1. 185 cm.
Mathew
said on 19/Dec/12
No chance at 6'3". 6'1.5" is fine.
Lo sgozzatore
said on 3/Nov/12
Rob, in the first pic, how much advantage did he have on Jenny? I mean, he looks a big 6'2 guy next to her!
[Editor Rob: in bearshot? He had fraction more than me and I had a quarter more than jenny that day in spiky day we both had .6 and he had near .5 more.]
Arch Stanton
said on 31/Oct/12
He actually looks 189cm in the top picture agreed but its an illusion. Danimal's a funny one, he has Brad Pitt at 5'8.5" and this guy at 6'3"!!
Mathew
said on 6/Aug/12
No way is he 6'3". 186 - 187 cm is closer to the truth.
Danimal
said on 6/Aug/12
Way off on this one. He looks to be an easy 6'2.5"-6'3" imo (especially in the first picture).
[Editor Rob:
This guy
appears very slightly taller (he has little hair before the stadiometer hit his skull compared to how much hair chaske has)
The problem is...my friend in that photo (measured in military stance) was 6ft 1.5 and in person Chaske to me doesn't look any taller than my friend does...
but you are free to believe he's nearly 6ft 3...to me he never looks that tall in person and as shown, a 6ft 1.5 measured guy can just as easily look even slightly taller beside me ;)
]
Jack
said on 1/Aug/12
looks 6'2" in the first picture if not 6'2.25"...
Hob
said on 11/Jun/12
kidding.. if he is 6'1.5 , look at him with jenny on top picture as this subject that zachary levi was 6'1.25 on dot. he had to be 6'2.25
steven
said on 14/Jan/12
he does't look much shorter than my 6'2 twin brothers who measure 6'2-1/4 and 6'2-1/8. on the top picture he look 6'2-1/8 but account footwear advantage by 1/4 so 6'1.75" i think.
goal height 6 foot
said on 4/Jan/12
187cm spot on, 188-189cm with the hair buffed up
perfect height...
Adam
said on 28/Dec/11
He could be lifting them up in the second photo :)
Greg
said on 12/Dec/11
@Lan Jiao: It looks like Spencer has camera advantage in the top pic, making him look like a legitimate 6'2''. Rob's got this guy nailed at 6'1.5''.
ChiasmataX
said on 24/Nov/11
Accurate listing, he's about as tall as the guy from height challenge # 8.
LAN Jiao
said on 16/Nov/11
Rob, maybe he is what he claim 6'2? Im confuse him in 6'1.5-6'2.25 , he might be dap between.
Maximus
said on 6/Nov/11
6'1" sounds fair....doesnt look below that.
Chameleon
said on 4/Nov/11
Rob do you think 187cm is his max height or lowest?
[Editor Rob: I think having seen him now a fair bit 6ft 1.5 is probably on the money.

although the sunday of the most recent event, I saw him only looking between 2-2.5 inches taller than charlie bewley. The previous day he was a good 2 inches taller than gil birmingham...but then I've seen gil look half an inch taller than charlie!

confusing.... ]
LAN Jiao
said on 3/Nov/11
in the bear shot he really cant be under 6'2.25 , but maybe 6'1.5 can be his fair lowest measured out. he atually did't look over 13cm shorter than daniel cudmore in person. he was right under cudmore eye level and always had his eye level on cudmore lower chin angle which is pretty much 12-13cm difference. my conclusion is maybe a downgrade from cudore page 6'6.75?
LAN Jiao
said on 2/Nov/11
rob, strange.. because this new pics atually put chaske look about same height 190cm as adam baldwin height in pictures comparison to jenny and you, he had a quite level head length as adam and you 10" and adam baldwin chin came right above your eye brown as chaske chin was above thought. campare jenny he atually look 189cm if a line is draw. he stand pretty relax as well. minus the 1/4 footwear he is still near 6'2.5 maybe he is right on 6'2.25 while you underestimate him?
i recall in twilight atually he barefoot alot and look a solid 188,maybe a fraction more.
[Editor Rob: actually he was standing at his tallest for the bear shot...Jenny remarked on it afterwards that he stood tall...

he won't be at his lowest height unless he woke that day at 3.45am like us, it's an 11am shot, we flew early that morning so are at our lowest.

on the sunday I saw him with less sneaker and he looked an inch smaller that day.
]
LAN Jiao
said on 31/Oct/11
so chaske have get underestimate all this while. i think he claim 6'2, if hes 6'2 morning so half inch took away he is 6'1.5 which is right. also if im wrong then he did be good 6'1.75 as well. easily pull to look near 6'2 in new picture and looks like he can push another 0.25 straight up.
Josh B
said on 25/Oct/11
His eye level puts this guy above height challenge 2's by a fair margin, i must admit though he looks significantly taller in the shot with LESS footwear and LESS hair, quite bizarre. Also his shoulders look massive like a Brandon Routh pair of shoulders. Strange...
[Editor Rob: that's from last week, I think he did look taller near 187cm that day.

the photo was about 11am and me/jenny were up that day 3.30am to get ready to go to airport for flight etc so we're already at our low height...]
Rampage(-_-_-)Clover
said on 3/Sep/11
Well Rob Pattinson is listed here as 6"0.5(184cm) which I think is too generous and since Chaske had at least 1in or more on Pattinson in New Moon that would put him at 6"2(188cm) or really close to it.
Pattinson I think is 183cm or 6"0 on the dot while I think this guy is 6"1.25(186cm).
Hansen
said on 15/Aug/11
chaske looks 184ish here. neverless over 6ft1. 6ft1 in real i believe.
Rampage(-_-_-)Clover
said on 27/Jun/11
Looks bang on 6ft1 in the pic. Would gain an extra 0.5-0.75in with better posture
[Editor Rob: I thought he stood near perfect in that shot.
]
Dmeyer
said on 20/Jun/11
Near 6'1 in thé pic
J-Dog
said on 20/Jun/11
Chase has about a max of 4 inches on Rob, I agree with Cranberries his pushed up hairstyle gives him the illusion of another inch of height, that simply is not there. Rob has this pegged dead on.
Just take your cursor and start at the top of Chase's head (not his hairline but his skin/head) and move it over to above Rob.
Rampage(-_-_-)Clover
said on 7/Jun/11
Would look 188cm with better posture.
Rampage(-_-_-)Clover
said on 1/Jun/11
Nothing less than 6ft1
James
said on 31/May/11
6'0.5 (184cm)
Cranberries
said on 31/May/11
You don't think he's got 2.25 inches of hair on top of his head? You're getting a little aggressive... Wouldn't want you going on a "rampage"! Hur-hur-hur.
Cranberries (6 ft. 3.25 evening)
said on 16/May/11
If you count the hair, he's my height. Also, is it just me, or does Chaske have a rather small head?
J-Dog
said on 11/May/11
Do any of you guys read what Rob writes before you post? He clearly states that Chaske has .5" of footwear advantage and he has responded to some of the posts showing clear proof. The only reason I say this is because I see this quite a bit. If Chaske was in socks and Rob made note of this in bold, 10's of you would still reply "He doesn't look 6'1" he looks like a weak 6 foot". LOL
Rampage(-_-_-)Clover
said on 16/Apr/11
186cm I think
James
said on 25/Mar/11
I agree barely 6'1 with rob.
Dean
said on 21/Mar/11
All these people thinking hes more than 6'1..not a chance..My mate is a legit 6'1 bang on 185.5 and im 175.5 so I know a 10cm difference and the head comes up to solidly on the eyebrow. Rob nearly hits this guys eyebrow..so hes only a bit more than 10cm smaller..about 12 Id say..so would be 185cm weak 6'1 However with 1.27cm difference of shoes I could see either 184 or 183.5 and therefore maybe 6'0.5 tbh and defiently no more than 185. Did you think 6'0.5 ot 6'0.75 would be closer rob?
[Editor Rob: I've seen him 3 times at events, and thought he looked 6ft 1 range.]
James
said on 7/Mar/11
6'2 with his hair all buffed up.
Chameleon
said on 2/Mar/11
No he doesnt -_-
CaptainSpaulding
said on 2/Mar/11
Looks 6'2".
James
said on 24/Feb/11
does look 6'1
JellO
said on 15/Feb/11
Very solid 6'1, even accounting for the footwear difference. I'd say 6'1.25.
Rampage(-_-_-)Clover
said on 28/Jan/11
He's either 6"1.25 or 6"1.5
Definitely around 186-187cm
Lenad
said on 12/Jan/11
doubt he's over 6'1 without measuring the top of his hair