Chris Bisson's Height
5ft 10 (177.8 cm)
English actor, best known for playing Jai Sharma in soap opera Emmerdale, Vikram Desai in Coronation Street and Kash in Shameless (UK). Earlier in his career he was giving his height as
5 feet 10 inches
.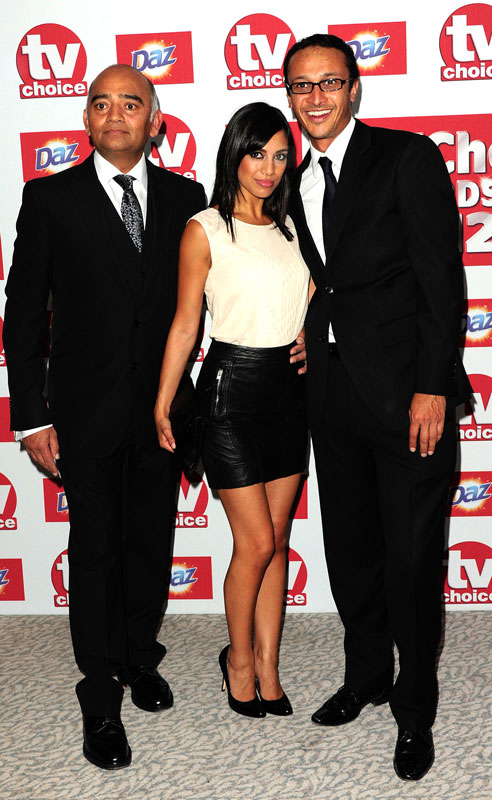 Bhasker Patel, Fiona Wade and Chris
Photos by PR Photos
Add a Comment
20 comments
Average Guess (16 Votes)
5ft 10.56in (179.2cm)
Miss Sandy Cowell
said on 11/Feb/20
The little gingery dog WAS hit by a car. 👅 to you for being careless Jai!
5ft10.5.
Miss Sandy Cowell
said on 27/Jan/20
...but it didn't last for long, knowing that the mystery would culminate in a massive showdown on Friday.
Miss Sandy Cowell
said on 22/Jan/20
Sorry - make that Jai!
Of the two culprits in the Graham Murder Mystery, Jai has gone right to the top of my list!
Miss Sandy Cowell
said on 17/Jan/20
I'm really feeling sorry for Kai right now, being put under pressure by so many. I hope he has the courage to nip the newly surfaced drug problem in the bud.
5ft10.5
Miss Sandy Cowell
said on 5/Aug/19
He's still playing the rude son. 😝
Don't speak to your father like that. It's RUDE!
5ft10.5.
Miss Sandy Cowell
said on 27/Mar/19
What a rude son Chris plays!
His father, who bought him his house, gets married to a gorgeous lady and Jai, Chris's character, doesn't believe his father is fanciable enough to bag himself a stunner! Okay, so he towers over his short, balding father, but who the blazes does he think he is, talking to his own Dad like that? Where would he be without him? Throwing into his father's face "This is my house!" when it was bought by his father in the first place, is outrageous! It reminds me of David in 'Coronation Street' who was given a house for nought to save on inheritance tax, threatening to throw his own Mum out!
Kai, your Dad and his new wife are in love. Get over it!
5ft10.
Zampo
said on 24/Nov/18
5'10 flat, no more or less.
jjj
said on 31/Oct/17
Does seem to be a taller 5'10 as far as 5'10ers go.
Nik
said on 29/Oct/17
@ Sandy Cowell - Hi Sandy!
Well, that's problem solved then! We now know how tall Jai is and it makes sense he is this height when you compare him to his fellow stars in the above photograph! My apologies go to him for spelling his name wrong too.
I hope you have had a good weekend Sandy!
👍
Sandy Cowell
said on 28/Oct/17
@ Nik - Hey, I noticed Cain scrapping with Jai again this morning during the omnibus and their IS a noticeable difference! Chris is no more than 5ft10.25 and could even be 5ft10 on the evidence of that fight!
100% certain! 👍
Nik
said on 28/Oct/17
@ Sandy Cowell - Hi!
I flicked through the channels this morning to see if I could find out what side the double "Emmerdale" was on, but alas I could not find it! I did see that the double "Coronation Street" was on iTV 2 but unfortunately I opted not to watch it, something I regret now!
I do think that Jay and Cain have both got hot tempers and they will both stand up to people, so these 2 getting into a fight doesn't surprise me in the slightest! I will stick with my flat 5'10"!
Cheers!
Sandy Cowell
said on 27/Oct/17
@ Nik - Hi! I have just finished watching the double 'Emmerdale' shown yesterday, Thursday 26th, and I agree with your statement of Chris being a touch over 5ft10. He scrapped with Cain, and it didn't look as though there are a full 1 and a 1/2 inches between the guys at all! It could even be an inch! This will show again on Saturday morning, and I am determined to take yet another look then!
Cheers!
Nik
said on 27/Oct/17
@ Sandy Cowell - Hi!
I don't doubt that Chris is 5'10" either, in fact you could be right in saying that he is 5'10.25" but I will stick with my original estimate! When I first voted I sent the vote in without my name, that is because it disappeared from the box, I then filled in the box with my name and sent it again and then.... I wrote off to Rob! Well, the average vote is 5'10.39" after 7 votes, so the belief is that he is a touch over 5'10"!
CD
said on 26/Oct/17
An honest 5ft 10 is all I can say.
Nik
said on 26/Oct/17
Chris is a great addition to this site, he has starred in both great Northern soaps on both sides of the Pennines and has done well in both of them! I remember him in "Coronation Street" at the age of 27, but he looked much younger!
In terms of his height, I think Rob has got it spot on by pegging him at 5'10", I mentioned to my Mum about him having a page on celebheights and she agreed that he is 5'10"!
Editor Rob: I was in Sainsbury's yesterday shopping with my own dearest Mother, and actually realised I hadn't shown her a recent photo, so there you go, my Mother visited celebheights and her comment on Terence Stamp was he looks 5ft 9, I thought he was taller.

Well, age does shrink you 1-2 inches unfortunately!
Faza
said on 26/Oct/17
Fiona is just 4ft11 wow never paid too much attention to her height but would have guessed her like 5ft2 wonder how tall is bhasker patel
Sandy Cowell
said on 26/Oct/17
Chris always seems to be active in Soapland! His latest stint in Emmerdale has seen him go from callous, verbally cruel coke-taker to caring support- giver, lately looking after a troubled young girl, who reminded him of a girl he loved who lost her life to heroin. He has just recently become a new Dad again, to a child who risks growing up with cerebral palsy. What an emotional time he is in for!
In the photo above, Chris is pictured next to the actress who plays his sister, 4ft11 Fiona Wade. She went off with the thoroughly likeable Leyla's not so likeable fiance so I don't care for her now, I'm afraid! Also standing with him in the picture is the actor who plays his (and her!) father, who could pass for about 5ft7.5+! I don't doubt that Chris is 5ft10, but in the programme, he could pass for a touch more, but soap stars do tend to be on the short side! Having said that, there are some really tall actors in Emmerdale, including a 6ft4 guy and Cain Dingle, 5ft11.5, so I think I can rule out Emmerdale for being full of small men because it simply isn't!
Chris gets 5ft10.25 from me!
Anonymous
said on 25/Oct/17
In coronation street he was fairly young when he first started he must of been 5.11 back then.
Nik
said on 25/Oct/17
Sorry the first guess was sent without my name. Don't count it.
Greg
said on 25/Oct/17
That's the tallest 5'10 I've ever seen, would have thought more 5'11ish.