Chris Gascoyne's Height
5ft 7 (170.2 cm)
English actor, best known for playing Peter Barlow in ITV soap opera Coronation Street. On his talent agency, they gave him a height of
"5'8"
.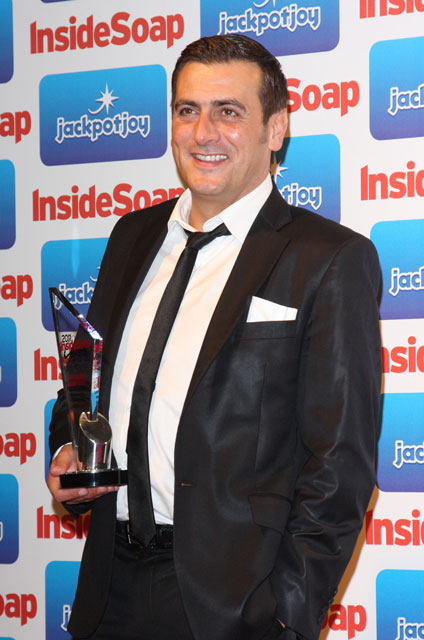 Photos by PR Photos
Add a Comment
16 comments
Average Guess (10 Votes)
5ft 7in (170.2cm)
Miss Sandy Cowell
said on 25/Sep/20
Webster: "When it comes to women, he's like a three year old in a sweet shop!"
Poor old Peter is innocent of anything other than trying to help Abi fight her newly surfaced drug problem.
At least that made me feel better about my (first!) childhood 'shoplifting' incident, as described on Patricia Arquette's page...
@ Sakz - Too right he was the obvious culprit, and I was very surprised when we viewers found out that someone else had 'beaten him to it', as it were. To blackmail a woman who was vulnerable, having lost her brother to suicide, really is the pits, and the hardly whiter than white Peter stood by her, as indeed he should have done.
Chris gets 5ft7 😁👏
Sakz
said on 27/Jun/20
@Sandy He certainly can handle himself as we've seen in the past. I must say I was initially quite surprised he wasn't responsible for the attack on that couple, although he would have been the obvious culprit.
Miss Sandy Cowell
said on 25/Jun/20
Weak he is not, Khaled! He knew how to handle that disgusting couple who were blackmailing his girlfriend.
5ft7 💪😁
khaled taban
said on 28/Aug/19
I knew he never was 5'8" , he even could be a weak 5'7" man !
Miss Sandy Cowell
said on 14/Aug/19
His girlfriend Carla still has to look up to him. She's 5ft4.
5ft7 for Chris.
Miss Sandy Cowell
said on 29/Apr/19
Chris's son Simon, played by Alex Bain, brought Peter to his senses the other day by joining in with his boozing of whiskey. Now Peter's attending an AA meeting, so it worked. Alex's Simon plays a 15-year-old, but in reality, he's a 17-and-a-half-year-old Dad! He's a prime example of a shorter child star. Perhaps it's time for Alex Bain to have a page, Rob? He's written up as 5ft6, but I can't see any more than 5ft4.25/75 tops.
After all, Chris is only 5ft7....🤷
Miss Sandy Cowell
said on 14/Apr/19
@ Littlelee and CD - Isn't it amazing to think that Alex Bain, who plays Peter Barlow's son Simon, became a father of a little girl last December? I can remember when he was so tiny!
Miss Sandy Cowell
said on 14/Apr/19
Another 'Coronation Street' character who has impressed me this week is Chris Gascoyne's Peter Barlow, who has supported poor Carla as she's been descending towards a complete breakdown. His father, Ken, has been equally supportive, played by William Roache, who's been in the Soap since the first episode, on 9th December, 1960.
Chris isn't very tall but, like Mikey's Gary Windass, he's an ex-serviceman, and worth his weight in gold in a crisis.
5ft7.
Sandy Cowell
said on 25/Sep/18
@ CD - I never knew he was nearly 17! I think you must be right. He will indeed be a short adult, but hey, it is what made him famous!
CD
said on 22/Sep/18
@littlelee168cm
He looks a bit shorter than Jane Danson in heels still (she doesn't wear massive heels really), my guess is he's maybe an inch taller barefoot. Plus he looks around 3 inches taller than his on-screen dad. I'd say 5'4.5 at most for Alex Bain.
Littlelee168cm
said on 18/Sep/18
CD the one who plays Simon looks the same height as Jane danson in heels now he could be heading towards 5ft 6
CD
said on 16/Sep/18
@Sandy Cowell
Alex Bain (who plays Simon) is almost 17 now and frankly doesn't look taller than 5'4 or so, he'll probably be another example of a child actor who grows up to be a short adult.
Sandy Cowell
said on 3/Sep/18
'Coronation Street' page perhaps, Rob?
I have never seen him in anything else!
🤐📺
Sandy Cowell
said on 3/Sep/18
Chris's character, Peter Barlow, got 'shot' this week in 'Coronation Street'.
Well, that was what I was expecting from the write-ups! In actuality, it was a pretend bullet, which is just as well really because he's quite an entertaining character. But he ought to get his nasty. little stinking, spoilt brat of a son, Simon, in order with her step mum Leanne! I think he's awful! All those two do is argue about the spoilt boy's welfare. How old is he now? Around 13, and nearly as tall as 5ft3 Leanne, but that doesn't mean he's going to grow very tall. Many 13 year old boys are much taller than 5ft2 or so, and I am talking about back in my day!
He will probably be taller than his 5ft7 Dad, and we have no idea how tall his 'real' Mum was! Things like this ought to be taken into account when casting kids, though it won't always be easy with the very young ones and the late sprouters!
Chris is another shining example of someone whose agency has decided to plump for 5ft8, when he is, in fact, a whole inch shorter!
Sandy Cowell
said on 30/Mar/18
Excellent Rob! I couldn't find Chris's height via the 'Coronation Street' page so I Googled him; they have taken me to this page!
First of all in my search, I read that Chris measures in at 173cm! I thought, "That's a little more than I expected!"
Then when I was shown to the familiar sight of a celebheights page, the 170.2cm, or 5ft7, seemed far more realistic! I also found out that Chris is the 7th actor to play Peter Barlow! I never realized there were that many!
I will go with 5ft7, though I would have expected 5ft6.5 just as probable.
CD
said on 24/Dec/17
5ft 7 is about right, I've always thought 5ft 8 is just too much but then people who guess him at 5ft 6 are being too conservative, although he can perhaps look that short with his posture. In any case, he was definitely an inch or so shorter than Marc Baylis (another guy billed at 5ft 8) in Corrie.