Chris Hardwick's Height
5ft 8 ¾ (174.6 cm)
American comedian and actor. On his twitter he has mentioned his height numerous times, including saying
"hey hey I'm 5'10"!!! That's not very small!!! I'm...very medium."
.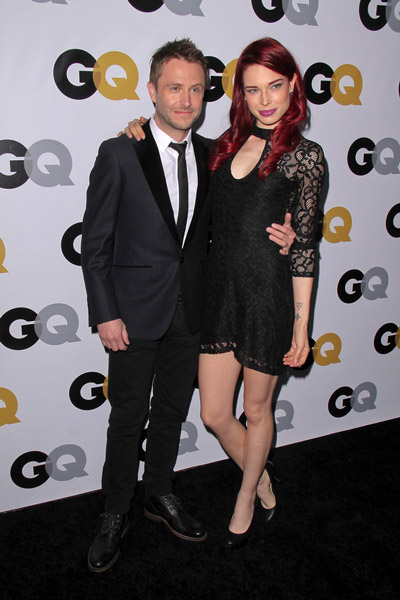 Photo by PR Photos
Add a Comment
33 comments
Average Guess (11 Votes)
5ft 8.3in (173.5cm)
Nik
said on 9/Nov/19
I love it that he said "hey hey I'm 5'10"!!! That's not very small!!! I'm...very medium."!
KH
said on 27/Jul/18
Glad this guy gut his job back at AMC after they determined his former girlfriends allegations were false because he always seemed like a nice guy to me. This seems about right a little smaller then average height for a man in the states which is 5'9.5.
Dream(5'9.5")
said on 21/May/18
He looks well under 5'8" with 6'5 1/8" Bo Burnham.
Marquis
said on 2/May/17
More like 5'8", flat.
LA Guy
said on 26/Apr/17
Just stood behind this guy in line at Gelson's in Los Feliz. I'm 5'8 even, bit taller in the morning, and he had at least a full inch on me, with a slight footwear advantage, great posture and spiky hair. Think Rob nailed it.
Shredder
said on 23/Feb/17
Yeah Rob , give him the 5'8.75. He looks 5'9 at times. He was taller than the 5'8.5 kid from Walking dead , Don't give into the down graders.
TheBigR
said on 5/Dec/16
@Rob do you think he actually uses hidden wheels? I just saw a photo of him with Josh Homme (194-195 range) from the latest talking dead and he looked like 5 inches smaller. What do you think
Editor Rob: I've not seen the clip to be able to say, but at times he can look 5ft 9
HonestSlovene
said on 16/Oct/16
I'd say about 5'8.5" sounds right for him. Just LOL at sub 5'8".
TJE
said on 6/Jun/16
Rob, is his ex Janet Varney worth a page?
Click Here
Click Here
Not sure she's the 5'10-5'10.5 range she's typically listed; probably the same as Chris.
Editor Rob: never looked at her really...but she may be worth adding at some point.
MD
said on 21/Sep/15
@EditorRob,
I'm really going to keep bugging you about this one, as it's one of the more extreme overlistings. Here he is with 5'11.5" Peter Capaldi (who obviously has a footwear advantage):
Click Here
Click Here
You've got him at almost 5'9" when it's closer to almost 5'8" at the most.
[Editor Rob: with jenna, in some other photos I would say that the most I could argue is around 5ft 8.5...I think that is still possible, you could argue 5ft 8 flat as well. For moment 174.]
Adi
said on 17/Sep/15
@Lanie You're really pushing it. There is no way he is under 5'7. See the various pictures with other well known people. Let me guess, you are a woman and were in heels? That can distort your perception a lot! Anyway, he's probably around 5'8.
Lanie
said on 4/Sep/15
I am 5'7. Chris came in for an interview and was much, MUCH shorter than me. When it came time for photos, he stood behind everyone and got up on his tippy tip toes, like en pointe tiptoes, and was still noticeably shorter. No possible way he's above 5'5, MAX.
MD
said on 16/Mar/15
Rob,
Can you finally bring him down to his real height of 5'8"? Here he is with 5'7.75" Aaron Paul.
Click Here
I think this confirms my earlier claims.
SJ
said on 28/Feb/15
No way this guy is 5'9". I think he is about 5'7.5". He has a narrow frame, making him look taller. Maybe time for a downgrade?
MD
said on 22/Nov/14
It's really strange to me that he's still listed at nearly 5'9" when it's obvious he's barely 5'8". That was apparently from my first post on this page.
tom
said on 20/Nov/14
Pic here with the apparently 5'8" Alex Trebek (Jeopardy host)
Click Here
Chris
said on 12/Nov/14
Is the 5'10 claim part of his comedy routine?
tony t.
said on 14/Apr/14
I'd bump him down to 5'8.25.
questionman
said on 8/Apr/14
Why did you list him at 5'8.75 Rob? It seems very specific if you haven't seen him in person, unless you did.
[Editor Rob: to cover that he can look in the range 5ft 8.5-9]
richkid123
said on 25/Mar/14
looks like Aaron Paul's father
MD
said on 20/Mar/14
Yeah, definitely more a flat 5'8". The shots I posted of him with Wilmer Valderamma really do show negligble difference. It's certainly not an inch-and-a-quarter difference.
tom
said on 19/Mar/14
This picture with Matt Smith is pretty telling (
Click Here
). Matt is wearing pretty big heels and has the camera on his side here, but regardless that is a pretty big difference. It's pretty hard to believe Chris is around the same height as somebody like Tom Hardy.
Ted
said on 19/Mar/14
5'8" flat seems more like it for him.
linke
said on 17/Mar/14
Would have guessed 5'8.Not really a fan of him or his work.Punk has few inches on him.
MD
said on 11/Mar/14
@Sam, that's his girlfriend Chloeh Dykstra. Though most people wouldn't know it, there is a 17 year age difference between the two.
Sam
said on 10/Mar/14
Who is the hottie with him?
burby
said on 9/Mar/14
I saw his "Almost 6 foot" claim. Good thing he's a comedian....
tom
said on 7/Mar/14
Awesome guy, love the Nerdist and podcasts on that site. Always thought he looked on the shorter side, and I think this is a little too high. There are quite a few photos of him with Matt Smith, and he doesn't look any taller comparatively than Jenny does in her photo. I reckon he averages 5'8" flat, maybe a little higher on a good day, and dips a little under by end of day. 5'10" is a big ask but 'almost 6 foot' is crazy!
176,2Tunman
said on 7/Mar/14
Possibly 173-4 rather than 174-5.Rob,I noticed you often choose the highest estimates for listings,perhaps something in the middle could be bang on like 5'8.5?
Lorne
said on 7/Mar/14
I don't think he's as low as 5'8 flat, look at him with Jon Hamm, but yeah, 174cm.
MD
said on 7/Mar/14
Yeah, he's much nearer 5'8" than 5'9".
I asked Rob to add him because I heard him say, dead serious, a few weeks ago on his late-night show, At Midnight, that "I'm almost 6'0"." in relation to a trio of tall comedians he had on that night. No one said anything, probably because they didn't want to embarrass him any further. It was just funny to see a guy try to add four whole inches to his height. Though, I have heard him claim 5'10" on the same show, too. He brings up his height more than one would expect. It's funny, because in solo shots, he looks like he could be 5'10".
Anyway, he's funny as hell. I've seen his stand-up specials and such. It's a particular brand of geeky humor, but I find it hilarious.
Arch Stanton
said on 6/Mar/14
Looks nearer 5 ft 8.. But then again Scott Mills is 5'10" too right? :-]
MD
said on 6/Mar/14
Rob,
Thanks for the listing! Have you ever met him at any of the sci-fi conventions?
This is a good starting point, but here he is with 5'7.5" Wilmer Valderamma:
Click Here
Click Here
Even if you were to tac a whole extra half-inch onto Wilmer's height (which wouldn't be correct) and give Wilmer a slight footwear advantage, I do have a hard time seeing Chris much taller than 5'8".
And, there is also not a lot of difference between him and Steve Yuen, which also might call into question the nearly 5'10" listing for Norman Reedus.
[Editor Rob: well 8.75 is the most he would get, I have never seen the guy at any event, but he can vary anywhere in that 5ft 8-8.75 range]