Christine Teigen's Height
5ft 7 (170.2 cm)
American model. In an interview with WWD Chrissy mentioned in regards to runway work,
"I think I'm a little too short. I'm 5-8. That's my excuse for never getting called for it."
On twitter when someone once said she was so short, Chrissy replied:
"nottt really. i'm 5'9''"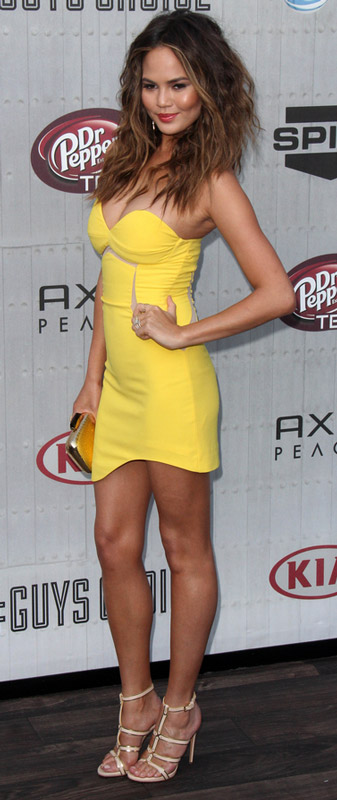 Photos by PR Photos
Add a Comment
23 comments
Average Guess (33 Votes)
5ft 6.86in (169.8cm)
Nik Ashton
said on 8/Sep/20
A lot of people out there think she is taller than Big Rob Paul!
RE
said on 23/Sep/18
seen her briefly on Jimmy Fallon and tbh I would peg her at most at 5'6.5 due to the fact her face shape is roundish (which makes anyone give a shorter impression).
Nik
said on 15/Jun/18
Maybe 5'7", no more!
Mimi
said on 5/Mar/18
Rob how does she look with Gal Gadot here? I'm thinking she's no more than 5ft7.
Click Here

Editor Rob
5ft 7-7.5 range is a possibility.
Cathy
said on 29/Dec/17
Really tall shoes don't make really long legs. But if Kate Moss and Cara Delevingne are shorter and they do runway work why not Chrissy?
Cliff
said on 23/Sep/17
A downgrade is long past due. Going from photos with her husband and others, she's a weak 170cm. I really think that she's a generous 5'7" at best.
Kelli
said on 1/Aug/17
I thought she was 5'9 until I saw that she usually wasn't even taller than John in heels, 5'7
linda
said on 4/Jun/17
how tall Nina i these heels?
Click Here
Editor Rob: they could give her close to 3.7 inches of height
Lee168cm
said on 12/May/17
She was maybe 2-3 inches taller than Amy schumer in 3 inch heels while Amy wore flats when I saw them both in inside Amy schumer I'd guess five six to five seven
Ax
said on 15/Feb/17
Uhhhh....Adele is 5'8" so Chrissy Teigen is 5'6" at best. Research pics of both with John Legend.
Click Here
John
said on 14/Nov/16
Go to wireimage. She is about 2-3 inches smaller than 5-9 Ashley graham, 3-4 inches taller than 5-2 Fergie, and based on the background, she is the same height as 5-5/5-6 Kalie Couco (Big Bang theory). Are you kidding me with this 5-8.5?
TedAlpha
said on 3/Sep/16
more like 171cm
rrijecanka
said on 10/Aug/16
Why are you or she lying about her height?? She has small body, even to small for her size of head, but still she's the most beautiful girl out there... Watched show with Amy Schumer and Chrissy was in huge high heels and wax just a little taller than Amy... Amy is 170cm so for sure no kore than 165cm...just small body size makes her taller
Az
said on 23/Jan/16
She co hosts Lip Sync Battle. She's inches shorter than last weeks 5'7" Tracee Ellis Ross. She's 5'5".
J.Lee
said on 20/Nov/15
Rob how tall is Hanna Davis?
Az
said on 28/Oct/15
She's 5'5". She is in no way 5'8".
Google her with Tyra Banks who is a legit 5'10". It's pretty good evidence for 5'5"
Click Here
J.Lee
said on 9/Aug/15
Rob can u do one for Hanna Davis?
J.Lee
said on 14/Apr/15
Rob, can you do a height for Hannah Davis?
John
said on 4/Apr/15
How is Hannah Davis 5-10 if they are the same height? Look at wire image. Models all lie. Drop 2 inches on any model that is listed at 5-10 or under.
Iney
said on 7/Oct/14
She's 5'8 but her height isn't the issue with no runway work, her body and face just doesn't suit European/high fashion markets unlike as Kate Moss who is shorter.
noname
said on 5/Oct/14
I think they want 5'10+ these days for runway.
When my sister (~5'6.5") wanted to try modeling a little over a decade ago, her height was considered short.
WhoDaMan
said on 4/Oct/14
Surely if she was 5'8 runway walk wouldn't be a problem? It's fairly tall for a woman.
Pedro
said on 3/Oct/14
Christine is listed 5'8.5" in both "IMG Models"
Click Here
and "Icon Management"
Click Here