Christopher Masterson's Height
5ft 8 ½ (174 cm)
American actor, best known for appearing in Malcolm in the Middle.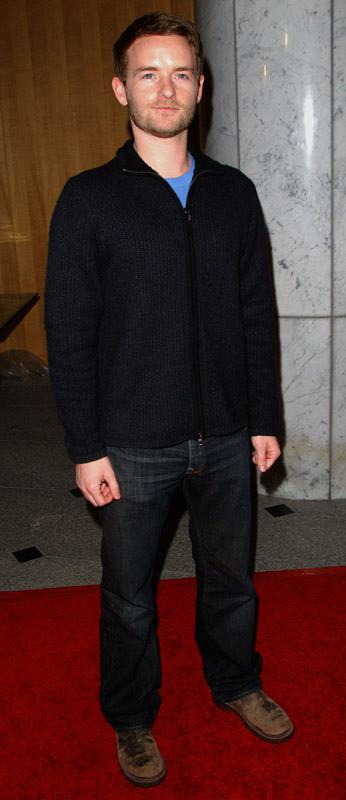 Photos by PR Photos
Add a Comment
30 comments
Average Guess (10 Votes)
5ft 9.25in (175.9cm)
Miss Sandy Cowell
said on 13/Mar/20
I assume that Christopher Masterson is the brother of Danny, or what's he doing on his page?
At just over 5ft9.25, Christopher's average vote is more than Rob's figure for him, but he is still that much shorter than his brother, who celebrates his Birthday today.
Chris can have 5ft9 from me. 😁👍
M.E
said on 14/Nov/18
the actor who plays reese in Malcolm in the middle ended up being very close in height with him. In Various places it says hes 5ft8 so this would make sense if that's true.
Gozalez
said on 8/Jan/18
5'9.5 at the VERY LEAST. There are pics all over the Internet of him with his ex Laura Prepon (5'10), where she's wearing 3-4in heels and is nearly the same height as him or slightly taller.
Click Here
c-mo
said on 5/Aug/17
nothing over 172-173cm imo
Zander
said on 8/May/17
Rewatching that 70s episode, every actor is in boots with at least 2 inch heels and Jackie is in full dress heels (3/4inches). Christopher is in flats (guessing for comedic appearance?). He's still clearly taller than Jackie who is listed at 5.5 which should make him in the 5'10 range.
realheight
said on 18/Aug/15
174-175 cm
here with 179cm Bryan Cranston :
Click Here
None
said on 7/Feb/15
Of course, that's when I asked him. Plus, i'm 5'7 and he was about 2.5 ins. taller than me,
None
said on 2/Oct/14
He said "I'm 5'10 and a half. 5'11 with shoes on." I think he's 5'9.5 because Bryan Cranston is 5'10.5 and had about an inch on him in Malcolm in the Middle.
wiltonstilts
said on 17/Apr/13
I think 5'9 or 5'10
MaskDeMasque
said on 21/Sep/12
Looks about this. Cranston had 1.5-2" on him in MITM.
MD
said on 30/Jan/09
Rob,
Yes, how in the world does he continue to be listed at almost 5'9"?
Kevans
said on 30/Jan/09
unless he's grown a lot from T7S, and i may be biased b/c i haven't seen him since T7S lol.
But this guy is a legit 5'7 maybe 5'7 and 1/2. I mean Wilmer may even have an inch on this guy. Danny, who i believe is a good solid 5'10 has got ATLEAST 2 inches on him.
sf
said on 4/Apr/08
Just saw the same episode of that 70's show. The guy is no taller than 2 or 3 inches over Mila Kunis. She's got high heels on, platforms, maybe. maybe she is 5'5" to 5'6" in those shoes. If she's actually only 5'2", then she's at most 5'5". Chris just can't be taller than 5'7" and 1/2.
sf
said on 26/Mar/08
After Random Person's comment, I got intrigued, and studied many, many images of the two together. On average, he looks around an inch to an inch and a half shorter than Prepon in most pictures. I did see one where he looked around the same height and one where he almost loooked taller. I also saw one where he looked much, much shoter. But, in most images, I'd say an inch and a half shorter. I do not think Laura is taller than 5'9" from watching her on that 70's show. If not a lift wearer, I give Masterson 5'8" at best. If a lift wearer, 5'7"...
You can't base a height estimate on one image.
Random Person
said on 26/Feb/08
For once, I actually have to admit I was wrong and downgraded an actor. I was looking at some pictures of this guy in Getty Images and there is a rather interesting one of him in very flat (impossible for lifts) shoes next to Laura Prepon in very flat sandals and he actually appeared slightly taller. Now given, she was leaning a bit but none the less, she could not be taller than by more than an inch. Now Laura is no less than 5'9" and could very well be 5'10" so...5'8.5" minimum for this guy.
sf
said on 9/Jan/08
On Danny's MySpace site, there is a picture of the two brothers, almost side by side. Danny is kind of hunching (looks to me like he looses an inch or so by doing this), and still slightly taller than Christopher - Christopher can't be taller than 5'7" and 1/2...
sf
said on 28/Dec/07
I'm staying with 5'7".
HellBoundPower
said on 27/Dec/07
On the episode of That '70s Show, he was made to look smaller, because that was his role. He was supposed to be "The tiny little cheese guy". I'd say he's probably close to 5'9".
Anonymous
said on 25/Oct/07
I'm not too sure about this guy. He can appear 5'9 at times but most of the time on Malcolm in the Middle, he's barely taller than 5'7 Jane Kaczmarek. I recall him looking consistently 3 inches shorter than Bryan Cranston who is 5'10 as well. He also didn't really look more than 5'8 when he was on That 70's Show and he usually looks shorter than his brother who is at best 5'9.
sf
said on 13/Oct/07
Coming back to this - don't think he's any taller than 5'7". Saw him on an episode of "That 70's Show" last night. Yes, Chris Masterson, not his brother. Many, many shots he was standing next to Jackie, who was in heels, and he was harldy taller. She could have been 5'5" in the heels at most, and he was barely taller. At most, 2 inches, and I don't know about that. Looked very, very short. 5'7.
HellBoundPower
said on 15/Jun/07
Also Chris isn't the older one. Danny is 4 years older than Chris. I'd say close to 5'9".
MD
said on 10/Jun/06
That's what I originally said, too. He's really skinny, too, which makes him look taller, but everytime I've seen him on T.V. or in pictures, when in regular shoes, he comes across as nothing more than 5'8". Both he and his brother are routinely listed 2" over there height, which isn't rare at all.
sf
said on 10/Jun/06
Oh, I gotta disagree. Chris, at most is 5'8". He's NOT taller than Jane Kaczmarek. Maybe as short as 5'7".
MD
said on 9/Jun/06
Can someone explain this picture, then? Here he is with Wilmer, who this site gives 5'8", but who's actually a half-an-inch to an inch shorter than that listing:
1.
Click Here
Even with the lean you can't squeeze out 5'9"
Dominic
said on 18/Mar/06
Chris is easily 5'9. He is a bit shorter than his brother who is listed at 5'9.5. I also think they should move Danny up. People say he is taller than Laura Prepon because of his boots but there is an episode when the crew is at Jackie's cabin and they all just have socks on. Danny is flirting with Laura and he is still an inch taller than Laura (who is 5'10).
karen
said on 2/Nov/05
I think he
MD
said on 21/Jun/05
Yes, Chris is the older of the two (by a year, I think), and has to be around 5'7" because Danny is no more over 5'9" but looks taller because they often have him in boots with hills on That 70's Show.
animalito
said on 20/Jun/05
Chris is actually Danny's OLDER brother. He reaches no higher than 5.6 or 5.7 at best, with Danny at 5.8.5 or 5.9, tops. Just watch Chris on MALCOLM IN THE MIDDLE.
roadie
said on 12/Jun/05
Yeah, i that he was shorter too. I think its cuz he's always around really tall people, like laura prepon.
ma
said on 13/May/05
I always thought he was more like 5'8" - 5'8.5" Interested to see what other people say