Coleen Rooney's Height
5ft 3 (160 cm)
British tv personality and WAG, famous as the wife of footballer Wayne Rooney. She has said
"I'm only 5'3'', so I wear things to try and make myself look taller."
.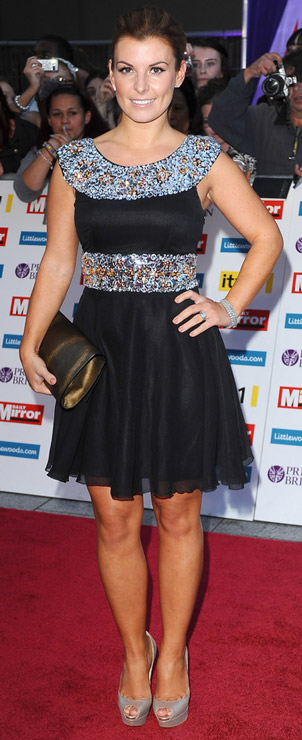 Photo by PR Photos
Add a Comment
17 comments
Average Guess (2 Votes)
5ft 3in (160cm)
Ravenhom1
said on 24/Apr/20
How much do those heels in the picture add rob?

Editor Rob
Possibly almost 4 inches
Arch Stanton
said on 4/Sep/17
Shorter than I thought, I thought about 5 ft 5. You know those women that you probably shouldn't fancy or are probably really not your type in normal circmstances and you find strangely attractive? Coleen is one of them LOL.
Editor Rob: her claim seems quite reasonable.
Hans Meiser
said on 17/Jun/17
5'2.5 is more like it.
Sandy Cowell
said on 24/Mar/17
Yes, 100% correct for Coleen, as I've read it in many magazines and newspapers! She's a woman's woman with an endomorphic figure that so many women can relate to!
Idk
said on 13/Oct/15
How does England's all time leading goal scorer and soon to be man utd's, also captain of those teams not have a page but his wife does lol
opencurtin
said on 27/Mar/15
Weird I see her height on here but I cant see Wayne's height ......
TJ
said on 13/Oct/14
Coleen has a page and Wayne doesn't?
Peter J
said on 19/May/09
Wayne Rooney is about 5'6". David Beckham is a shade shorter than me - I'm no more than 5'10" - yet he is listed as 6". Only the taller players like Crouch and Rio Ferdinand are listed correctly. The rest are 2-3" shorter than claimed. I don't know why this is, as it wasn't the case when I was a boy collecting Pannini stickers.
Emma
said on 19/Mar/09
A few years ago she was always described in magazines as 5ft2. Now all of a sudden she is describing herself as 5ft 3. I think she is really 5ft1 -2 and knows she is but adds on the extra inch because nearly everyone can get away with adding an extra inch on.
charlie
said on 19/Jun/08
i dont care how tallshe is im onli lukkin cuz its 4 ma french work does it reli matta how tall or short she iss?????
nope i dont fink so
aniwaii i fink shes probz bout 5ft 4" but i hav no idea reli lol
i luv ma self2 much lmao
luv charlie
lauren
said on 22/Apr/08
no way is she 5ft 2. I have actually met colleen and we were both in flat shoes. I am 5ft 5 but i still seemed more than two inches taller than her. shes nearer to 5ft 2 but no less than 5ft 1.
Editor Rob
said on 5/Mar/07
In today's Now said
"[I hate] my legs. I'd like longer legs, but I'm only 5ft 3ins."
Evanna
said on 20/Feb/07
BTW, Rooney says in his autobiography that he's 5'9", but his dad "big Wayne" is only 5'6" and his mum is taller than dad.
Evanna
said on 20/Feb/07
Update on Coleen: there's no way she's 5'3", because my 6'2" hubby saw Rooney couple of weeks ago at Deansgate and he's been telling everyone ever since that Rooney is shorter than me (I'm 5'8" and-a-change). Now, judging by the fact that without platforms she is almost a full head shorter than him... 5'2" tops.
Evanna
said on 13/Dec/06
ASDA stores are full of pics/posters of this short&tubby lass posing as a model to promote their George brand. It's weird - or perhaps we are just too used to seeing only tall and super skinny girls as models
dutch hispanic guy
said on 2/May/06
Rob, i cant figure you out, what is the height of WAYNE ROONEY then?
5'9 or...
Maggie
said on 14/Apr/06
I'm a little surprised she's only 5' 4".