Conor Maynard's Height
5ft 8 (172.7 cm)
English Singer. He claimed on twitter
"I'm 5ft 10 :)"
and in The Belfast Telegraph
"People often say I'm smaller in person, but in reality I'm actually not that small. I'm 5ft. nine-and-a-half. They must expect me to be about 7ft"
. Later, he has gone on to mention how one time he was chatting with Iggy Azalea and
"Then she stood up and she's 6ft tall. I'm 5ft 8. I had no chance. That happens to me all the time with women".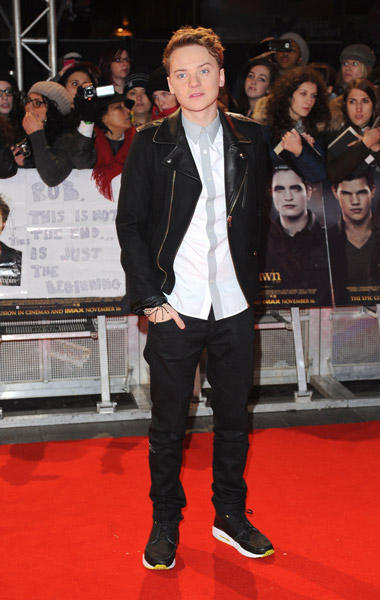 Photo by PR Photos
Add a Comment
15 comments
Average Guess (10 Votes)
5ft 7.8in (172.2cm)
Littlelee5ft6
said on 27/Apr/20
How tall would his brother jack be rob? He looks shorter than conor
GCBraintree
said on 4/Jan/20
174cm imo
Jacob
said on 4/Jan/17
Conor Maynard appeared in a youtube video with Joe Sugg on 1st January 2017:
Click Here
At the beginning of the video (0:06) Joe Sugg who is a legitimate 5'8.5 (his height was measured in a previous video) challenged Conor Maynard by saying that he was taller than him. In fact Joe made Conor take off his shoes to see who was taller between Joe and Conor. Based on observance of Josh (the other person in the video) Joe Sugg edged Conor Maynard out, therefore my prediction is that since Conor is shorter than 5'8.5, I would estimate that he is in the range of 171-172cm (5'7.5").
anon
said on 9/Nov/16
He started out saying he was 5'10 then 5'9 1/2 and now says 5'8 which seems more realistic, really have no idea why anyone would add 2 Inches to their height, It's not believable in most cases and why lie or simply they are just guessing their height
MD
said on 10/Aug/16
I think the shot with Tinie shows him shorter. 5'8" first thing when he wakes up, maybe, which is why he's now claiming that. More likely 5'7.5".
Charizard
said on 9/Aug/16
He's about same height as most girls sometimes only just taller. I am quite sure he is 171cm.
MD
said on 20/Nov/13
With a 5'8" (if he's lucky) Tinie Tempah:
Click Here
JonDaMon
said on 17/Nov/13
He IS pretty small though. 5'9 is generous. Classic case of short man syndrome.
Editor Rob
said on 5/Nov/13
He revised it a little, he now says 5ft 9 and a half...
asd
said on 4/Jun/13
MD, how tall would you say Spencer is then?
asd
said on 1/Jun/13
Click Here
Spencer Matthews claims 5"11 so either Conor is taller than listed or Spencer is 5"8??
asdfghjkl
said on 30/Apr/13
Dafuq! He looks so short on this pic! He said it himself "I'm 5ft 10", that's all people.
175
said on 29/Dec/12
Seen him around my town many times... No more than 5'9
Hew
said on 28/Dec/12
Haha Rob, 5'10 for a day, nice one :P
Not gonna argue about 5'9, looks spot on.
Brian
said on 26/Dec/12
There is no way this guy is 5'10, he is about the same height as 5'8 Neyo